Varieties of Japanese maples – 10 show-stopping acers to add to your yard
Acers make a statement with their vibrant leaves and sculptural form – here are our favorite choices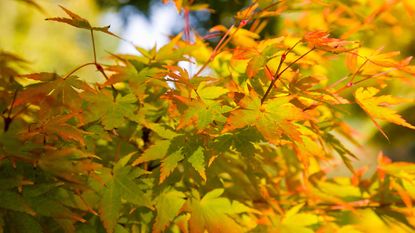 (Image credit: Leonie Lambert / Alamy Stock Photo)
There are many varieties of Japanese maples to choose from, from compact types that are perfect for pots to large, architectural specimens that provide dappled shade. They are best known for their beautiful foliage color, from spring to fall, in crimson, yellow, purple, or green.
These trees are naturally suited to Japanese-inspired garden schemes, but they complement many other backyard styles, too. And growing Japanese maple trees isn't as difficult as you might expect, providing they're planted in the right spot and have enough water over summer.
With so many stunning varieties, it can be difficult to choose one to grow in your plot. This guide picks out ten of the best, to help you narrow down your choices.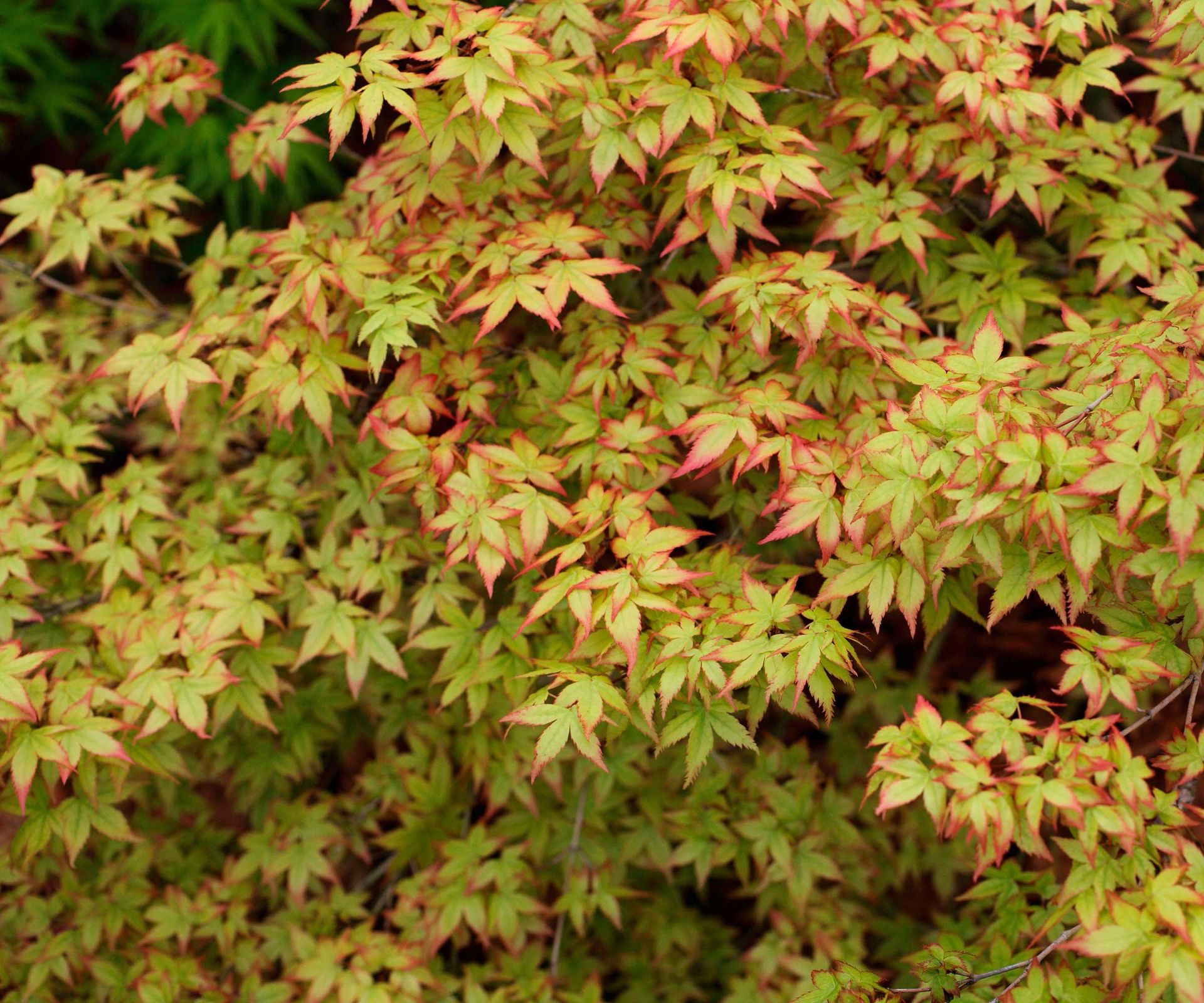 10 types of Japanese maples that will create a fabulous outdoor focal point
Graham has a wealth of knowledge in all things horticulture – acers included. He trained at the prestigious Royal Botanic Gardens in Kew, UK, and since then has written more than 20 books on plants and gardening and been a judge at Chelsea Flower Show, as well as writing for many gardening magazines and websites. He gardened in Pennsylvania for 20 years, but has recently returned to England.
Whichever variety you go for, acers certainly know how to put on a show. 'Japanese maples may feature rich purple or crimson foliage all summer,' says Graham Rice, a gardening expert. 'The clusters of small flowers are often attractive, as are the developing summer fruits, each with two distinctive wings.
'Their bark, too, is sometimes an appealing feature and may be prettily striped vertically or rolled back horizontally in papery pale chestnut curls.'
As well as factoring in aesthetic appeal, remember to check the eventual height and spread of your acer, too – this way you can be sure that it'll fit well in your outdoor space. Picking one that's suitable for your hardiness zone is also important, to ensure it thrives.
1. Acer palmatum 'Bloodgood'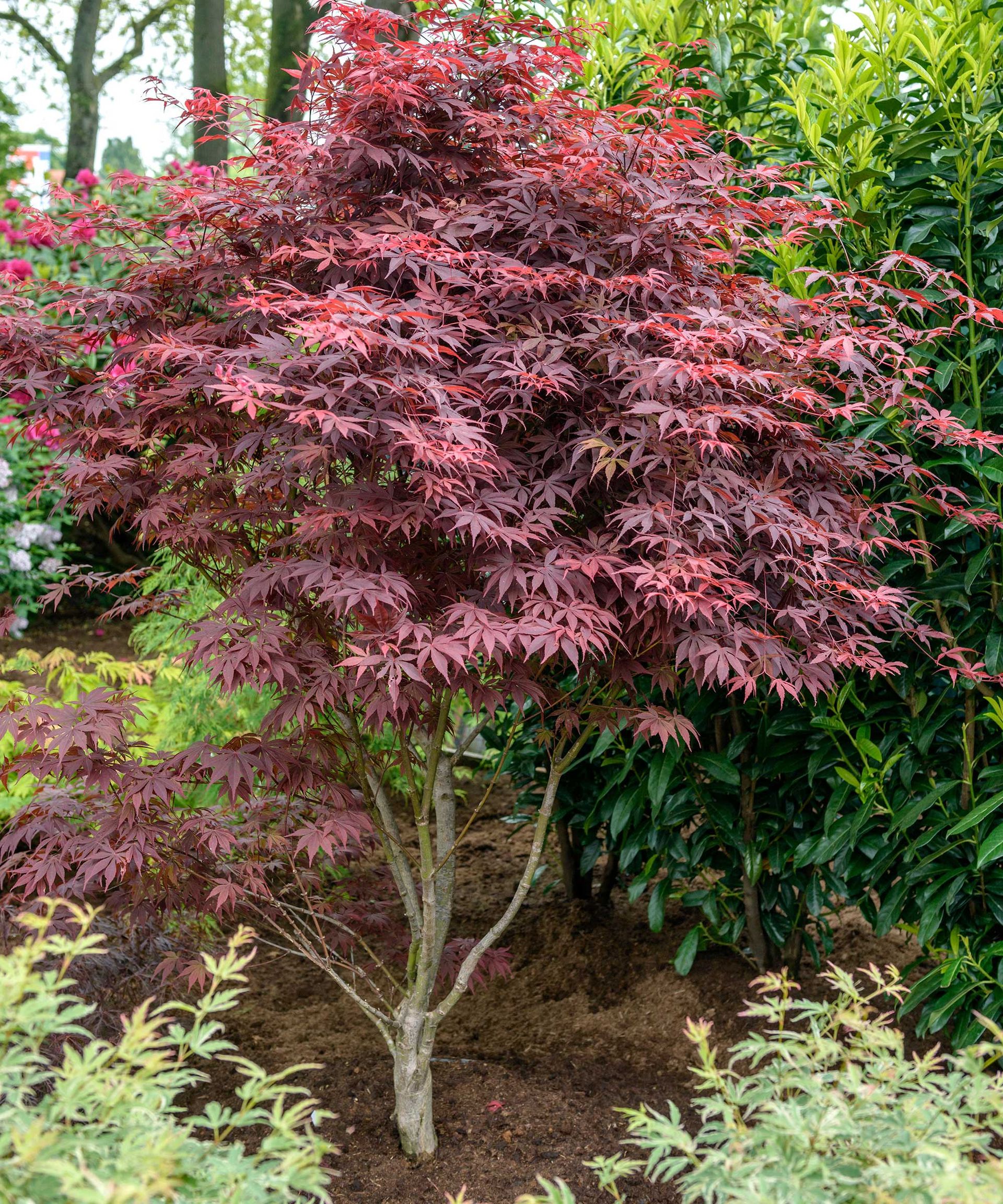 Height: 15-20ft
Spread: 15-20ft
Hardiness: USDA 5-8
Acer palmatum 'Bloodgood', available at Nature Hills, is one of the most popular Japanese maple trees available. It features deep purple leaves that turn bright red in the fall, making it one of the best trees for autumn color. 'With such spectacular foliage, "Bloodgood" is one of my favorite varieties,' says Tammy Sons, Owner of TN Nursery.
In the spring, the tree reveals small purple flowers, which are replaced by red fruits in the summer. Plant these trees somewhere with partial shade for best results.
2. Acer palmatum 'Emperor 1'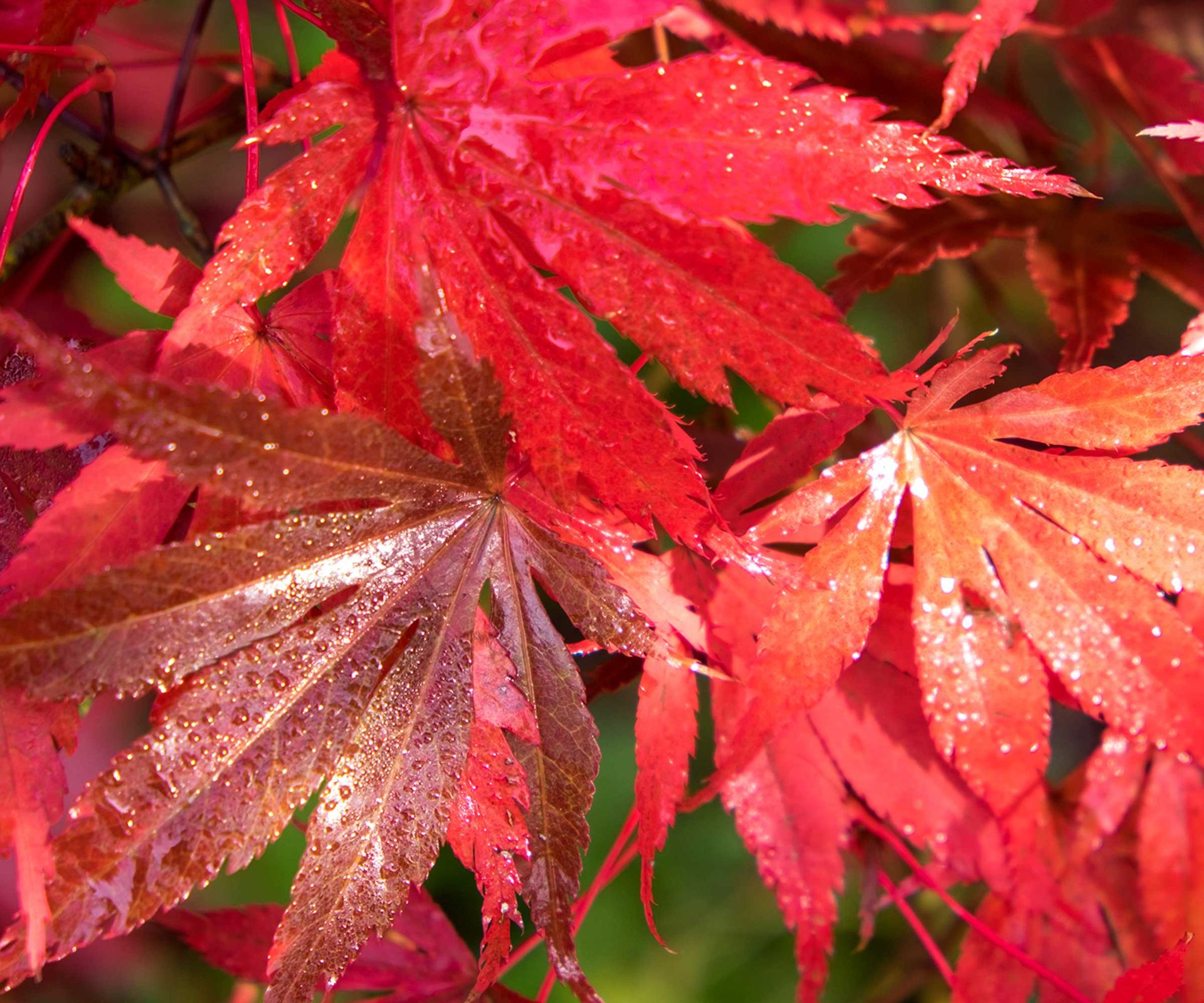 Height: 15ft
Spread: 15ft
Hardiness: USDA 5-8
'Emperor 1 is an upright red Japanese maple that takes all the things people love about the "Bloodgood" acer and improves upon them,' says Lisa Tadewaldt, Arborist and Owner of Urban Forest Pro.
As well as being more tolerant of early spring frosts, its stunning red fall leaves last for longer than other varieties of Japanese maples.
'Its vibrant – and unmistakable – red color goes from black-red to scarlet in fall, and it also has a dark and distinctive black-red bark,' adds Lisa. 'They're just really aesthetically pleasing trees while also being hardy. Perfect for adding a punch of color to your landscaping.'
3. Acer palmatum 'Sango-kaku'
Height: 20-25ft
Spread: 15-20ft
Hardiness: USDA 5-9
'For a small garden tree, consider Acer palmatum 'Sango-kaku', with coral-pink bark and golden fall color,' says Graham Rice.
Blythe Yost, CEO of online landscape design company Tilly, says it's one of her favorites. 'It's lovely during the spring and summer, but the bark really shines in winter months when the landscape dims to browns and grays. It is especially wonderful when set off against the snow.'
'Many of us associate fall with deciduous trees changing all varieties of colors, but having that red bark as a foundation is really special,' adds Lisa. 'The "Coral Bark" [as it's also known] is really great for yards that are lacking color and interest in the winter, as the bark will jump out with vibrancy even when the leaves fall.'
It's available to buy from Nature Hills.
4. Acer Palmatum var. Dissectum 'Velvet Viking'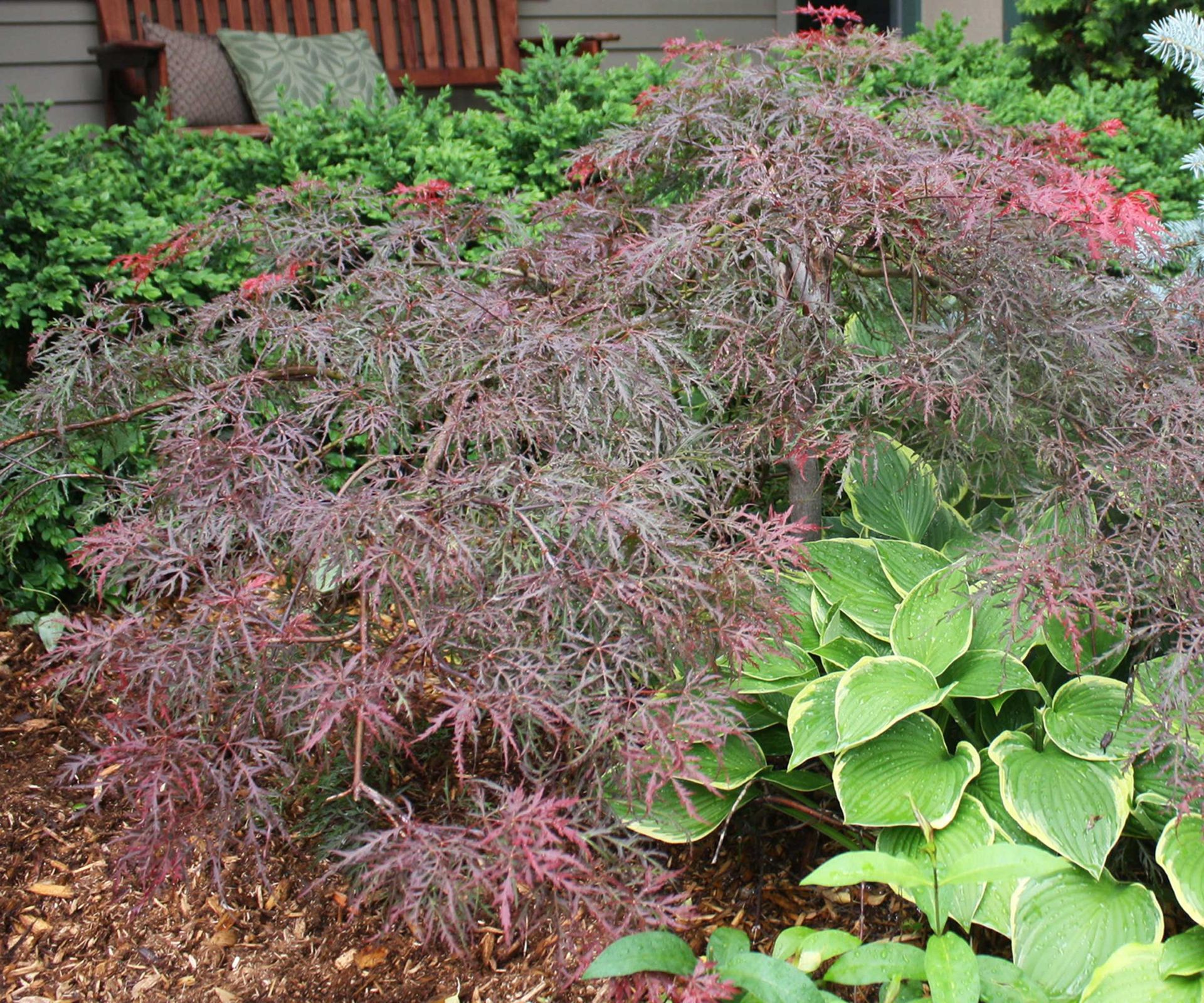 Height: 3-4ft
Spread: 4-5ft
Hardiness: USDA 4-9
Tammy Sons says this is one of the hardiest varieties of Japanese maples of all. 'It features delicate, thin-shaped leaves and purple-red foliage in spring and summer, with much deeper hues of purple in fall.'
'Velvet Viking' thrives in partial shade, but in cooler climates with mild heat can withstand being positioned in full sun.
As it's a dwarf variety, it's a fantastic tree to grow in a container.
5. Acer shirasawanum 'Moonrise'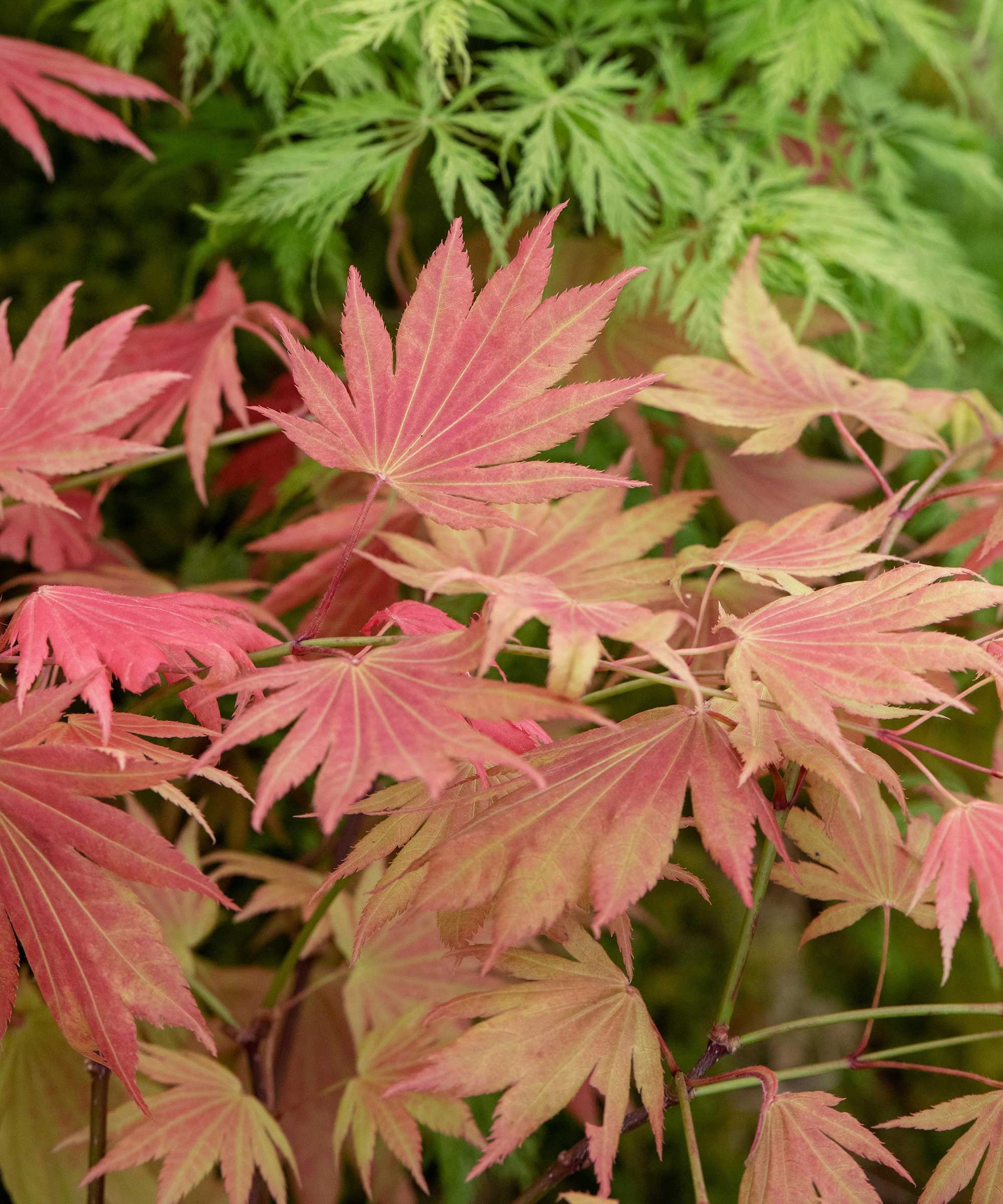 Height: 6.5ft
Spread: 6.5ft
Hardiness: USDA 5-8
Developed in Oregon in the 1980s, this acer has a rounded, compact shape and colorful foliage across seasons. To begin with, the leaves are red with green veins, then turn green for summer, alongside winged red fruits. In fall, they change again to boast fiery hues of orange and gold.
It's a tough and hardy plant, but will appreciate protection from cold wind and midday sun to prevent leaf scorch.
It's relatively compact, and would make a lovely tree for a front yard.
6. Acer palmatum 'Ukigumo'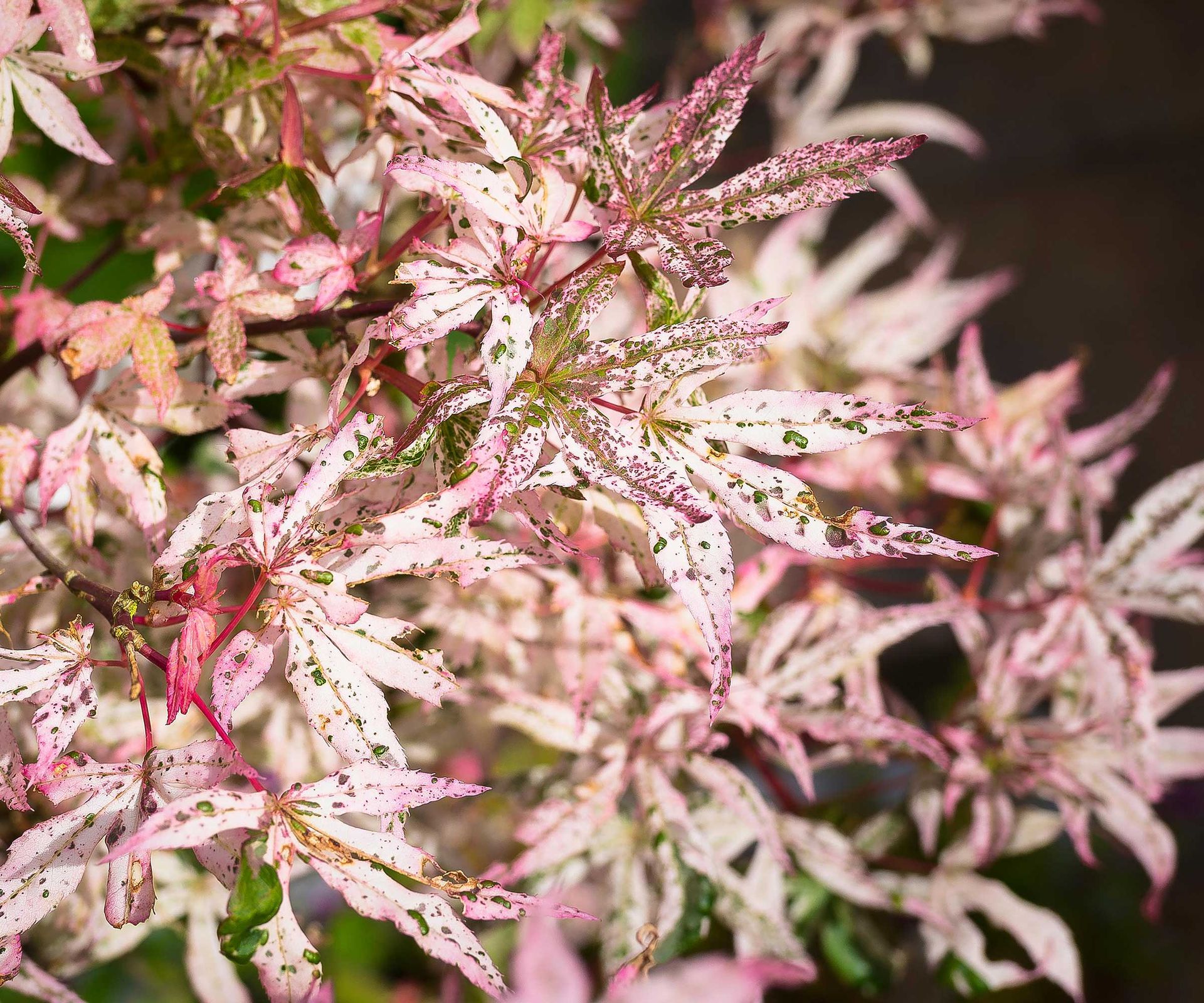 Height: 10ft
Spread: 10ft
Hardiness: USDA 5-9
'Ukigumo' – or 'Floating Clouds' – is an upright and semi-dense Japanese maple tree, however its standout feature is its stunning variegated foliage.
'Each leaf transitions from high-contrast pale green/white to softer pinks at the tips,' says Lisa. 'The white foliage is definitely a statement-maker for your home's traditionally green landscaping. These are small trees to use for a pop of pink/white all summer long.'
'Ukigumo' will grow in most soil types, ideally in partial shade.
7. Acer palmatum 'Shaina'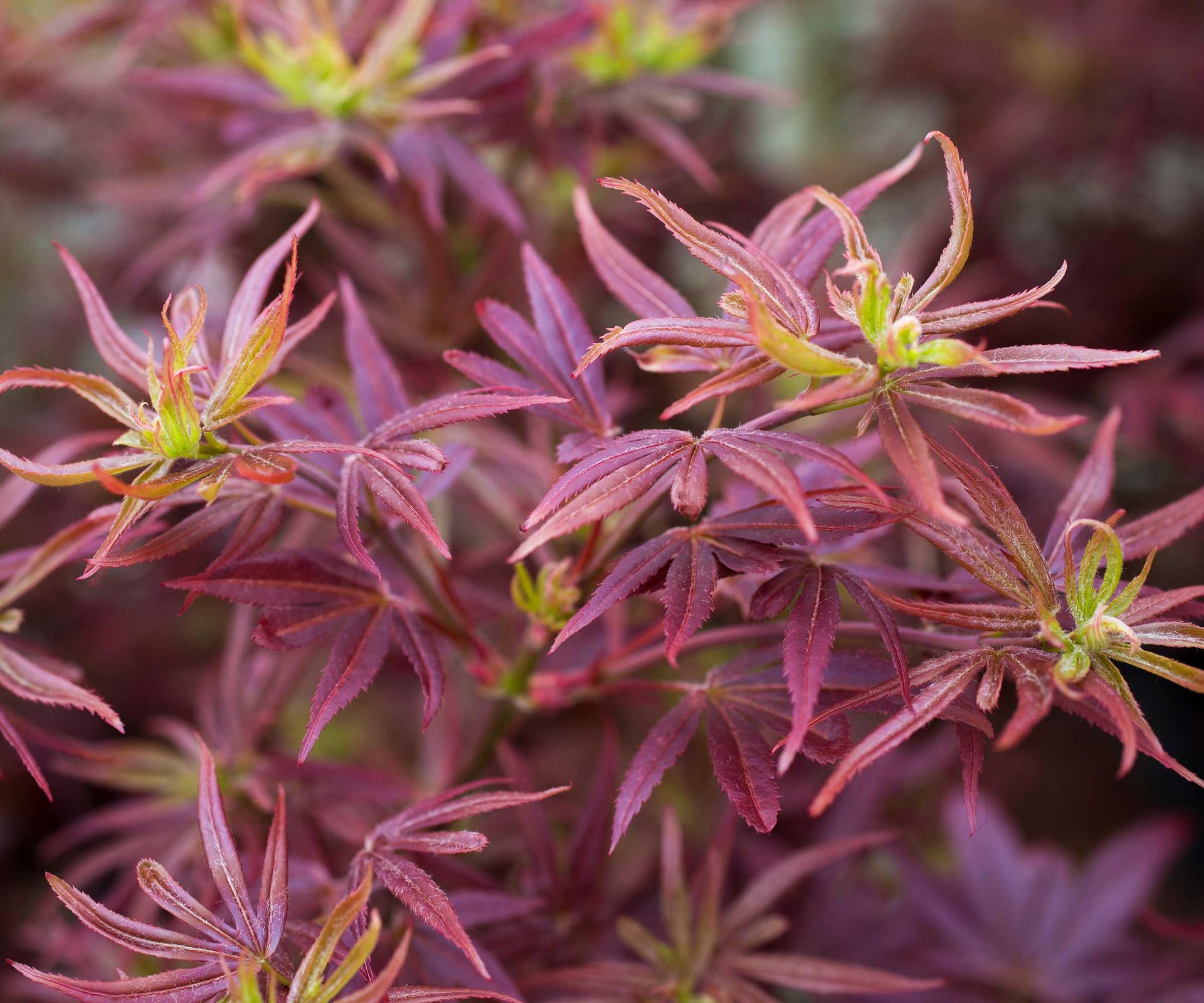 Height: 4-6ft
Spread: 3-4ft
Hardiness: USDA 5-9
'A fantastic dwarf Japanese maple tree, "Shania" may be compact in form but it offers dense foliage when it gets fully mature,' says Tammy Sons.
The tree has vibrant red leaves in the spring that deepen to burgundy in the summer, before turning bright red again in the fall.
'"Shania" grows well in partial shade,' adds Tammy. It's an ideal tree for a small garden.
8. Acer palmatum 'Higasayama'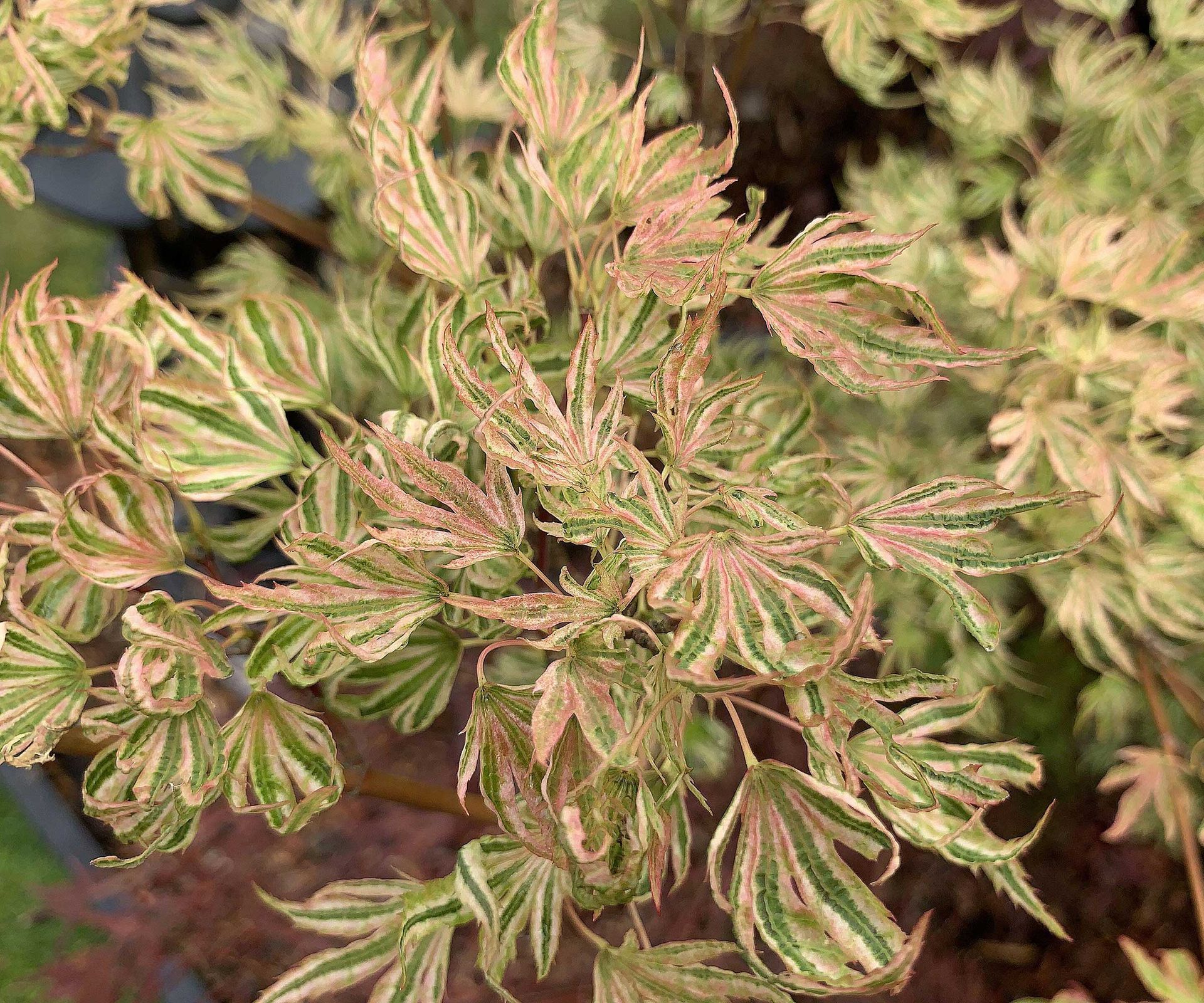 Height: 15-20ft
Spread: 12-15ft
Hardiness: USDA 5-8
'The "Higasayama" Japanese maple tree has such beautiful coloring,' says Emilly Barbosa Fernandes, a small-space gardening expert at House Grail. 'When the leaves open, you'll see pink outside edges before it turns green.'
The tree also features uniquely shaped buds, and is an upright, vigorous variety.
'It grows best in filtered light although it can handle full sun,' adds Emilly.
9. Acer palmatum 'Red Dragon'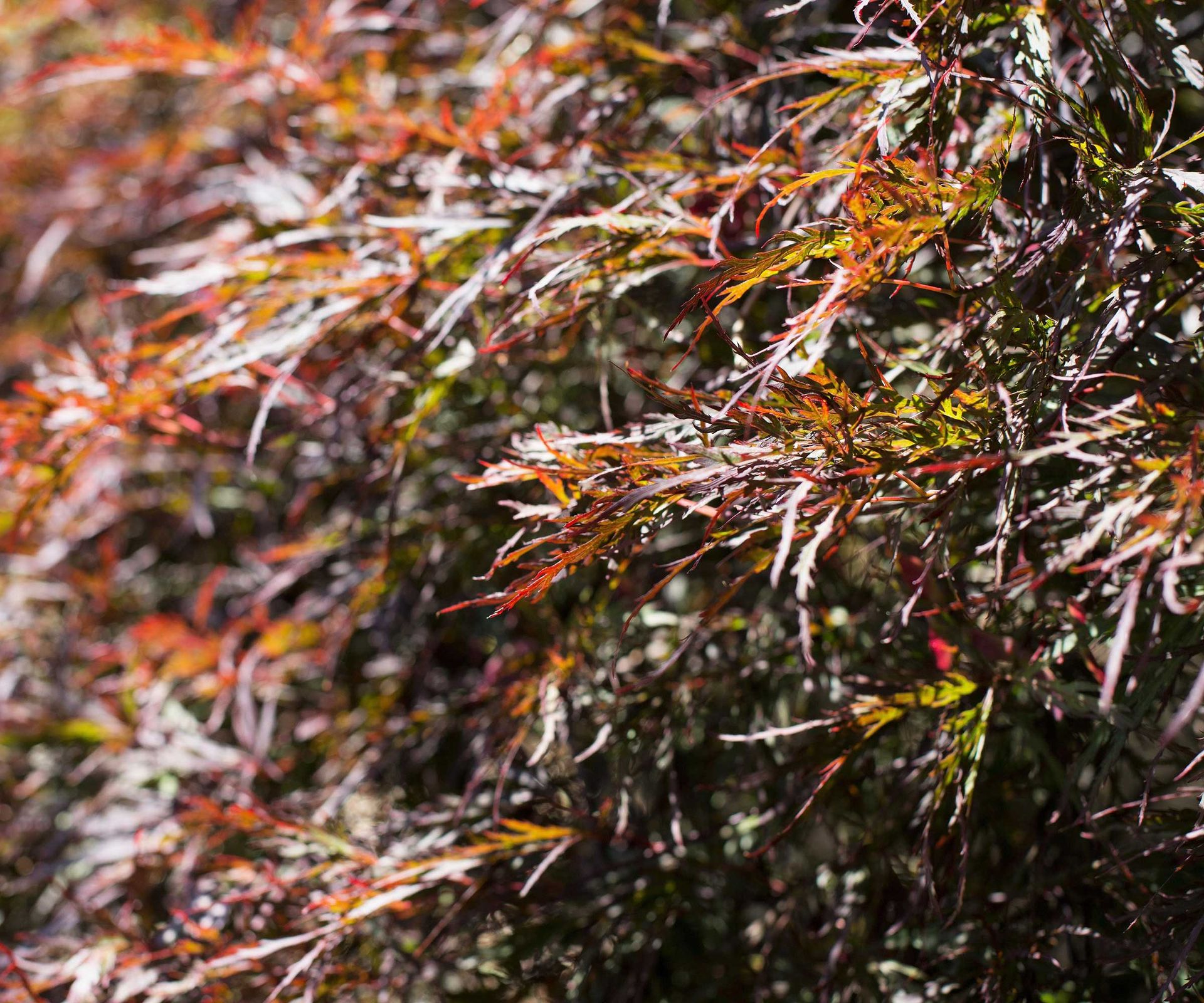 Height: 8-10ft
Spread: 10-12ft
Hardiness: USDA 5-8
'"Red Dragon" is slower growing than most Japanese maple trees, making it the perfect maple for containers,' says Tammy. 'Its leaves start as purple in spring, turning blood-red near fall.'
It thrives in both full sun and partial shade. You can buy it from Fast Growing Trees.
10. Acer palmatum 'Crimson Queen'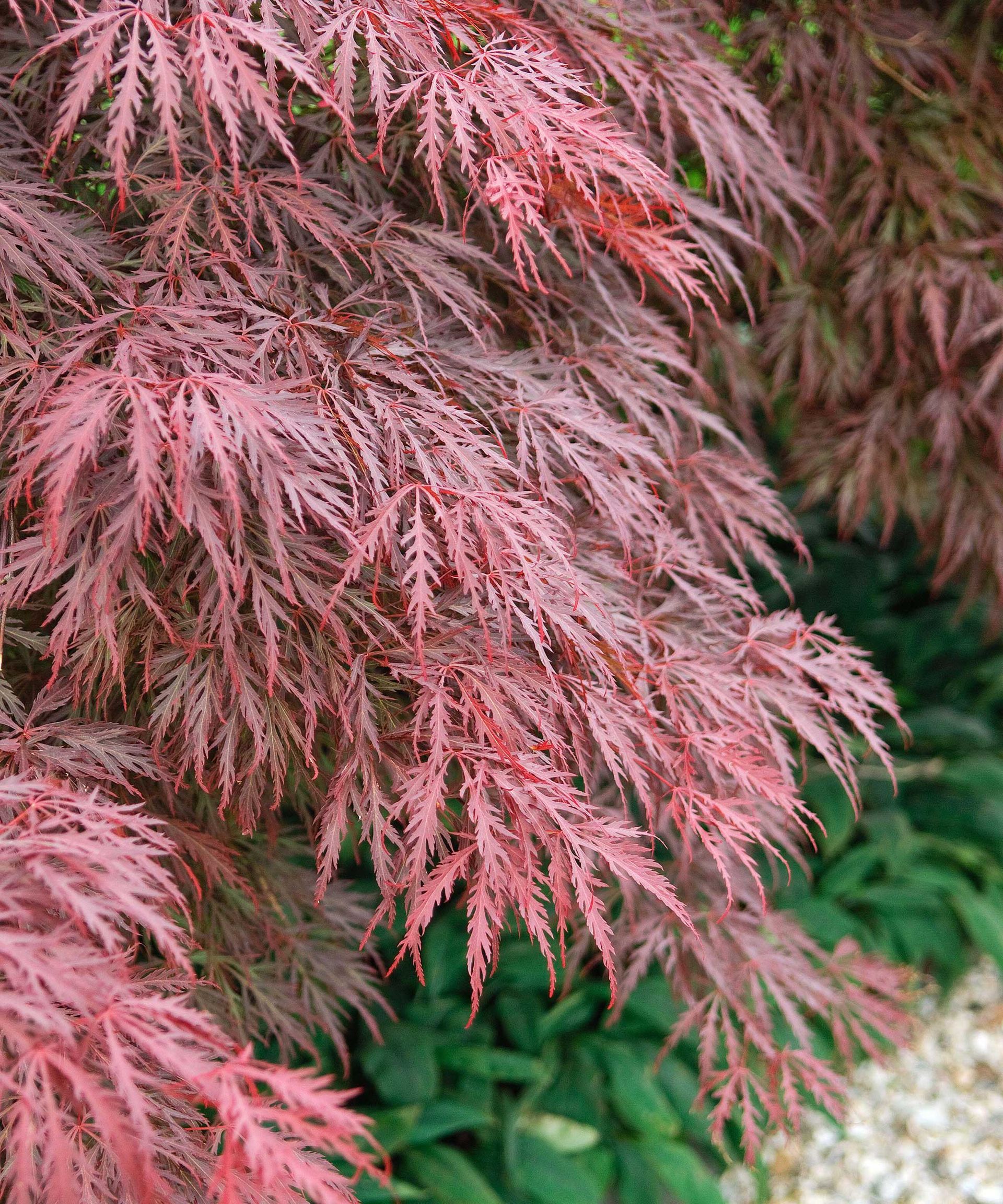 Height: 8ft
Spread: 10 ft
Hardiness: USDA 5-9
'Lots of people looking for a Japanese maple tree want a weeping variety. While I would caution people that these varieties are high-maintenance, the best all-around variety for that form is the "Crimson Queen",' says Lisa. 'They're known for their delicate form, distinctive laceleaf, and intense red color.'
It's available to buy from Nature Hills. Plant this variety in full sun or partial shade.
What are the best varieties of Japanese maples for small gardens?
Alongside 'Velvet Viking', 'Moonrise', and 'Shaina' listed above, try 'Little Princess'. It has attractive green leaves with red tints which then turn golden-yellow in fall, and reaches a height of only 59". It's a beautiful choice for container gardening.
For something larger, but with a compact, upright habit, Graham Rice recommends the green and lacy 'Seiryu', which has yellow coloring in fall. It would make a good focal point for a courtyard garden.
Sign up to the Homes & Gardens newsletter
Decor Ideas. Project Inspiration. Expert Advice. Delivered to your inbox.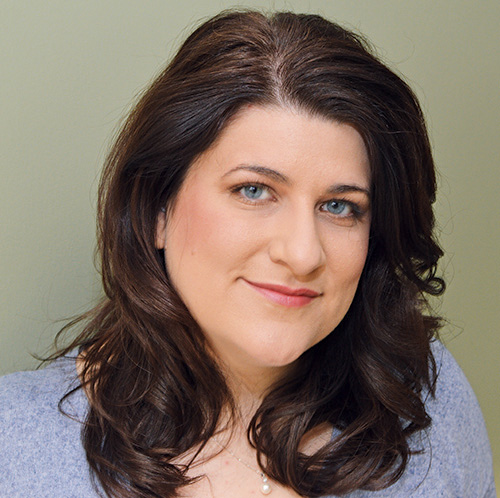 As editor of Period Living, Britain's best-selling period homes magazine, Melanie loves the charm of older properties. I live in a rural village just outside the Cotswolds in England, so am lucky to be surrounded by beautiful homes and countryside, where I enjoy exploring. Having worked in the industry for almost two decades, Melanie is interested in all aspects of homes and gardens. Her previous roles include working on Real Homes and Homebuilding & Renovating, and she has also contributed to Gardening Etc. She has an English degree and has also studied interior design. Melanie frequently writes for Homes & Gardens about property restoration and gardening.