How to grow ornamental cabbage to give your garden a boost of color during the colder months
The vivid and unique plants are simple to grow and can provide a spark when the rest of the garden fades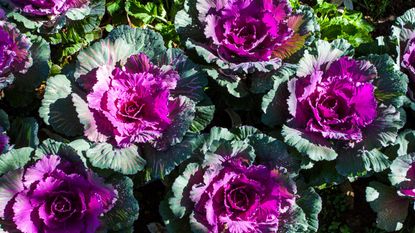 (Image credit: Alamy/Wilawan Khasawong )
Ornamental cabbage, also known as ornamental or flowering kale, look similar to their edible counterparts. They are not grown for their flavor, however. It is the striking foliage that make them fantastic options for fall and winter gardens.
The plants are unique and can bring a plethora of striking colors to the garden during the colder months. Ornamental cabbages are usually bought as plug plants from stores or can be easily grown from seed to be planted into the garden come early fall.
Ornamental cabbages are simple to grow and often under-appreciated plants that can be highly versatile at a time of year when there is little color in the garden. We take a closer look at how to sow, grow, and look after ornamental cabbages if you want to add them to your backyard ideas.
Reasons to grow ornamental cabbage
The primary reason for growing ornamental cabbages is for their ability to brighten up a fall and winter garden with their colorful foliage. They are some of the best winter plants for pots and borders, grown for their stunning rosettes of leaves that come in various colors, including shades of white, pink, red, and purple. The colors of ornamental cabbages actually intensify in colder temperatures.
Ornamental cabbages are also often referred to as flowering kales, and the distinction between them comes from the leaves. Types with smoother and flatter leaves are called ornamental cabbages, while those with serrated leaf margins tend to be named flowering kales. Both types look great in fall planters or providing late season interest in flower beds or container gardens.
Mike Lansing, a garden designer and managing editor of Planters Digest, describes how ornamental cabbages are 'remarkably similar' in appearance and growth to their edible counterparts, but have been bred for aesthetic appeal rather than flavor. He adds: 'Despite their little bitterness, they are frequently used as a garnish.
'Ornamental cabbage is unique in that it comes in a wide variety of colors, including red, yellow, and green, all of which are absent from typical winter and autumnal landscapes. It will enliven and brighten your pots, flower beds, and margins. They can even be used to create bouquets, especially the long-stemmed kinds.'
Ornamental cabbages are traditionally grown as annuals that do not like the heat of summer and are best planted in the fall or early spring to add color to a space. Plants are commonly bought from stores or grown from seed and they do not grow too large, normally up to 15-18 inches tall and wide.
See ornamental cabbage seeds at True Leaf Market
Mike Lansing is the co-founder and managing director of Planters Digest, and a certified garden designer, who turned a passion for plants into a thriving business. With over 10 years in the corporate world, he made a career shift to pursue gardening, earning a Certificate in Garden Design from George Brown College. He now runs a small indoor plant business with his family and enjoys researching new gardening techniques.
How to grow ornamental cabbage from seed
The ideal time to sow ornamental cabbage seeds is in late summer or early fall. Fill pots with seed compost - which is the best soil to start seeds in - and sow the seeds around a quarter-of-an-inch deep. You want to place this container somewhere bright and warm, at a temperature of 60-70°F, and germination should take place in 7-14 days.
Prick out the seedlings into individual pots once they have their first set of leaves, after which you can start fertilizing seedlings. The time comes to transplant seedlings into the garden around 4-6 weeks after sowing, when they are large enough to handle.
A good example of seed compost to sow into is the Espoma Organic Seed Starter, available at Amazon.
Where to plant ornamental cabbage
If you have bought plug plants from the store, or grown your own from seed, then you need to pick the ideal spot to plant them. This can be in the ground in beds or borders, in raised garden beds, or in pots or containers to go on a patio, deck, or even a balcony garden.
Ornamental cabbage prefers a spot with rich and fertile soil that drains well, ideally enriched with compost or other organic matter prior to planting. The plants want to grow in full sun, but may tolerate shade in warmer climates, and thrive in temperatures between 45°F and 65°F. Plants should be spaced around 12-18 inches apart to ensure healthy air circulation.
Ornamental cabbages are often seen planted in mass to give a carpet of color or they are used as striking edging plants, such as along the front of a bed or border. You do not have to necessarily plant them in large numbers, as a few, or even individual, ornamental cabbages can be statement pieces planted in the centre of pots or mixed among other plants in fall schemes.
Ornamental cabbage maintenance
It is important to ensure ornamental cabbage plants have moist soil, but are not sitting too damp, and they do not need any extra fertilizer. You can consider mulching around the plants with compost, leaf mold, or wood chippings to help the soil retain moisture and remove competition from weeds.
The plants can be affected by many of the same pests and diseases that hit edible brassicas in the vegetable garden, like when growing kale. However, due to the season they are primarily growing, the levels of problems are much reduced compared to the summer months.
Lindsey Hyland, founder of Urban Organic Yield, highlights aphids, caterpillars, and slugs as typical pests that can harm ornamental cabbages, saying: 'Insecticidal soap and other effective pest management procedures, such as routine inspection, can be helpful.'
When it comes to diseases, Lindsey adds: 'White mold and downy mildew are two fungi that can affect ornamental cabbages. The risk of these diseases can be decreased by adequate spacing, proper air circulation, and well-drained soil.'
Ornamental cabbages can survive temperatures as low as 5°F so will grow and add color to the garden through fall and into winter. They are rarely protected to survive through winter due to the fact that, as biennial plants, they will go to flower and seed the following year. They are usually removed from the garden come spring or once they have succumbed to the winter weather.
Lindsey Hyland is the founder of Urban Organic Yield. She grew up in Arizona and attended the University of Arizona's Controlled Environment Agriculture. She has worked on various organic farms and shares her gardening journey on Urban Organic Yield.
FAQs
Does ornamental cabbage come back every year?
Ornamental cabbages are a biennial plant that is considered an annual by the vast majority of growers. The plant can survive low temperatures but may not survive the winter in colder US hardiness zones. Where they can see through the winter, the plants will start to flower once the temperatures rise in spring.
Can ornamental cabbage survive a freeze?
Ornamental cabbages are hardy to around 5°F and can tolerate frosts, but any sharp or sudden cold snaps are capable of harming the plants.
Can ornamental cabbage be grown indoors?
Ornamental cabbages can grow indoors or be used as part of any greenhouse ideas. While they can provide some color and foliage indoors, the plants will not get the same vivid level of color that is usually triggered by the cold weather outdoors. Plants may be brought indoors once the temperatures outside plummet, but they may not thrive too long in the warmth inside the home over winter.
---
If you are planning a winter garden, then you want to choose plants that can stand out and make statements during the colder months. When the summer crescendo of color starts to come to an end in fall, ornamental cabbages are more than capable of coming to the fore and standing out. These unique and vivid plants should really be more popular than they are.
Sign up to the Homes & Gardens newsletter
Decor Ideas. Project Inspiration. Expert Advice. Delivered to your inbox.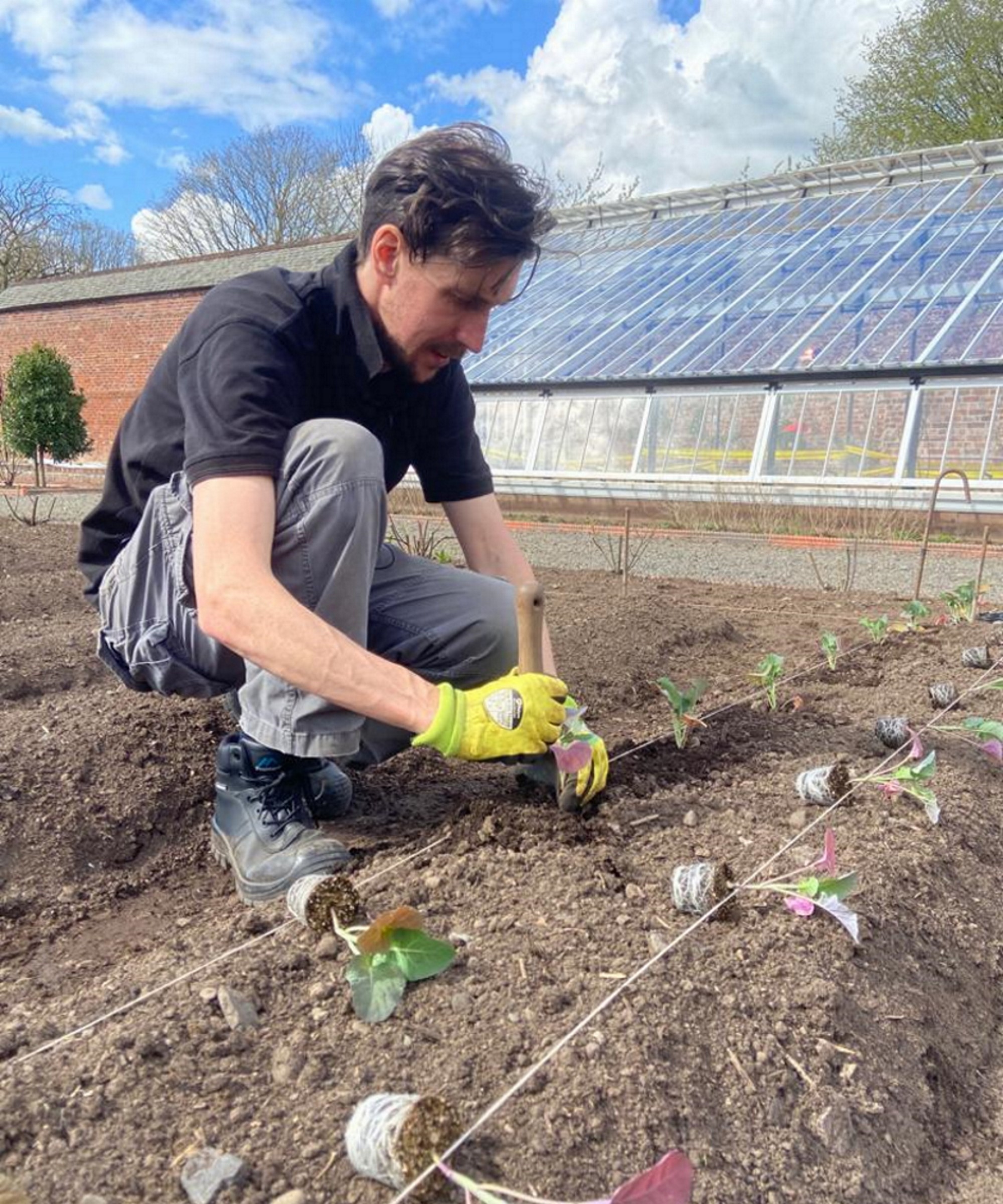 Drew's passion for gardening started with growing vegetables and salad in raised beds in a small urban terrace garden. He has gone on to work as a professional gardener in historic gardens across the UK and also specialise as a kitchen gardener growing vegetables, fruit, herbs, and cut flowers. That passion for growing extends to being an allotmenteer, garden blogger, and producing how-to gardening guides for websites. Drew was shortlisted in the New Talent of the Year award at the 2023 Garden Media Guild Awards.