How to grow pansies – for beautiful blooms
Discover how to grow pansies to enjoy their colorful blooms from spring to winter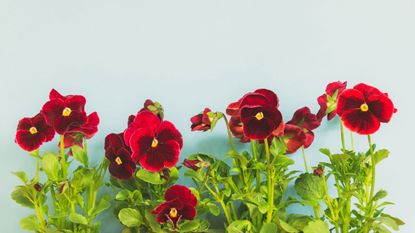 (Image credit: Getty Images)
Sign up to the Homes & Gardens newsletter
Decor Ideas. Project Inspiration. Expert Advice. Delivered to your inbox.
Thank you for signing up to Homes & Gardens. You will receive a verification email shortly.
There was a problem. Please refresh the page and try again.
Knowing how to grow pansies will help you breathe new life and color into your garden from spring onwards. Instantly recognizable for their vibrant colored petals and dark centers they are a favorite for container displays, hanging baskets and window boxes. What's more, it's also very easy to learn how to grow pansies both from seed or plugs.
Pansies make for a stunning addition to your flower bed ideas and are also one of the best fall flowers for pots. However, when learning how to grow pansies, it is also important to know when to plant pansies to improve your chances of success.
The time you sow your pansy seeds will also depend on when they flower – always check the packet of the seeds you are hoping to sow for guidance.
'These dainty little perennials are usually grown as annuals and are handy to provide color when other plants aren't flowering. Use as underplanting in containers or mixed with bulbs, in sun to part shade and water regularly,' says H&G's garden expert Leigh Clapp. 'If buying plug plants or establish pansy plants at the nursery select ones with buds rather than open flowers for the best chance of success.'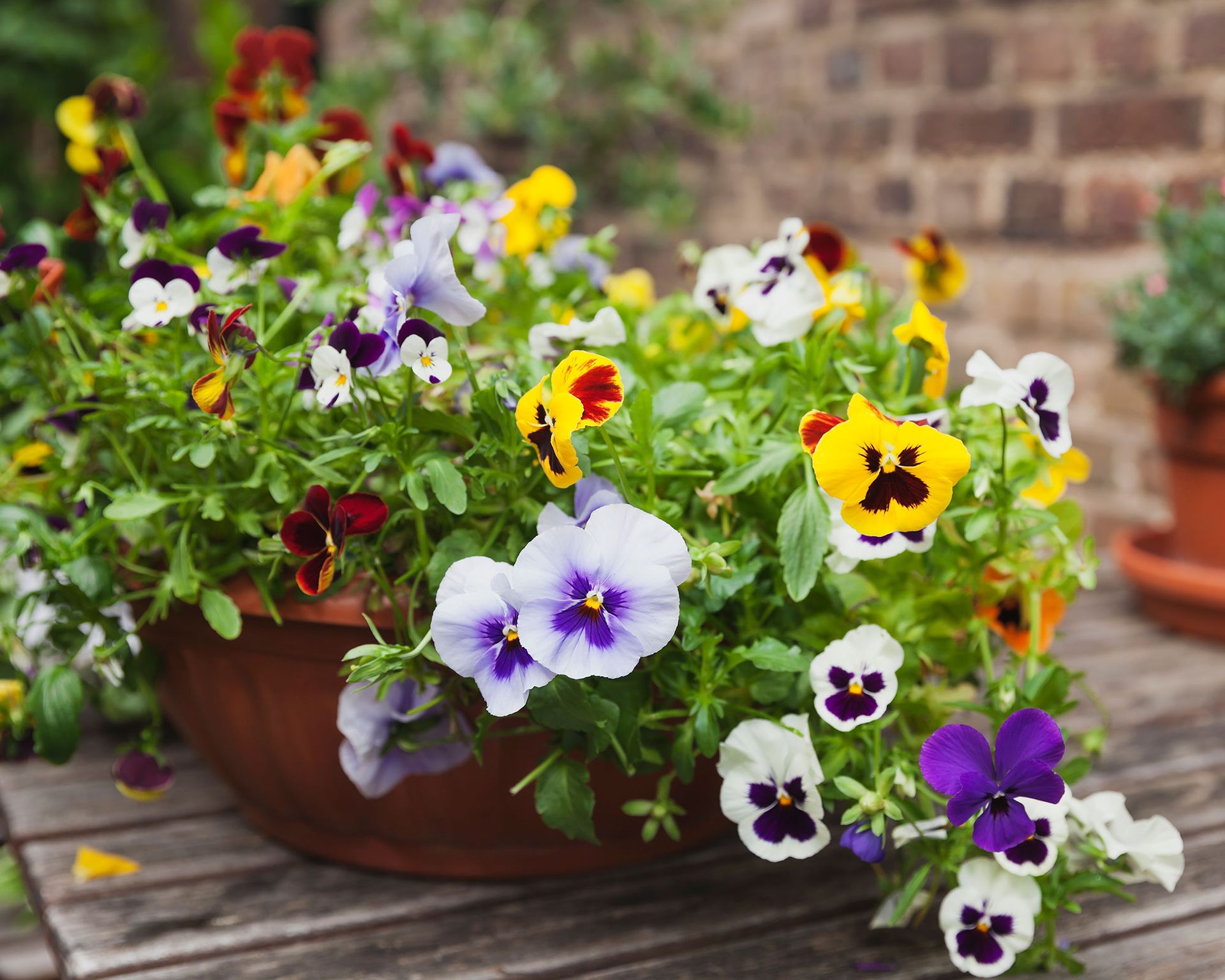 How to grow pansies from seed – step-by-step
Pansies are a garden favorite. Highly versatile they are one of the best plants for hanging baskets as well as adding color and character to your container gardening ideas. Learning how to grow pansies from seed is surprisingly easy though will take longer than buying established plug plants. With the right care and attention, pansy seeds will germinate within two to three weeks and then be ready to plant out into the garden once the frosts have passed – some hardier varieties may be able to be planted out before this, so check the details of your specific variety.
Start by preparing the soil – opt for a pre-mixed seed compost.
Place the seed compost into a potting tray or seed cells and ensure it's well watered.
'The best seeds to buy are commercial grade F1 Hybrid seeds,' advises Stuart Mackenzie, horticulturist and expert at Trees.com. These have a good resistance to disease and are easy to grow.
Place the seeds in the tray at the distance directed on the back of the packet or one seed per cell.
'Cover with black plastic for two weeks so that your seeds can germinate,' recommends Stuart. Pansies are very sensitive to light and this can halt germination.
Ensure the soil remains moist, then remove the cover when you see the first sprouts
Once you see the first two leaves move the seedlings to a bright sunny windowsill.
Keep the seedlings well watered. 'When they have several sets of true leaves, fertilize with a half strength solution of an all-purpose liquid fertilizer every two weeks until they are ready to transplant outside,' advises RHS trained horticulturalist Charlotte Bailey, who runs OhSoGarden.
'Start to harden off the plants by moving them outdoors as temperatures allow and then, once they grow to market size – plant out and enjoy them,' adds Stuart.
Be sure to water regularly and cut off any spent blooms in order to keep the plant thriving.
Top tip: Although it's easier to buy seeds in packets, if you fancy a bit more of a challenge and already have some growing in your yard, you can propagate pansies by collecting and sowing the seeds they produce.
How to grow pansies from plugs – step-by-step
Growing pansies from plugs is the most common approach when learning how to grow pansies as it is a lot easier than growing from seed. Purchasing plugs will, however, be more expensive than raising your own seeds.
Gardening expert Charlotte Bailey talks us through the basics:
Fill small, individual pots of around 3-4in in size with a high quality compost.
Remove each plug plant from its packaging, moisten the soil at the base of the plug (if it's dry), and plant into this newly formed mix.
Place the pots in a location that receives lots of bright, but indirect sunlight (roughly 6-8 hours a day), and maintains a warm temperature between 65-75°F (18-23°C).
Once the plants have developed a stronger, more robust set of leaves, you'll want to 'harden them', ready for outdoor planting. This is a process whereby you move your plants outdoors during the daytime and pull them back inside just before sunset so they can adjust to the temperature difference.
Repeat this hardening off process for around 8-10 days before officially transplanting outdoors.
Water regularly and remove any spent blooms in order to encourage further blooming.
How to transplant pansy seeds outside
'To transplant outdoors, re-pot them into a larger container with nutrient rich, well-draining soil, making sure to check the seed packet for the ideal spacing for your specific cultivar. Most recommend between 6-8 inches of space between each seedling,' advises Charlotte.
What is the best month to plant pansies?
'February is the best month to plant pansies from seed,' says Lindsey Hyland, founder of UrbanOrganic Yield. However, these need to be grown undercover, they can be planted out once the first frost has past. Always harden off your seedlings first before exposing them to the cold winter nights.
There are some varieties that can be sowed both earlier and later so check your individual seed packet for more specific guidance.
Do pansies like sunshine or shade?
Pansies like sunshine but can also thrive in shade. 'Pansies can handle four to six hours of direct sun (also known as full sun) per day, but if you want to keep their dazzling colors shining bright and blooming for longer, growing them in a location that receives 6-8 hours of partial shade is best,' recommends Charlotte Bailey.
Do pansies grow back every year?
'Yes, pansies do grow back every year. They are perennial flowers, which means they come back year after year. The best way to ensure they come back is by planting them in the ground in the fall. You can also plant them in pots and bring them inside during the winter, but they may not flower as abundantly if they're not in the ground,' explains Lindsey.
Sign up to the Homes & Gardens newsletter
Decor Ideas. Project Inspiration. Expert Advice. Delivered to your inbox.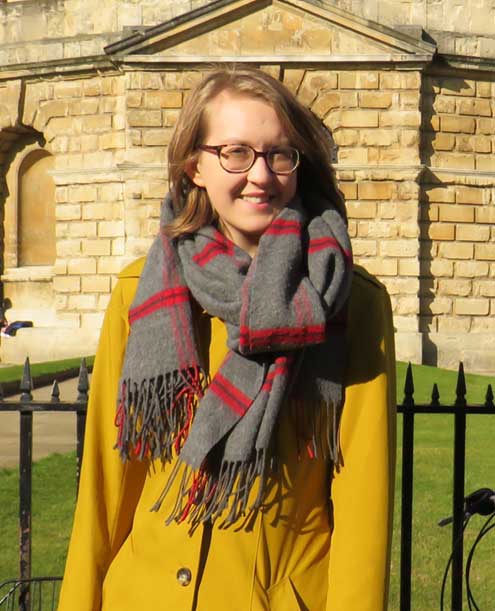 Content Editor and Sub-editor
Having graduated with a first class degree in English Literature, Holly started her career as a features writer and sub-editor at Period Living magazine, Homes & Gardens' sister title. Working on Period Living brought with it insight into the complexities of owning and caring for period homes, from interior decorating through to choosing the right windows and the challenges of extending. This has led to a passion for traditional interiors, particularly the country-look. Writing for the Homes & Gardens website as a content editor, alongside regular features for Period Living and Country Homes & Interiors magazines, has enabled her to broaden her writing to incorporate her interests in gardening, wildlife and nature.