How to style a console table – 10 ideas for beautiful vignettes
Discover expert takes on decorating console tables to create elegant displays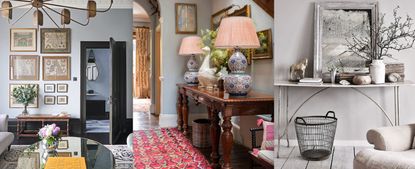 (Image credit: Future)
The issue of how to style a console table is an important one as whether it's in a living room, dining room, or a hallway, it's a prominent piece of furniture.
Leaving its surface empty is a missed opportunity to create a wonderful vignette and – in family homes – a bare surface might prove a magnet for clutter, creating an unwanted sight.
Here, we've put together console table styling solutions to add to your collection of living room ideas for a space that's elegant, appealing, and individual in its design.
How to style a console table
Color, line, texture, and scale of items such as table lamps, objets, artwork, and books are all important considerations when considering how to style a console table, whether it is located in a contemporary or more traditional space.
We asked some of the world's best interior designers for their top five rules on decorating a console table in a living room or entryway for impact – ideal for your arsenal of hallway ideas.
1. Create a cohesive look
Consider working with a theme for the objects on a console table for a cohesive look. Here, an antiqued glass mirror takes center stage, with a range of objets in a range of natural tones displayed casually, but deliberately.
Pieces that don't take the same cue prevent the whole from looking over the top, and create a frame for the display.
2. Opt for a pair of table lamps
How to style a console table and give it classic credentials? Selecting a pair of table lamps is a traditional approach to creating symmetry in interior design that's perfect for many rooms.
'When styling a console, I typically aim for symmetry, whether that's accomplished with lamps, vases, or decorative objects,' says Ashley DeLapp, founder and principal designer of Ashley DeLapp Interior Design (opens in new tab).
Follow this approach when decorating a console table and little else may be needed for a beautiful display. 'I like to keep things streamlined and clean, using books to add height while showcasing special trinkets or collections of flowers,' Ashley says.
3. Make it minimal
In a contemporary room scheme, paring back what's on the console table can be the best tactic. What's crucial if that's the case is selecting decorative pieces of sufficient scale to appear considered. On this table a simple bowl of flowers draws the eye while the focus is on the artwork above, framed by the console below.
4. Match materials or echo shapes
One possible strategy when thinking about how to style a console table is to take a lead from the table itself. This design's legs are echoed by the quirky lamp, vases and even the artwork. The picture frame above repeats the color of the table's material for a pulled-together result.
5. Display art on a console table
There is a choice of ways to show artworks on a console table – here, designer Adam Bray showcases sculptures and textiles in a simple but stunning arrangement.
Another route to foregrounding art is to place it on an easel.
'I love to incorporate a piece of art on an easel when styling a console table,' says Grace Brackman, associate designer, Maggie Griffin Design (opens in new tab). 'Whether an antique or abstract piece, art is a great way to integrate color and pattern to your tabletop.'
6. Keep it natural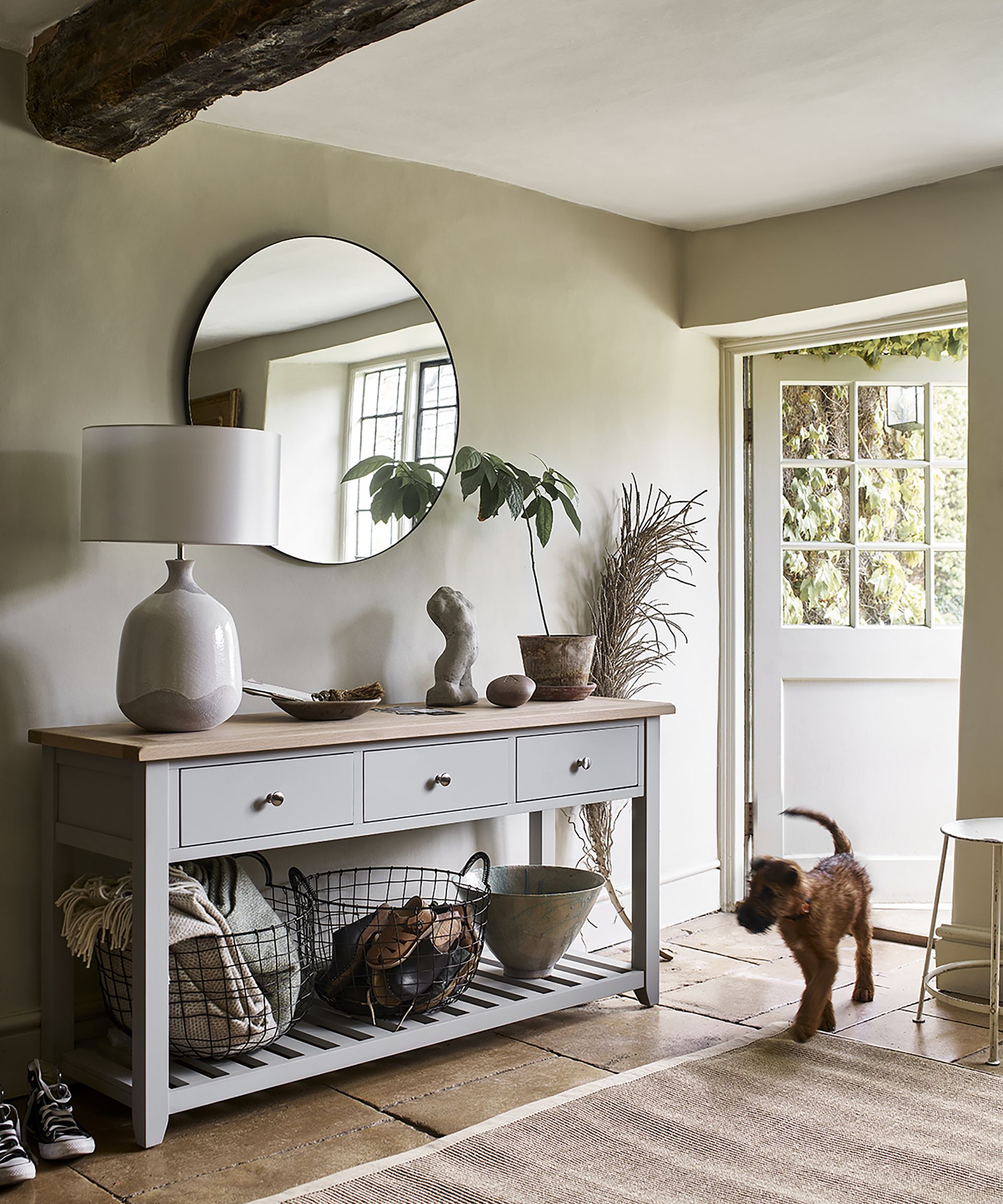 Considering how to style a console table when the goal is a soothing scheme? Opting for a color palette in gentle natural tones is a great approach, especially in an entryway. In this space, entry table decor ideas, such as organic color and texture are prominent on the plant pot and console table itself and complemented by the softest of hues on the lamp base.
Follow this example by hanging a mirror low enough to reflect the objects on display to boost their impact.
7. Adopt a contemporary approach
A symmetrical arrangement of well-proportioned lamps or urns on a console table is a sure-fire choice, but opting for asymmetry is an interesting and modern alternative.
'Try grouping a piece of sculpture, a statement lamp and a vase of flowers for a look that is balanced but has a more contemporary feel,' says designer Birdie Fortescue (opens in new tab). 'Use a generous rug in coordinating tones and a congruous painting or mirror to complete the scheme.'
8. Change the lines
Entryways tend to be thoroughfares we give little thought to – and often interesting architecture is lacking. To up the style quotient, choose a console table with curvaceous lines, and echo its shapes and materials in the vases and sculptural finds displayed on top.
9. Choose antiques
Antique furniture makes a beautiful focal point, but how to style a console table like this?
'An antique console does more than provide a place to set things down,' says Henriette von Stockhausen, co-founder and creative director of VSP Interiors (opens in new tab). 'By adding a pair of lamps with antique silk shades for a welcoming glow, along with art, tapestries and decorative items, one can create a layered comfortable look.'
10. Play with pastels
Make a pleasing vignette on a larger console table with a pastel palette to draw a variety of pretty pieces and a floral arrangement together. The addition of white keeps the effect fresh and sophisticated. Smaller decorative pieces are best grouped, while taller designs will introduce the height that's necessary on a larger piece of furniture.
If you're including artwork, hang it close to the table so it reads as part of the whole, and link it with color, too.
11. Frame an entry table display with wallpaper
Entryways can be tricky spaces to deal with as the proportions are often slim, and they suffer from little natural light and architectural interest. However, you can use some hallway wallpaper ideas to help create interest, as Irene Gunter, founder of interior design studio Gunter & Co (opens in new tab) explains:
'I really wanted to introduce some wallpaper to inject color and texture but it wouldn't have worked in large amounts. This discreet frame detail that our joiner made from liquid metal panelling beads has created such a big impact, it provides a beautiful space for the wallpaper whilst framing the entry table perfectly.'
The position of the over-sized centrally-hung mirror is key, too – it is close enough to the console below to become part of the display of accessories, giving the entryway incredible impact and focus.
12. Display prized antiques in an entryway
Beautifully crafted antique console tables can look fabulous and add instant character to entryways – and if you're lucky enough to have the space then a narrow piece can fit perfectly, like in this hallway by interior designer Penny Morrison (opens in new tab).
Add a pair of patterned table lamps to create balance at either end of the table, a gallery wall of smartly framed paintings and an impactful vase of blooms for a softening decorative touch. Antique fairs have a wealth of fabulous finds that you can display too – from small trinket boxes to stunning ceramics.
13. Decorate a console table to make a small entryway feel larger
'First impressions are essential when welcoming both you and your guests into your home. In order to achieve a statement hallway, I always incorporate a console or entry table into the space, which is both functional and elegant,' says London based bespoke interior designer Louise Bradley (opens in new tab).
'When dressing the entry table, it is important to consider both purpose and scale, drawing the eye into and around the room. Avoid clutter by adding a small decorative box, where you can store your essentials upon arrival or alternatively choose a console with drawers.
'Adding greenery and a scent diffuser will also create an uplifting ambiance. Add further impact by dressing the walls with a large mirror, this will assist in reflecting natural light throughout and will open up the space.'
Note the slimline proportions of the table – including its legs – and the tall, narrow mirror – both cleverly work to exaggerate the entryway's height, making the narrow space feel more generous.
14. Pick a decorating theme for your entryway console
If your entryway console table has a distinct decorative theme – whether California Casual or country – picking accessories to decorate it with that echo that theme makes perfect sense. Here, Oka (opens in new tab)'s Katsura console table has been accessorized with pieces that hint at the Oriental style of the table itself – to great success.
15. Decorate a console table with paint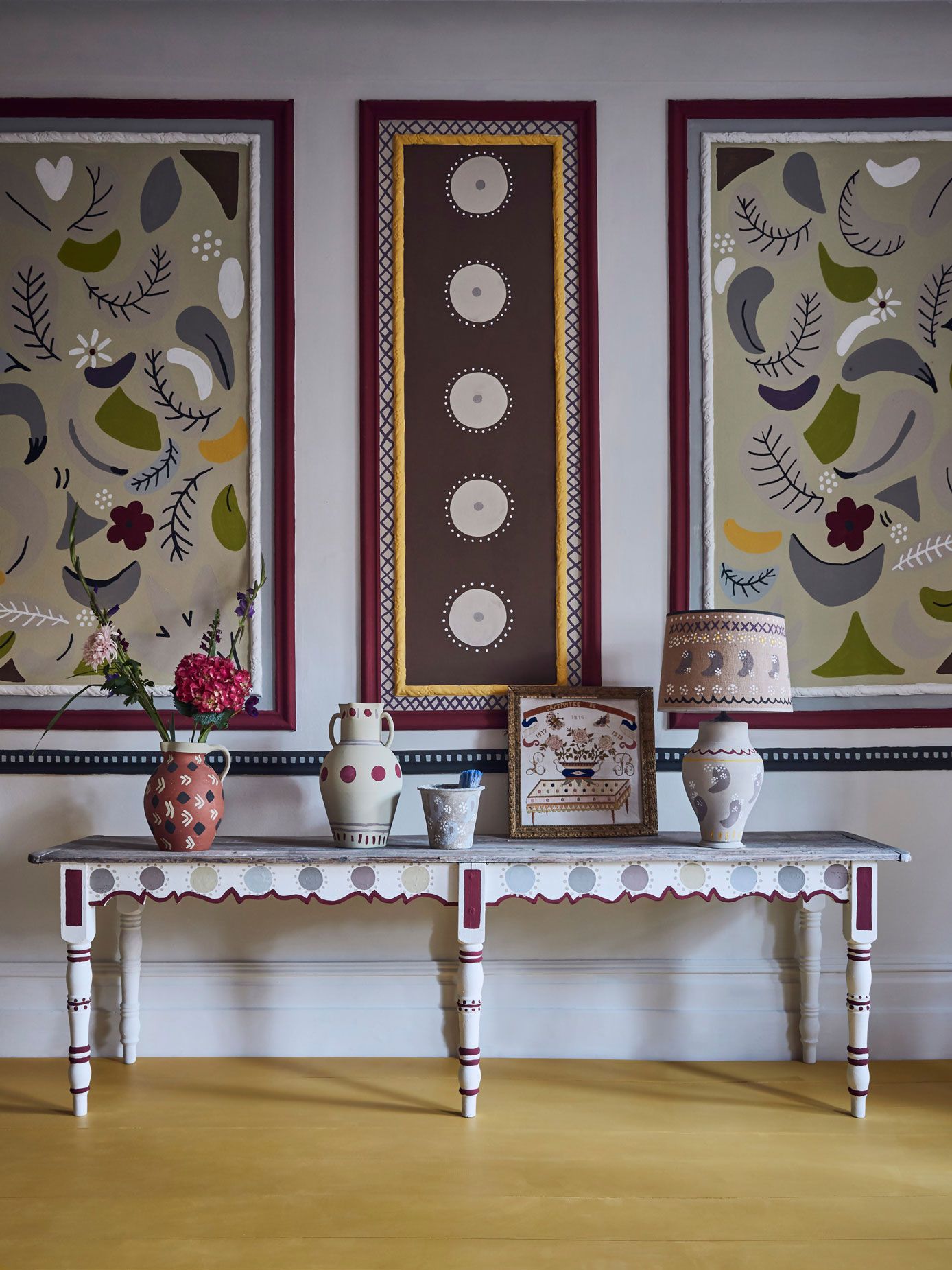 Looking for cottage hallway ideas? Here, an ordinary console table has been given an extraordinary makeover with paint by British artist and paint expert Annie Sloan (opens in new tab). She has echoed the design in the wall panelling behind it and, of course, picked accessories with a hand-painted finish.
How do you decorate a console?
Table lamps, artwork and framed photographs, and decorative accessories like vases, sculptures, and ceramics can all be used to decorate a console.
'When styling a console table, consider scale and proportion,' says Louise Wicksteed, design director at Sims Hilditch (opens in new tab) interior designers. 'For example, table lamps framing the console add height and symmetry. Potted plans in a round bowl lead the eye, while stacked books and decorative objects add a personal touch.'
What do you use a console table for?
Console tables provide a space for table lamps and displays of decorative pieces and artwork and, because they are slim, they can fit into narrow areas like halls and entryways as well as into dining rooms and living rooms. As an alternative to positioning it against the wall, you might locate one at the back of a couch in the latter space.
They're a versatile choice that could stand in for a desk in a compact space, or a bar when entertaining.
Sarah is a freelance journalist and editor. Previously executive editor of Ideal Home, she's specialized in interiors, property and gardens for over 20 years, and covers interior design, house design, gardens, and cleaning and organizing a home for H&G. She's written for websites, including Houzz, Channel 4's flagship website, 4Homes, and Future's T3; national newspapers, including The Guardian; and magazines including Future's Country Homes & Interiors, Homebuilding & Renovating, Period Living, and Style at Home, as well as House Beautiful, Good Homes, Grand Designs, Homes & Antiques, LandLove and The English Home among others. It's no big surprise that she likes to put what she writes about into practice, and is a serial house renovator.