Designer Profile: Adam Bray
Homes & Gardens Interior Designer of the Year 2021, Adam Bray's projects combine exceptional antiques and rare textiles with a clever and distinctive flair for color. Here, he speaks to Kate Burnett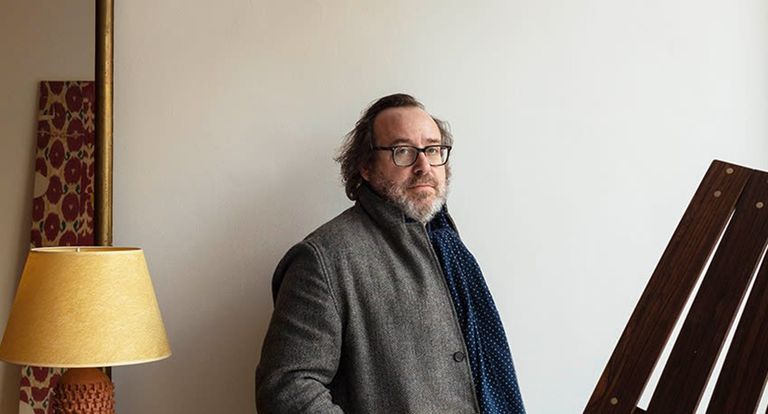 (Image credit: Adam Bray)
By Lucy Searle
When asked about an interior designer's relationship with their client, Adam Bray smiles knowingly: 'Often people want to be just slightly taken out of their comfort zone,' he muses. 'It's just pushing someone slightly, like being a personal trainer and getting someone to do another 20 lunges.'
Homes & Gardens Interior Designer of the Year 2021, Adam has been 'training' his interior design clients for over 25 years now, beginning his career in antiques at age 16 and eventually opening his own antiques store in Notting Hill in London.
Style ethos
His entrée into interior design was via a regular client who asked him to advise on paint colors for her house in Little Venice.
'I think she was at a bit of a loss,' he says, with typical wry self-deprecation. 'A lot of the time our work is about helping people do things. It can range from a bit of a gentle handhold, leading someone to make a slightly difficult decision to projects where people say, "just do it all, from beginning to end". Both are welcome, both are valid.'
Adam Bray is highly regarded by the industry and clients alike. He is renowned for his expertise in sourcing and using exceptional and unusual antique furniture and textiles, and for a sophisticated eye for colour that has evolved directly from his antiques work.
Adam Bray's collaborations
Both are seamlessly united in his projects, and these skills/affinities also mean Adam is in demand for collaborations with interesting 'design insider' brands. He has devised paint colors for Papers & Paints, designed wallpaper with Hamilton Weston, (above), created rugs with Christine van der Hurd (with Adam, below).
Adam also provided creative direction for kitchen company Plain English (below). More exciting collaborations are due to be announced.'
'I can't imagine doing a house without most of the furniture being old,' he confesses. 'Antiques add a dimension of patina, of surface, of finish and that's something I really love. When new fabrics and new upholstery rub up against these old pieces, they tell a very good story together.'
The internet revolution
Gone are the days when Adam would be out on the road twice a week in search of treasures. 'I don't need to do that any more,' he says. 'The internet has made it much easier to find things. I use it constantly.'
He also sells his finds online and from his latest shop in north London which opened in November 2020. A visit here is recommended – currently by appointment only – if you want to get a sense of the range of pieces he sources and his distinctive yet subtle color palette.
Color confidence
Adam's confidence, honed over the years, leads to striking results.
'Color matters to me,' he states. 'I think it's being surrounded by old things, looking at old houses and the soft, mellow aspect that time gives to things. So, even though I do work with some very strong colors, they are not particularly bright. I think that just comes from really liking the way the old colors look when things get a bit faded.'
As well as starting with the pieces he finds, or perhaps a striking shade he's spotted on the street, Adam also derives color from archives – consciously avoiding an obvious or explicitly English look to perhaps favor Italian, French or American sources. He then blends these to arrive at a unique personal palette that is perfect for his projects.
Not just a decorating visionary, Adam can be relied on to deliver results for his clients: the years of experience keep his feet firmly on the ground and he knows where to draw the line between creativity and practicality: 'It's about fantasy and imagination and having the confidence to let that play a big part, while trying to use as much common sense as possible.'
Interview / Kate Burnett
My first job was writing a DIY column for a magazine for the over 50s (which seemed a long way off back then). I then moved to a DIY magazine as deputy ed, then freelanced my way around the homes departments of most women's magazines on the market before working on Your Home and Family Circle magazines as homes editor. From there, I went to Ideal Home magazine as associate editor, then launched 4Homes magazine for Channel 4, then the Channel 4 4Homes website before going back to freelancing and running a social media business (you can see where I had kids from the freelancing gaps!). I was tempted back to the world of big business by the chance to work with the great team at Realhomes.com, where I was Global Editor-in-Chief for two and a half years, taking it from a small website to a global entity. I've now handed the reins of the website to our American managing editor, while I take on a new challenge as Editor-in-Chief of Homes & Gardens.