Small home bar ideas – 10 ways to create a perfectly-formed social space
These small home bar ideas show that you don't need a huge space to create a magnet for socializing at home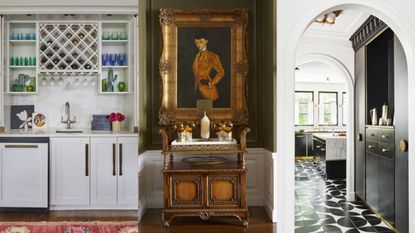 (Image credit: Mel Bean Interiors/Laurey Glenn / Kellie Burke Interiors/Michael Partenio /Maestri Studio/Stephen Karlisch)
Even small home bar ideas can pack a punch. In fact, you needn't devote much more space to creating a social space than a good old drinks' trolley and some comfortable seating. However, if you want your small home bar to have a purposefully designed feel, or need it built-in to suit your interior design or simply to save space or fill an alcove, you might like to cast your eyes over our favorite stylish spaces, below.
Including everything from antique furniture to sleek fitted furniture, these are home bar ideas with panache, but for compact rooms. Don't forget to store your best cocktail glasses nearby.
Small home bar ideas
You know you've made it when you can smoothly transition from summer evenings at your garden bar to a small home bar indoors in fall. Below, we take you beyond bar cart ideas to spaces with much more intent.
1. Choose classic styling in a mahogany finish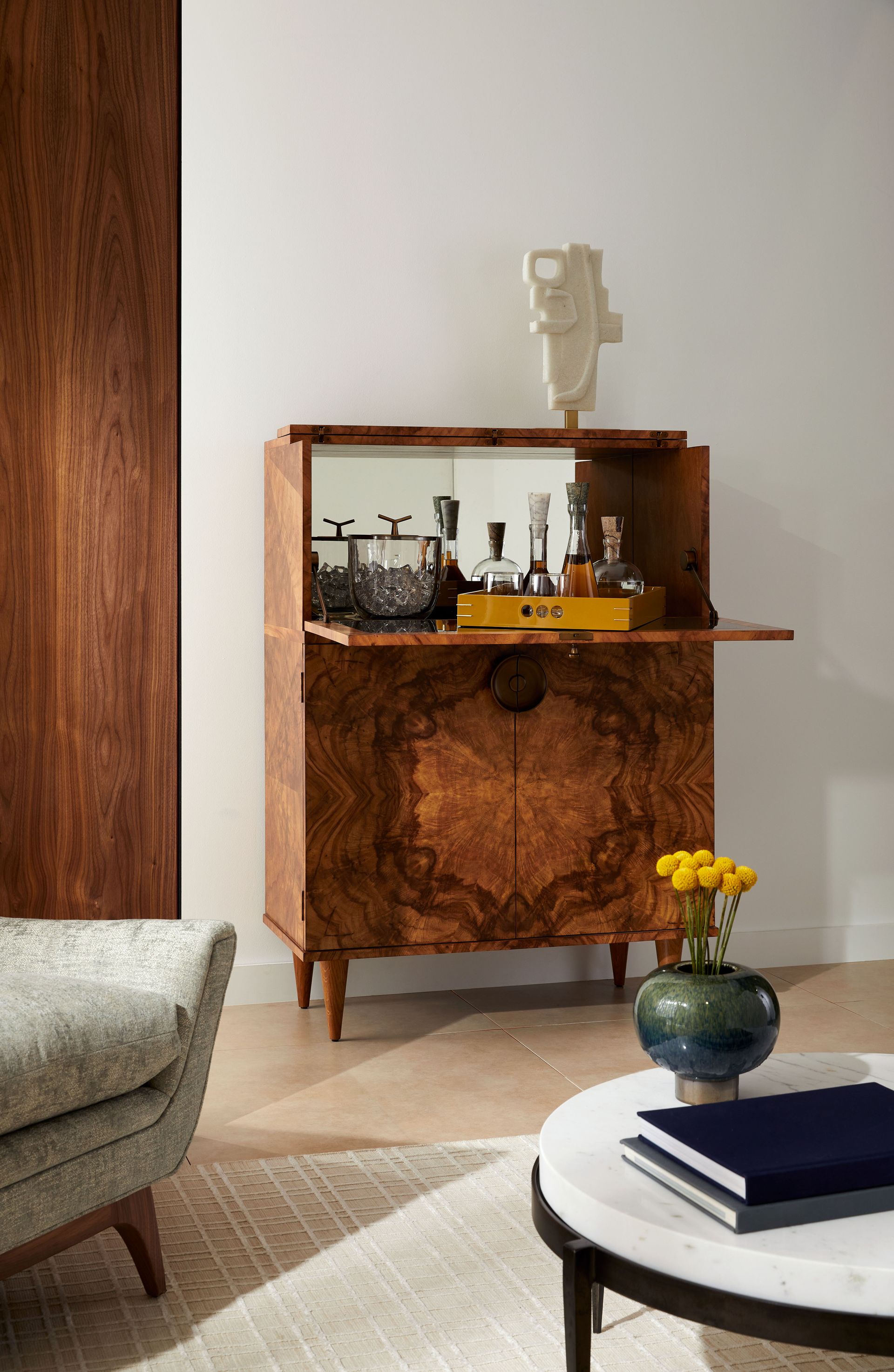 Decorating with antiques is a wonderful way to introduce a small home bar to a room, adding character, texture and the warmth of wood.
'The home bar is becoming a must-have in dining room nooks and living room corners to create a welcoming entertaining space for guests. Bar trolleys and cabinets specially designed to house glassware, drinks and accessories are the obvious choice to provide stylish and functional storage to stow away or display your favourite tipples,' says Helen Pott, design ambassador of Arteriors.
'Classic designs remain the more popular choice, with mahogany finishes and antique brass detailing creating a traditional home bar scheme that designers tend to favor.'
2. Zone your small home bar with wallpaper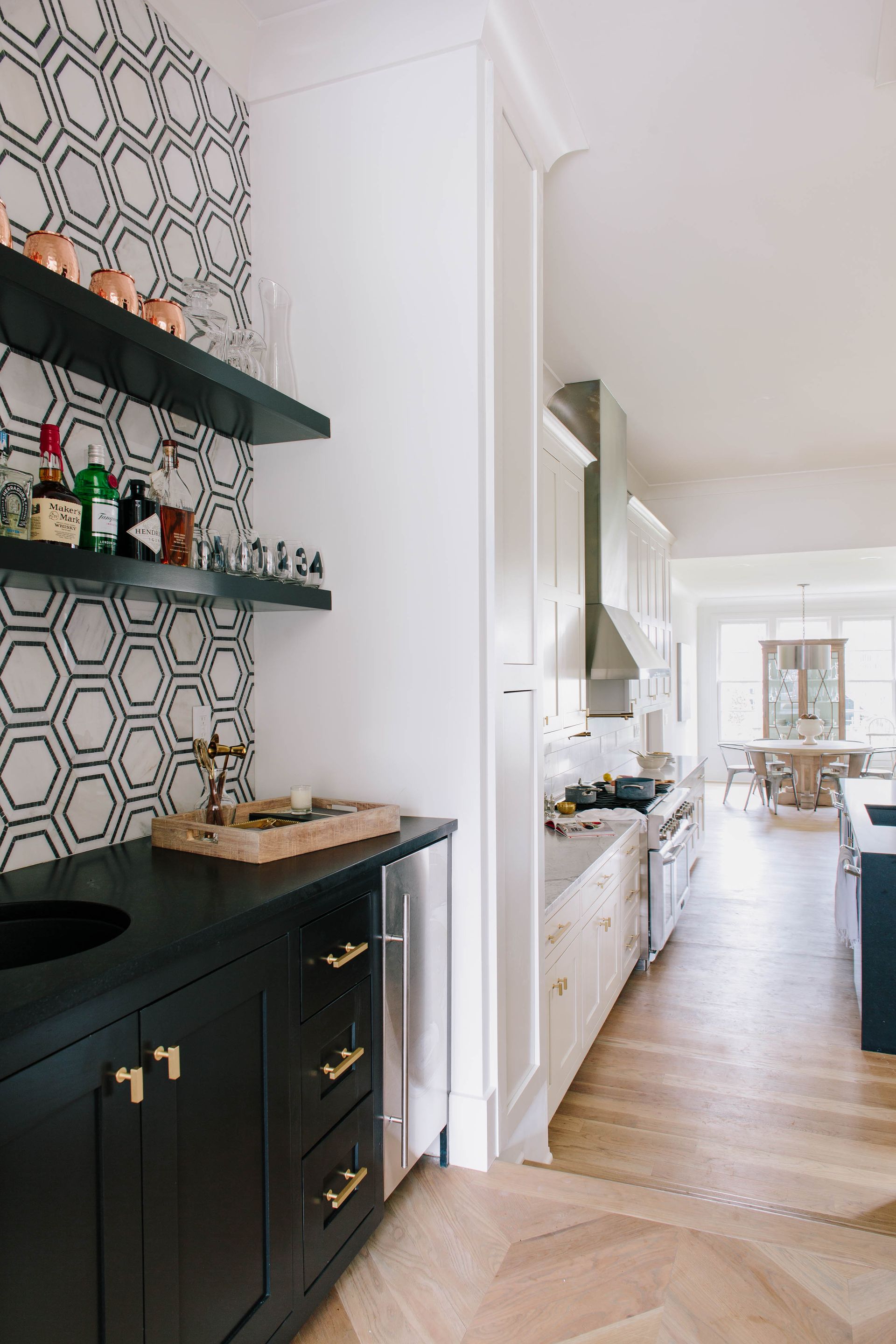 It's likely your small home bar makes up just one of your kitchen ideas. To increase it's impact and create a defined space, use color and/or pattern. Bar countertop ideas can further help with the zoning, contrasting with kitchen countertop ideas, or matching an island countertop in the space beyond.
'This clearly defined small home bar has its own design scheme in monochrome, but one that still works with the rest of the open plan space. The wallpaper is simple yet effective and the black cabinetry adds drama. If you do have space, installing a small sink means you can keep drink prep separate from the kitchen area,' says Jennifer Ebert, digital editor, Homes & Gardens.
3. Perk up a white home bar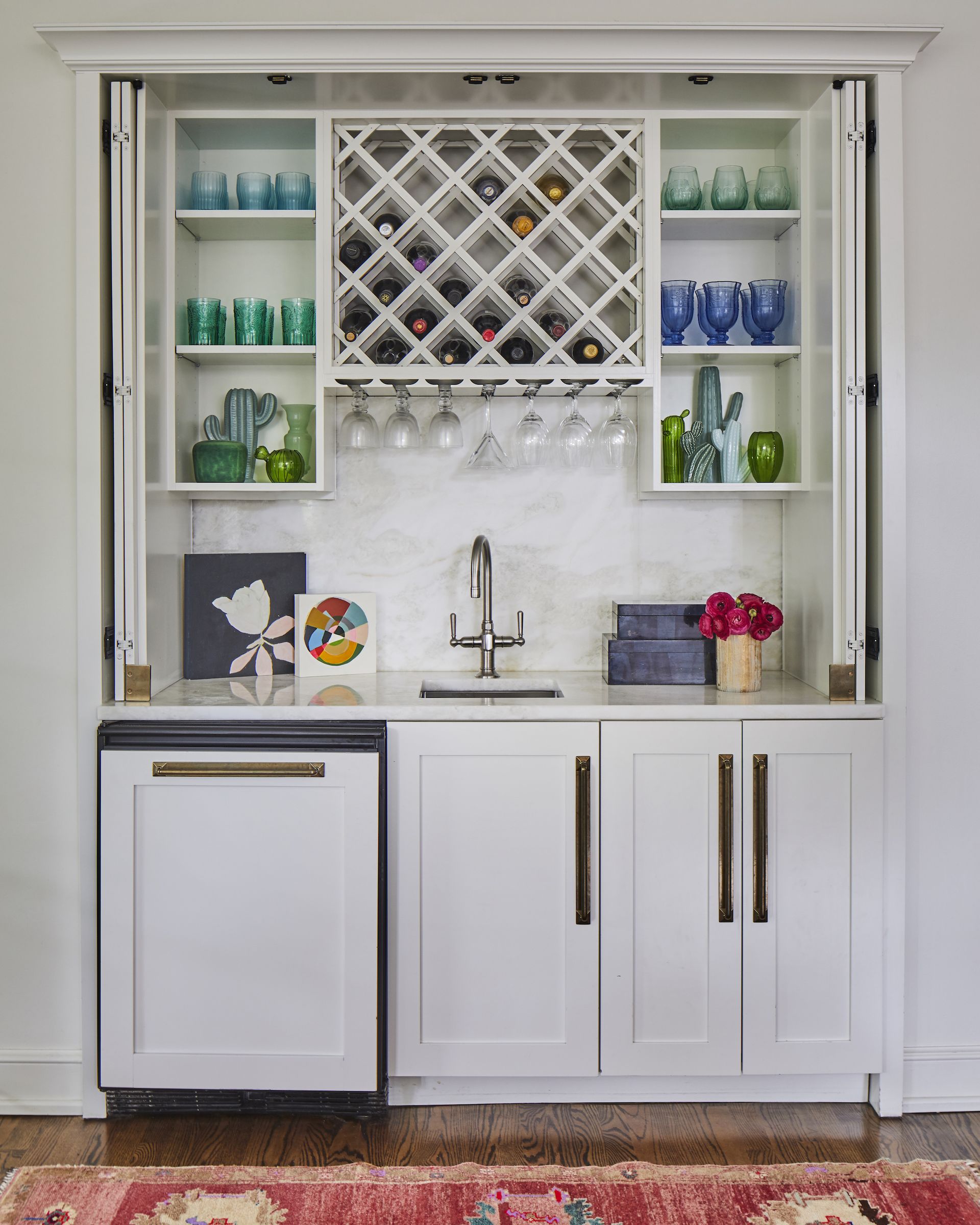 Mel Bean of Oaklahoma-based Mel Bean Interiors, says:
'Celebrations bring about laughter and good times, so why not have fun with your bar area too? Choose colorful barware in coordinating colors. Consider open shelving to display glassware and for easy accessibility.'
Note the folding doors in the upper half of this small home bar, which can be pulled across to hide the drinks and glasses, or allow them to be locked away, if you are combining a small home bar with family den ideas, for example, and want to keep kids' away from alcohol or favorite glassware.
4. Alcoves make great bar spaces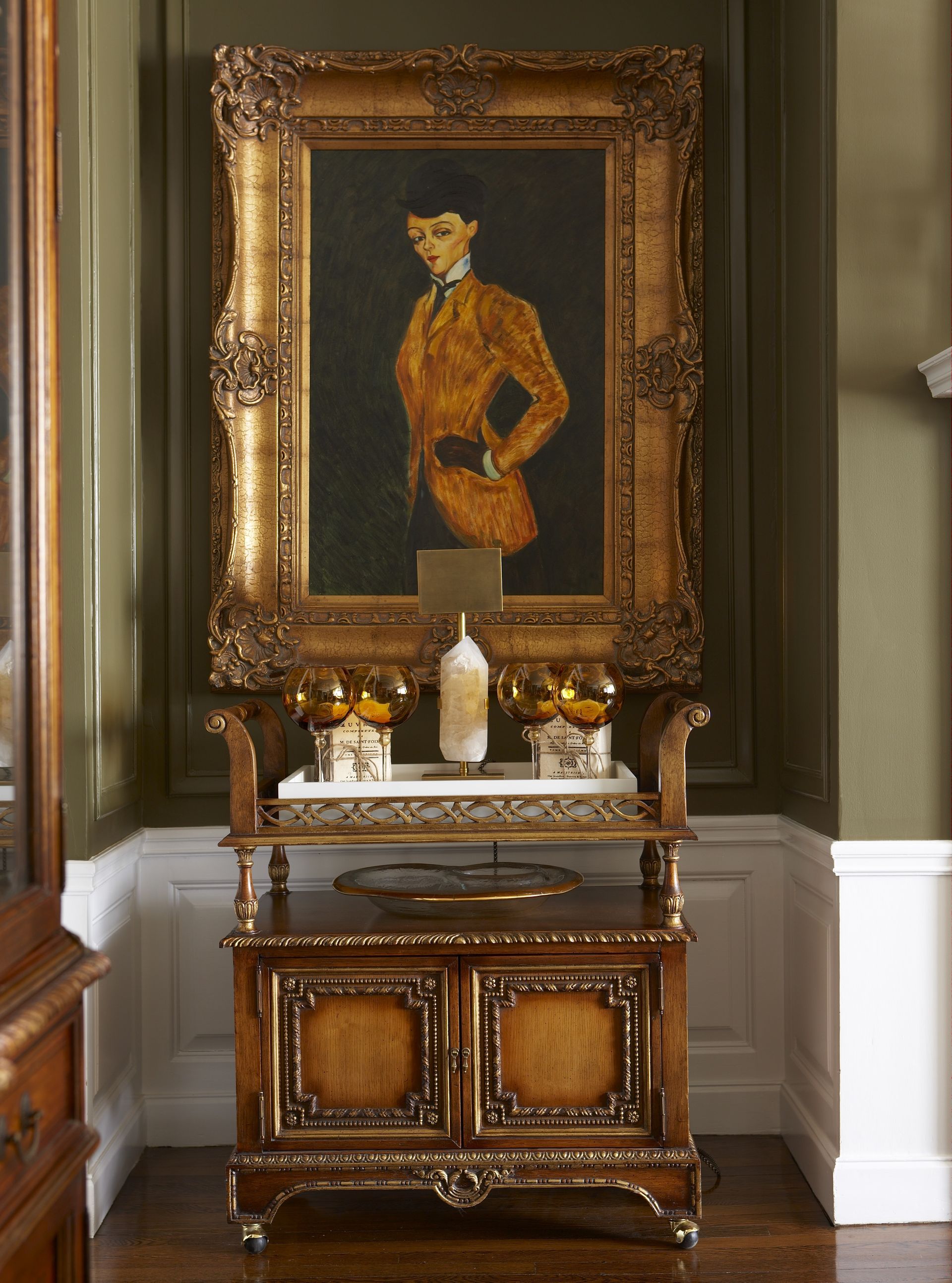 Looking for clever, useful and fun alcove ideas? Think: a small home bar.
'Any small nook can have a purpose; sometimes the smaller the better for an intimate yet impactful punch. I'm a huge fan of a bar cart filled with a reason to step up to it and pour a drink. Layer it with a tray, lovely unique glasses and of course dimmable lighting to set the mood. Each space has a unique way to tell a story or invite you in,' says Kellie Burke, founder and principal designer of Kellie Burke Interiors.
5. Big on entertaining? Install a bar near the backyard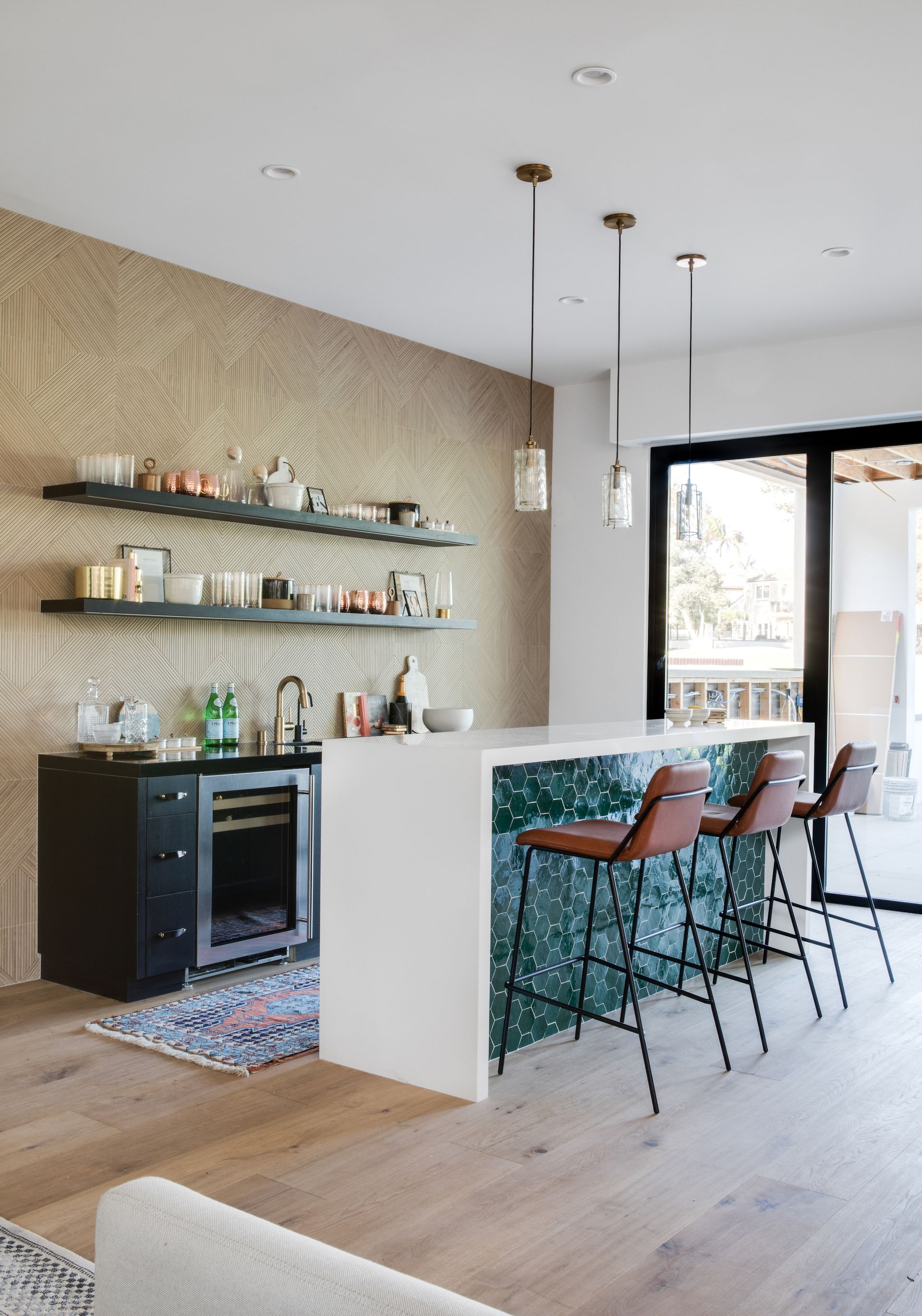 'If you have a spare corner and entertaining is your thing, then capitalize on the space by using both the wall and floor area well. A small seated bar can double up as a breakfast area during the week too,' says Lucy Searle, global editor in chief, Homes & Gardens.
This layout can be adapted for basement bar ideas or if you are thinking breakfast bar ideas for small kitchens, where a drinks' fridge can sit side-by-side with a food fridge. If you are installing a small home bar like this, the key to success will also be in comfortable island seating ideas, which can range from stools to built-in banquette seating ideas.
6. Create a small home bar that bridges two areas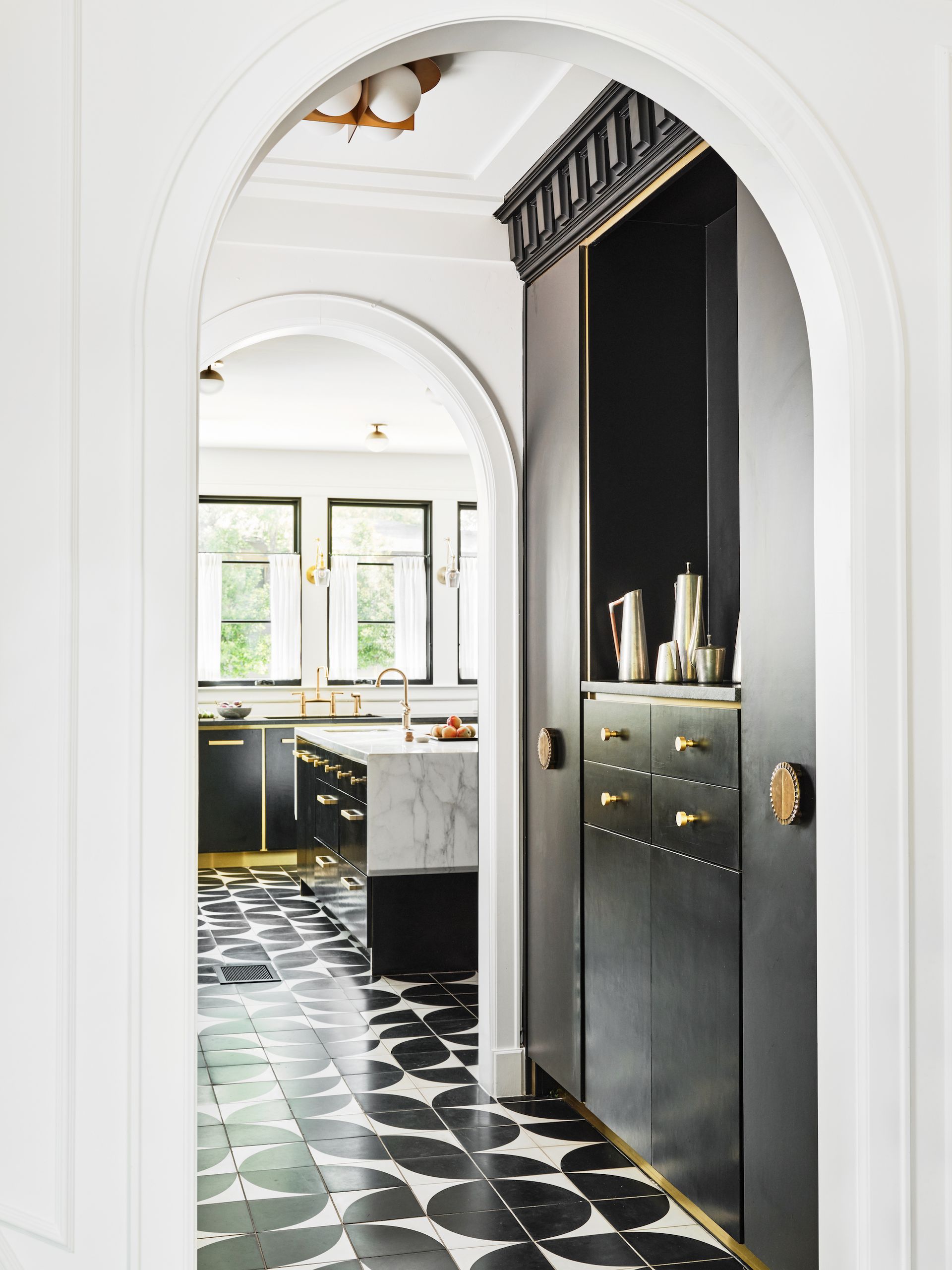 'This bar nook is located between the kitchen and dining and off a side porte-cochère entrance, so multi-function was key. Design elements from the kitchen were incorporated to bridge the two spaces,' says Katie Paulsen, interior designer at Maestri Studio.
'The center section includes drawers for barware and bottles. It has a stone top for prep and display. Full height doors were added to hide away everyday things. Brass detailing, chunky dentil crown, and oversize hardware are meant to enchant and charm you when entering from any direction.'
7. Team inky blue cabinetry with brass detailing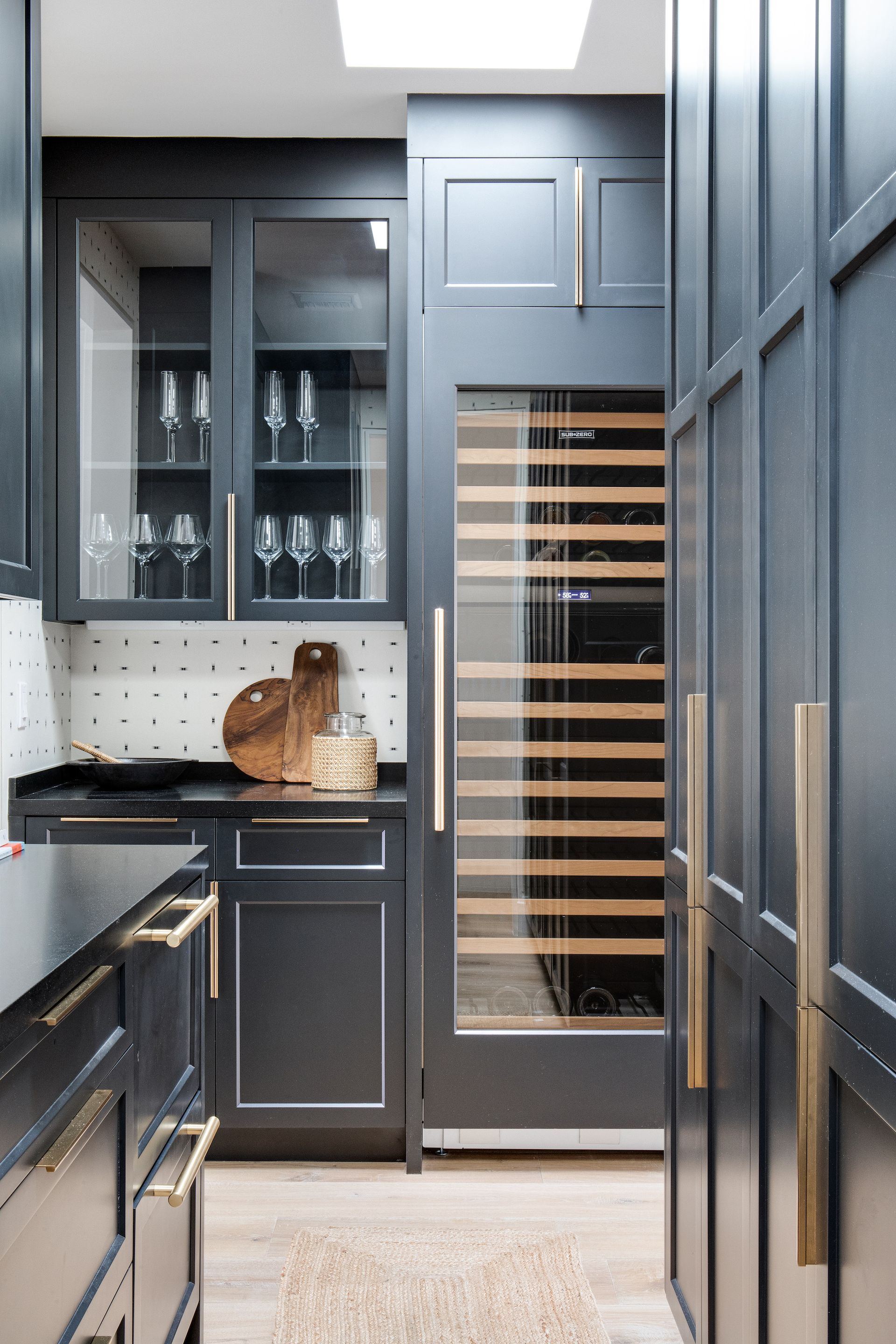 'One of the best ways to elevate your entertaining is with a small home bar! We created this bar off the kitchen and near the living room in this coastal home. We wanted it to have a moody feel that is fitting for a bar so we went with this dark tone blue on all the cabinets.
'We complemented it with brass hardware for a pop and added a simple patterned wallpaper for interest at the "serving" area where delicious drinks are mixed up.
'The soapstone countertop created a durable and easy to maintain space that added to the dark appeal. A wine refrigerator and glasses completed this space perfect for entertaining guests!' says Lindye Galloway, founder and chief creative office of Lindye Galloway Studio + Shop.
8. Consider a discreet bar with doors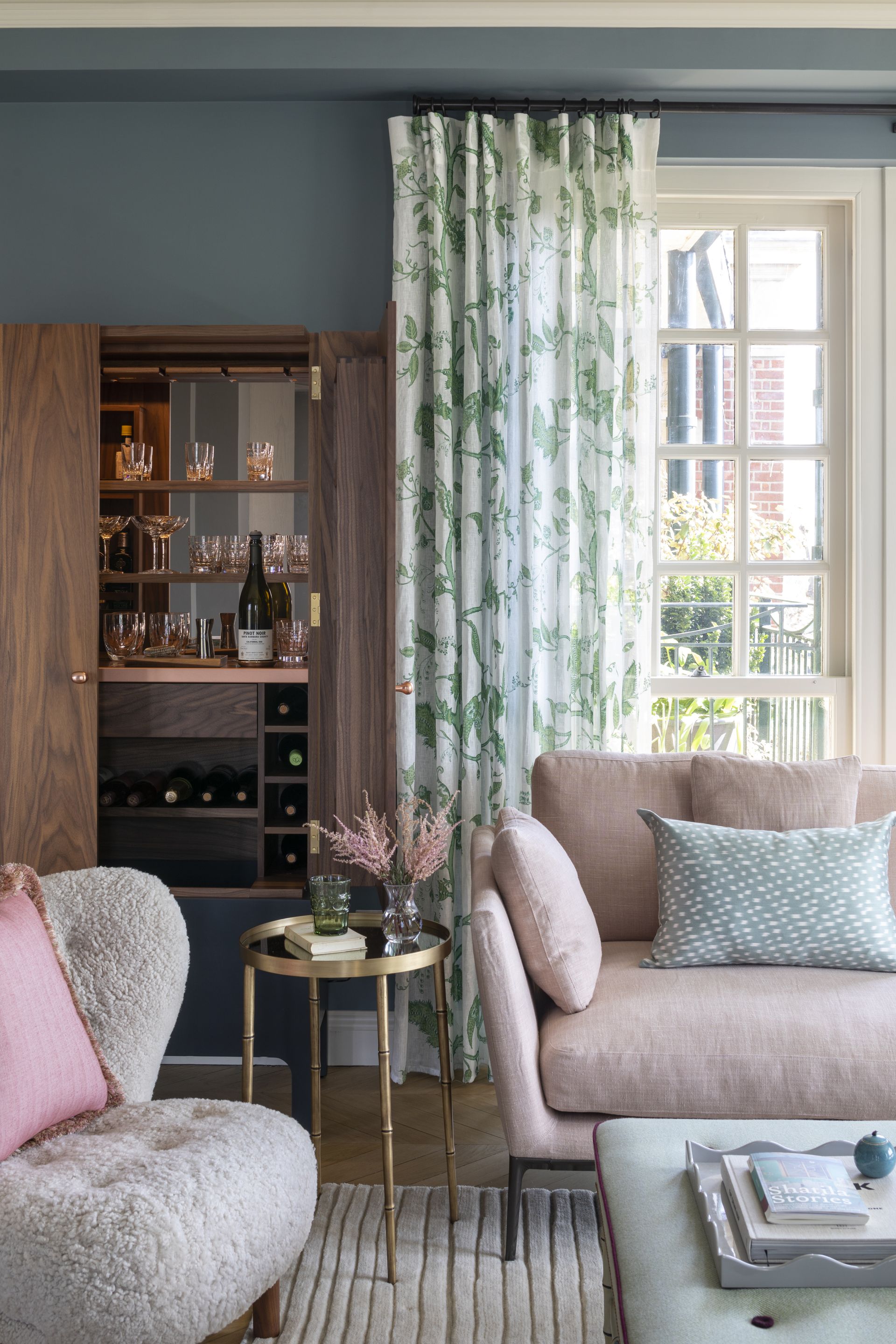 'We chose Pinch's beautiful Frans drinks cupboard for this reception room, to create a discreet yet sophisticated bar against the back wall. It adds a sense of occasion for making cocktails but also stores everything away elegantly when not in use in the daytime.
'The bar is a sleek addition to the space, and the wood and subtle glow brings a feeling of warmth to the room's layered scheme of soft pinks and neutrals, and fresh green and blues,' says Katie Lion, senior interior designer at Kitesgrove.
9. No room? Use under stair space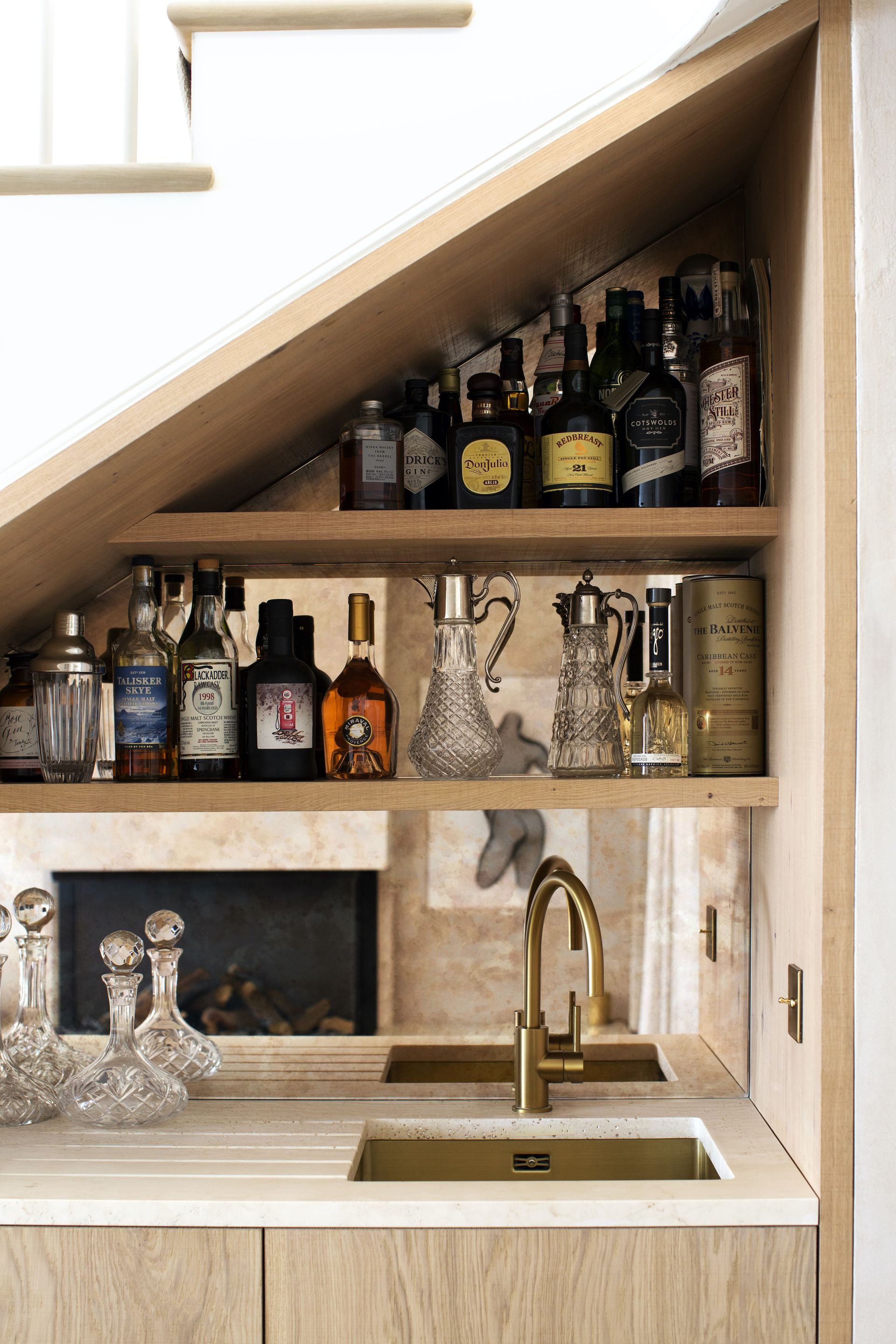 Looking for under stairs ideas that are more fun than shoe storage? Take inspiration from under stairs pantry ideas; good ones can pack a punch in a small space.
'Utilizing under-stair space for a stylishly appointed small home bar is much more rewarding than stuffing it with coats and shoes, and guests will be far more appreciative come party season!' says Tom Rutt, director of TR Studio.
'A custom solution is key to ensuring a perfect fit and harnessing all the space available. Follow the rise of the staircase to gain as much height as possible and consider adding a contrasting timber or color to distinguish it from the staircase. A touch of brass, antiqued mirror and marble can also add glamor and elevate it from an awkward space to one to be enjoyed.'
10. Combine textures for a classic look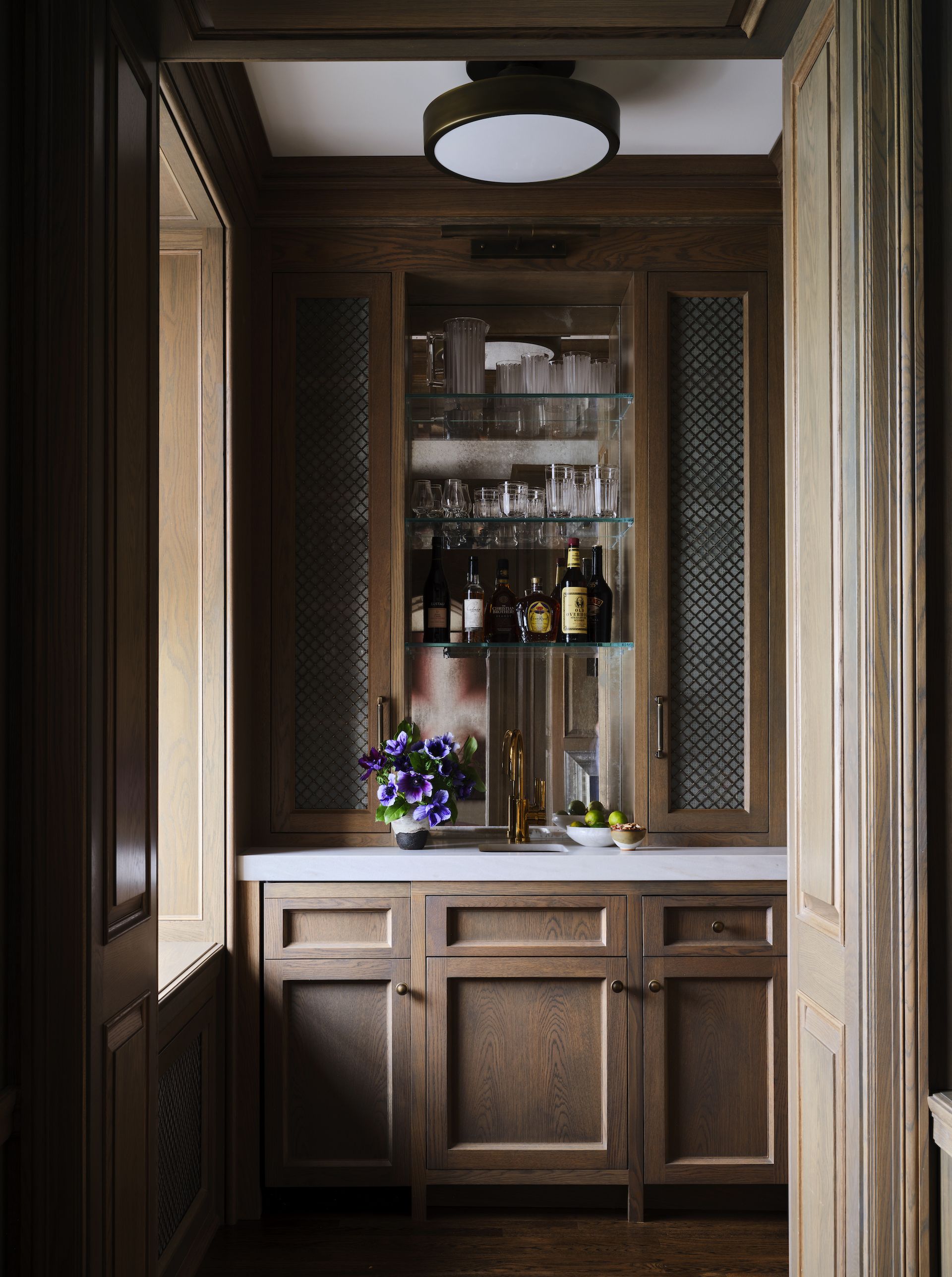 'With its strong sight lines from the living room, we wanted to make sure this little bar packed a punch! Metal mesh door inserts and an églomisé backsplash give the space a textural and reflective presence, while the stained greige white oak paneling and millwork act as the perfect moody backdrop.
'Accents of unlacquered brass give the space a touch of much needed jewelry,' says Jennifer Durand, design director at Jessica Lagrange Interiors.
How do you make a mini bar at home?
The most space-effective way of making a mini bar at home is to build one into cabinetry that's part of the kitchen or pantry. If you have more space, freestanding furniture that's built for purpose can look beautiful, especially if it brings texture or color to the room, while a simple bar cart is a perfect small home bar idea. To make the mini bar practical, it will need: a selection of your preferred spirits or drinks (having a refrigerator nearby is useful for mixers and beers); an ice bucket; stirrers and accessories; glasses of various types to suit various drinks.
What is a good size for a small home bar?
A small home bar should ideally be at least as wide as a kitchen cabinet (around 24in) and at least as tall. It should incorporate a countertop for drinks mixing and ideally a few open shelves or a wall cabinet above it. You may want to consider, depending on how young your children are, whether you store alcohol up high or down low. You will also need to make space for seating, though this could well be your kitchen or living room seating.
Sign up to the Homes & Gardens newsletter
Decor Ideas. Project Inspiration. Expert Advice. Delivered to your inbox.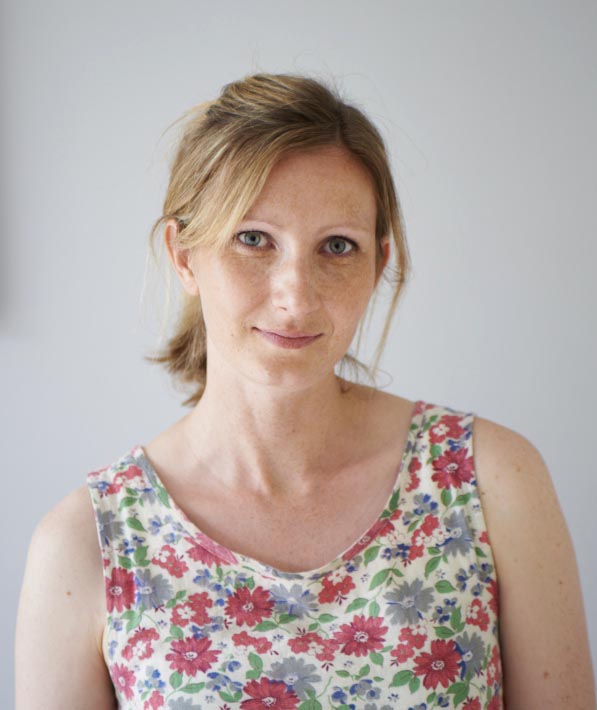 Sophie has been an interior stylist and journalist for over 20 years and has worked for many of the main interior magazines during that time, both in-house and as a freelancer. On the side, as well as being the News Editor for indie magazine, 91, she trained to be a florist in 2019 and launched The Prettiest Posy where she curates beautiful flowers for modern weddings and events. For H&G, she writes features about interior design – and is known for having an eye for a beautiful room.