Cottage hallway ideas – style inspiration to create a welcoming space
Be inspired by these ideas for cottage hallways – decorating, furnishing and style advice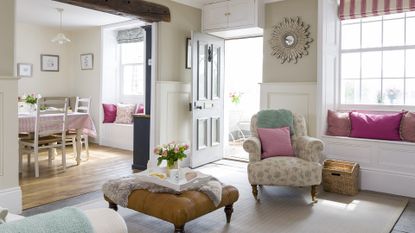 (Image credit: Jeremy Philips)
The cottage hallway is an important area to get right as it sets the tone and style for the rest of the home. A key part of the cottage aesthetic is the idea of a welcoming, relaxed, often rustic space. So the cottage hallway should include some or all of these elements as it's the first space anyone sees as they come into a home.
That said, it's surprising how hallways are often overlooked when we're considering furnishing and decorating the rest of the home. We take care over our kitchen, living room and bedroom decor, but perhaps gloss over the hallway as a space we take for granted.
First impressions count, however, so keep scrolling for tips and advice from the experts to make sure your cottage hallway provides a warm welcome and a practical transition from outside to inside.
See: Hallway ideas – stylish ways to create a welcoming first impression
1. Sets the scene for the whole house
'The hallway is your first introduction to the cottage so should set the scene for the rest of the house in your choice of colors,' says Daniel Slowik, associate director Sibyl Colefax & John Fowler. 'There are also practical considerations such as appropriate flooring , lighting and draft solutions. I favor good patinated flagstones or brick and a generous curtain over the front door or the inner porch.
'Coats, hats, sticks and wellington boots are a reality in the country and add an authenticity to a cottage hallway. Don't forget a good side table to place keys as you come in too,' adds Daniel Slowik.
See: Cottage decorating ideas – charming ways to get a characterful look
2. Make a cottage hallway part of a room
When the hallway runs through the middle of the cottage and is open to the rooms on either side, it works well to treat it as a separate area, while still benefitting from the increased sense of space it lends to the room.
In this Elizabethan home, the hallway would originally have been an open-ended passageway from the front to the back of the cottage, with no doors at either end. The ancient flagstones delineate the hallway from the dining space on the left. At the same time, the oriental rug in the hallway echoes the warmer furnishings of the cottage interiors, and benefits from the homely, welcoming details in the dining room.
3. Consider cottage hallway essentials
This cottage hallway ticks plenty of style boxes for Jennifer Wundrow of California-based Jennifer Wundrow Interior Design, who says, 'When I think of "cottage-style" spaces, it reminds me of days spent in the country – weathered finishes on traditional pieces of furniture.'
What are the key things to avoid in a cottage style hallway? 'Hallways can be small spaces, so dark paint colors are usually a no-go for me,' says Wundrow. 'I tend to use light, fresh paint colors to help make the space feel larger. This also helps highlight the beauty of the furniture piece, lighting, etc.'
See: Small cottage kitchen ideas – characterful looks for small spaces
4. Consider your front door color
Think about how the hallway will look with the exterior door open. The bold blue painted door adds an extra dimension to this cottage hallway. The flooring is simple – salvaged floorboards – and the hall table is clean lined so as not to detract from the stars of the show: the striking wallcovering and that bright blue front door.
Accessories and furniture are important. Common mistakes in a small cottage hallway are to leave it almost empty, thinking it will increase the sense of space, or to limit your choices to small scale patterns and smaller pieces of furniture.
However, Daniel Slowik of Sibyl Colefax & John Fowler advises: 'Don't under furnish or under decorate. Think of the hallway as a real room with a proper color and pattern scheme and properly proportioned furniture. There is an inclination to furnish a cottage on a small scale but this will make it look smaller.'
See more front door ideas in our dedicated gallery.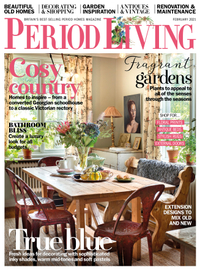 This feature was created by H&G's sister brand, Period Living magazine
Subscribe to Period Living for more inspiration Period Living is the UK's best-selling period homes magazine. A subscription provides you with all you need to know about caring for and improving a traditional house and garden.
5. Pick a pretty cottage hallway color scheme
Exquisite use of color and pattern in this simple cottage hallway scheme by Vanessa Arbuthnott accentuates the classic period features. Textiles in raspberry red and fresh duck egg blue lend a warmth and vibrancy to the old floor tiles and part-panelled walls. And for the practicalities? Somewhere to hang hats and coats and somewhere stylish to sit to get shoes on and off – don't forget cushions for comfort and an extra splash of welcoming color and pattern.
'Even if space is tight, it's worth including a long, narrow table where you can welcome visitors to the house with a bowl of flowers or vase of greenery,' says textile designer Vanessa Arbuthnott. 'In a larger hall you could place a round or oblong table in the center for flowers, maybe a sculpture and a place for mail going in and out of the house.'
And her flooring advice: 'A simple tiled or stone floor that can easily be brushed is a good plan, and a substantial door mat of course for all that mud and dirt.
'If you have room, a cheerful, warm-colored rug is a welcoming sight; and provides texture and warmth, too,' adds Vanessa Arbuthnott.
6. When old cottage meets new cottage
Creating a seamless transition between an old cottage and a new extension can be a challenge.
'A glass link is a good solution, which brings the advantages of natural daylight, and a view of the garden as you pass between the original space and the new addition. With sliding doors, in effect, it becomes a hallway to the garden,' says Melanie Griffiths, editor of Period Living magazine.
Furnished with a mix of antiques and newer pieces, even the decor mixes old and new.
See: Cottage garden ideas – pretty ways to embrace rustic style outdoors
7. Make your cottage hallway unique
Get creative by upcycling a hall table to create a truly individual and personal piece for a cottage hallway.
'This Charleston Farmhouse inspired design works perfectly in the oft-overlooked environment of a hallway,' says Annie Sloan, Colour and Paint Expert. 'The warm and welcoming colours, witty abstract design motifs, characterful panel outlining (which will work on walls that aren't even panelled! Just draw panel outlines – you'll need a small brush and some confidence, but "wobbliness" of lines will work well in a rustic cottage setting) speak volumes about the personality of the homeowner. And who doesn't want to be perceived as warm, witty and characterful?!'
'The colorful shapes with their intellectual, neoclassical links to the history of design provide visitors with an immediate talking point. You can paint hallway furniture – and even flooring – with Chalk Paint® to match, which gives everything a beautifully curated look at a minimal cost,' adds Annie Sloan.
8. Go for a natural look for a cottage hallway
Jennifer Wundrow of California-based Jennifer Wundrow Interior Design, who came up with the scheme for the cottage hallway above, favors natural materials and finishes:
'A rustic and organic texture on a table or chest of drawers paired with a beautiful table lamp are key looks. Always think about the practicality of a piece – something where you can place a vase of flowers and not be worried about the piece being too precious. Hallways are usually high traffic areas, so purchase a rug that already has some wear. This will add greatly to the warmth of the home.'
And when designing a hallway scheme, Jennifer Wundrow makes sure to incorporate 'a unique piece of furniture, good lighting and a vintage rug. Pieces that speak to the owners of the home and the overarching aesthetic of the home.
'Wood, brick, terracotta are some of my favorite floors in a hallway. I also love to include a vintage or antique runner to give the space more character.'
Don't miss our cottage lighting ideas for pretty, practical solutions.
9. Pick warm shades of gray
A pretty door curtain can add an extra decorative detail to a cottage hallway, besides cutting down on chilly drafts. 'Adding a door curtain in a hallway softens up a space,' says Susie Watson of Susie Watson Designs. 'This is particularly important if you enter straight into a living space.'
There are other ways to soften the look of a hallway, too. Adding homely touches such as table lamps and candles, and putting up framed prints will all help to turn a hallway from a corridor into a room.
But how do you go about choosing a color for such a high-traffic area? 'If going for a neutral color palette I recommend a gray that has warm tones to it, so as the feeling isn't too cold or stark,' says Susie Watson.
10. Choose seaside blues and calming hues
Take the opportunity with your cottage hallway scheme to set the theme for the rest of the home. The coastal look in this hallway continues throughout the seaside cottage, taking the shells, driftwood shades and sunbleached wood here as starting points. Sticking to just a few shades of neutrals and blues gives a natural and calm look as you enter the home.
11. Repeat fabrics from a hallway to living spaces for continuity
If you love a fabric, why not use it for the hallway, as well as elsewhere in the home? This Jane Churchill fabric is used in the cottage entrance and in the living room. And there's no rule that says a cottage should have small print fabric.
Daniel Slowik of Sibyl Colefax & John Fowler agrees: 'There is an inclination to furnish a cottage on a small scale but this will make it look smaller. Likewise with fabrics, scale up the pattern and this will make the space feel bigger. Especially important in the hall as this is your first taste of the house.'
12. No hallway? No problem
If the front door opens straight into the main rooms of the cottage with no hallway it's not all bad news. Far from it, you can turn this into an advantage.
For a start, the entrance borrows light, space, style and a cozy welcoming look from the living area. The owners of the country cottage pictured here went a stage further and opened up the space on both sides of the front door. Opening up the wall into the kitchen-diner added another dimension to the cottage entrance, and the characterful beam above the opening emphasizes the cottage look. There's a continuity of cottage style across the entrance, living room and kitchen-diner, with furnishings in soft pastel shades for all three spaces.
For cottage kitchen ideas, don't miss our inspiring image gallery.
13. Chintz is a classic choice for cottage hallways
In the cottage hallway above, the boundaries are blurred between the outside space and the home itself, with a few well-chosen pieces. The Colefax and Fowler chintz curtain, brings the garden indoors, and a rustic basket of logs and a lantern all reference outdoor country life.
See: Cottage curtain ideas – inspiration for a pretty, cozy home
'Florals are perfect for a cottage look,' says Daniel Slowik, associate director Sibyl Colefax & John Fowler. 'A good colourful floral and an interesting wall color do your scene setting for a bold scheme beyond. The floral design will have an uplifting effect as you enter and its scale will help heighten a sense of space, Don't be frightened of going big and bold!'
Sign up to the Homes & Gardens newsletter
Decor Ideas. Project Inspiration. Expert Advice. Delivered to your inbox.
Karen is the houses editor for homesandgardens.com and homes editor for the brand's sister titles, Period Living and Country Homes & Interiors, and an experienced writer on interiors and gardens. She loves visiting historic houses for Period Living and writing about rural properties for Country Homes & Interiors, and working with photographers to capture all shapes and sizes of properties. Karen began her career as a sub editor at Hi-Fi News and Record Review magazine. Her move to women's magazines came soon after, in the shape of Living magazine, which covered cookery, fashion, beauty, homes and gardening. From Living Karen moved to Ideal Home magazine, where as deputy chief sub, then chief sub, she started to really take an interest in properties, architecture, interior design and gardening.