Dining room rug ideas – 10 practical and stylish looks
Bring warmth, personality and coziness to your entertaining space with these dining room rug ideas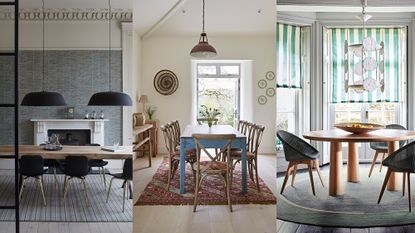 (Image credit: Roger Oates / Weaver Green / Jon Day)
Dining room rug ideas are a wonderful way to bring color, texture and personality into an entertaining space.
While they may not be the first element that springs to mind when decorating a dining room, many interior designers believe a rug can really transform the look and feel of a dining space, whether as a focal point or a unifying finishing touch.
'Creating a simple room scheme and then having a big colored or patterned rug can make a room – nothing pulls a room together quite like a rug does,' says interior designer Penny Morrison.
Not only do they make a beautiful visual feature, rugs provide warmth and softness but also serve to absorb sound, helping to create a welcoming and relaxing atmosphere for guests.
Whether you're looking to make a statement or bring subtle texture to your dining room ideas, these beautiful schemes and expert tips are guaranteed to inspire.
Dining room rug ideas
Choosing a rug can be daunting as there are so many designs, shapes, sizes and materials available. While many choose dining room rugs to complement kitchen rug ideas, decorating ideas and flooring ideas, they can make a wonderful starting point for a new scheme.
'People always ask what you should start with when decorating a room and I always say a rug. Since rugs are the hardest thing to find matches for, if you start with the rug and work from that then you've got your match before you begin,' says Penny Morrison.
'Picking out a color from a rug is a good starting point to build a scheme as it will ground similar shades to create an overall coordinated look. It also helps to position pieces in a room. Use the edge of a rug to align a sofa, for example, or the frame of a picture on the wall.'
1. Choose complementary colors
Patterned rugs that feature multiple colors are a wonderful way to pull together a room design. 'A rug is like a reoccurring thread in a story or the chorus of a song. It is the glue that holds a scheme together. Whilst adding texture, warmth and a sense of lived-in realness to a room, it also unites everything in terms of color and structure, says Martin Waller, founder of Andrew Martin.
In this scheme by Oka, the Holda rug beautifully complements the terracotta of the floor tiles, whilst also picking up on the green of the walls and blue leather dining chairs.
2. Create a focal point
Introducing a rug in a vibrant color is a quick and easy way to bring personality to a neutral dining room. Similarly, if you love decorating with primary colors but aren't confident using them over all four walls, then adding a statement rug is a safe alternative as it can be easily switched if tastes change. When it comes to what color to choose don't be afraid of red, says Emma Deterding, founder of Kelling Designs.
'For me, red really suits dining rooms. It's a great color for creating energy and dynamism and therefore is perfect for social environments such as dining spaces. It will really set the atmosphere for meal times and will help bring you together with friends and family, making amazing memories.'
In this grey dining room, Robert Stephenson's Mazandarian flatweave rug brings warmth to the space while its gentle texture helps soften the flat wall color and strong sculptural elements.
3. Choose the right size of rug
Before choosing a rug for a dining room be clear on your choice of table and chairs, as this will impact what size rug is best for the room.
'The size of the rug should be proportional to the size of the table and ideally slightly larger so that the back legs of the chairs do not protrude from the rug once you are seated,' says Nani Marquina, founder and designer at Nanimarquina. 'A person seated at a table generally occupies 29.5 inches (75cm), so the rug should be approximately 39 inches (1m) larger than the table on each side.'
4. Try a timeless stripe
Working with both modern dining room ideas and traditional dining room ideas, striped rugs are perfect for those looking to create a scheme with enduring appeal. Plus, depending on the direction their lines run, striped rugs can help emphasize the length or width of a room to give the impression that it is larger than it is.
'Add stripes, color and interest under the table and chairs, to create an island of soft texture on which to entertain and dine,' says Andy Guard, creative director, Roger Oates Design. 'Stripe rugs are especially versatile complementing decorative and geometric tiles and patterned or floral wallpaper. Stripes are timeless and the variations infinite, from classic fine pinstripes to contemporary asymmetric bands of color.'
5. Choose an elegant circular rug
There's no need to stick to a traditional rectangular shape when it comes to dining room rugs, sometimes a circular design can be a much better fit for the shape of the space.
'Circular area rugs successfully create a cohesive look within a room. The circular shape can echo other elements of circular shapes such as the architecture of the space, room accessories, lighting fixtures, and furniture shapes without looking overdone,' advises Jodie Hatton, residential designer at Brintons.
Here the Disco rug from Élitis at Abbott & Boyd is the perfect for for this bay window and echoes the curves of the Minton dining table from Julian Chichester.
6. Think about material
When choosing rugs for dining rooms, material and weave type should always be taken into account. If your dining room is in regular use then choose a design in a hardwearing material with a low pile or a flatweave rug (one which is not knotted so does not have a tufted pile) that will stand up to lots of footfall and the constant movement of chair legs. While deep pile rugs are luxuriously soft they can make the movement of furniture more tricky.
'A flatweave rug like a kilim or Dhurrie works best as they are both lightweight and durable,' says Nani Marquina. 'Wool is the traditional go-to material, adding warmth and improving the acoustics of a dining room, but new fibres such as recycled PET bottles are becoming very popular as they are so easy to care for.'
In addition to being a good insulator, wool has the benefit of being renewable and sustainable along with other benefits, explains Andy Guard. 'The wool fibers in our flatweave rugs are strong, resilient, and naturally elastic. Furthermore, the protective waxy coating makes wool resistant to stains, giving you more time to mop up spillages.'
7. Use a rug to zone a dining area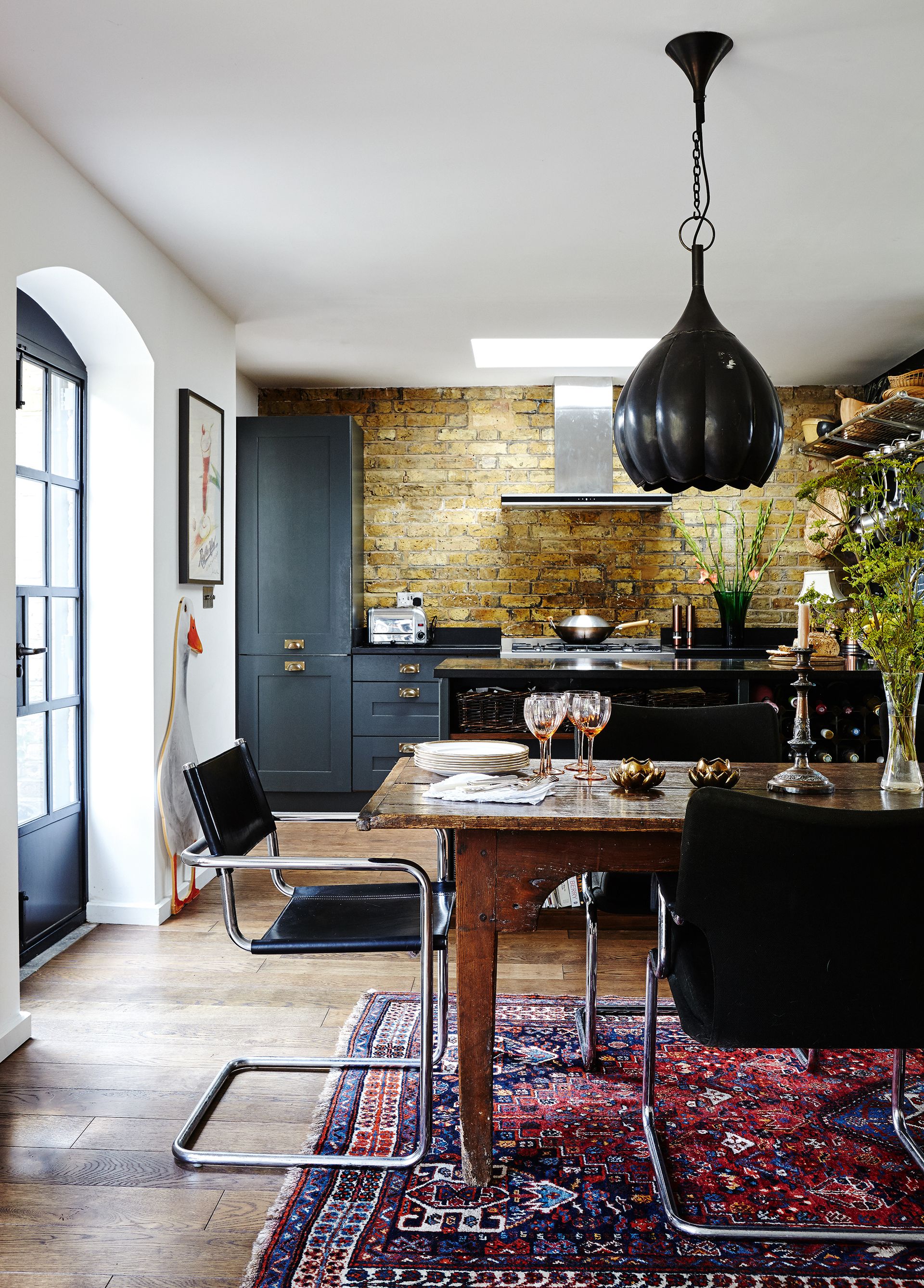 Hard flooring is a popular choice for busy spaces like kitchen diners as it is durable and easy to clean. Having the same flooring throughout the kitchen and dining area is a great way to make the space feel unified, but it can leave dining areas feeling cold and echoey.
Adding a rug is an easy way to distinguish the dining area from the practical kitchen space, plus it will help muffle sound, making for a more relaxed and cozy ambiance. Choose a dining room rug that has accent colors that pick out your kitchen cabinetry for a cohesive feel.
8. Embrace pattern
Patterned rugs are a wonderful way to bring unique style to a space, especially if you're looking to keep the rest of the room simple and laid-back. Dining room wallpapers may look show-stopping, but can be overpowering, however, with a rug you can make a feature of a floor whilst keeping the space feeling calm and relaxed.
'Patterned rugs can add movement and energize a dining room, giving it personality. Traditional-style woven, boho rugs look great with rustic table styles and are great for hiding plain or uneven flooring,' says Tasha Green from Weaver Green.
Patterned rugs are also brilliant for disguising stains and wear and tear, although luckily now there are plenty of washable designs to choose from. 'Because all Weaver Green rugs are machine washable they are also perfect for dining rooms where food and drink spillages can occur,' adds Tasha Green.
9. Bring texture with natural materials
Many interior designers champion the benefits of using natural materials. Sustainable, renewable and hardwearing, materials like sisal and jute bring the calm and nurturing qualities of nature into the home with their earthy coloring and rustic texture. They also pair beautifully with wood flooring as part of farmhouse dining room ideas.
'Natural materials are our go-to when choosing a rug in the home. A sisal carpet can be vulnerable to spills and stains so we recommend using these in more formal dining rooms where this is less likely to happen,' says Louise Wicksteed, design director at Sims Hilditch.
10. Double up
Choosing rugs in coordinating designs is a great way to warmth and subtle interest to open-plan living room ideas as demonstrated here with the Rabari rugs, designed by Doshi Levien for Nanimarquina.
'Two rugs in the same collection but different designs are used in this open plan living area, one under the dining table and the other by the sofa, work to unify the space and provide visual interest,' says Nani Marquina.
When placing rugs on wood flooring living room ideas, always ensure there is an anti-slip underlay.
What kind of rug do you put under a dining table?
Rugs placed under dining room tables need to be durable – often flatweave rugs and those with a low pile are the most practical. Choosing your dining table and chairs before a rug will help determine the size needed – ideally, the chairs should all stay within the area of the rug whilst being pulled out and drawn in, a rug that is not sufficiently large enough may mean chair legs can easily get caught.
The area around the dining table is susceptible to falling china, cutlery and spillages, so having a design that is easy to clean is important.
When it comes to design there are different approaches to take. Choosing a patterned design with multiple colors can make a beautiful unifying finishing touch, alternatively, a bold design can help create a focal point drawing attention to the main purpose of the room and can make a great starting point for a design. Alternatively, a neutral design with subtle texture or a gentle stripe is a wonderful way to bring coziness while keeping a space feeling restful.
Do round rugs make a room look bigger?
Round rugs can help rooms feel larger, but what will have a greater impact on the feeling of space is the dining table you choose.
'Anything too big will leave the room feeling cramped, while a table that's too small will make it feel empty and uninviting. Start by thinking about how many people you can physically seat in the space; it's important to leave enough room around the table and between each chair, so I'd recommend factoring a distance of at least 80cm (2.6ft) between the wall and the dining table, and roughly 1.9ft between each seat,' says Sue Jones, co-founder and creative director of Oka.
Round tables are easier to maneuver around and are a good choice for small dining rooms as they can make rooms appear larger, but if your room is not very wide then a rectangular design may be best.
'A round shape will tend to be wider than a rectangular table. This gives you loads of extra space for serving dishes and platters, and the seating plan is really flexible as well, with the legs tucked nicely in from the edge,' says Adam Brown, owner of The Painted Furniture Company. 'In a smaller or narrower space, where the extra width of a round or oval table may be a problem, stick to a rectangular table, it's the most space efficient way of seating a given number of guests.'
Where to buy dining room rugs?
The best places to buy rugs include Ruggable, West Elm and Rugs USA, but as well as large stores and online, it's always worth looking for vintage rugs that have been well-looked after and which can bring a distinctly unique flavor to your home.
Pippa is Content Editor on Homes & Gardens online contributing to Period Living and Country Homes & Interiors print issues. A graduate of Art History and formerly Style Editor at Period Living, she is passionate about architecture, creating decorating content, interior styling and writing about craft and historic homes. She enjoys searching out beautiful images and the latest trends to share with the Homes & Gardens audience. A keen gardener, when she's not writing you'll find her growing flowers on her village allotment for styling projects.