Dining room wallpaper ideas – 11 ways to decorate for drama
These dining room wallpaper ideas will add impact, interest and intriguing detail to your space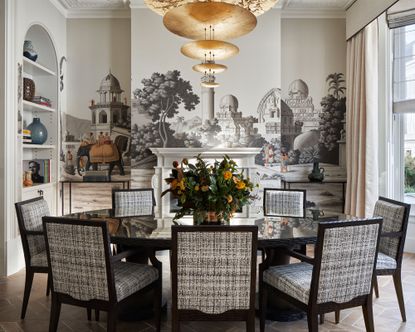 (Image credit: Davide Lovatti)
Sign up to the Homes & Gardens newsletter
Decor Ideas. Project Inspiration. Expert Advice. Delivered to your inbox.
Thank you for signing up to Homes & Gardens. You will receive a verification email shortly.
There was a problem. Please refresh the page and try again.
Searching for dining room ideas is a real pleasure – in our opinion. Of all the rooms in the home that deserve some indulgent decor, the dining room is out in front. It's the room you're most likely to inhabit at night, in low light, and with guests in attendance, and by using dining room wallpaper ideas, you can create a stylish, welcoming room for all to enjoy.
If you are considering wallpaper ideas for a much-needed revamp, look no further, as we explore our favorite dining room wallpaper ideas.
Dining room wallpaper ideas
Wallpaper ideas are wonderful in a dining room, a space that you relax, dine and socialize with friends a family, you want the room to evoke character, spirit and personality. Emma Coles, Stylist at Sanderson & Morris & Co. states, 'wallpaper is an excellent choice to use in the dining room and is a great way to make the space feel 'special' by adding grandeur and impact'.
If you're looking for dining room wall ideas that can entirely transform the room, wallpaper is top of the list. For rooms you use in the evenings only, you can afford to choose a darker or more dramatic design; for dining rooms that double up as much-used family spaces – perhaps you're considering kitchen diner ideas – you may want to pick lighter colors that are easier to live with in daylight.
1. Embrace maximalism for dining room wallpaper ideas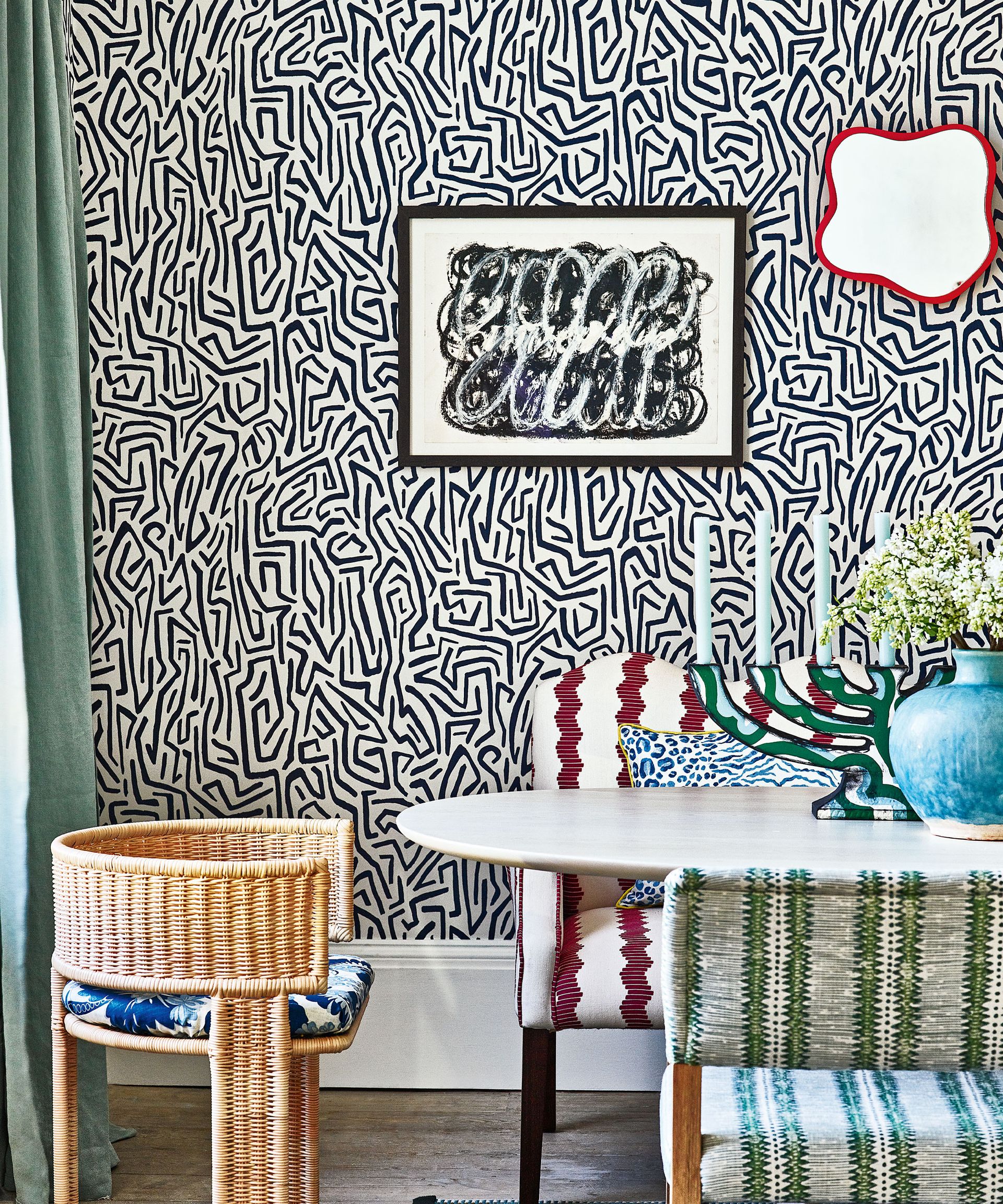 Alongside considering dining room color ideas, think: maximalism. This is one space that can take big, bold patterns, especially if they add texture, focus and character to dining rooms with little architectural interest.
'Dining rooms are wonderful spaces for adding wallpaper; they are spaces that often lack color and texture, with the hard surfaces of tables and chairs often dominating. Adding a wallpaper can bring depth and warmth to a space as well as delivering design impact', says Philippe Desart, Managing Director at Arte.
2. Combine dining room wallpaper ideas with wall decor
Whether you hang a tapestry, a gallery wall or a wall of plates, doing so over a subtly patterned, neutral wallpaper, will add a soothing layering that can make your dining room feel luxurious. Of course, hanging plates on a wall is appropriate to a dining space or kitchen, and can create intriguing shapes.
In this dining room, a high shelf of plates and decorative ornaments has been styled to coordinate with the botanical, floral wallpaper, creating an balanced, cohesive green scheme.
3. Hang a metallic dining room wallpaper for drama
The wonderful side-effect of a metallic dining room wallpaper is that it reflects twinkling candlelight quite beautifully. For rooms you use in the daytime, you may want to pick a silver over white background, but in dining rooms used in the evenings, picking a warm metallic over a deep, warm shade, such as red will make your space welcoming, inviting and glamorous.
'In recent years the dining room has become a much more important decorative focal point within interiors. With people increasingly entertaining friends and family at home, the dining room offers the perfect space in which to make a statement and create a sense of occasion. Highly bold, decorative wallpapers have become very popular, helping to bring character, individuality and personality to dining rooms,' says Tim Walters, Managing Director of George Spencer Designs.
4. Pick a damask for a traditional look
If you are looking for fresh blue dining room ideas with the lightest touch, choose a subtle damask, as in the beautiful room above.
'The wallpaper in this dining room was selected because the client wanted a true elegant, southern dining room. She loved the damask pattern, but many of the damasks looked old and dated for such a young and vibrant family,' says Kim Armstrong, Owner and Principal Designer at Kim Armstrong Interior Design.
'When I stumbled across this beautiful robin's egg blue and white Tierni Damask from Schumacher, it was the perfect blend of classic southern elegance, with a fresh and youthful color palette. I based the rest of the design around this wallpaper, and the direction it laid for the project.'
5. Choose a bold floral dining room wallpaper
Big, blowsy florals look wonderful in a dining room – pick warm-toned designs in north- or east-facing rooms that get little warm daylight.
Emma Coles, Stylist at Sanderson & Morris & Co. states, in a dining room 'the wallpaper can set the tone for the entire space. Try pairing a bold print with clashing or complementary tableware, crockery, and other table-scaping pieces. This way, the space will have a clear point of view, and tell a certain story based on the pattern used'.
6. Use wallpaper to zone a kitchen dining room
'Wallpapers can bring warmth and character to a dining room, adding texture from modern graphic motifs to mid-century styles through to the more traditional damask designs,' advises Patrick O'Donnell, Brand Ambassador at Farrow & Ball.
'Do commit to all four walls when papering – this will give better cohesion to a room scheme. However, in an open plan layout, think about delineating your dining area – papering just one wall adjacent to your dining table to help individualize the different areas. So, the kitchen, living and dining room all feel like distinct spaces in their own right.'
In this dining room, the beautiful green wallpaper has been extended to the ceiling and entryway of the room divider, creating more of a zoned space. Paired with matching curtains in the same print, this green scheme with pink accents creates an inviting area to sit with friends and family.
7. Choose blue and white for a fresh feel
Blue and white create an uplifting and timeless atmosphere for a dining room.
'Blue can often be seen as a daring and cold color choice for dining rooms, but the classic combination of pristine blue and crisp white can be an effortless way to transform your dining room into a fresh and relaxing interior,' says Stefan Ormenisan, managing director at MindTheGap.
'Wallpaper not only adds depth and pattern to a space but it's also a fantastic opportunity to have fun and embrace larger, bold prints and statement designs, guaranteed to give your guests something to talk about at the table'.
In this scheme, the patterned wallpaper in blue, white and pink creates a beautiful contrast between the upholstered dining chairs and traditional furniture. The pink and white lamp shades pick up on the accents in the wallpaper, with the mix of classic and contemporary styling in this room creating an overall inviting effect.
8. Combine dining room wallpaper ideas with panelling
Dining room wallpaper ideas and paneling ideas for walls make for perfect partners, creating an architecturally interesting, period feel, even in modern spaces.
'If you have paneling within the room, fill the panels with wallpaper and paint the woodwork in a contrasting hue for a cohesive and layered interior,' advises Ruth Mottershead, Creative Director at Little Greene.
9. Put wallpaper on a dining room ceiling, too
Dining room wallpaper ideas shouldn't be limited to the walls – using a dramatic design for your ceiling wallpaper ideas will make it advance, creating a more intimate atmosphere. This works particularly well with darker color schemes – think: grey dining room ideas.
'Add surprise and delight by making use of the fifth wall – the ceiling is a perfect opportunity to extend a design, as we have demonstrated with the tempestuous rolling skies of Nuvole,' says Marie Karlsson, Creative Director & Managing Director at Cole & Son.
If you do wallpaper the ceiling, lighting a dining room well is important – this chandelier above highlights the design above beautifully.
10. Choose a ditsy floral for a breakfast room
Whether you're looking for pretty farmhouse dining room ideas or something light and inspiring for a breakfast room, choose a small scale floral print in your favorite tones.
'Consider the ceiling height when choosing your wallpaper, opting for a smaller scale where you have low ceilings and larger scale more dramatic designs where you have high ceilings or large expanses of wall,' advises Ruth Mottershead, Creative Director at Little Greene.
11. Opt for a wallpaper that's a conversation starter
'Add drama to your home by experimenting with conversational wallcoverings. Similar to powder room wall decor, dining room wallpaper allows for creative freedom in a differing aesthetic to the main interior scheme of the home.
'A space to wow guests and inspire design, this is the ideal place to experiment with large motifs, such as our Alcazar Gardens,' suggests Marie Karlsson, Creative Director & Managing Director at Cole & Son.
In this dining room, styled for a Homes & Gardens decorating shoot by Alyce Taylor, Fromental's beautiful Braque wallpaper mural injects color and personality to the dining space, with contrasting patterns, colors and paintings in the room elevating the whole scheme.
How do I choose a dining room wallpaper
Any well-decorated home will have an overall style that can inspire the choice of your dining room wallpaper. However, rather than choosing a wallpaper that you might hang in your living room, take the step towards a braver, more dramatic look.
For wallpaper colors, consider when you will use the room, its orientation and the time of day it is generally used. The natural or artificial light will change the look and tones in your wallpaper dramatically – so hang a sample on a wall and view it throughout the day and evenings to see how it looks and whether you like it.
You needn't choose bold furniture and lighting that competes with a dramatic dining room wallpaper design – in fact, pared back furniture and lighting can allow your wallpaper choice to lap up all the attention.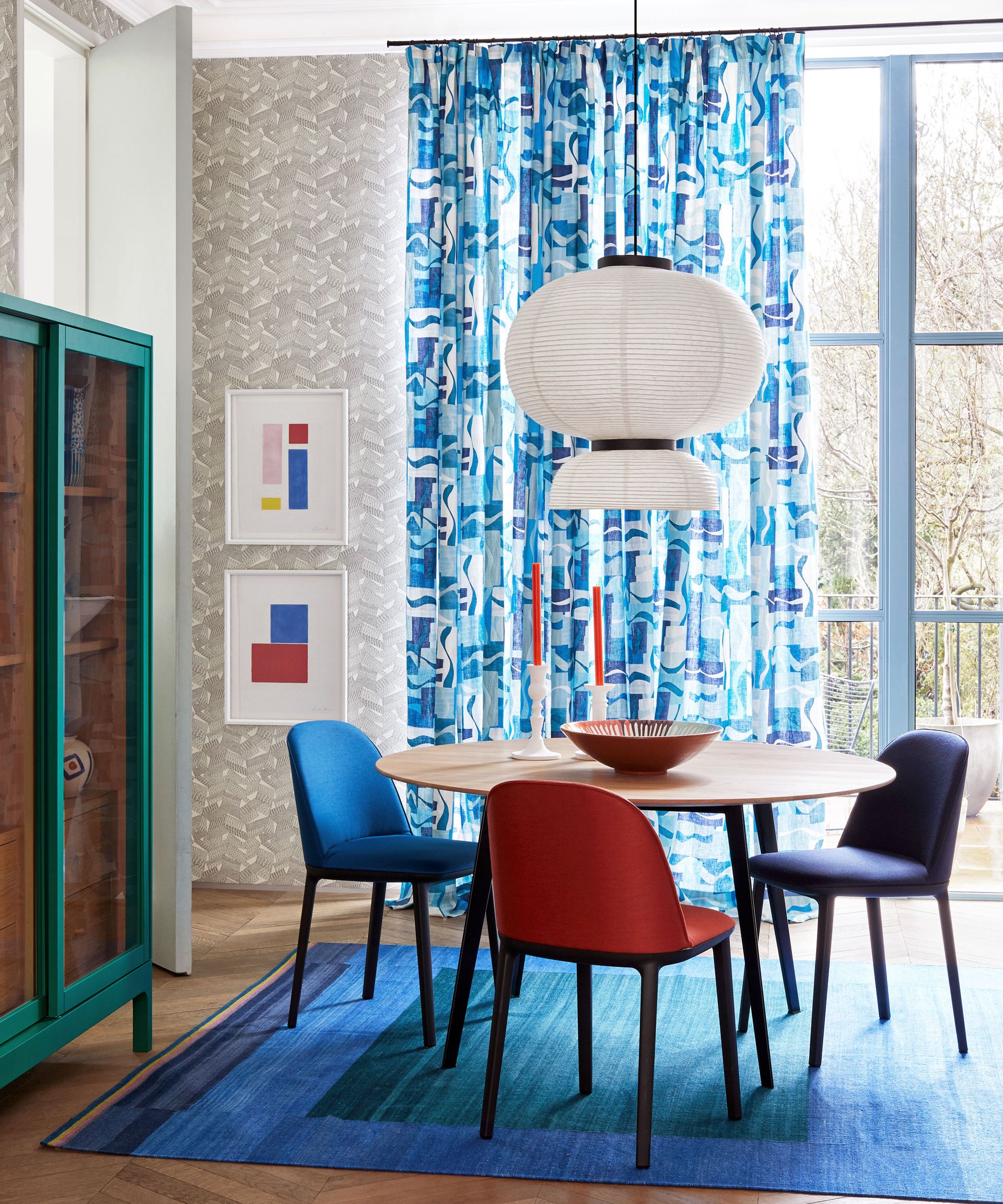 Should I put wallpaper in my dining room?
You should without doubt put wallpaper in your dining room. Wallpaper works in both contemporary and modern dining rooms, and it can add not just intriguing decor details, pattern and color, but also layering in a room that's dominated by the hard surfaces of tables and chairs.
Sign up to the Homes & Gardens newsletter
Decor Ideas. Project Inspiration. Expert Advice. Delivered to your inbox.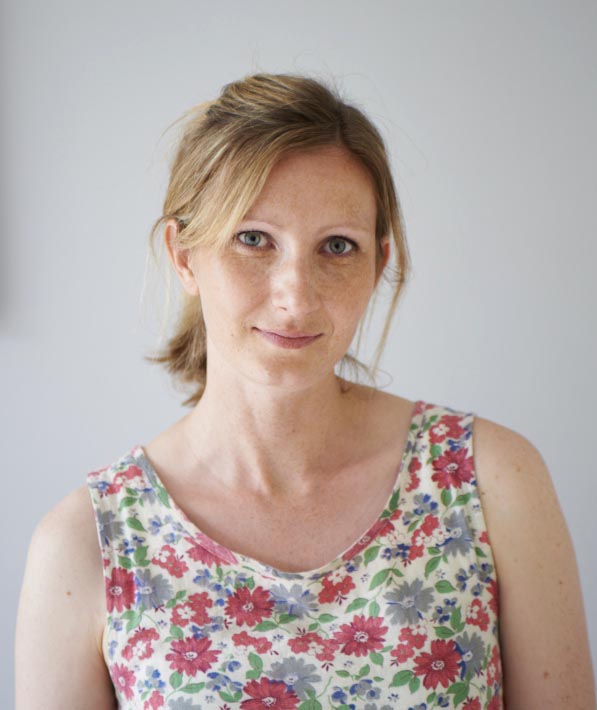 Sophie has been an interior stylist and journalist for over 20 years and has worked for many of the main interior magazines during that time, both in-house and as a freelancer. On the side, as well as being the News Editor for indie magazine, 91, she trained to be a florist in 2019 and launched The Prettiest Posy where she curates beautiful flowers for modern weddings and events. For H&G, she writes features about interior design – and is known for having an eye for a beautiful room.