U-shaped kitchen ideas – 20 ways this three-sided design works for everyone
Harness the ergonomic and space-saving plus points of a U-shaped kitchen with these inspiring designs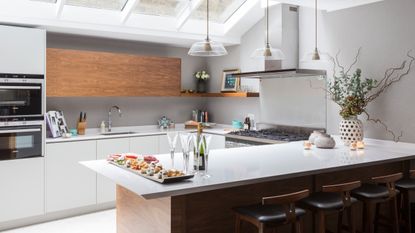 (Image credit: Future / Mark Bolton)
U-shaped kitchens are efficient three-sided designs that max out storage possibilities with everything at your fingertips. If space is tight, these horseshoe-shaped layouts offer plenty of countertop space, cabinets and drawers above and below for an ultra-streamlined look.
U-shaped kitchens don't have to be restricted to three walls either and the kitchen layout ideas can be adapted if there's space for an island unit or breakfast bar at one end of a run of units. Whether you have an open-plan layout or a separate room, U-shaped kitchens work well in every size and style of room.
'As its name suggests, a U-shaped kitchen features cabinetry on three adjoining walls to create a U-shape,' says Charlie Smallbone, founder of Ledbury Studio. 'This layout is very flexible and works no matter the size of your space.'
Below, we have masses of inspiration for U-shaped kitchen ideas.
U-shaped kitchen ideas
We have rounded up the most inspiring U-shaped kitchen ideas, so you can decide if this is the best shape for you. But it's not all about layout: there are many kitchen ideas that suit any kitchen footprint from our design experts below.
1. Add a bridging breakfast bar
Open-plan kitchens probably won't have the traditional three walls to work with if you want a U-shaped kitchen. One solution is to add in a bridging breakfast bar that will form the horseshoe shape and create a highly usable kitchen that links seamlessly to the rest of the room.
'This U-shape kitchen embodies the feeling of an island based design with a bridging breakfast bar which helps to segregate the living area from the dining, while maintaining the flow in an open-plan space,' says Graeme Smith, head of retail and commercial design at Life Kitchens. 'Fully fitted, but with break out elements, everything is wrapped up in the geometry of the open frame units creating a bold line across the kitchen.'
The bridging, breakfast bar not only creates an efficient, U-shape design with everything to hand for cooking and preparation, it also becomes an informal spot for eating and working.
2. Incorporate a bay window
Galley kitchens can be compact, but by incorporating a window into the layout, you can add more usable U-shaped space, all while flooding the area with light. Installing a sink below a window is a great idea as you can look out while doing dishes, while the longer lengths of counter space can be reserved for appliances and food preparation.
This U-shaped kitchen makes the most of an awkward split-level space. The bay window has become a multi-use zone with a huge trough sink and a lowered breakfast bench where the children can eat their cereal in the sunshine before getting ready for school. The bright orange range cooker looks over the lower level dining table area so the owners can cook and talk to family and friends at the same time.
3. Go for glazed fronts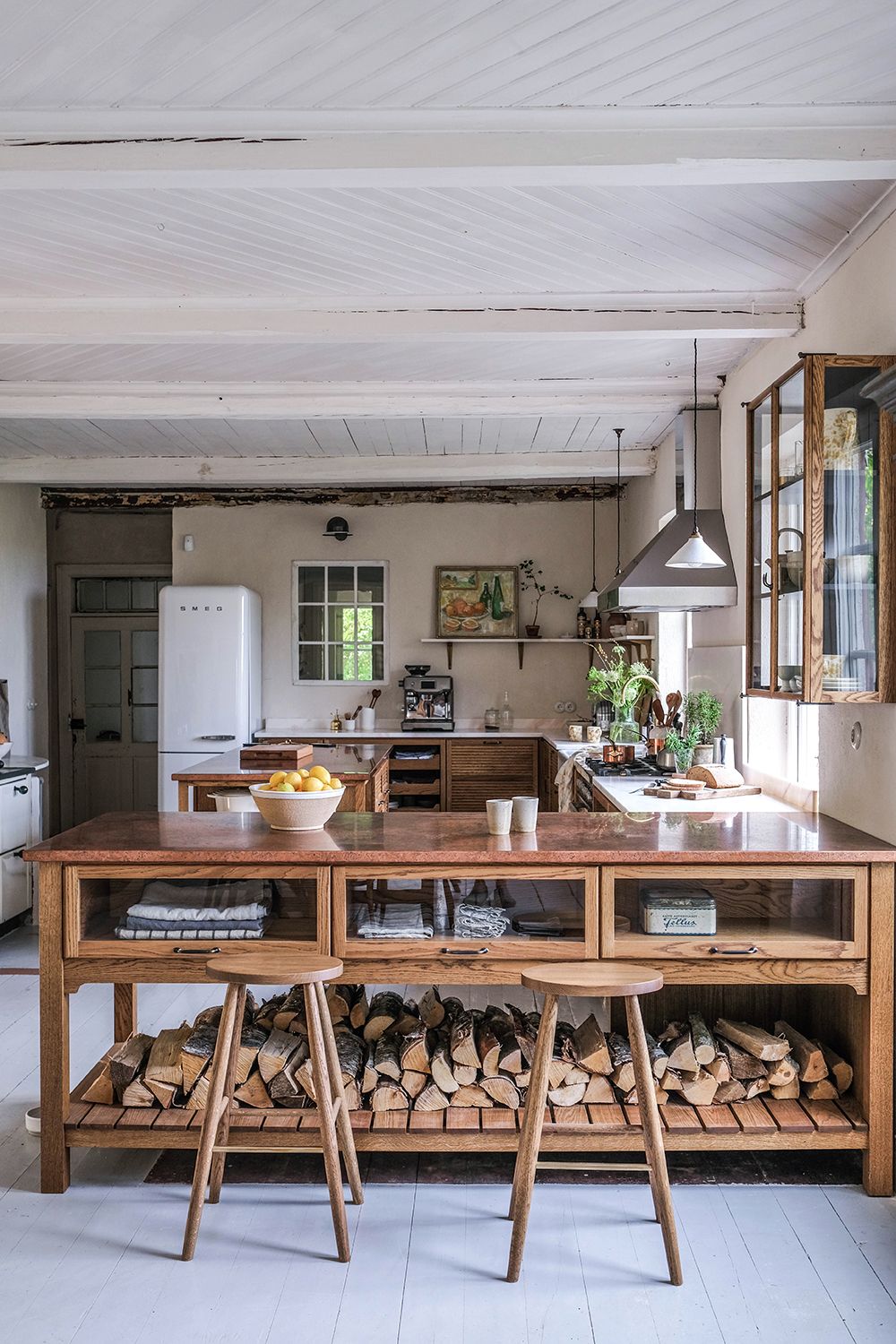 U-shaped kitchens don't always need to be streamlined and modern, as this beautifully eclectic, design demonstrates. The rustic, U-shaped kitchen works because the palette of natural materials is kept to a minimum (wood, copper and marble) and the glazed fronts of the Haberdasher's cabinets reflect light around the room. The result is to create kitchen cabinet ideas that are timeless, cool and packed with personality.
'Glass-fronted cabinets are visually less obtrusive than standard cabinets,' says Brani Hadzhi, co-founder and showroom manager of Scavolini by Multiliving. 'What's more, glass is great for bouncing light around a space, making it look and feel bigger. Plus, it lets you see what's inside your cabinets while keeping everything dust free.'
4. Do away with wall units in a small space
In a small U-shaped kitchen, it can be a great idea to eliminate wall units altogether and focus the storage opportunities on the lower half of the kitchen. This will help the space to feel less crowded and cluttered, and allow for kitchen wall decor ideas above.
'With an Edwardian bay-shaped wall on the sink side of the room, this kitchen – half octagon – is even more U-shaped than most!' says Kassin Adelman founder and CEO of IDF Studio in San Francisco Bay. 'We kept the bay wall clear of cabinets and instead focused on the beautiful stone tile and the light pouring through. The tall, narrow island is key to this space, providing visual symmetry and ensuring that each workspace isn't too far apart, while keeping walkways clear.'
5. Consider a u-shaped island
A large, U-shaped kitchen island is a striking alternative to a standard, U-shaped kitchen design. Here, the imposing U-shaped island is the focal point of this classic, Shaker kitchen and incorporates a cozy and sociable dining banquette seating, perches for bar stools, wine coolers and the main countertop work zone.
'Designed for entertaining, this bespoke Shaker kitchen features a long run of cabinetry with an Everhot range cooker at the centre, together with a U-shaped kitchen island as the main focus of the room,' says Simon Taylor, managing director of Simon Taylor Furniture. 'There is an overhang on both sides of the U-shaped design to accommodate bar stools beneath, and, in the center, a U-shaped banquette was created to surround one end of a large rectangular dining table that the client already owned.'
6. Strip it back
A block color, handle-free, U-shaped kitchen is a clever design solution in a modern, open-plan space. A pair of monolithic islands are clad all over in a pebble grey laminate to create a crisp, un-kitcheny mood, with a covered sink and retractable tap maintain the sleek lines. A raw oak bar top joins both structures creating a super fluid take on the U-shape.
'When putting together a U-shaped scheme, it is important to ensure that there is sufficient access space to allow for the dishwasher to be opened fully while not blocking the use of important working zones,' says Richard Atkins, managing director of DesignSpaceLondon. 'The sink and hob areas should be located perpendicular to each other to minimize walking distance between the two zones.'
7. Extend storage upwards in a narrow U-shape
Smaller, U-shaped kitchens offer a really efficient use of space. In this narrow kitchen, the bespoke cabinetry is painted in a fresh, neutral shade called Linen to keep the room as light and airy as possible with a floor-to-ceiling, wall of storage maximizing every square inch of space.
'This beautiful, bespoke cabinetry not only keeps everything neat and in its own place, but it gives a feeling of depth, space and quality,' says Helen Parker, creative director of deVOL.
8. Be creative with storage
Think outside the box when it comes to boosting storage in a small U-shaped kitchen. As well as utilizing glass fronts to reflect light and ceiling-height cupboards for maximum storage opportunities, don't forget overhead racks.
'Cabinets on every wall can sometimes feel a little overwhelming in a U-shaped kitchen set-up,' says Brani Hadzhi of Scavolini by Multiliving. 'Create some breathing room with open shelving or even a hanging rail above the base units – alternatively create a focal point by hanging a stylish rack over your peninsula.'
9. Increase functionality with an island unit
If your U-shaped kitchen is large, consider adding an island unit to increase storage, enhance functionality of the working kitchen triangle and boost preparation space with extra island countertops.
'In a large, U-shaped kitchen, I tend to add an island unit,' says Charlie Smallbone, founder of Ledbury Studio. 'Without it, the cabinet runs are set too far apart to use the key services – cooking, cooling and washing – efficiently. The island bridges the gap and creates additional prep, cooking and storage space.'
Make sure you choose the right size kitchen island and that there's enough room to move around the island. Look at the depth of the wall units and the footprint of the island: will you have enough space to move around freely? Typically, experts recommend a minimum of three feet clearance on all sides of the island.
10. Go for handleless units in a small kitchen
In compact kitchens, innovative kitchen storage ideas, such as pull-out racks and magic corners, make the most of every centimetre of space. Narrow-depth cabinets solve the problem of limited manoeuvrability, providing that little bit of extra room to move.
If you are still in the planning stage, design a kitchen with handleless doors, like the one above, so you're not always catching against handles while working.
11. Paint in a neutral color palette
U-shaped kitchens can work in large spaces, but even small kitchens can benefit from a U-shaped design – just be sure you have at least six feet of moving-around space between the opposite banks of units.
Opt for pale colors on cabinets and worksurfaces that reflect the light to make your kitchen seem bigger.
Neutral kitchen color ideas and reflective finishes enhance the feeling of space, as do clutter-free countertops.
12. Keep it minimal
This impressive, all-white kitchen has the look of a U-shaped kitchen, while incorporating a walk-through in front of the high level units along the back wall. In essence this design consists of an island and one wall of floor-to-ceiling units.
By choosing white for cabinetry, ceilings and walls, the boundaries between surfaces blur, giving the impression of a compact U-shaped design that gradually opens up as you move around.
13. Add character with a unique design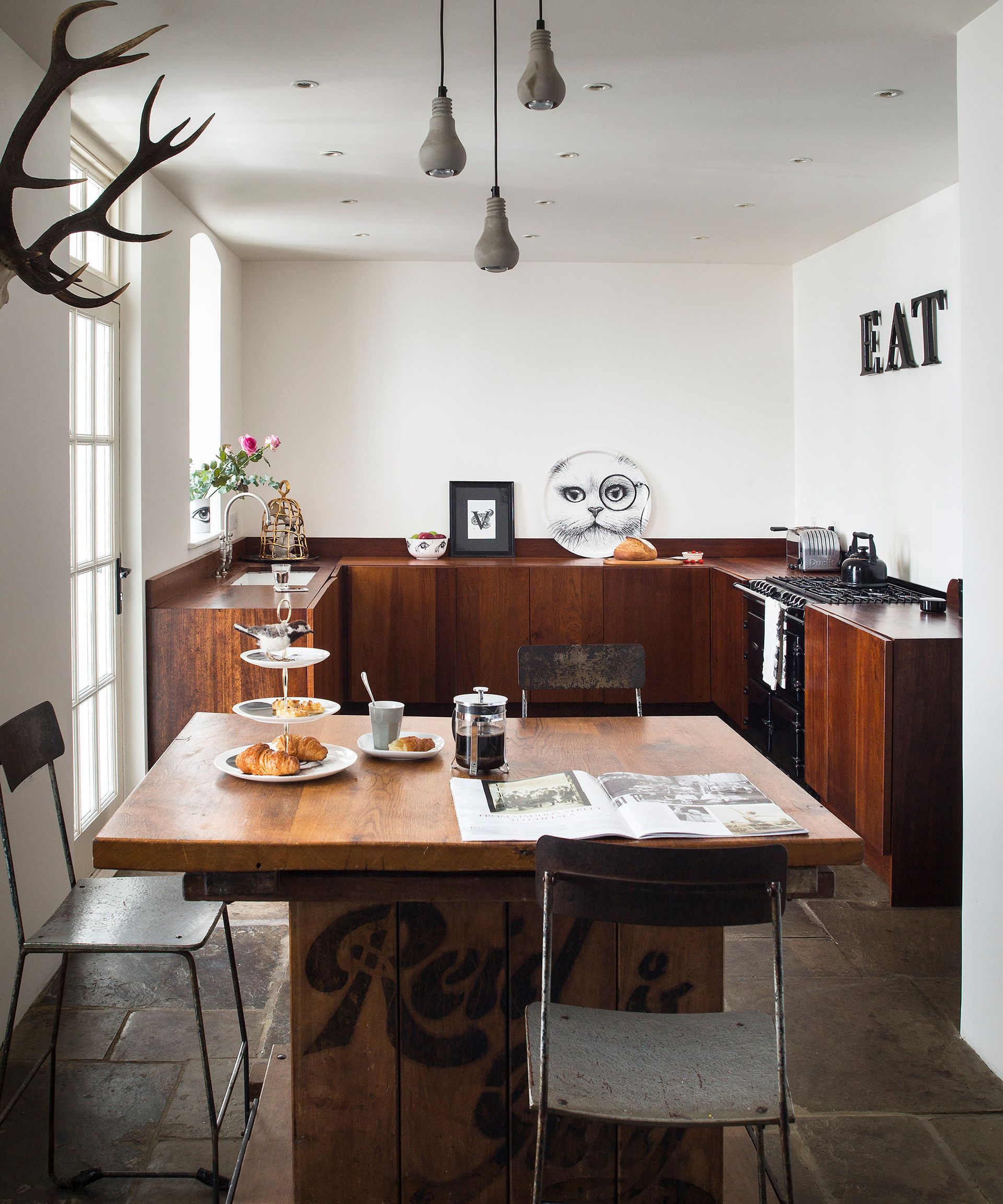 If you are looking for small kitchen layout ideas, a U-shaped design is well worth considering. Depending on your space, it may be easy to incorporate a table and chairs at the opposite end of the U shape.
Be bold in a small space, with dark-wood kitchen units and bare white walls – and consider matching tabletop and countertops for a tailored look. If you can pare back cupboards to the minimum, you may find you have capacity for a table and chairs.
This smart kitchen has a look all its own and demonstrates a very individual approach to kitchen design, making the space feel fresh and special.
14. Let there be light
Lighting, especially natural daylight, also helps create an airy atmosphere. But if your kitchen has limited access to natural light, consider installing plenty of light fixtures.
Cleverly planned kitchen lighting ideas will bring your space out of the shadows. 'Often, lighting can be the last thing considered in kitchen design,' says Andrew Hall, managing director of Woodstock Furniture. 'However, for a kitchen to look its best and function well, the space must be lit properly.
'With U-shaped kitchens, ensure you give due consideration to both task and ambient lighting,' advises Neil Partridge, design director of NGI Design.
A series of ceiling lights and wall hung lamps really help to enhance the U-shape in this kitchen.
15. Use a dark color on cabinetry
Dark, bold colors work well in U-shaped kitchens when there is ample space and, as in this blue gloss kitchen, when there's masses of natural light streaming in.
Daylight bounces off the white walls and ceiling, enhancing the airy feel of the kitchen.
16. Create a divider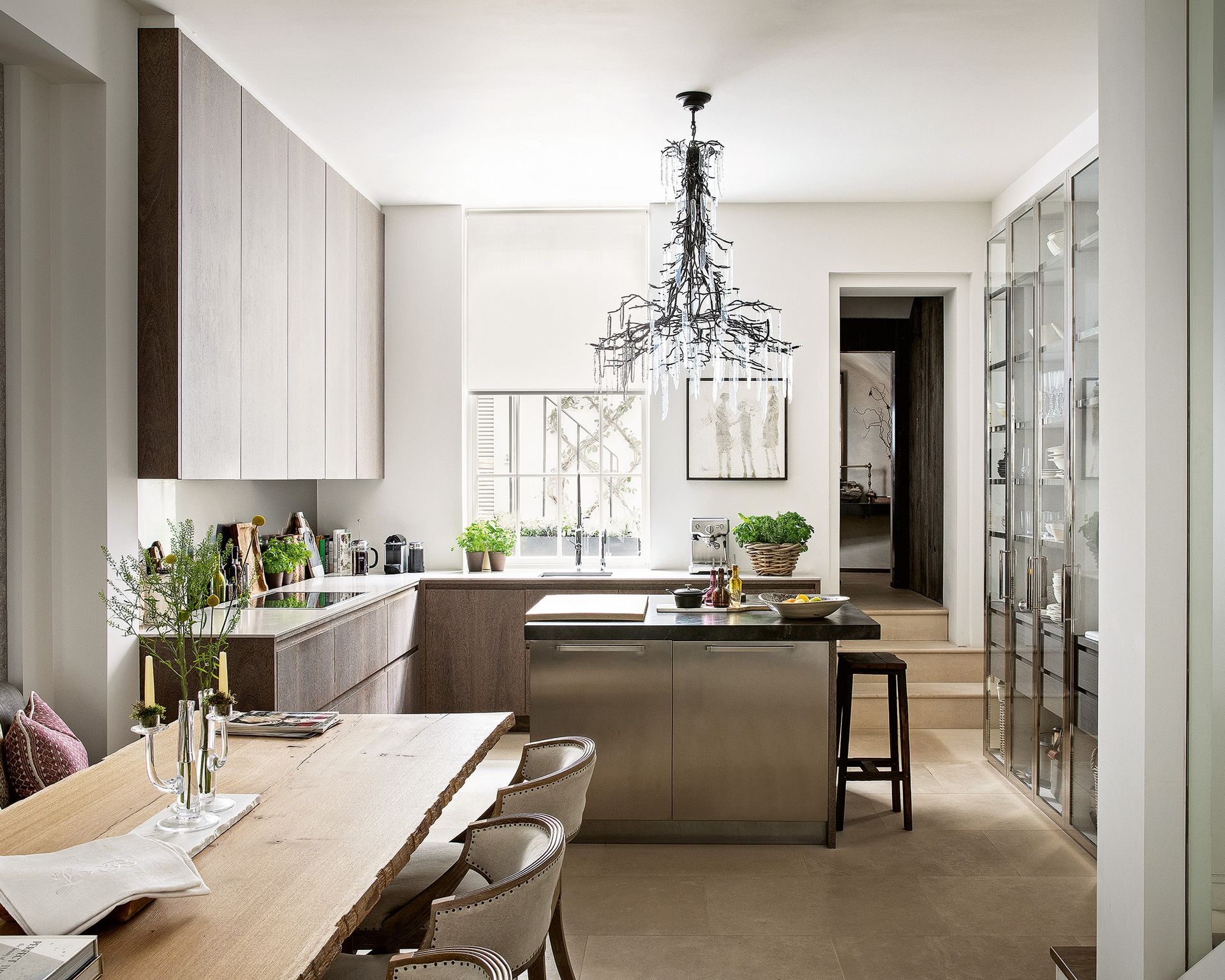 In larger kitchens, adding an island or dining area provides more workspace and a social aspect, while in open plan kitchens, consider using one side of the U as a divider between the kitchen and living areas.
17. Plan your kitchen according to size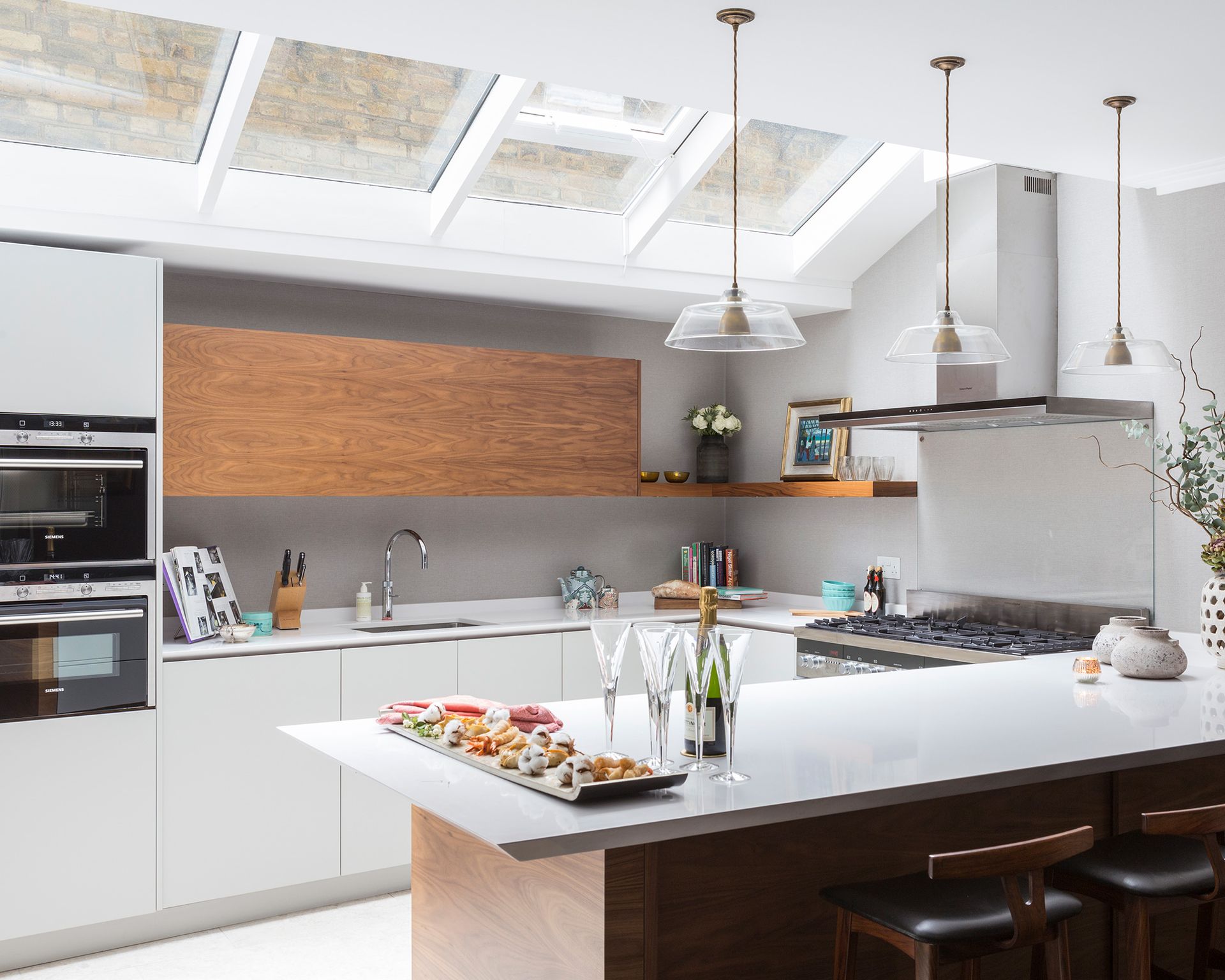 Keep your cabinets low level and opt for open shelving across all walls of your kitchen for a modern, minimal look. To continue the sleek design, consider integrating appliances into the cabinetry and go for handleless doors.
This kitchen – finished in matte white lacquer – uses wooden shelving as an integral part of the layout.
18. Install a breakfast bar if space allows
U-shaped kitchen ideas can make the room feel quite confined, so avoid having wall units on all three sides if possible, or use open shelving to lighten the look.
There's little space for a dining area in a U-shaped layout, so perhaps take a look at some of breakfast bar or peninsula ideas instead.
Remember, if you drift in and out of your kitchen throughout the day, this layout may feel closed off from the rest of your living area.
19. Create a look you'll love for years to come
Mix and match cabinets from different collections – different colors, textures and materials – to achieve a personal style.
This kitchen has been given a characterful update with paint, artwork and a rather delightful floral arrangement.
20. Free up floor space
Opting for a U-shape in a medium-sized kitchen maximises floor space and keeps the outlook open.
If your kitchen is on the smaller side, then limit your color palette, for a neat, tidy and steamlined aesthetic. This monochrome combination is a tried-and-tested winner.
What are U-shaped kitchens?
U-shaped kitchens traditionally have units running along three walls of the room with one free wall as the access point.
Modern variants include the U-shape plus island combo, which sees an island bridging the middle of a large U-shape, as well as standalone U-shape islands that sit in the middle of an open-plan room.
'Where there are only two walls to work against, you can still achieve a U-shape by making the third side a peninsula unit,' adds Jamee Kong of DesignSpaceLondon.
What shape kitchen is best?
There are U-shaped kitchens, L-shaped kitchens, galley kitchens and more – but what shape is best? The truth is, it's down to whatever suits your lifestyle.
Kitchen trends come and go, but planning a layout essentially remains the same. The classic layouts of galley, L- and U-shapes are designed to be the most ergonomically sound, helping to create the 'work triangle' of hob, sink and fridge within easy distance of each other and allowing for adequate work space in between.
And while we have swapped compact kitchens for open plan living, it is interesting to see how these shapes have found new relevance in a larger space.
How do you design U-shaped kitchens?
When it comes to the design of U-shaped kitchens, there are some things to keep in mind.
The main attraction of an U-shape layout is its abundance of worksurfaces.
'Capitalize on this by investing in the best countertop you can afford, such as a striking granite or chunky timber, to create a stunning design feature,' suggests Hayley Shaw of Magnet Kitchens.
Avoid too many tall or wall cabinets as they can make the room feel smaller and too closed in. Instead, go for base units, fit tall cabinets across one wall only, or create an airy feel with open kitchen shelving.
This layout can make the room feel quite confined, so avoid having wall units on all three sides if possible, or use open shelving to lighten the look.
What is the best color for U-shaped kitchen cabinetry?
Choosing a contrasting, darker shade on the base units of a classic U-shaped kitchen will help anchor the design and create the illusion of space. Replacing wall cabinets with a single, extended shelf opens up the room with white walls and natural, concrete countertops adding to the airy ambience. The monochrome color scheme is effortlessly cool and will never date.
Sign up to the Homes & Gardens newsletter
Decor Ideas. Project Inspiration. Expert Advice. Delivered to your inbox.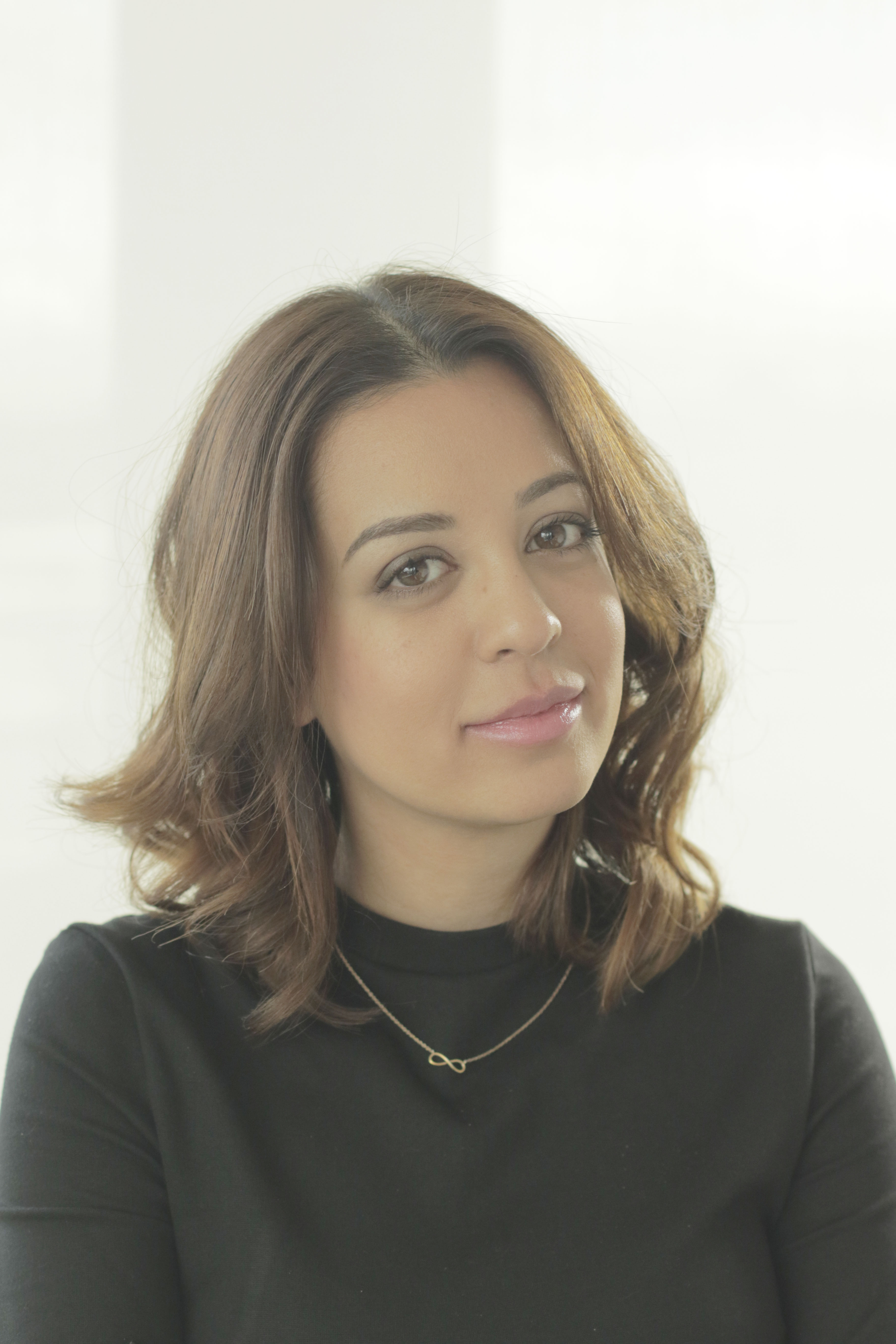 Jennifer is the Digital Editor at Homes & Gardens. Having worked in the interiors industry for a number of years, spanning many publications, she now hones her digital prowess on the 'best interiors website' in the world. Multi-skilled, Jennifer has worked in PR and marketing, and the occasional dabble in the social media, commercial and e-commerce space. Over the years, she has written about every area of the home, from compiling design houses from some of the best interior designers in the world to sourcing celebrity homes, reviewing appliances and even the odd news story or two.