Coffee canisters – 13 designs you'll want to display on your countertop
Wake up with help from these stylish coffee canisters. With improved storage for freshness, here are 13 suggestions to brighten up your kitchen or pantry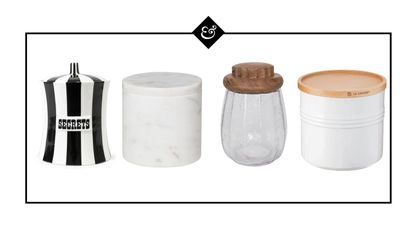 (Image credit: Future)
Take care of your coffee beans and store them in style with help from one of these coffee canisters. Wave goodbye to lackluster grocery store packaging and hello to these practical – and luxurious – buys.
Whether you tend to store the ingredients for a good cup of brew in your pantry, or you like to display your coffee beans on your countertop for easy access, we can help ensure this is done the right way. Many of us (the H&G team included) rely on a cup of coffee to get our mornings off to a good start. Regardless of how you make yours, it's imperative that your coffee setup looks the part – especially when you have a guest over for a warm cup.
Not only that, but storing your coffee somewhere safe is crucial to mastering espressos or cappuccinos at home. Good storage, which usually includes an airtight lid, can improve the taste of your coffee, as well as spruce up the look of your kitchen. We've handpicked the premium coffee canisters for your home based on practicality and style, so you'll have storage that you can't wait to put in your kitchen.
Our edit includes space-savvy storage for pantries plus the most gorgeous coffee canisters for showing off atop your kitchen island. They're great for storing anything from grounds to beans, too. Remember: even the slightest exposure to sunlight or oxygen can deteriorate the quality of your favorite expensive coffee, so it's best to utilize the many features of these top-rated canisters to prevent that from happening.
For more devices to revolutionize your caffeine routine, we have round-ups of the best drip coffee makers and the best coffee makers to get started with.
---
13 best coffee canisters to store your ground coffee in style
You can trust Homes & Gardens. Our expert reviewers spend hours testing and comparing the latest products, helping you choose the best for you. Find out more about how we test.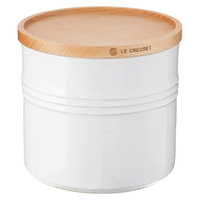 1. Le Creuset Stoneware Canister with Wood Lid: View at Le Creuset
This Le Creuset canister is absolutely perfect for storing coffee, with a silicone gasket seal to keep whatever is inside fresh and safe from the elements. As with all products from this brand, it is built to last with an enamel exterior that goes above and beyond. There's a variety of colors to choose from to match your existing Le Creuset finds, and this is dishwasher safe so that you can clean it stress-free when your supply runs out.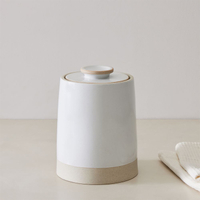 2. West Elm Stoneware Kitchen Canisters: View at West Elm
This ceramic choice from West Elm is one of the most stylish we've seen, with an exposed clay rim that shows that your kitchen is a little different. It coordinates with a whole collection of the same design for ultimate coordination.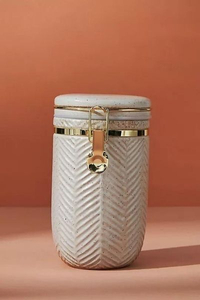 3. Terren Canister: View at Anthropologie
This textured buy from Anthropologie comes in your choice of two colorways so that you can choose from a subtle white or a wow-worthy teal. With sumptuous gold accents, it boasts a glazed finish for added luxe, plus it seals to become air-tight to keep your coffee tasting good. There should be a slight variation between each piece to make yours unique, but rest assured this canister will look the part on your countertop. We say to buy a few and nest them together in a corner.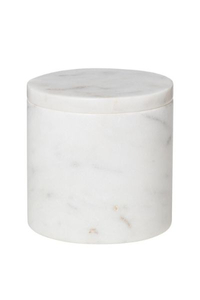 4. Broste Copenhagen Osvald Canister: View at Amara
An elegant marble canister for storing your ground coffee, this buy from Amara also comes in brown marble. Eye-catching yet subtle so as to blend in with your kitchen decor, this on-trend option ought to add a sense of sophistication to your pantry or kitchen. We recommend purchasing a few, to store tea bags and more all in the same stylish canisters.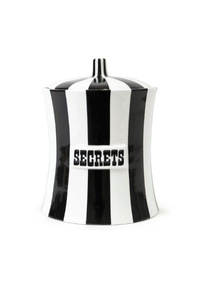 5. Vice Secrets Canister: View at Jonathan Adler
This striking design from the one and only Jonathan Adler ought to ensure your coffee takes pride of place in your kitchen. This iconic canister is crafted from high-fired porcelain with a luxury gloss glaze finish, plus a gasket seal to keep your coffee fresh. Not just for good looks, it's even dishwasher safe. This canister is way too pretty to be hidden away in a pantry...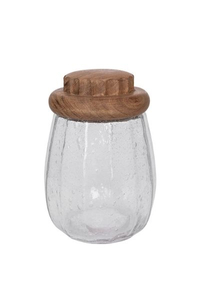 6. Retreat Glass Storage Jar with Chunky Wooden Lid: View at Amara
An understated coffee canister to hold your coffee yet keep it on display, this Amara exclusive is stylish whether filled with beans or not. With a mango wood for sealing, it's crafted from glass and organically shaped to impress. Use it to make a statement.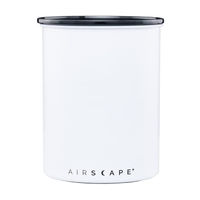 7. Airscape Coffee Canister: View at Amazon
With this canister from Airscape, you'll never have to worry about the quality of your coffee declining again. With a lid that locks out air to create an optimum environment within and a stainless steel encasing, the quality of this pick couldn't be higher. Ideal for coffee beans or grounds, you'll notice the change when it comes to storage with this choice. This canister is also stackable, so grab two for any other foodstuffs you need to preserve too.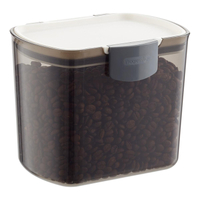 8. ProKeeper Coffee Container: View at The Container Store
This container can carry up to a pound of your favorite beans or ground coffee and is tinted to prevent those pesky UV rays. It has an excellent air-tight silicone seal and can go straight into the dishwasher for an easy clean-up process. It's great for storing coffee in your pantry, we think.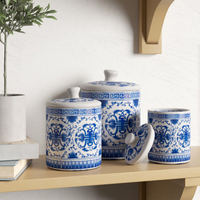 9. Clemon 3 Piece Kitchen Canister Set: View at Wayfair
This set is very display-worthy and has plenty of space for all kinds of countertop essential items. Made from porcelain and with a rounded lid, this set is built to last. Be warned that this set doesn't have the airtight technology you might need in order to keep your favorite coffee beans preserved, so bear that in mind if that's very valuable to you.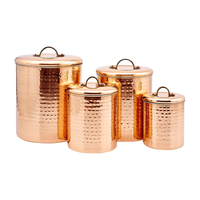 10. Old Dutch International Canister Set: View at Bed, Bath & Beyond
Combine style and substance with this copper canister set from Old Dutch, which has a stunning finish and fresh seal technology. Plus, this is a set, meaning that everything from your coffee to your sugar is now taken care of in terms of storage.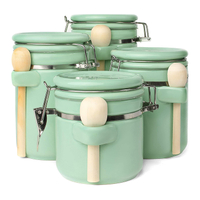 11. Home Institution Ceramic Kitchen Canisters: View at Amazon
If you would prefer a ceramic canister for the aesthetic, then this mint green set from Amazon is excellent. Complete with a wooden spoon, these can be filled with an assortment of foods that are necessary to have on hand, like sugar and tea as well as coffee. While it doesn't benefit from a vacuum seal, it does have an airtight lid. There's a clamp too, so you can avoid any nasty spillages.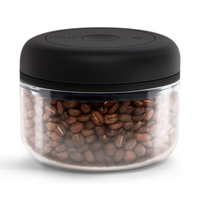 12. Fellow Atmos Vacuum Canister for Coffee: View at Amazon
Up your game with this canister, which limits oxygen exposure and prevents UV rays. It's crucial to block both of these things to keep your coffee's taste as luxurious as it should be, and it's as easy as twisting the lid in order to operate. If you love the design of this canister, then it's also good for storing peppercorns, spices, and loose leaf tea in order to keep their quality high. We say to use these if you store your coffee in your pantry as opposed to on your countertop.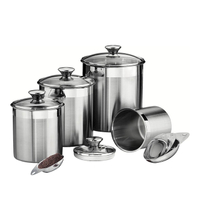 13. Tramontina - Gourmet 8 Piece Canister Set: View at BestBuy
This is the coffee canister set you need if you've got more than one type of ground or bean to store. With eight pieces making up the set, the four canisters have tempered glass lids for convenience, and come with scoops so that you can get your cup of coffee just right. Each lid has an airtight seal too, so the quality stays high even when you're investing in a set.
---
Where to buy a coffee canister?
If you're a little more particular about what you place on your countertops then there are plenty more options out there. Here are some of the retailers we would recommend:
Molly is the Ecommerce Writer for Homes & Gardens and spends her time searching the internet for the next best thing for your home, with a focus on shopping edits and buying guides. Before joining Homes & Gardens, Molly graduated from the University of Exeter with a degree in English Literature, with previous internships undertaken at The Economist in her summer breaks.