Kitchen corner cabinets – 10 stylish ideas to maximize your space
Corners can be tricky places to deal with, that's where kitchen corner cabinets come in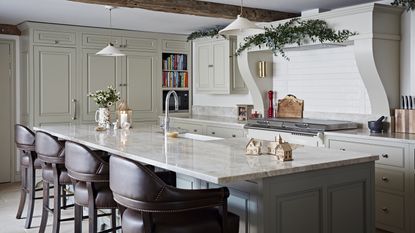 (Image credit: Jon Day)
Kitchen corner cabinets can be the solution to every designer's nightmare.
Kitchen corners are, of course, in every L-shaped kitchen there is, and can be particularly difficult if the space is in a period property where wonky walls and floors can be abundant.
Kitchen corner cabinets are a way to combat the awkwardness of these spots. Some may need to be bespoke as that can often be the only solution, but it's possible to make fitted kitchen ideas work for you too.
Sleek modern spaces look great with right angled corner cabinets. Another solution is to have kitchen corner cabinets fitted to the countertop, a look that we love.
Kitchen corner cabinets
We've sourced a variety of kitchen corner cabinet ideas to help you design your space whether it's classic or contemporary.
1. Create a countertop drinks cabinet
We love this idea, but of course, these kitchen cabinet ideas could be used to house your coffee or tea selections too.
Chris Spink, founder of Hush Kitchens, comments: 'A countertop drinks cabinet makes great use of the corner of this kitchen. The top half features bi-fold doors which can be folded back to reveal bottles and glassware and the practical base is effectively the worktop, so easy to wipe up spills.'
2. Use your corner to house a small appliance
When you have an acute right angled corner you can use it to house appliances like a small oven. Then add in a wall cabinet above so the rest of the space continues to flow visually.
The handleless doors and vibrant kitchen cabinet colors help to detract the eye. That's the key with a contemporary fitted kitchen – it should look seamless despite the size and layout.
3. Go bespoke to utilize every corner
'With a bespoke kitchen designer you will be able to design a kitchen that maximizes your space no matter how small,' explains Tom Howley, design director at Tom Howley.
'Kitchens can look cluttered because storage hasn't been adequately considered or planned. Designers can create contemporary and elegant bespoke corner cabinets and drawers that can discreetly house the items you use, leaving you with clean, streamlined surfaces. No space is wasted. If you have awkward corners or quirky spaces this will just add to the creativity of the kitchen.'
4. Make a feature with a contrasting door color
We're such big fans of painted kitchen cabinet ideas and how they can transform your space so well.
This is a great example: this kitchen corner cabinet painted in Farrow & Ball's Treron No.292 matches the tongue and groove panelling in both style and shade, yet the drawers are painted white which makes a feature of them. This ties in with the white shelf, counter top, units and worktops.
5. Make the most of space with tall cabinets
A hand-made kitchen gives you choices for your kitchen storage ideas, and to maximize your space you can choose tall larder corner cabinets.
These floor-to-ceiling cabinets blend it perfectly due to being painted in the same cream shade and you'll get oodles of space inside for your dry foods like tins, cereal, pasta and rice.
6. Incorporate open shelving
This is a great example of how you can make the most out of your corners through clever kitchen shelving ideas.
In this kitchen, there's a bespoke corner cabinet which has been built to house small appliances and tableware in the open shelving, and on the inner side herbs and spices.
The top drawers match the rest of the cabinetry on the right of the kitchen so it has a cohesive look.
7. Create a corner cabinet over a pantry doorway
'The discreet entrance off to the side of the kitchen leads to the pantry and utility space which is located behind large integrated refrigeration appliances,' explains Gary Singer, founder and creative director of Eggersmann.
'We had a bulky structural pillar which was fixed. Its position limited us somewhat on layout options, so our solution was to repeat the corner cabinetry detail to the right of the refrigerators and connect them with a timber structure cladded in plasterboard and decorated to match – therefore creating an illusion of the kitchen joinery and doorway into the pantry area that fit perfectly within the existing structure.'
8. Make the most of your internal corner space
'If the kitchen turns a corner, a 'le mans' or a corner unit is a must. One problem that we all run into especially in a small space is clutter. Utensils, pots and pans and other day-to-day items can take up much needed surface space, therefore, it is vital to have innovative storage ideas for a functional and enjoyable space,' advises Graeme Smith, head of retail and design at Life Kitchens.
'Traditional corner units can be notoriously difficult to access and store items in, but for these cupboards there are solutions such as racks that slide along and out of the unit when you open the door. A simple solution that means you are using all of your available space and making your kitchen more user-friendly.'
9. Create a gentle curve instead of a right angle
Right-angled kitchen cupboard ideas have their place in a sleek modern space, but can look abrupt in a more classic kitchen.
A 'curve' like this In Detail Interiors design makes the corner cabinets easier on the eye and less harsh, whilst still utilizing this key storage space.
10. Think about the exterior corners of your island
If your kitchen is all about the kitchen island ideas and less about cabinetry along the walls, you can utilize the corners in there instead, as
'Corner cabinets are the ideal space saving solution when it comes to kitchen design,' explains Richard Atkins, director of DesignSpace London. 'When incorporated into the island, they allow you to take full advantage of all available storage space. Choosing corner cabinets also means that goods will be easily accessible rather than being awkwardly tucked away around a corner, making it much easier when searching for ingredients etc.
What can you do with a kitchen corner?
The key is to utilize the corner as much as possible, otherwise it will be 'dead' space. Use drawers instead of doors – doors take up more space when they open, especially in a small kitchen. And do consider having a bespoke corner cabinet made. It will be worth the investment purely by the space that you'll gain from doing it.
What can I do with an awkward corner in my kitchen?
Get creative. Open shelving can be a great option and don't forget you can have a kitchen corner cabinet that sits on your countertop. We particularly like this idea as they can look great, plus concertina style doors can be fitted so you can close it when not in use.
Sign up to the Homes & Gardens newsletter
Decor Ideas. Project Inspiration. Expert Advice. Delivered to your inbox.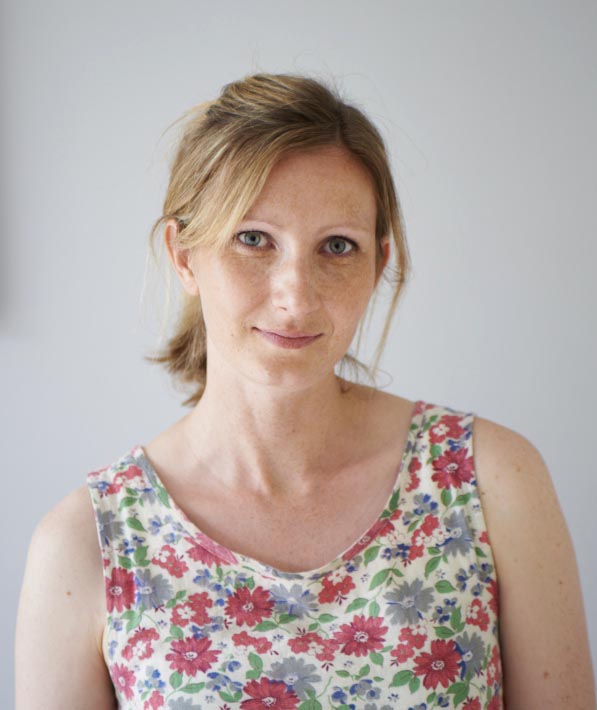 Sophie has been an interior stylist and journalist for over 20 years and has worked for many of the main interior magazines during that time, both in-house and as a freelancer. On the side, as well as being the News Editor for indie magazine, 91, she trained to be a florist in 2019 and launched The Prettiest Posy where she curates beautiful flowers for modern weddings and events. For H&G, she writes features about interior design – and is known for having an eye for a beautiful room.