Organizing under the sink – keep supplies neat and accessible
Take a look at the ways of organizing under the sink that will keep all of your essentials to hand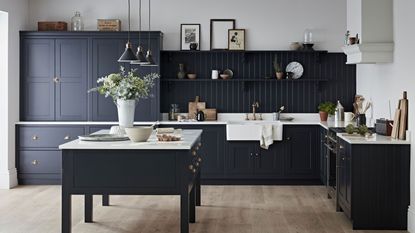 (Image credit: Kitchen Makers)
It's a job many of us put at the bottom of our to-do list, but organizing under the sink doesn't have to be a chore and, if done properly, can contribute to a well-run household.
The space under the sink is one that becomes cluttered in many homes, but getting this trouble spot to work a whole lot harder so it's tidy and everything is easy to locate doesn't require a lot of effort – just the right strategies.
The under-sink space is crucial to organizing a kitchen but whether yours has shelving and drawers or just the pipes to work around, these expert tactics will create a place for everything.
Organizing under the sink
The task of organizing under the kitchen sink is one that's frequently skipped, and the same goes for these areas when you're organizing a laundry room, or organizing a utility room.
As professional home organizer Lucy Mansey points out: 'This little space is often one that we neglect, despite it being the home for a multitude of important products. I often find that clients tend to shove all sorts of items under the kitchen sink and then feel frustrated by the inability to find anything.'
But this is valuable real estate, and these are the steps to take so everything has its place.
1. Have a clear-out
The area under the kitchen sink is a relatively small one bringing the same challenges as organizing a pantry of maximizing the utility of a compact space, so begin with a decluttering session.
'Decluttering areas like this before organizing them is important as it will free up that all-important space for regularly used items,' says Lucy Mansey.
The experts at Cook Serve agree and see other decluttering benefits. 'Completely emptying any space that you want to sort also provides you with a new perspective on various layout options and organization ideas that you can use to optimize storage and improve accessibility.'
2. Categorize items
The next step in organizing under the sink is to categorize items – just as you'd do when organizing kitchen cabinets in other locations. Keeping them stored together means they will be easier to find. So, for instance, if you have multiple cloths, contain them in a box or small basket so that they aren't spilling out all over the place. 'Same goes for items such as rubber gloves, sponges, etc,' says home organizer Lucy Mansey. Store in Style's tags shown above will spell out where everything is.
This is also the point when you should decide what you actually want to keep under the kitchen sink. Daniel Bowler, director for Eggersmann UK, says: 'Bear in mind the ergonomics of the space. Organizing pots and pans for cooking under the sink may not be the best place for them as it will increase the level of movement around the kitchen and have you bending and stretching.'
You might want to move some items as part of organizing a laundry room. The experts at Cook Serve suggest 'keeping your larger cleaning supplies in a cleaning closet rather than under the sink and only keep what you need in smaller spray bottles or containers.'
Kathryn Lord, home organizer at More to Organising reminds us that 'with children around you should not put anything dangerous under the kitchen sink. If you do so, put a child lock on it.'
3. Collect items in containers
The process of organizing under the sink requires thought about which containers should be used to corral the contents in the same way you would when organizing deep pantry shelves.
Products made of plastic are inexpensive, easy to clean and waterproof and there are plenty of recycled plastic designs available, such as Orthex's SmartStore pieces. 'They are made from recycled plastic and have the option of a bamboo lid,' says the company's UK & Ireland manager, Craig Sammells. Another option is the iDesign Eco Storage Bins pictured above.
Craig recommends baskets, too. 'They are good for under-sink storage as they're easy to move around and crucially are the only "breathable" type of storage. That means they're good for dishcloths, wipes, etc.'
Wire stainless-steel or aluminium baskets are a hardwearing choice as they stand up against corrosive cleaning materials. Chromed steel products are durable but can have a shorter life as rust sometimes poses problems.
4. Work with the interior
One of the problems of organizing under the sink is the awkward corners and unconventional shapes in this area. But there are plenty of smart bespoke systems to ensure the under-sink area works hard for you.
Katie Thomas, founder of interior design company KTM Design, says: 'If you have a deep kitchen cabinet and hate fighting through the maze of supplies and products, kitchen organizers and pantry organizers spin boards, also known as lazy Susans, are great to place your spray bottles on, allowing easier reach to your products.'
And if you haven't got the room for a spin board? Then Katie recommends simple tension rods. 'They can be used across the cabinet, which will then allow you to hook the spray bottles onto the rod. This then allows for extra room underneath for any boxes, maximizing the space available.'
Daniel Bowler recommends a system with pull-out baskets or drawers 'to help keep things visible and give every item its place. And there will be no more struggling to access things at the back of the cupboard.'
The simple, yet practical solution from Addis shown above is an extendable organizer that includes 10 adjustable shelf sections which can be adapted to suit the space available, even around pipework.
5. Employ the door
Putting up a rail and a small rack on the inside of the door is a simple and purse-friendly way of organizing under the sink that can make the most of the space in the same way as is possible when organizing a refrigerator. The rail is ideal for hanging dish towels and the rack is perfect for storing sponges and damp cloths. Both provide easy access. Just check the screw length to prevent drilling straight through the door when attaching the rail and rack.
If you don't want to drill into the door, choose overdoor solutions. We like the mDesign Over Cabinet Stainless Steel Wire Storage Organizer.
6. Work the wall inside
As mentioned earlier, pull-out trays or drawers are great for organizing under the kitchen sink as they mean you won't have to crawl into the cupboard to find what you are looking for. Designs like the Baffect Kitchen Pull Out Cabinet Basket Organizer can be mounted on to the wall of an under-sink cabinet, providing even more space.
7. Sort waste
Many kitchen companies have sorter bins specifically designed to fit under the sink, allowing easy organization of waste. They can be used as an alternative to the conventional kitchen bin, which will free up room in your cook space.
The Franke 300 Series Sorter Systems fit neatly into standard kitchen cabinets. The systems' roll-out carriers are fully waterproof, simple to dismantle and easy to clean.
8. Go bespoke
'Part of the beauty of bespoke is having perfectly customized storage to suit your needs and lifestyle,' says Jane Stewart, design director of Mowlem & Co in London.
Under-sink organization can be a challenge, so for this kitchen Mowlem & Co created inner beauty to match the outer elegance of the American walnut design. A pull-out tray with neat compartments repeats the tidying tactic employed for organizing kitchen drawers, with racks on each of the inner doors for cleaning supplies.
'I am a great believer in "a place for everything and everything in its place", but also in being able to easily see and access what you are looking for,' says Jane. 'One can never have enough, nor be too organized, when it comes to storage! So instead of that "black hole" of chaos, why not make your under-sink area a thing of beauty and a joy forever?'
9. Start from scratch
If you're putting in a new kitchen, you can ensure the under-sink area has bespoke organizing solutions. And you can even do something a little bit different such as combining drawers with open shelving that adds to the decorative detail of the kitchen. Or if you're after a country cottage look, this curtained sink, below, fits the bill.
10. Future-proof under the sink
Cabinets under kitchen sinks are susceptible to water damage and other things such as mold growth and rot.
If you have a wood cabinet, the best way to waterproof it is to seal the cabinet with a wood sealer and then a coat of water-based polyurethane. There are MDF and melamine sealers on the market, too. Be sure to cover the sides, base and top of the cabinet.
Alternatively, or in addition to sealing, line the shelf and bottom of the cabinet with plastic film.
How do I organize under my sink?
To organize under your sink, follow these simple steps:
Empty everything out of the cupboard and decide what should stay under the sink and what should go.
Give the cupboard a good clean - vacuum inside it and then wipe everything down. At this point, you might want to seal the cabinet with a wood, MDF or melamine sealer to waterproof the area - or just line the shelf and floor of the cupboard with a shelf liner.
Categorize the items you've decided to keep under the sink. This will give you an idea of what you need for organizing (baskets, plastic boxes, lockable containers, portable cleaning caddy, a spinboard or lazy Susan, pull-out systems, etc). Measure up before you buy.
Consult a joiner who can advise on bespoke organizing solutions.
Unpackage items when putting into containers to save space.
How do you maximize under sink organization?
Maximizing under-sink organization can be tricky as often you are dealing with pipes and lack of shelves – and it can be particularly challenging when it comes to organization for small kitchens. Lizzie Grant, founder of Declutter on Demand , recommends 'adding hooks or clothes pegs to the back of an under-sink cabinet door or adding over-door storage. And if shelves are lacking, buy stackable or freestanding drawers to double the amount of space. There are even freestanding shelves you can buy which can fit around pipes.'
A swing-out shelving system can also do the trick as can clever add-ons. We like the neat white wire under-shelf basket from Walmart which clips on to an existing shelf.
The experts at Cook Serve also point out that 'you will make more space by removing as much packaging as possible. So you can buy your dishwasher tablets in bulk and just fill up a clear jar for under the sink.' Just remember to use a child lock if you are storing dangerous products under the kitchen sink.
Sign up to the Homes & Gardens newsletter
Decor Ideas. Project Inspiration. Expert Advice. Delivered to your inbox.
Jennifer is a homes writer and editor with more than 20 years' experience in publishing. She has worked across many titles, including Ideal Home and, of course, Homes & Gardens. Her day job is as Chief Group Sub Editor across the homes and interiors titles in the group, which has given her broad experience in interiors advice on just about every subject. As a result, Jen was invited to write for homesandgardens.com, contributing on a range of subjects.