Organizing a small kitchen – 10 ways to maximize every inch of space
If you're organizing a small kitchen rest assured – size doesn't matter, it's how you organize it that counts. We've gone straight to the experts for their advice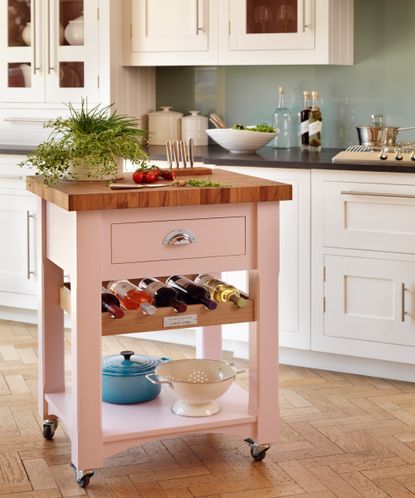 (Image credit: Harvey Jones)
Sign up to the Homes & Gardens newsletter
Decor Ideas. Project Inspiration. Expert Advice. Delivered to your inbox.
Thank you for signing up to Homes & Gardens. You will receive a verification email shortly.
There was a problem. Please refresh the page and try again.
When organizing a small kitchen, effective, space-saving solutions are the key to ensuring it runs as smoothly as any other, regardless of its size. And without the luxury of plentiful space, you must get creative with what you've got.
'From deep wide drawers and pull-out shelving replacing standard cupboard interiors, to cleaning closets becoming pantries for tinned goods, open shelving for jars bottles and spices, even the smallest of kitchens can be well organized with some clever thinking,' says George Forsyth, director of Drew Forsyth & Co.
Rule number one when organizing a kitchen ­whatever its size – don't waste storage space on items you don't need/use. With that in mind, decluttering is usually the best place to start when organizing a small kitchen in particular. Get rid of items you don't use, don't need or don't want to eat (out of date? No, thank you). Once that's done, you're well placed to start thinking about how you want to store and organize what's left.
Organizing a small kitchen
Below, we've gathered expert advice on organizing a small kitchen from professional organizers, designers and kitchen experts to help you maximize on form, function and feel-good factor in your small kitchen.
1. Create flexible zones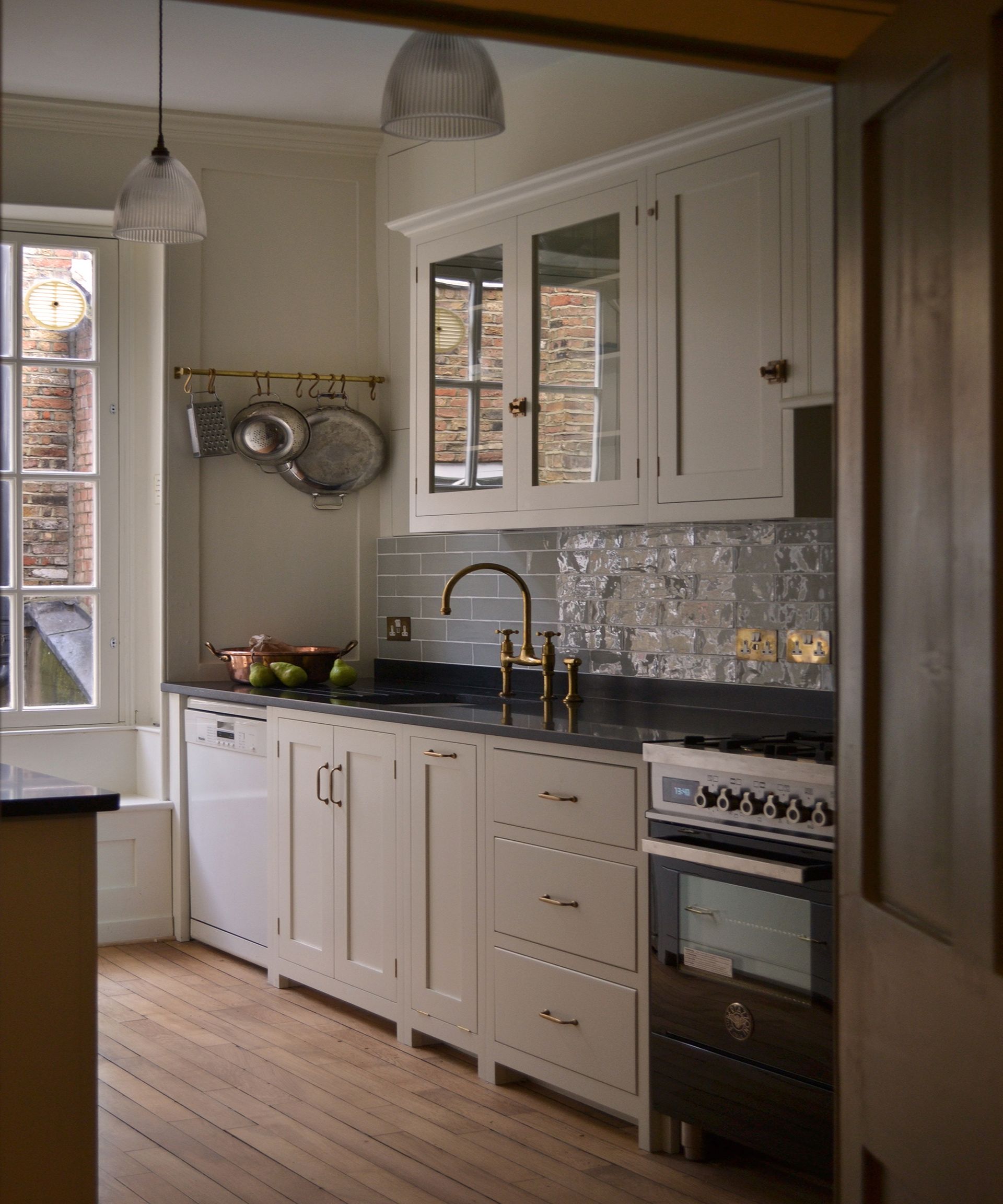 When considering a kitchen layout, you may have heard of zoning. For example, the cabinets around the cleaning zone – the sink and dishwasher – will host cleaning products, kitchen towels and the waste bin, while cabinets and drawers around the oven and hob should contain pots and pans, and bakeware etc. If you have one, dry ingredients can be stashed neatly as part of organizing a pantry, but otherwise these should have their own kitchen zone, too.
This is an extremely efficient way of organizing a small kitchen, but when space and storage are at a premium, you'll need to get a little creative.
Emma Cowburn, kitchen designer at Harvey Jones, says: 'In small kitchens where zones are close together, or even cross over in some cases, it helps to break activities down even further; tea/coffee making zone, seasoning zone, baking zone and so on. Group necessary items together in containers or baskets, then move them around the kitchen as you need.'
2. Store occasional items elsewhere
There's no hard and fast rule that says all kitchen storage must be in the cooking zone, so think outside the small kitchen for items you don't use every day.
'I have a sideboard in the dining room, right next to my small kitchen, where I store my bulky Crock-Pot,' says Alexandra, co-founder and interior designer at Clairrow. 'I don't use it every day and relocating it means I free up storage space.'
The same goes for surplus gadgets and utensils – place them in baskets to keep them neatly together and consider storing these on the top of tall kitchen cabinets if you have them. As for table linens, these can be kept together away from the work areas of the kitchen as part of your laundry room organization.
3. Keep countertops clear
When organizing kitchen countertops in a small kitchen, minimalism is key. Keeping them clear of clutter frees up cooking space and makes for a neat and tidy kitchen that's easy to maintain. A good rule to go by is to only keep out appliances you use daily – store the rest away. If bespoke cabinetry is an option, consider installing a countertop cabinet with doors that open to reveal your coffee maker, toaster, etc. When closed it creates an uncluttered look.
Grouping like items together on trays or in jars reads as one item on a countertop as opposed to several. Position your groupings in accordance with your workflow, condiments and seasonings by the cooker, for example. When deciding which everyday items to leave out on show, practicality is key, but it's important they look the part, too.
'It's more than worth it to invest in and display everyday items that not only get the job done but look beautiful while doing it', says Heather Hoerzen, design editor at Havenly.
4. Think vertically
In small kitchens, storing items vertically rather than horizontally is a real space-saver. It makes them far easier to access, plus you're more likely to fit in larger sized items.
'We love to provide vertical storage for oven trays and chopping boards', says Neil Matthews, director of kitchen designers Lewis Alderson. 'To organize by size, or use, we like to include at least three divides, which creates four slots. They are especially useful for the outsized trays used in large range cookers, but I advise all my clients to have one as vertical storage is so multifunctional.'
As well as bespoke options, you can create the same effect with vertical separators when organizing kitchen drawers and organizing kitchen cabinets. It's also a handy trick for storing pan lids – and one to bear in mind when organizing Tupperware, too.
5. Use drawers rather than cabinets
If your cabinets are full, think about using drawers for items traditionally stored in cabinets – they're perfect for organizing pots and pans, appliances, crockery, spices, etc. Not only does this open up your kitchen storage options, according to Tom Howley, design director at kitchen specialists Tom Howley, it makes for a better-functioning kitchen overall.
'Kitchen drawers are essential when planning kitchen storage ideas, particularly a small kitchen, as they often offer maximum use of space. They can be tailored to your exact specifications, allowing easy access to kitchen essentials rather than delving into the back of bulging kitchen cupboards.'
While kitchen organizers like standard drawer dividers are essential when it comes to bringing order to kitchen drawers, consider bespoke inserts to maximize on space and keep items neat, tidy and easily accessible.
'Niche inserts to hold chopping boards, for organizing spices, knife blocks, coffee pod refills and more are becoming increasingly popular,' says Graeme Smith, head of retail and commercial design at Life Kitchens.
6. Opt for open shelving
Wall cabinets can feel imposing, particularly in a small kitchen, but removing them to create an airier feel does pose a storage issue. This is where open kitchen shelving comes into its own. When organized well, it can be a great way of injecting style and personality, while at the same time maximizing kitchen storage. It's also an undeniably handy place to position dinnerware sets, for easy access and for display purposes.
To keep shelves looking neat, tidy and well arranged, organize them by grouping items into clusters of odd numbers, ideally three items, and add different heights and sizes in each cluster.
'We often recommend pairing a large linear item like a cutting board with a horizontal item, such as a few stacked cookbooks. Then introduce a couple of sculptural items, such as a bowl of lemons or salt and pepper mills. Voila! Useful, organized and so pretty', says Heather Hoerzen at Havenly.
Follow the rules for organizing deep pantry shelves for sized-up kitchen shelves, and keep the most-used items at the height that's easiest to reach.
7. Customize corner cabinets
When organizing a small kitchen, every space needs to be usable space, including corners. Sometimes awkward and hard to reach, they can be difficult for storing and accessing items, but if you're clever, they can become an efficient space for storing bulkier kitchen items such as pots, pans and appliances.
'Racks that slide along and out of the unit when you open the door make use of all available space in a user-friendly way, taking the stress out of heavy lifting from awkward angles and neatly displaying larger pieces like pots and pans,' says Graeme.
8. Keep food in check
Small kitchens need a well-ordered – and space efficient – food storage system in place to ensure cooking tasks runs smoothly. Getting rid of bulky food packaging from items is a good place to start. Just as you would when organizing a pantry, transfer all your dried foods, nuts, cereals, flours, sugars, pulses and so on, into labeled, transparent containers. This makes it much easier to locate what you need, and you'll be able to see when essentials are running low.
'Keep a food inventory so that you only purchase items that you need, that way you won't overbuy products and overfill your cupboards', advises home organizer Emma George of Declutter with Emma.
Arrange in height order and use the FIFO method: 'first in, first out', so the items with the nearest expiration dates always remain at the front. Pantry organizers such as risers, lazy susans and clear storage bins are great for keeping oils, condiments, spices and tinned food easily accessible.
When organizing a small kitchen, don't forget to include organizing a refrigerator and organizing a chest freezer (which you may be storing in a garage) in your list of to-dos – they often get forgotten about. It may feel daunting but it's time well spent; no more rummaging around for what you need saves time and effort, plus you'll have a clearer idea of what food items are in there and when they need to be eaten.
9. Welcome portable workspace – and storage
Overfilled drawers and cabinets are not conducive to a well-ordered small kitchen –or when you're organizing a utility room – and can make for rooms that don't achieve their potential. Always start with decluttering tips so you're not stashing more than you need to.
After that, if you're short on storage space, don't be tempted to cram everything in; consider flexible furniture, such as portable kitchen islands, instead.
'Portable furniture is a helpful way to enjoy extra countertop or storage space as and when it's needed', says George. 'A butcher's trolley, for example, can be brought in for busy times, such as entertaining, then moved out of the way when more floor space is required.'
A neatly sized rolling cart can live permanently next to the dining table rather than in the kitchen. Store cereals and condiments in stylish containers on the top shelf for ready access, then hide bulk-buy tins and dried foods that you don't need every day in baskets underneath.
10. Rack up a door or two
When it comes to organizing a small kitchen, utilizing the doors can go a long way towards keeping essential ingredients in order. A hanging rack provides single-row storage for oils, condiments and other everyday ingredients, ensuring they won't end up obscured by other items. It's a great way of organizing herbs and spices, too, and door racks are also a boon when it comes to organizing under the sink.
Shelves of varying heights enable you to arrange efficiently: heavier, less-used items stored at bottom, more frequently used items nearer the top, ideally at eye-level.
How can I organize my small kitchen without a pantry?
To organize a small kitchen without a pantry, start by decanting your dried goods into clear transparent jars. This saves on space and also makes it easy to keep track of what you're running low on. Position everyday essentials such as pastas, cereals, and pulses on open shelving within easy reach of the cook zone. Arrange in height order for an attractive display.
Drawers are the ideal storage option, pulling all the way out so you can see and reach what you need easily. In cabinets, pantry organizers such as risers, carousels and clear trays can make items more readily accessible. Door racks are also useful for storing spices. Make sure everything is clearly labeled, and position taller items at the back.
For overflow items, consider utilizing storage space elsewhere in the home. You don't need easy access to them every day, so surplus jars, tins and bags of dried goods can be stored in baskets and stored elsewhere, even outside of the kitchen altogether, in a dining room sideboard, for example.
How do I organize my kitchen with a small counter space?
To organize a kitchen with a small counter space, cut back on clutter. This makes for more usable workspace and an easier clean down afterwards, not to mention it looks much tidier, too. Only leave out appliances you use every day – stow the rest away and follow Marie Kondo's tips for organizing a small kitchen and let go of any that haven't been used in a year. You could also consider built in appliances, such as a hot water tap, to free up space.
Group smaller, like-items together on trays or in containers so they're seen 'as one' and try to limit them only to attractive, everyday essentials. Anything unsightly (think washing up sponges, soaps, utensils and dried food packaging) should either be stored away out of sight or placed / decanted into stylish storage.
Zone items to ensure an efficient workflow – utensils and spices by the cooker, for example – and consider investing in a butcher's portable trolley to increase work and storage space, overall.
To ensure your counter space stays well-organized, set aside five minutes for a daily declutter going forwards – put dirty dishes in the dishwasher, wipe down sides and put things back where they belong.
Sign up to the Homes & Gardens newsletter
Decor Ideas. Project Inspiration. Expert Advice. Delivered to your inbox.
For 10 years, Tara King worked as a Content Editor in the magazine industry, before leaving to become freelance, covering interior design, wellbeing, craft and homemaking. As well as writing for Ideal Home, Style at Home, Country Homes & Interiors, Tara's keen eye for styling combined with a passion for creating a happy – and functional – family home has led to a series of organization and cleaning features for H&G.