Organizing spices – 10 ways to keep spices pinch perfect
Adopting these clever tricks for organizing spices will guarantee easier cooking, perhaps even better cooking, too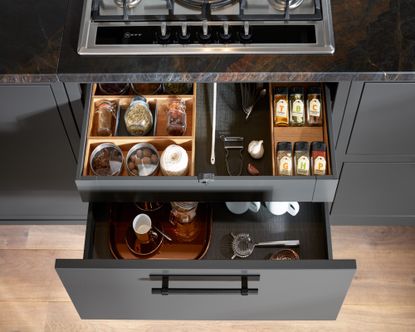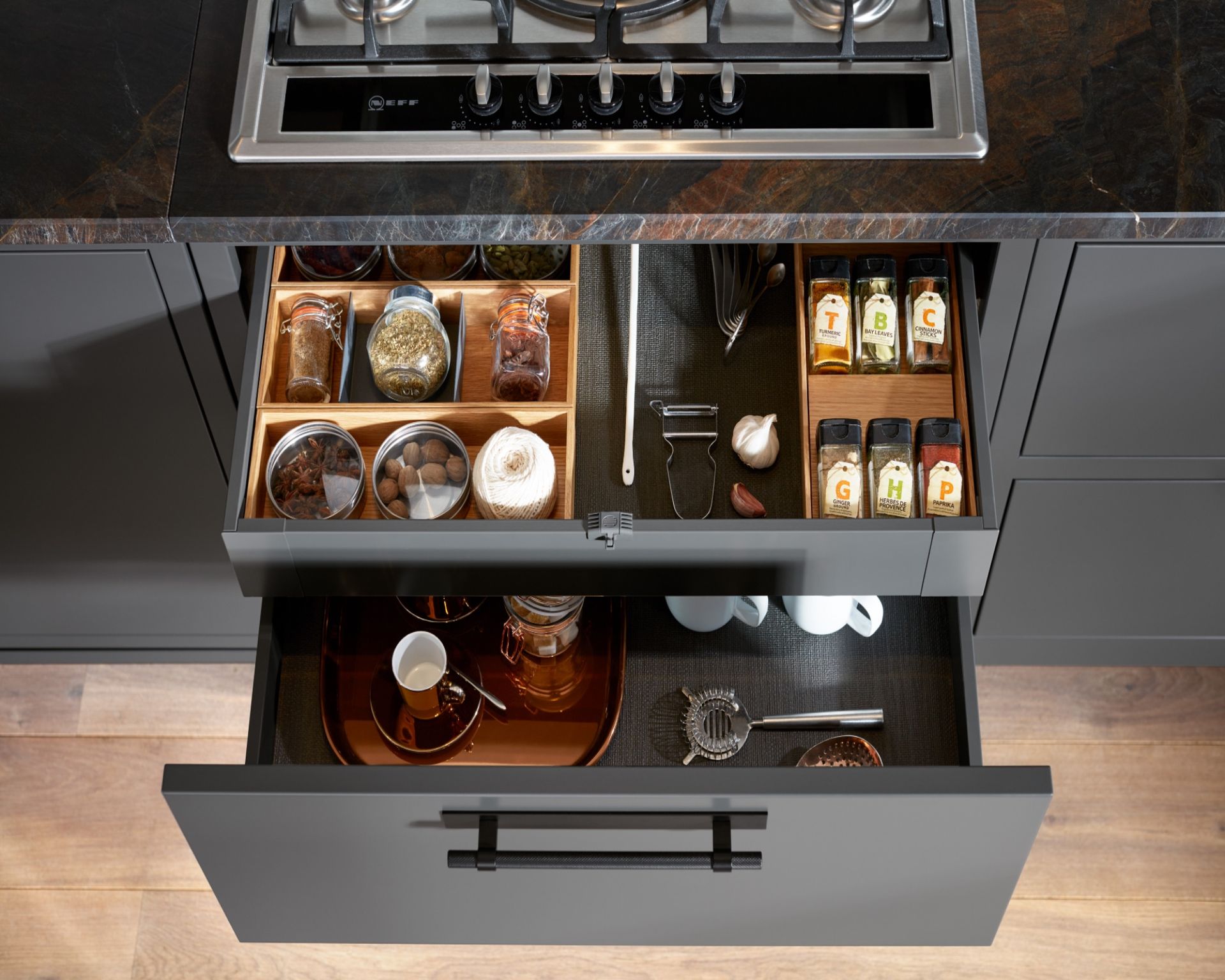 (Image credit: Life Kitchens)
Organizing spices is a task often overlooked. All too often, the so-called 'spice cabinet' ends up overrun with jar upon jar, most half empty, some right at the back not having seen the light of day for years, in some cases, decades.
Organizing a kitchen to its best potential results in smooth, efficient and hassle-free cooking. As some of the most often used ingredients in the kitchen, organizing spices is key to ensuring that's the case. Whether you have an extensive collection or a few core spices you use all the time, they should be easy to find, easy to access and easy to keep neat and tidy. No easy task, we admit. But it can be done.
'I've found spices dating back to 1995 in one of my customer's cupboards so don't worry – everyone has something out of date,' says professional home organizer Rachel Burditt, also known on Instagram as The Declutter Darling.
Below, we bring you expert tips on the best strategies for organizing spices so that they never go to waste and are always easy to find.
Organizing spices
Along with good kitchen storage ideas, a methodical system for organizing spices will make them much easier to work with, which in turn might result in better cooking overall, and we've compiled the best expertise to help you give yourself a good chance.
As for where to put them, there is a wide range of effective ways to organize spices, but bear in mind if you're organizing a refrigerator that they shouldn't be kept in there, although some can be kept fresh by finding space when you're organizing a chest freezer.
1. Streamline your spices
Before you start organizing spices, go through what you have and consolidate your collection. One of the best decluttering tips we can give is to get rid of duplicates and any past their best. While most don't go bad, seasonings do lose their flavor. If you can't read their expiration date, have a sniff – the stronger the smell, the fresher they are.
Before replacing, consider whether you really need to. if it's out of date, chances are it's been hanging around for some time. Rule number one when organizing a kitchen… don't waste storage space on items you don't need/use.
2. Order spices alphabetically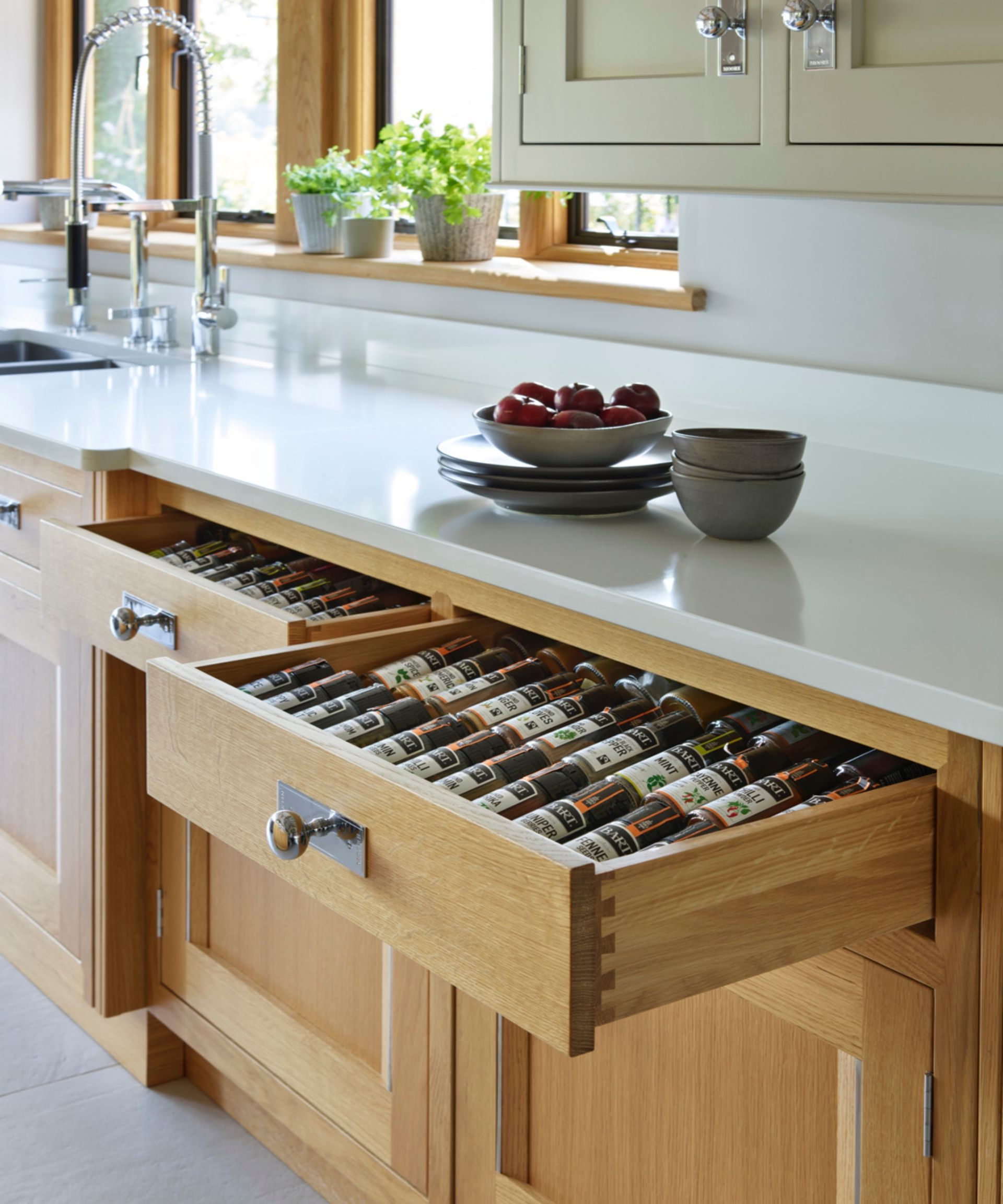 There are several ways to order your herbs and spices. Think about what makes the most sense to you and how you cook. Categorizing by cuisine or by type (warm baking spices, herbs, aromatics, etc) works for some people, but can result in cross-over.
'The most logical way is to keep your spices in alphabetical order so you can go straight to what you need, particularly if there's more than one cook in the house', says Andra DelMonico, lead interior designer at Trendey.
3. Group spices by frequency of use
Save time and boost efficiency by creating a smaller group of your most-used spices and storing them in prime position, separately from the rest of your alphabetized spice collection. Place them together in a portable spice caddy or carousel-style organizer. That way, you can move them around easily as you're cooking.
4. Decant into uniform jars
Spice packaging can come in many different shapes and sizes making them hard to store, as well as bringing a chaotic look and feel to the kitchen. Buying bags of measured quantities and decanting into reusable glass jars is a sustainable alternative. Make sure they've got rubber seals to maintain freshness and that you can comfortably fit a teaspoon inside.
'It's a great way of keeping your eye on stock levels as well as maintaining a uniform and stylish storage space', says Melissa Klink, head of design at Harvey Jones.
If you're storing your spices on display, in a wall-mounted spice rack for example, bear in mind that direct sunlight can affect the quality of your spices over time, so choose your jars wisely.
5. Label all your spices
Spices can look similar, so efficient labeling is essential to ensure you avoid any cooking mishaps. How you're planning to store your spices will affect how best to do it.
'If you're storing spice jars upright in a drawer, place name labels on the lid,' advises Ann Lightfoot, co-founder of Done & Done Home. 'If storing on shelves or laid flat, position label the side of the bottle so they can be seen at a glance. Remember to write the expiration date on the bottom of the jar when you decant.'
If your spices are out on show, Al Bruce, founder of Olive & Barr suggests: 'giving glass containers an upgrade with customized labels – this will help to streamline the whole look while adding an extra element of style'.
6. Position spices near the cook zone
Organizing a kitchen by activity makes it easier to navigate. Whether they're stored in drawers, cupboards or hanging up on wall-mounted racks, locate herbs and spices as near to the stove and cooktop as possible so they're readily available when cooking.
If your kitchen layout doesn't allow for this, consider keeping your most-used spices in a freestanding kitchen organizer or elevated carousel. You can organize kitchen countertops so it can be moved it nearer when you're cooking for ease, then store it neatly on a shelf, in the pantry or out on the kitchen countertops.
7. Utilize awkward spaces
The beauty of spice jars is their petite proportions, meaning they can fit nicely into spaces that might otherwise go unused. Bespoke storage can utilize these spaces to their best potential.
'Pull-out or pull-down storage makes for a smooth cooking experience, providing easy access to ingredients right where you need them,' says Graeme Smith, head of retail and design at Life Kitchens. 'Many are available in a variety of sizes, with a range of boxes, trays and other inserts that will hold bottles, plates, glasses and more, perfect for positioning beside the hob for quick access to your herbs and spices.'
8 Kit out cabinets for spices
If bespoke options aren't on the agenda, organizing kitchen cabinets cleverly is a quick and easy way to prevent your spice shelf descending into chaos. Tiered pantry organizers create staggered shelves, elevating items at the back of cabinets so you can see what you've got more clearly. Position them on top of a riser for extra visibility and use the cubby hole underneath to store refills or other dried goods. Non-slip liners also stop jars from tipping over.
If you have the space, home organizer Emma George of Declutter with Emma recommends positioning a lazy Susan inside your cabinet: 'they keep jars in place and rotate so you can easily access what you need without having to rummage around and knock things over,' she says. These can also be useful when you're organizing deep pantry shelves so spices stay together.
9. Dedicate a drawer to spices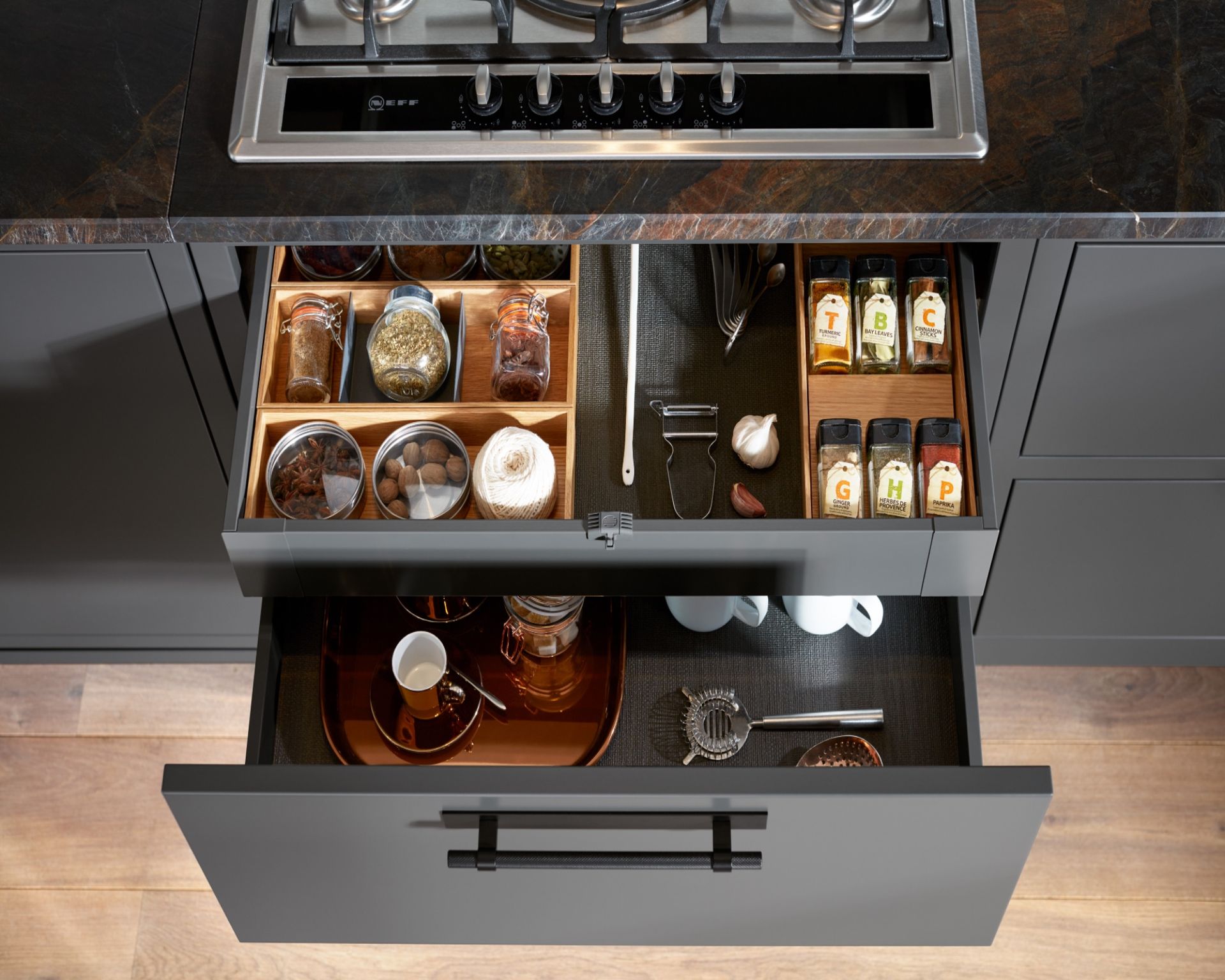 Alternatively, if you're a keen cook with a lot of spices, you may want to organize kitchen drawers so that one can take your spice collection.
'A bespoke drawer inlay allows you to lay spice jars with their labels easy to read at a glance, so you can clearly see what you have,' says Tom Howley, design director at Tom Howley. 'Not only is this more efficient when cooking, but storing them in a cool, dark drawer can extend the life and flavor of your spices.
10. Use pantry doors
When it comes to organizing a pantry, utilizing the doors can go a long way towards keeping spices tidy and easy to locate. A hanging rack provides single-row storage for herbs, spices, oils, condiments and other every day ingredients, ensuring they won't end up obscured by other items. Shelves of varying heights enable you to arrange like you would when organizing a pantry; heavier, less-used items stored at bottom, more frequently used items nearer the top, ideally at eye-level.
While a bespoke design is hard to beat, store-bought varieties work well, too. Wooden racks are preferable to metal in terms of jars clanking as you open the door.
How do you organize spices in a drawer?
How you organize your spices is primarily dictated by the depth of your drawer. For deep drawers, your spices can be stored standing up. Order alphabetically and use vertical separators to keep them from falling over, or group them by category (e.g., cuisine, usage, frequency of use etc) and place them into clear containers, trays or baskets. Make sure you clearly label the lid.
Laying spices flat on their sides is a good option for slim drawers and offers the added benefit of being able to see when they're about to run out, so you can restock in plenty of time. Use bespoke inlays to keep them from rolling around and position alphabetically with the label facing outwards so you can locate what you need at a quick glance.
How do you declutter spices?
To declutter spices whether as part of organizing a small kitchen or when yours is a more generously sized room, go through your spice collection and get rid of duplicates or any past their use-by date. While spices don't go off as such, they do lose their flavor over time. If it's been so long that the expiration date has faded away, do the sniff test – the stronger the smell, the fresher they are.
Don't automatically replace everything that's past its best, without first considering whether you really need to. Ask yourself when was the last time you used it. If it was more than two years ago, say goodbye. There's no point making room for items you don't need or never use.
Sign up to the Homes & Gardens newsletter
Decor Ideas. Project Inspiration. Expert Advice. Delivered to your inbox.
For 10 years, Tara King worked as a Content Editor in the magazine industry, before leaving to become freelance, covering interior design, wellbeing, craft and homemaking. As well as writing for Ideal Home, Style at Home, Country Homes & Interiors, Tara's keen eye for styling combined with a passion for creating a happy – and functional – family home has led to a series of organization and cleaning features for H&G.