How to organize deep pantry shelves – 10 ways to keep your space ordered
Find out how to organize deep pantry shelves to ensure your essentials remain orderly and easy to find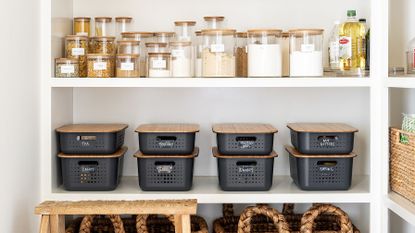 (Image credit: Studio McGee Design / Lucy Call Photography)
Knowing how to organize deep pantry shelves efficiently will make a huge difference to your pantry. One thing deep pantry shelves don't lack is space – they can house an awful lot of 'stuff'. While this is great in terms of storage, it does mean they can easily descend into a dumping ground for kitchen clutter if not organized properly.
When organizing a kitchen, deep pantry shelves require a little extra planning. Packing them full may feel like a good use of space but trust us when we say taking a minimal approach is the best way to maximize their usefulness.
Having an efficient food storage system in place has its own set of benefits – relaxed cooking and less food waste, for a start – while easy access to other staples (food processors, platters, cake stands, linens, etc) should result in a smoother-running kitchen overall.
If you are looking for pantry ideas that can help you organize deep pantry shelves, we have plenty of expert tips below.
How to organize deep pantry shelves
We've spoken to the experts about organizing a pantry and gathered some of the easiest ways to organize deep pantry shelves, from pantry storage ideas to decluttering tips, to help you keep your pantry staples orderly, organized and always close to hand. They're tips that will prove useful for laundry room organization and organizing a utility room with deep shelves, too.
1. Make a plan
Start with a clear out of pantry shelving. 'When organizing deep pantry shelves, decluttering is the best place to start. Go through every tin, packet, jar and bottle and get rid of anything past its sell-by date or that you really won't use at all (ensuring you recycle what you can). Do the same for kitchen items, too. That way you're only left with what you need to put back, and you can start to assign locations.
'I recommend using sticky notes to quickly jot down where you think things might go before you actually replace them, it helps you to get an overall holistic view of your storage situation', says Heather Hoerzen, design editor at Havenly.
2. Choose pull-out storage
'If you can upgrade to mounted drawers inside deep pantry shelving, it's a game changer', says Betsy Moyer, founder of The Estate of Things. 'You'll see so much more of what you store. And we all know the key to succeed in properly utilizing your pantry storage is visibility.'
Or use baskets and bins or transparent containers, including those you've set aside as a result of organizing Tupperware – this performs the same function as organizing kitchen drawers, and they have added benefit of being able to pull right out, particularly useful for higher up shelving.
You can then set them down on a counter and have a proper rifle through – essentially a removable drawer,' says Ann Lightfoot, co-founder of Done & Done Home. They're ideal for grouping smaller like-items – think organizing spices – that would otherwise get lost at the back of a cabinet.
When organizing pantry drawers, particularly deep ones, use kitchen organizers such as dividers or bespoke inserts to keep everything neatly categorized.
Pantry door ideas, like the one above, can complement deep pantry shelves, allowing you to store smaller items efficiently.
3. Reserve lower shelves for heavier items
Deep pantry shelves are ideal for storing sizeable items of cookware, organizing pots and pans, and stashing appliances or large bags of overfill foods, as the space between top and bottom allows cooks to reach inside easily and access heavier items, reducing the risk of potential accidents.
'If it's heavy, store it low, says Richard Davonport, managing director at Davonport. 'It sounds simple, but you really don't want to be accessing heavy items overhead.'
When deciding exactly what goes where, assign the heaviest items to shelves that are reachable without stretching up or bending down – similarly to how you would when organizing kitchen cabinets.
4. And store seldom-used items up high
Higher up deep pantry shelving should be reserved for those items that are rarely used – think cocktail straws for parties, cookie cutters for Christmas, and so on.
Try to avoid putting delicate items such as glass jars or appliances on high shelves to avoid any unnecessary breakages.
5. Enlist pantry helpers
Deep pantry shelves may offer plenty of space, but they need to be organized properly in order to make the best of it. From wire-racks and bins to carousels and risers, investing pantry organizers can make all the difference. Think about exactly what you want to store on the shelf and which would most benefit you.
'Tinned food can be placed on a shelf to the back atop risers to allow you to see what you have without digging through several layers of cans, and clear containers stacked underneath are really helpful to easily spot what you need without rummaging', says Stephanie Nixon, kitchen designer at Neptune.
6. Stack food in height order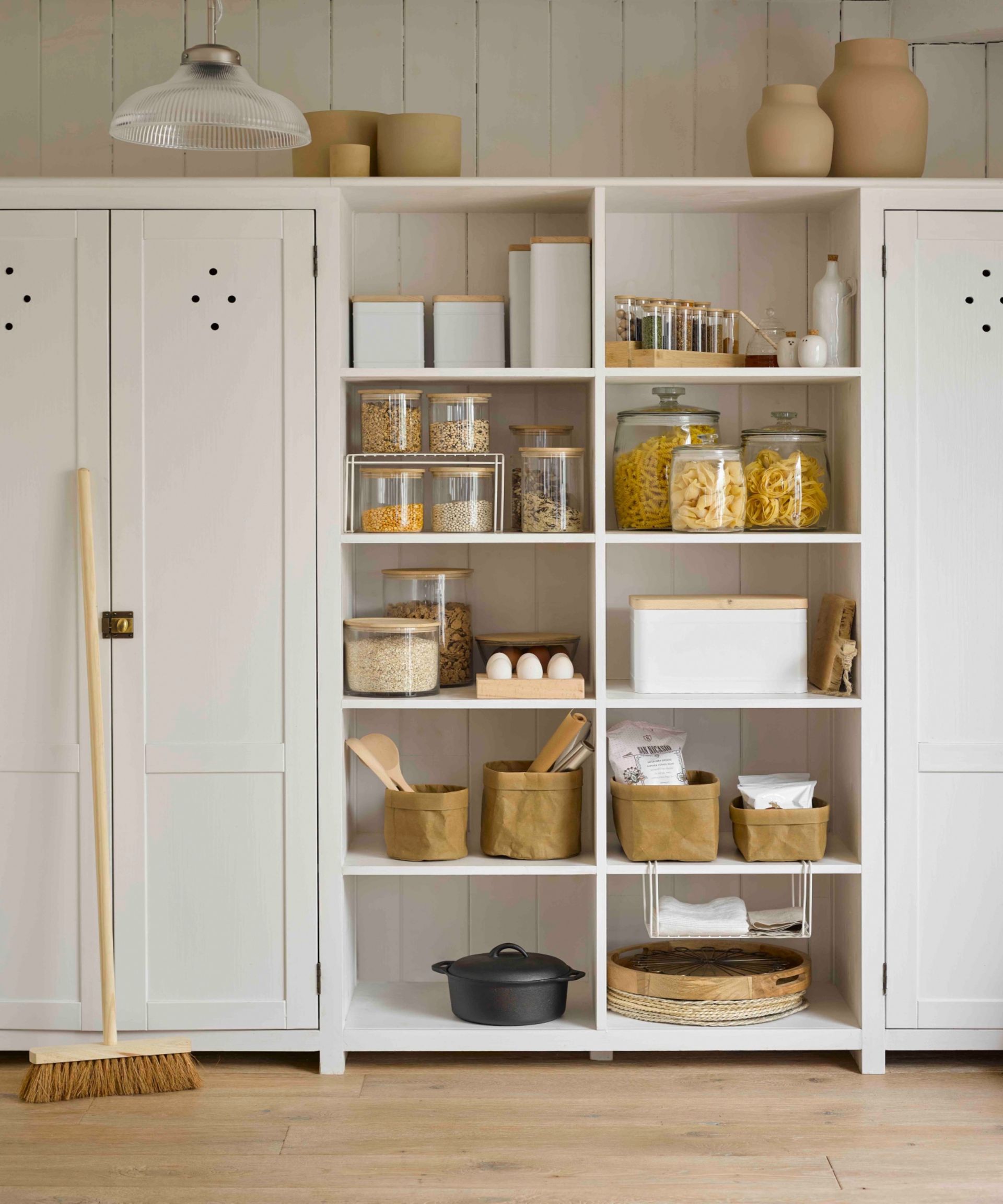 It's tempting to put items at the front as you've just used them, but this results in smaller items getting lost and forgotten, particularly when organizing deep pantry shelves. Stacking in height order allows you to see what you've got clearly and helps you to avoid knocking things over when you're reaching all the way back.
7. Pay attention to use-by dates
Position items according to how soon they're due to go off. This is the way it's done in supermarkets to ensure customers buy the stock going out of date first. Professional organizer Brenda Scott of Tidy My Space refers to this as the 'FIFO' method:
'Think first in first out… when you purchase an item it goes to the back of the grouping so the item with the nearest expiration date always remains at the front,' she says.
8. Create eye-pleasing displays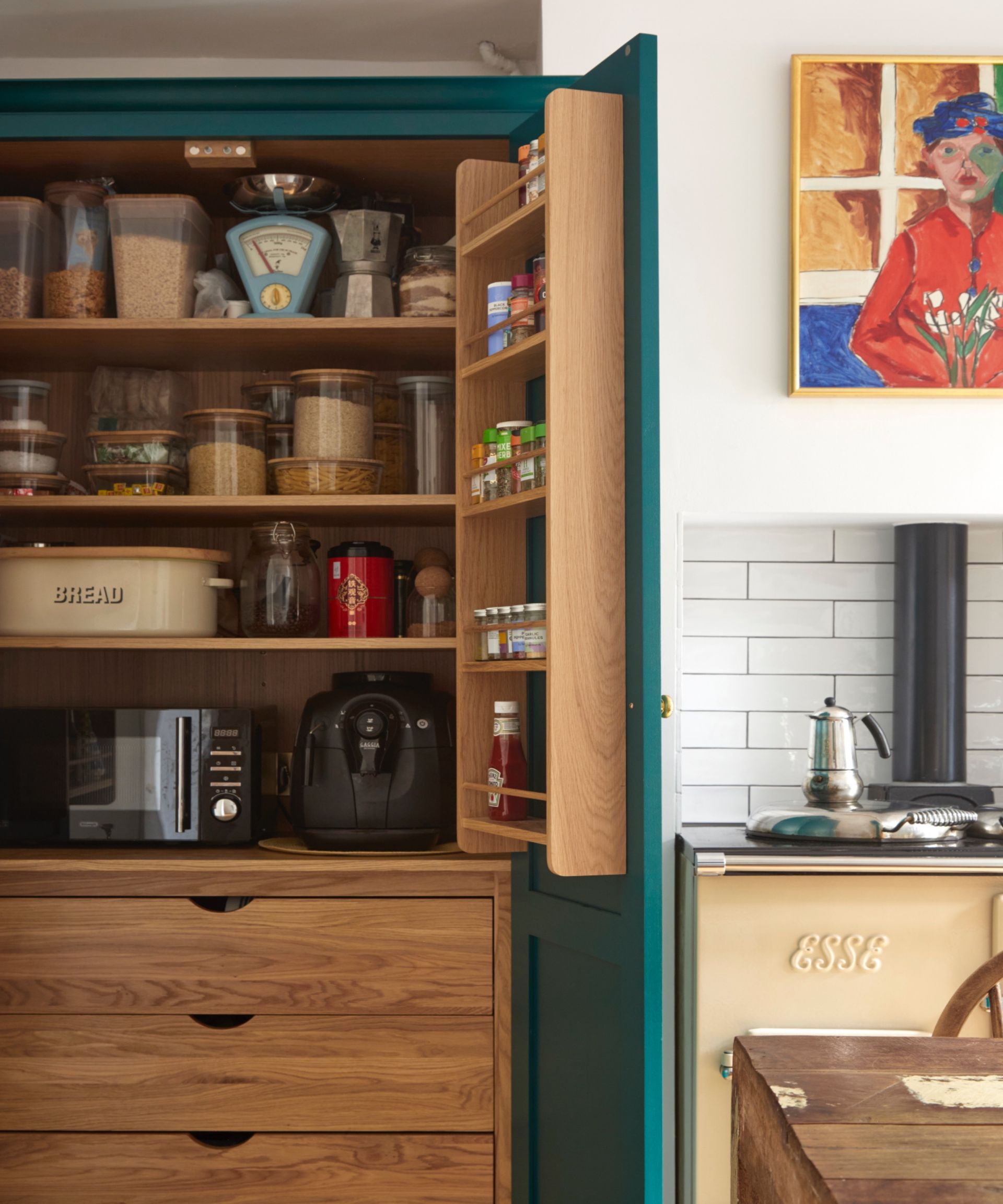 Decorative kitchen storage ideas can make a huge difference to your pantry's look and feel, so creating a stylish display is vital when organizing deep pantry shelves, particularly if they're open or have glass doors.
To keep shelves looking neat, tidy and mindfully arranged, organize them by grouping items into clusters of odd numbers, ideally three items, and add different heights and sizes in each cluster.
Baskets offer a practical way of storing your unsightly pantry items, while maintaining a neat and tidy aesthetic. Similarly, decanting dried goods in neatly labelled glass jars makes for a stylish display, plus you can see when stocks are running low at a quick glance. There's also no risk of packets opening and spilling everywhere – never an easy clean-up job, and even less so on deep shelves.
Labels aren't just practical; they add style and character to your pantry, too. Consider chalkboard labels for jars and luggage tags for baskets.
9. Store appliances on deep pantry shelves
When organizing kitchen countertops, minimalism is key, particularly now when dual-purpose kitchen/entertaining spaces are more popular than ever. The fewer appliances you have out on show, the better.
'Deep pantry shelves are perfect for housing small appliances such as kettles, toasters and coffee machines, freeing up valuable workspace,' says Will Lyne, lead designer and owner of Christopher Peters Kitchens & Interiors.
Emma Cowburn, kitchen designer at Harvey Jones agrees, and adds: 'Consider having them fitted with sockets at the back so you can plug and use the appliances where they are, then simply close the doors on any clutter.'
10. Don't be tempted to overload
By their very nature, deep pantry shelves can house a lot of 'stuff'. It's tempting to fill the space – particularly if you're organizing a small kitchen, but it's not conducive to effective storage overall.
'Deep pantry shelves are handy for hiding away lots of clutter, but that doesn't necessarily make them user-friendly,' advises Richard. 'If your non-stick frying pan is always hiding underneath five other saucepans of various shapes and sizes it will be frustrating every time you need to use it, so try to give each item its own space, particularly ones you use every day.'
How do I organize narrow and deep pantry shelves?
Reserve narrow and deep pantry shelves for smaller items and use transparent containers or baskets to group them. Be sure to measure the height and width of the shelf before deciding on pull out storage – you ideally want a snug fit, so you're not left with dead space at the back. Label each container clearly so you can pull one out – like a removable drawer, find what you need, and slide it back in again.
You could also consider installing a tall, slim rack for wine storage.
How do you organize a deep corner pantry?
Fitting pantry shelves is a brilliant way to make the most of an unused corner in your kitchen – opt for floating styles rather than ones fitted with brackets to utilize space.
Pantry organizers are your best friend in a deep corner pantry. Stack risers along the shelves and store tinned goods on top, with overflows tucked underneath. As you use the tins, always replace the one on top of the riser so you know where you're looking next time. Make the most of open corner space with carousel storage – easy access to condiments, spices, oils and other bottled items.
Get rid of packaging to save on space and decant dried goods into clear, glass jars that sit snugly side by side. Make sure the taller items go towards the back, so you don't end up knocking things over as you reach in and keep most frequently used items – and those with closer expiry dates – near the front.
Sign up to the Homes & Gardens newsletter
Decor Ideas. Project Inspiration. Expert Advice. Delivered to your inbox.
For 10 years, Tara King worked as a Content Editor in the magazine industry, before leaving to become freelance, covering interior design, wellbeing, craft and homemaking. As well as writing for Ideal Home, Style at Home, Country Homes & Interiors, Tara's keen eye for styling combined with a passion for creating a happy – and functional – family home has led to a series of organization and cleaning features for H&G.