Pantry staples – an essential list
An essential list of what to store in your pantry including food stuffs, how to store them and kitchen equipment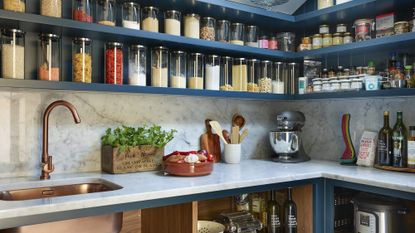 (Image credit: Roundhouse)
Pantry staples are the must-have items to keep your pantry well-stocked and well-organized. Whether you're setting up a new pantry or giving a pantry a refresh, having a handy checklist of kitchen store-cupboard food stuffs and ingredients, from cereals to herbs and spices, is a great way to ensure home chefs have everything they need close at hand.
Perhaps your pantry is overdue a good de-clutter, littered with half opened jars and out of date items – our list of pantry staples will help streamline your store-cupboard essentials, but we've also included a list of the kit you'll need to store them in to ensure it's as organized as possible, so be sure to add this to your pantry ideas, too.
Historically used to store just food and provisions such as grain, flour and jams, the pantry has seen a resurgence in recent years and has evolved into a multifunctional space to store all sorts of kitchen items, from serveware and table linen to must-have appliances. With this in mind, we've also included a list of the kitchen equipment we think you ought to keep in a pantry if space allows.
Should you be wondering how you are going to squeeze all of these must-haves into your smaller pantry, then consider some pantry organizers. Use an organizer to maximize useable space, to make way for more storage and most importantly: a tidy pantry.
The pantry staples storage must-haves
The purpose of a pantry is not just to store food but to preserve it, for this reason it's important that pantries are dry, cool, dark places as moisture and heat can encourage food to become contaminated. It's also important that perishable items are kept in airtight containers, so before buying your supplies ensure you have the right containers for storing them in.
Investing in a set of uniform air-tight, sturdy and stackable plastic dry goods containers of the same brand in an array of different sizes is a brilliant pantry organization idea allowing store food stuffs more efficiently and make the most use of your pantry space. These should be see-through to allow you to quickly view what you have. Square or rectangular shaped containers are the most efficient to store and modular sets that can be stored within each other when not in sure is a handy space-saving consideration.
'Storing items in containers allows you to throw out bulky packaging and free up some room. Stackable square containers are the most space efficient,' says Tom Howley, design director of the eponymous kitchen company.
Here is a list of every pantry storage essential that you will need:
Small glass containers – for herbs and spices.
Glass mason jars – in a range of sizes and shapes.
Glass pickling jars – for homemade preserves and pickles.
Air-tight plastic dry goods containers – ideally latch closing with a rubber seal and in a variety of sizes.
Flip-top containers – for flours and cereals to make them easy to pour.
Baskets – to keep items of the same category (i.e. chips and cookies) grouped together.
Labels and a pen – useful for labelling containers and jars.
A wire vegetable rack or moveable trolley – for storing root vegetables.
Large wicker baskets – to be kept on the floor or a deep low shelf to store larger items or folded table linens.
Now begin your pantry staples list
Inevitably pantry staples will vary from household to household, but this list of essential items should satisfy any home chef. We've broken it down into categories to make it easy to digest. If you have a passion for cooking and love to experiment and entertain, then you can build on this with your star ingredients, such as your pomegranate molasses or smoked sea salt, for example.
Oils and vinegars: Regular olive oil and extra-virgin olive oil, neutral cooking oil such (as canola or rapeseed, grapeseed, sunflower), coconut oil, specialist oils (such as chilli, seasame, truffle), white-wine vinegar, red-wine vinegar, apple cider vinegar, balsamic vinegar.
Cans and jars: canned fish such as tuna, sardines, mackerel, salmon and anchovies, pickles, capers, olives (black and green), pickles, canned fruit, chicken stock, beef and vegetable stock.
Tomatoes: tomato paste, diced, plum and passata. A true store-cupboard table used in many meals from curries to bolognese, canned tomatoes are worth buying in multi-packs for value so factor in space for storing these.
Spices and dried herbs: Sea salt flakes, fine sea salt, whole black peppercorns, chilli flakes, ground chilli, ground cayenne, sweet paprika, smoked paprika, curry powder, bay leaves, black peppercorns, ground cinnamon, cinnamon sticks, ground cumin, cloves, cardamon, saffron, ground coriander, garlic powder or granulated garlic, dried thyme, dried oregano.
Grains and pasta: Long-grain white rice, brown rice, risotto rice, couscous, quinoa, orzo, spaghetti, lasagne sheets and one other type of pasta such as penne, shells or fusilli, plain bread crumbs, crackers, canned beans such as chickpeas, haricot and butter beans, black-eyed and split peas, cannellini beans and green lentilles de puy.
Cereals: boxed, branded cereals, muesli, rolled oats, toasted fakes such as corn, wheat or spelt.
Nuts, dried fruit and seeds: Walnuts, almonds, hazelnuts, cashews, pecans, dried apricots, dates, figs, sunflower seeds, pumpkin seeds, flax seed, chia seeds (for an alternative to egg in free-from baking)
Preserves and pickles: Fruit jams, nut butters, chocolate spreads, chutneys, relishes.
Condiments and sauces: Vinaigrette, dijon mustard, english mustard, wholegrain mustard, American mustard, mayonnaise, tomato sauce, hot sauce, salsa, soy sauce, Worcestershire sauce.
Vegetables: Garlic, ginger, onions (red and white), shallots, potatoes, dried mushrooms
Dairy: Eggs, unsalted butter, cheeses (Cheddar, Jack or Colby, Parmesan), milk or cream for cooking (not skim).
Baking: Plain flour, self raising flour, strong bread flour, wholemeal flour, cornmeal, ground almonds, flaked almonds, baking soda, baking powder, powdered milk, condensed milk, pure vanilla extract, vanilla beans, dry yeast, unsweetened and semisweet dark chocolate, cocoa or cacao powder, raisins, currants or other dried fruit.
Sugars and sweeteners: Granulated sugar, caster (regular and golden), light brown sugar, confectioners' sugar or icing sugar, dark brown sugar, demerara sugar, honey, maple syrup, agave syrup, stevia, or other plant-based sweeteners – all these depend on personal preference.
Tea and coffee: loose leaf teas, tea bags, ground coffee (or coffee beans if you grind your own beans), instant coffee, powders for hot drinks such as hot chocolate powder, chai powder etc.
Liquids: cordials, bottled water, soda water, canned carbonated soft drinks, sealed and unopened non-dairy milks such as oat, almond, soya, coconut, almond, etc.
Pantry staples – equipment to keep in a pantry
Historically used for storing food, today pantries have evolved into versatile spaces which often incorporate a sink and extra worktop areas for food preparation as well as supplementary fridges and freezers. 'Pantries can also serve a dual purpose as a way of concealing appliances. With a greater shift towards keeping worksurfaces clear of clutter, to give a more minimalist feel and allow for more prep space, the pantry serves as an excellent solution for concealing appliances,' says Tom Howley.
If you're planning a walk-in pantry we've compiled a list of non-food items you may want to factor in to free up space in your kitchen.
If you are planning to store large appliances or heavy items in a pantry be sure to make sure the shelves can support them. When designing a pantry, 'the bottom shelves should have the most depth, being used to store platters, food baskets and more,' says Richard Moore, design director of Martin Moore bespoke kitchens, 'Shelves should then decrease in depth the higher you go. This keeps everything easily accessible and easily visible.'
Food processor – essential for making meal prep easy, a food processor can be used for everything from preparing vegetables to kneading dough.
Stand mixer – a must-have for any home baker, stand mixers can come with attachments for whisking beating, kneading and more.
Dutch oven – the unsung heroes of the kitchen this versatile piece of cookware can be used for everything from soups and casseroles to chilli. A good quality enamelled cast iron dutch oven with a lids are heavy pieces so should be stored on low cupboards or shelves in the pantry or on a countertop.
Slow cooker – perfect for making tasty low maintenance dishes, slow cookers are also handy for batch cooking.
Air fryer – working like a mini convection oven, this handy device will revolutionise the way you cook, allowing you to make tasty, crisp fried food using a fraction of the oil that a deep fat fryer uses.
Serving platters – large and small depending on individual needs.
Large casserole and oven-proof dishes – cast-iron is often cited as one of the best materials.
Cake stands and domes – a must-have for home bakers and those that regularly entertain.
Baking equipment – trays, cake tins, loaf tins, cooling racks.
Table linen – tablecloths, nakpins, tea towels.
Alfresco dining items – including picnic baskets, cool bags, drinks dispensers, picnicware, crockery and cutlery.
Sign up to the Homes & Gardens newsletter
Decor Ideas. Project Inspiration. Expert Advice. Delivered to your inbox.
Pippa is Content Editor on Homes & Gardens online contributing to Period Living and Country Homes & Interiors print issues. A graduate of Art History and formerly Style Editor at Period Living, she is passionate about architecture, creating decorating content, interior styling and writing about craft and historic homes. She enjoys searching out beautiful images and the latest trends to share with the Homes & Gardens audience. A keen gardener, when she's not writing you'll find her growing flowers on her village allotment for styling projects.