Organizing pots and pans – 10 ways to keep cookware tidy
These clever ideas will have you organizing pots and pans like a professional… perhaps even cooking like one, too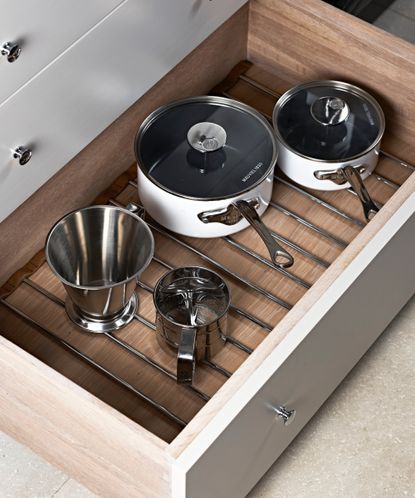 (Image credit: Neptune)
Organizing pots and pans is an essential part of creating a practical kitchen that runs smoothly day to day. Rummaging around in cabinets for that large frying pan you know is 'in there somewhere' is not an efficient use of anyone's time, and certainly not conducive to a relaxed and enjoyable cooking experience. We can testify to that.
Organizing pots and pans can be tricky. They're big and bulky yet require prime position when it comes to organizing a kitchen as they're so often used. By keeping your cookware in an orderly state, you're organizing your kitchen to great effect, ensuring they're close to hand and easily accessible. Not to mention quick to put away afterwards, resulting in a neat, tidy and functional kitchen overall.
Organizing pots and pans
It may feel like a daunting task but establishing good kitchen storage and a hardworking organization system for pots and pans now will save you both time and effort in the long run. Here, we've compiled our own step-by-step guide – including top tips from experts – to ensure you organize pots and pans, perfectly.
1. Assess your current collection
Before planning any kind of organizational system for your pots and pans, you'll first need to get everything out to see what you're working with.
'Start by taking everything out and laying it on a surface – that way you can see exactly what you've got and start to work out which storage systems might work well for you,' says professional organizer Lucy Mansey, dubbed 'the Marie Kondo of Britain' by her celebrity clients.
2. Work out what you really need
Unless you're a professional chef, the chances are you have too many pots and pans. Having three frying pans when you only use one is not convenient – it's just clutter. A good decluttering will cut down on unnecessary items and leave you with just the ones you use regularly.
'Having a specifically-sized pot isn't going to make your food taste any better, so be brutal,' says Emma Cowburn, kitchen designer at Harvey Jones. 'A small cookware collection is far easier to store and keep organized.'
As well as tackling multiples, think of items that could potentially play double purpose to keep things simple. Cast-iron pots that go straight from oven to table, or Pyrex baking dishes that go from oven to fridge, for example.
3. Stow away occasional cookware
During the streamlining process, you'll likely come across pots and pans that you don't use every day yet use often enough to justify keeping hold of – items you might use just for entertaining, such as oversized casserole dishes and baking trays, for example.
There's no hard and fast rule that says all kitchen storage must be in the cooking zone, so think outside the kitchen for these items – particularly if you're looking for small kitchen storage ideas or organizing a pantry. 'I have a sideboard in the dining room, right next to my kitchen, where I store my bulky crockpot', says Alexandra, co-founder and interior designer at Clairrow. 'I don't use it every day and relocating it means I free up storage space.'
4. Position pots and pans near the cook zone
Positioning your pots and pans carefully is key. Whether they're in drawers or cabinets, locating them near to the stove and cooktop enables easy access when cooking, cuts down on wasted walking time and adds a general sense of continuity to the room. You might alternatively want some hanging up or on shelves to make them even easier to grab, but if you've been keeping any on working surfaces, move them to one of the above options as part of organizing kitchen countertops.
While you're rethinking kitchen layout ideas, it's also worth positioning non-cooking related kitchen items such as crockery, glassware and cutlery, away from your pots and pans. This is particularly important if you like to entertain. That way, two people can carry out tasks in the kitchen without tripping over each other.
5. Dedicate space in a deep drawer
A wide, deep drawer will likely allow you to store all your pots and pans in one readily accessible space, which is much easier than rummaging around at the back of a cabinet – particularly as you'll be using them nearly every day.
'Drawers can really come in handy for organizing and storing your pots and pans. Graduated drawer units like the ones in our Suffolk collection give you the option to neatly store lids in the shallower drawer at the top, and deeper pots in the bottom,' says Stephanie Nix, kitchen designer at Neptune.
Organizing kitchen drawers properly for pots and pans can really pay off. To avoid rattling when you open and close the drawer, consider installing an internal pan rack to allow easy access and space around each item. There are vertical and horizontal ones available so you can utilize the drawer space available to best effect.
Lining the bottom of the drawer also reduces noise as well as protect pots and pans from scratches. A pegboard liner is a clever hack. You can simply adjust the dowels to separate casserole dishes from frying pans, and so on – it's great for keeping things organized.
For pots and pans that are used less regularly, you might want to consider making space for them when organizing deep pantry shelves.
6. Customize a corner cabinet
Organizing kitchen cabinets – and especially corner cabinets – for pots and pans can be notoriously difficult. They are particularly difficult for accessing and storing items in, but if you invest in clever kitchen cabinet ideas, they can become one of the most practical places to store your pots and pans.
'Racks that slide along and out of the unit when you open the door make use of all available space in a user-friendly way, taking the stress out of heavy lifting from awkward angles and neatly displaying larger pieces like pots and pans', says Graeme Smith, Head of Retail and Commercial Design at Life Kitchens.
7. Arrange by size on open shelving
Open kitchen shelving is a great option for organizing (attractive) pots and pans and is extremely efficient in terms of speed and accessibility. Plus, it can make for a stylish focal point in your kitchen when done properly.
It's worth noting that having everything on display, however, is an ongoing commitment. It's vital that you keep things organized. Arranging pots and pans by size and use is easy to maintain and brings a neat, orderly feel to your kitchen.
As well as on open shelving, Heather Hoerzen, design editor at Havenly believes there's also a styling opportunity to be had by displaying good-looking pots and pans on the cooker top.
'My Le Creuset pan looks lovely enough to leave out daily; it brings little design love to our stovetop scene – and means our morning eggs that much quicker to make!'
8. Take a professional approach
Take inspiration from a chef's kitchen by hanging pots and pans from the ceiling. It's an effective way to corral them into order, while taking pressure off your cabinet space.
'There are lots of options for hanging that can double up as a feature of the room. Pot rails enable them to be hung from a wall, cabinet or island, while a pot rack is a good option for high up storage, much like you'd find in a working restaurant kitchen,' says Daniel Bowler, director of Eggersmann UK .
Arrange by size and use to make it easy to cater for crowds. However, if you're not one for entertaining, this might not be an organizational tip for you – frequent use is the best way to eliminate dust.
9. Store lids separately
Storing your pots and pans with the lid on is not the most efficient use of space – something worth considering if you're planning to organize a small kitchen. It leaves no opportunity for stacking, plus they can separate easily and end up rattling around or lost at the back of a cabinet somewhere. Experts advise storing them separately for a more manageable organization system overall.
Speak to a kitchen designer about having bespoke organizer inserts or inner drawers installed for storing pan lids. Or for a less permanent solution, professional organizer Vicky Silverthorn of You Need a Vicky suggests 'mounting a rack on the back of the cabinet door that you can slot lids into'. Position them opposite their counterpart so you can match them quickly and easily.
If you're storing pots and pans in deep drawers, stack lids vertically along one side, using tension rods to separate them.
10. Stack sensibly
Pots and pans can be difficult to deal with when they're stacked on top of each other. Ideally, you'd want to avoid stacking altogether, but there's no denying it's a space saver. To minimize hassle, implement an efficient stacking system.
First, group by use; frying pans, saucepans, casserole dishes, etc, then stack by size starting with the largest on the bottom. Stack one inside the other, or if you've got the height space, keep the lids on your pots but flip them upside down so the handle is facing downwards. This will keep lids and pots together, and makes for a flatter, smoother surface for stacking the next pot. Be sure to use protectors in between each pot and pan to prevent scratching.
'You could consider investing in multi-use or stackable sets rather than holding onto a selection of mismatched pans which don't all fit together can save copious amounts of space,' advises Joanna Thornhill, interiors stylist, writer and author of The New Mindful Home (Laurence King Publishing).
How do you neatly organize pots and pans?
To neatly organize pots and pans, streamline what you've already got by cutting down on multiples and prioritize double-purpose items to create a smaller, everyday collection. Store occasional cookware separately.
Group pots and pans by use: frying pans, saucepans, casserole dishes, etc, to enable ready access. Stack groups by size, starting with the largest on the bottom. If you've got the height space, flip the lids upside down to create a smooth surface for stacking the next pot. In cabinets, use internal pan racks and risers, and line drawers with a pegboard to keep items neatly organized.
Store lids separately. Slim inner drawers positioned above your pots and pans are ideal, but if this isn't an option, consider an over-the-door rack to slide lids into, or stack them vertically in drawers, separated by dividers or tension rods.
If you're displaying pots and pans out on show, arrange by size and use, and stay on top of organization to avoid a cluttered feel.
Where is the best place to store pots and pans?
Cookware should be positioned as close to the range or cooktop as possible whether you're organizing a small kitchen or a large one – to ensure it runs smoothly, so it's important to factor this in when deciding where to store your pots and pans.
Deep drawers are arguably the most effective storage option. They offer plentiful space for big and bulky pots and pans, pull right out so you can see exactly what you have and leave room for organizational helpers such as risers, dividers and inserts. Slim inner drawers positioned above also work well for storing pan lids separately.
Pots and pans can be stored in cabinets, however, consider installing pull-out racks that slide all whole way out, particularly in corner units, to ensure a more functional system – no one has time to scramble around in the back of a dark cabinet looking for lost pan lids!
You can also make a feature of your pots and pans by storing them out in the open, either on open shelving, ceiling-hung pot racks or hanging from rails. Bear in mind that they will need to be kept well organized at all times to avoid your kitchen looking cluttered.
Sign up to the Homes & Gardens newsletter
Decor Ideas. Project Inspiration. Expert Advice. Delivered to your inbox.
For 10 years, Tara King worked as a Content Editor in the magazine industry, before leaving to become freelance, covering interior design, wellbeing, craft and homemaking. As well as writing for Ideal Home, Style at Home, Country Homes & Interiors, Tara's keen eye for styling combined with a passion for creating a happy – and functional – family home has led to a series of organization and cleaning features for H&G.