Pantry shelving ideas – 10 ways to maximize your space
These practical and stylish pantry shelving ideas will make the most of your pantry space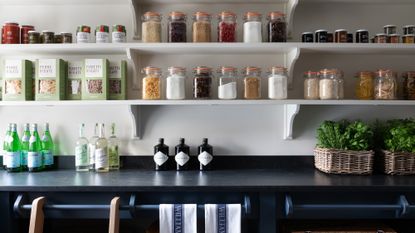 (Image credit: Humphrey Munson)
Pantry shelving ideas are an important part of any pantry design. The priority of a pantry is to have effective of storage as well as for items to be kept well ordered and easily accessible, so clever shelving ideas are a must.
In a walk-in pantry, open shelving is the perfect solution for this, allowing you to see what you have straightaway, but there are plenty of clever solutions that can be fitted behind cabinet doors, too.
Whether you are planning a walk-in pantry, a bespoke pantry or larder unit within a fitted kitchen or even a freestanding piece, making sure there's sufficient shelf space is essential to a well-stocked, well organized pantry, so you'll first want to do thorough audit of the contents you wish to store.
We've rounded up an array of pantry shelving inspiration to add to your list of pantry ideas top help get you started on your design.
Pantry shelving ideas
When choosing pantry shelving ideas, there are many things to consider, from style and material to the way they are configured and fixed to the wall, but to ensure your pantry shelving is fit for purpose it's important to first get the right height and depth.
'The beauty of bespoke pantries is that everything stored can be seen at a quick glance. For this to be the case, shelves shouldn't be too deep, and should be kept to a bespoke depth that is appropriate for the items that are being stored,' says Richard Moore, design director or Martin Moore.
'The bottom shelves should have the most depth, being used to store platters, food baskets and more. Shelves should then decrease in depth the higher you go. This keeps everything easily accessible and easily visible.'
When it comes to depth 'anything between 20-30cm is good,' says Adrian Bergman, design manager at British Standard by Plain English however, 'it completely depends on what you'd like to store and the space available.'
While pantries are predominantly practical spaces, if your pantry storage ideas are open to your kitchen or visible through a glazed pantry door, you may want to make a design feature of your shelves, too, creating interest with brackets or painting them a vibrant color.
1. Keep pantry wall shelves shallow
The key to a successful walk-in pantry is for food and ingredients to be easy to retrieve when needed – having narrow pantry shelves will really help accessibility.
'Think about how the pantry can adapt to suit you but always consider easy access,' says Allison Lynch, senior design consultant at Roundhouse. 'For instance, shallow shelves ensure that items don't get lost, and a countertop surface to allow small machines to be stored and used without moving them into the kitchen.'
Creating pantry shelves that are limited to one product in width also allows you to see what you have immediately making the shopping list a far easier task.
In this Roundhouse pantry, the tongue and groove panelling on the walls and the shelves have all been painted in the same dark shade to help create the illusion of space.
2. Choose adjustable pantry shelving
A bespoke fitted pantry with cabinet doors will keep kitchens looking spacious and clutter-free. Being able to easily adjust the shelf height within a pantry will mean that the space can adapt according to what you need to store and is more likely to stand the test of time – perfect if you are organizing a pantry from scratch. The door also makes a great surface to include shelves for storing spices, small items or frequently used ingredients.
3. Fit pantry shelves into an alcove
If you don't have space for a walk-in pantry why not consider getting a joiner to fit bespoke shelving into an alcove to create a small pantry area within a kitchen? By working with a joiner or kitchen designer you can create a system bespoke to your needs and the shelving can be fitted around your architecture as has been done here with these curved shelves.
4. Try wire racking
If you are looking for flexibility of the layout of your pantry storage ideas then consider wire racking which is lightweight and can be easily repositioned.
'Think about the weight of the items you're storing as well as height,' says Tom Howley design director of the eponymous kitchen company. 'Lighter racking is perfect for cereal and bread while sturdy oak shelving is a good option for holding the weight of jars and tins.'
5. Choose a contrasting finish to your doors
'From a decorative perspective, choose finishes for the external and internal cabinetry that work together to create a contrast, whether subtle or striking,' suggests Tom Howley.
'If your cabinetry is deep green or soft black, choose a smoky wood finish for the internal shelving for a stylish edge. If your cabinetry is crisp white or cream, you could opt for a contrasting warm oak finish for the racks and shelving within.'
6. Make space for wine glasses
Work with a kitchen designer to tailor your pantry shelving or kitchen cupboard storage ideas to include wine glass shelving. This bespoke pantry shelving idea by H. Miller Bros features a dedicated wine section which includes space for individual bottles above slots to hang wine glasses upside down – this is a brilliant way to store them as it prevents them gathering dust.
7. Make a feature of brackets
Whilst you can get invisible fittings to create floating shelves, most wall shelves are fitted with brackets underneath and while a practical feature they can also be decorative, too. Featuring a curvaceous shape, these brackets are an important design feature of this walk-in pantry helping add interest to plain white walls.
8. Opt for an industrial look
Made from metal and glass, this modular-style pantry shelving idea has an industrial feel perfect for a contemporary interior. A space-enhancing small pantry idea, glass shelving also helps give an illusion of space.
9. Fit pantry shelves under the stairs
Fitting pantry shelves is a brilliant way to make the most of a space, no matter how small or awkward as demonstrated by this under stairs pantry idea. Be sure to maximize the storage by fitting shelves right to the ceiling and use a slim, floating shelf style rather than those fitted with brackets.
10. Use glass pantry shelves for a home bar
For those that like to entertain the pantry makes a brilliant space to incorporate a home bar area – why not give it different shelf treatment to help distinguish the area from the rest of the pantry? Glass pantry shelving and a mirrored backdrop will help bring a touch of glamor to the space and is great for illuminating fine glassware and liquors, but is also easy to wipe clean.
What can I use for shelves in a pantry?
Pantry shelves can be made from all sorts of materials. Wood finished with paint or varnish or veneer is the most common material for pantry shelves, but you could use wire racking and even glass, especially if you are planning a bar area. Reclaimed wood such as scaffolding board would add rustic charm in a country kitchen but you may want to have them planed and finished with a natural varnish so that they are protected and easy to wipe clean if there are any spillages.
Otherwise, it might be best to consider a pantry organizer. Whether for holding your cans or stacking your spices, these can maximize your useable space whether your pantry is sizeable or smaller than most.
How can I shelve a small pantry?
There are many ways to shelve a small pantry. To make maximum use of a small pantry consider working with a kitchen designer or joiner to create a bespoke system which can be fitted into corners and around awkward angles or fit adjustable shelving which can be tailored around your storage needs – this also useful if you are looking for small kitchen storage ideas.
Where floor space is at a premium, be sure to make the most of the height of the room by fitting shelves floor to ceiling – fitting a ladder will help you reach items up high – plus ensure shelves are not too deep.
'Pantry shelving should be deep enough to store a few rows deep of jars as you want to ideally walk in and see everything at a glance. We only use solid materials for our shelving either American white oak or tulipwood if it's a painted finish with artisan brackets spaced to a proportionately calculate formula,' says Louisa Eggleston, creative director of Humphrey Munson kitchens.
Opting for thin white shelves and white walls will create the illusion of space, plus consider decanting pantry staples with bulky packaging into glass storage jars.
'We love to decant ingredients into glass Kilner jars to keep them fresh. We add a stick to the base with a code (eg plain flour) and the best by date. This also makes the pantry look really aesthetically pleasing and an enjoyable space to work in. The pantry work tables below counter height are great for storing appliances and baking equipment that is used less regularly and large wicker baskets are great for organising these,' says Louisa Eggleston.
Sign up to the Homes & Gardens newsletter
Decor Ideas. Project Inspiration. Expert Advice. Delivered to your inbox.
Pippa is Content Editor on Homes & Gardens online contributing to Period Living and Country Homes & Interiors print issues. A graduate of Art History and formerly Style Editor at Period Living, she is passionate about architecture, creating decorating content, interior styling and writing about craft and historic homes. She enjoys searching out beautiful images and the latest trends to share with the Homes & Gardens audience. A keen gardener, when she's not writing you'll find her growing flowers on her village allotment for styling projects.