Laundry room shelving ideas – 12 ways to create a neat space
These smart and stylish laundry room shelving ideas will keep your laundry essentials organized and at the ready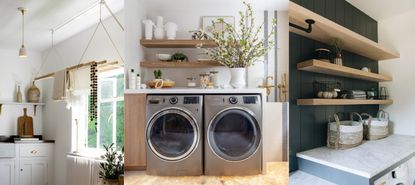 (Image credit: deVol Kitchens, HW Interiors, Kate Marker Interiors)
The laundry room shelving ideas you implement in your space will play a big part in the way the room functions, whether you're designing the space from scratch or trying to make an existing one more functional,
The right shelf setup can offer easy access to the various stain removers, detergents, and fabric softeners required for a proper load of laundry, making wash day more efficient (and who doesn't want that?). Plus, laundry room shelving can also offer a chance to infuse your space with a little style. Think: glass jars filled with laundry crystals or a vase with fresh flowers.
Here, we've rounded up some of the best laundry room shelving ideas so that you can add them to your laundry room ideas wishlist.
Laundry room shelving ideas
If you're planning a laundry room makeover, give shelving the consideration it's due. Laundry room shelving is a key component to the space. Better still, shelving can be both practical and pretty. Take a cue from the designs below.
1. Choose laundry room floating shelves for a streamlined look
'Integrating function, laundry room organization and beautiful design was our mission in a space which is not generally known for aesthetics,' says Lisa Hynes of HW Interiors, who designed the room above for the 2021 Palm Beach Decorator Showhouse. 'So we've applied a mix of unexpected materials in practical ways.'
That includes the floating, wood-toned open laundry room shelving. The sleek look adds a modern, elevated style to a hardworking space.
2. Add laundry room cabinets and shelves
Both shelves and cabinets are ideal laundry room storage ideas for different reasons, so why not include both? Chicago's Kate Marker Interiors combined shelving and cabinetry in a client laundry room, above. 'Closed storage with bins or a canvas rolling cart for gathering laundry can keep things neat and tidy,' says Marker, while open laundry room shelving offers easy access to your most-used items.
3. Add a laundry room hanging rack
If you have the space for it, one of our favorite laundry room upgrades is to add a hanging rack along with your shelving, like in this room by Whittney Parkinson Design. A rack makes it extra-convenient to hang up your clothes as soon as they come out of the dryer, preventing wrinkles, and can sit below laundry room shelving for super-efficient space saving. Though a clothing bar is technically not a shelf, you'll have to incorporate it at the same time you're planning cabinetry and other storage.
4. Display stylish essentials
If there's one drawback to open laundry room shelving, it's that it can quickly look cluttered. If you have aesthetic goals for your laundry room shelving as well as functional ones, choose laundry supplies that look good on display.
Glass jars can be used to house soaps and powder detergents, and neutral-colored wool dryer balls look like decor when stashed in a pretty basket, like in the space above by Grand Tradition Homes and Kate Marker Interiors.
'A laundry room should have a way to store or display cleaning supplies in a convenient and eye-pleasing manner,' says Marker. 'Woven baskets to corral detergent pods and stain removers provide texture in open spaces.'
Our motto: if it makes doing the laundry more enjoyable, it's well worth the effort.
5. Use freestanding laundry shelving
If you have counter space in your laundry room and don't want to go through the hassle of hanging shelves on the walls, try standing a small bookcase or shelving unit on top of your laundry room counter instead. This will create vertical storage space without the need to break out the drill and stud-finder.
To enhance the aesthetic and achieve an intentional look, paint the shelves to match the walls.
6. Try a bar with hooks as a shelving idea
Who says you can't get creative in a functional space? If you're looking for an out-of-the-box laundry room shelving idea, why not try a hanging rail with hooks? Hanging rails, like the one above from Rejuvenation, typically come with sets of hooks and cups that can hold items like stain sticks, detergent pods, lint rollers, delicates bags, and clothes brushes.
7. Edit what's stored on your shelves
If you're combining laundry room shelving with laundry room cabinet ideas and laundry room closet ideas, be intentional about what gets stored where.
'Clients usually have a strong opinion as to their preference for closed cabinets versus open shelves, and we design accordingly,' says interior designer Kathleen Walsh, who's behind this ultra-organized laundry room. 'A good hybrid is to think of keeping one set of your go-to detergents, solutions, and tools out in the open and within easy reach of the washer and dryer. Leave an extra shelf or two open for some décor and functional items. The rest, like the extra paper towels, the stored bottle of bleach, etc., can live behind closed doors. Ironing too is either out and ready or hidden away.'
8. Hang a laundry maid
If you're looking for small laundry room ideas, try incorporating the fifth wall, AKA the ceiling, into your laundry room shelving plans. A laundry maid, which is a drying rack that's suspended from the ceiling, offers a spot to dry anything that can't go in the tumble dryer, as well as a place to store hangers for easy access.
9. Add a dual-purpose shelf
If you're short on space and want to maximize the efficiency of your laundry room, look for a shelf that pulls double duty.
'Open laundry room shelving creates depth and dimension while also serving as storage, which is perfect for this laundry room nook. It was also a great way to add in hanging bar for clothing, making it extra multi-functional,' says Kate Lester, who designed the laundry room nook, above.
10. Free up space for a countertop
If you tend to store all of your detergents, fabric softeners and stain removers on top of your washer and dryer, then one of the best reasons to install laundry room shelving is to free up that space. It'll increase your organization and efficiency tenfold.
Once you have your laundry essentials stashed away on a shelf, you can then add a laundry room countertop above your washer dryer, which makes a convenient space for folding laundry or storing laundry baskets, a la this laundry room by San Francisco's Eye for Pretty Design.
11. Choose built-in laundry room shelving
If you're after longstanding quality and a high-end look, consider built-in shelves, like in the above laundry room by The Fox Group. This extra large utility room provides space for desks underneath the shelves, but if you're working with a smaller room, build your cabinets on top of your washer/dryer, sink, or a set of drawers.
12. Stash pet supplies
Laundry and utility rooms often double as the dog's room. If this is the case in your home, laundry room shelving is the perfect spot to stash pet essentials, like food and toys. But if you do it, take a cue from Elizabeth Gill Interiors and store them in simple glass jars for a clean look.
'I styled the shelves to be both human and dog friendly,' says Gill, who designed the laundry room, above, for a show house. 'The dog treats and toys are on full display in these pretty glass canisters.'
How deep should shelves be in a laundry room?
Above all else, laundry room shelving needs to be practical. If you're wondering how deep shelves in your laundry room should be, consider how you'll use them. If you simply be storing bottle of laundry detergent and boxes of fabric softener, a 10in-12in shelf will work just fine. However, if you'd like to use storage bins or stash laundry baskets, you'll need a shelf at least 18in deep.
Sign up to the Homes & Gardens newsletter
Decor Ideas. Project Inspiration. Expert Advice. Delivered to your inbox.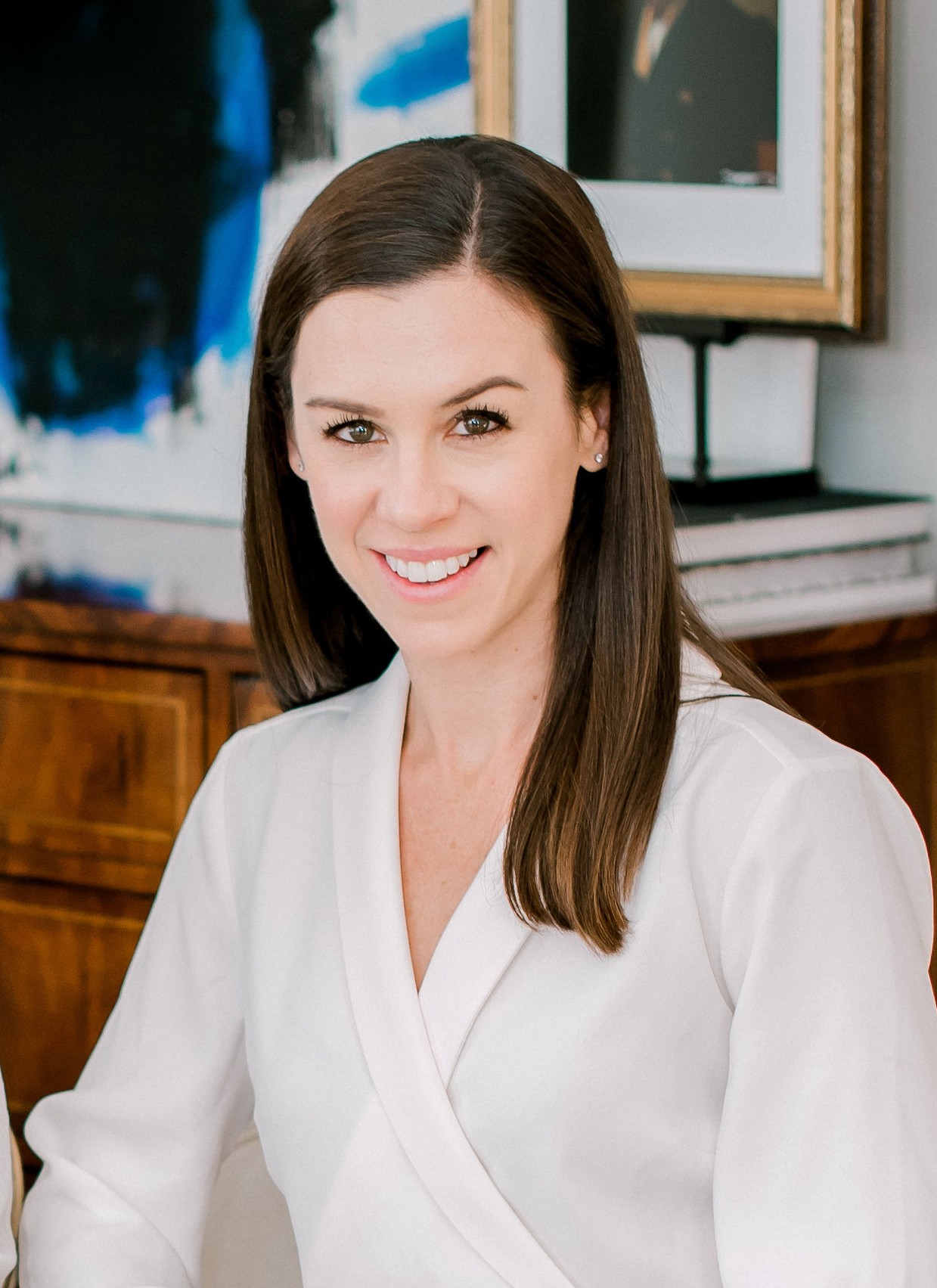 Executive Editor, Homes & Gardens
Kaitlin Madden Armon is a writer and editor covering all things home. Her work has appeared in Real Homes, Architectural Digest, Martha Stewart Living, Refinery29, Modern Luxury Interiors, Wayfair, The Design Network, and lots more. She graduated from Northeastern University with a degree in journalism and currently lives in Connecticut with her husband, three kids, and black lab.