Laundry room storage ideas – 10 ways to keep a laundry tidy
Smart laundry room storage ideas are essential for ensuring a utility room functions with ease – we asked the experts for their top organizational tips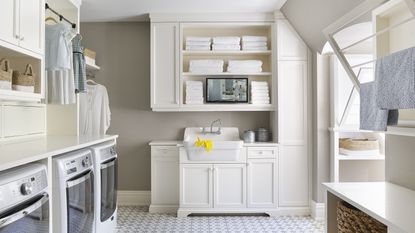 (Image credit: Carrier & Company/Annie Schlechter)
Sign up to the Homes & Gardens newsletter
Decor Ideas. Project Inspiration. Expert Advice. Delivered to your inbox.
Thank you for signing up to Homes & Gardens. You will receive a verification email shortly.
There was a problem. Please refresh the page and try again.
Ensure your laundry room storage ideas are ship shape – it may be the smallest room in the house, but it has a pretty big job to do.
Making sure everything has its place should be a high priority when it comes to your laundry room ideas. Sensible, well-planned storage will make the space easier to use and keep it neat and tidy, making organizing a laundry room so everything is accessible so much easier.
'If people have the space they are now tending to organize their laundry appliances and paraphernalia within a dedicated area,' explains Melissa Klink, head of design at Harvey Jones.
'The rise in utility rooms has developed with the popularity of open plan kitchen and living spaces – people do not want their washing taking up room in the kitchen, particularly if the space is used for entertaining.'
Laundry room storage ideas
From handy space-saving tips to multi-functional furniture, we asked the experts for their top laundry room storage ideas and found some beautiful examples to help inspire tip top laundry room organization.
1. Use the full height of the room
Looking for small laundry room ideas? Then look up.
'I have designed working utility spaces from as little as 0.36sqm by maximizing the ceiling height,' says Rhian Williams, senior kitchen designer at Harvey Jones. 'Utilize any available height that you have – think m³ rather than m².'
Built-in cabinets that reach the ceiling, like these ones by DesignSpace London, will minimize strain on your floor area.
Thinking vertically – and beyond basic cabinetry – can also help make the most of tight spaces. 'Clever pull out storage solutions will maximize narrow or 'left over' space,' says Williams.
2. Match your cabinets to your kitchen
As much as planning laundry room storage ideas is about functionality, your space has to look good too. If you've spent a long time thinking through your kitchen ideas, transfer the same aesthetic to the laundry room for an easy win.
'Embrace matching finishes in your laundry room,' says kitchen designer Tom Howley. 'Though you might not be able to see the laundry room from the kitchen, matching laundry room cabinetry that mimics a similar design to your kitchen cabinet ideas ensures a consistent look in the home.'
In this scheme by Carrier & Company, the cabinetry in the laundry room is just as aesthetically pleasing as it is in the kitchen.
3. Bifold laundry room door ideas help minimize cabinet swing space
While you're lifting and stacking laundry, anything that helps you move around the room ergonomically is welcome – including minimizing the swing space of pesky cabinet doors.
To avoid clashes and bumped heads, consider bifold or even pocket doors for high level cabinetry, like in this laundry room by Martin Moore.
Halving the swing of the doors means less intrusion into your precious walking space (and they allow for a large, open, laundry room countertop for folding) while pocket doors will allow you to tuck them away entirely.
4. Measure the larger items you need to store
When thinking about laundry room storage ideas, the first step should always be working out exactly what you need to store, and coming up with laundry room closet ideas to cope with it.
'Being space savvy is key,' explains Williams. 'Measure every item on the 'utility space shortlist' for precise planning. Imagine you are packing a suitcase to return home from that holiday where you bought way too many souvenirs – you need to ensure that no mm is wasted.'
This is particularly important when planning how to store the bulky, awkward items that laundry rooms need to accommodate. When designing built-in laundry storage, be sure you know exactly how tall your ironing board is and how wide your vacuum cleaner is to avoid any nasty surprises.
5. Hide appliances behind closed cabinetry
Laundry appliances are never going to be a design feature – so consider hiding them behind closed doors. Tucking your washing machine and dryer behind cabinet doors is an excellent way to keep their rough and tumble out of sight, and maintain a consistent, neat aesthetic throughout the room.
This works particularly well if you're going for a darker color scheme, like in this Martin Moore laundry room, where white goods would cause a significant interruption.
The same goes for general utility room ideas too – consider a built-in dishwasher with a cabinet-style door attached to its exterior.
6. Incorporate clothes rails into built-in units
To design truly functional storage space, think about what activities you will actually need to do in the room. If the laundry room is going to be a space where you do a lot of ironing, plan that task step-by-step.
If the notion of folding neatly ironed clothing just to transport it to your closet infuriates you, add a clothes rail into the built-in units, like in this design by Carrier & Company. Being able to hang clothes instantly will prevent them from getting crumpled.
Use laundry room shelving ideas to keep clean towels neatly folded, too, freeing up space in the bathroom.
7. Stack your washing machine and dryer
Thinking vertically is not just about filling walls with shelving – consider stacking your appliances too.
'Look towards using full-height cabinets to create a place for a washing machine and tumble dryer to be placed on top of one another – this way you're not taking up two spots of floor space,' says Howley.
'Or try a laundry basket cabinet which maximizes your storage space. You'll no longer need to cart an armful of laundry down the stairs!'
8. Combine a laundry room with a boot room
If you're not lucky enough to have more than one utility space in the house, consider combining some mudroom ideas into your laundry space, and using it as a space to store boots and coats.
'Why not give your laundry room a double function?' says Howley. 'Bespoke cabinetry adds extra mudroom storage and will help to build a room that is both a laundry room and a boot room, creating a seamless transition in a shared space.
'We know that people are trying to make the most of their homes, so multifunctional living has become a necessity.'
9. Mix up functionality with a storage bench
Make your utility room storage units work harder for you by considering how they can perform multiple functions. Turn any low-level units into a bench by adding an upholstered top, and you have a seating space ready and waiting for when you need a break from chores.
This is a particularly good idea if you're looking to create storage underneath a low window ledge, like in this example, and works really well in a laundry area that also functions as a boot room, serving as a place to take off shoes.
10. Incorporate shelving for long-term towel storage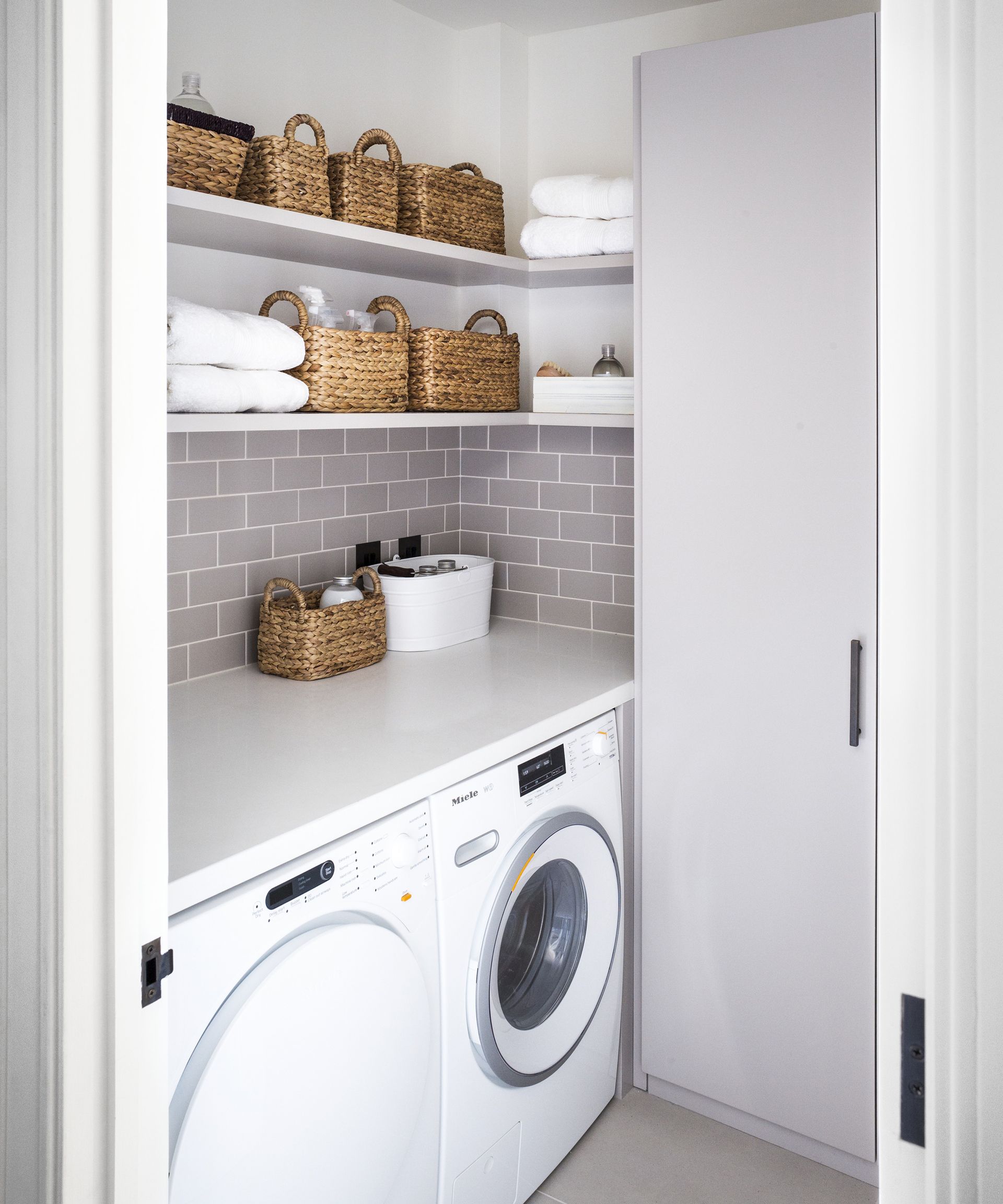 Dirty laundry will come into your laundry room, and clean, fresh linens will leave – but you might also need a space to store clean laundry that isn't needed just yet.
A laundry room can be a great space to store guest towels and spare bed linen, so factor that into when designing your storage layout. Shelves are a necessity for this – keep utility room shelving ideas open to show off fluffy towels, or tuck them into cupboards to ensure fresh linen stays dust free.
What storage does my laundry room need?
When planning your laundry room storage ideas, think big first. Work out exactly where your large appliances need to go or work best, and then ensure spaces for larger items like vacuum cleaners and ironing boards.
When it comes down to smaller storage strategies, be sure to mix and match your solutions.
'Let your walls share the workload,' says Howley. 'Install a mixture of concealed cabinets to hide laundry and floating shelves to store everyday items such as wash detergent, or even a dog lead and treats if you are designing a mudroom that doubles up as a laundry space.
'A mix of concealed cabinets, drawers and pull-out shelves let you designate specific spaces to store laundry products, keep laundry baskets out of the way and properly fold clean clothes.'
If your laundry room is serving multiple purposes, try to stay zoned – keep boot storage near the door to avoid traipsing dirty shoes through the room, and have a dedicated cabinet for long-term linen storage to prevent things getting mixed up.
Where do you store a clothes airer when not in use?
When faced with a pile of laundry that can't be tumble dried, you will need space to allow it to air dry – which is always a bit of a conundrum when planning small utility room ideas.
If you opt for a clothes airer, choose a collapsible one, and ensure you have a big enough cupboard to store it in – while they will fold down quite thin, most tend to be fairly wide.
Alternatively, think about how you can build a clothes airer into your storage. Install a fold-out airer that concertinas out from the wall, or hang a rack from the ceiling above head height – it will only be in the way while in use, but almost unnoticeable when it isn't.
Sign up to the Homes & Gardens newsletter
Decor Ideas. Project Inspiration. Expert Advice. Delivered to your inbox.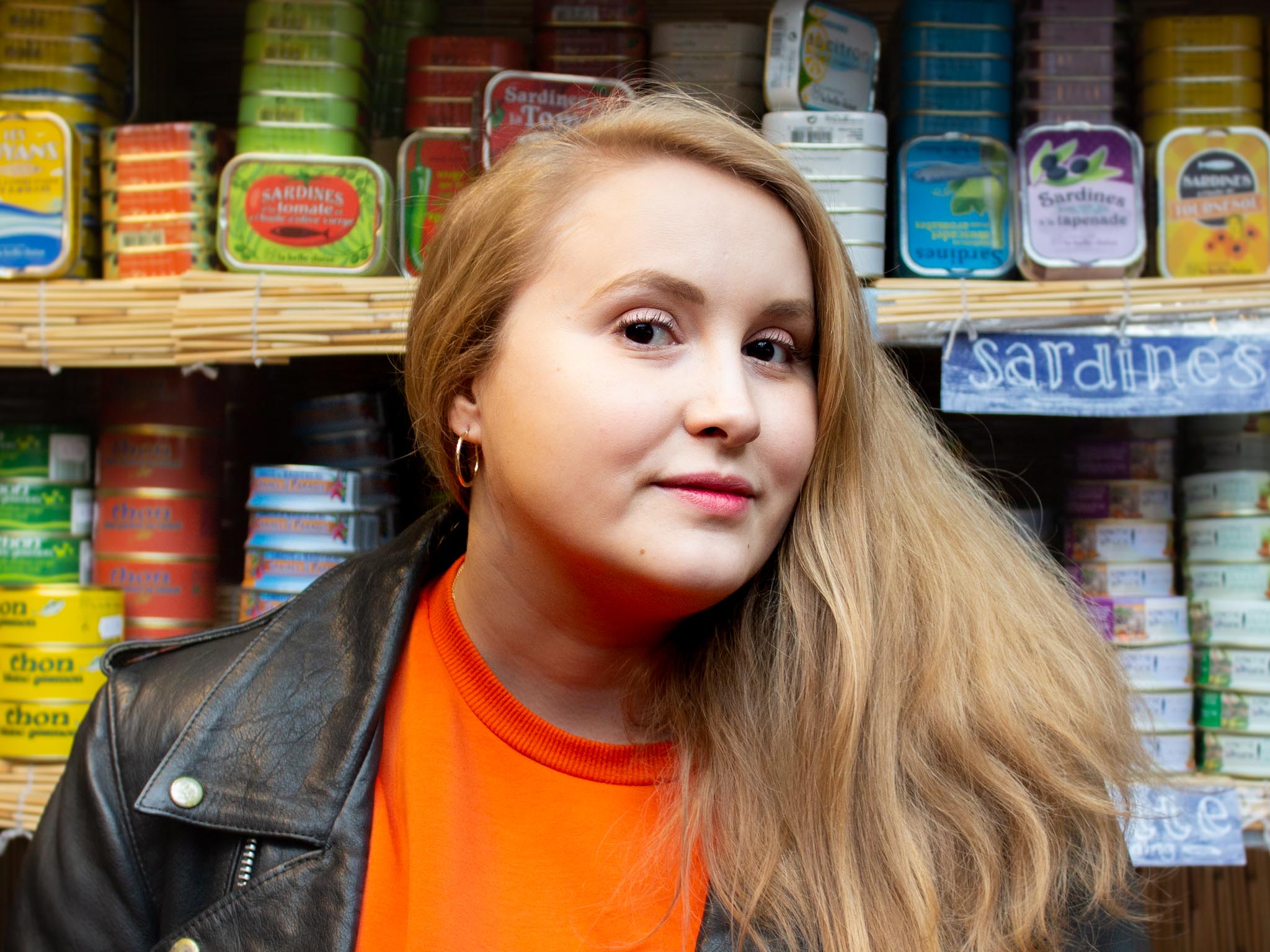 Ailis started out at British GQ, where a month of work experience turned into 18 months of working on all sorts of projects, writing about everything from motorsport to interiors, and helping to put together the GQ Food & Drink Awards. She then spent three years at the London Evening Standard, covering restaurants and bars. After a period of freelancing, writing about food, drink and homes for publications including Conde Nast Traveller, Luxury London and Departures, she started at Homes & Gardens as a Digital Writer, allowing her to fully indulge her love of good interior design. She is now a fully fledged food PR but still writes for Homes & Gardens as a contributing editor.