Small utility room ideas – 11 ways to make compact spaces work hard
A small utility room can still deliver the functionality and style you need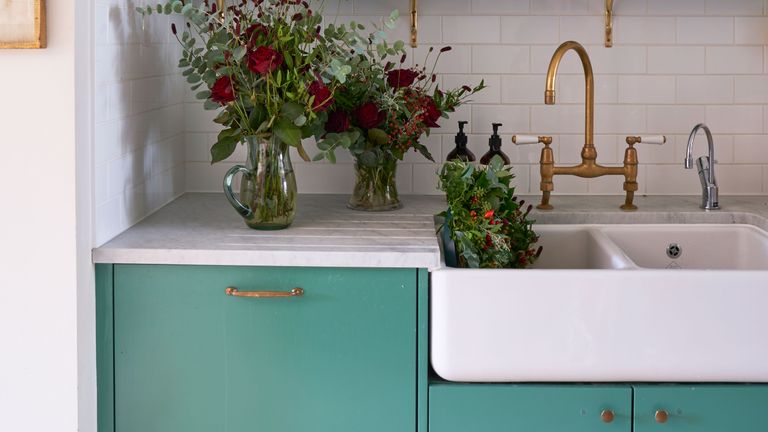 (Image credit: Future / James Merrell)
Small utility room ideas are vital if you're to make the most of a limited area. Laundry appliances are sizeable features in themselves, space is required for a sink, and there are plenty of other items to fit into the room, too.
With good design, however, a small utility room needn't compromise on utility nor looks. A well thought-out layout and clever storage solutions can allow it to fulfill your needs just as effectively as a room with more generous proportions.
These small utility room ideas could prove the perfect jumping-off point for your project whether you're saving them to show to a designer, or creating your own plans. And we have utility room ideas for spaces of all sizes to inspire you, too.
1. Fit all round
The laundry appliances are the must-haves for a utility room, but a space that can only accommodate the pair of washing machine and dryer against the wall with little spare width can leave room for only a very narrow cupboard alongside. An under-counter cabinet with these dimensions isn't particularly useful for the items that are usually stored in the room, though.
Instead, opt for this room's solution of fitting a tall but not deep cupboard perpendicular to the appliances. This will allow room to accommodate an ironing board and iron, for example, or brooms and mops that require height, even though the room is small. This arrangement won't obstruct the counter over the machines, leaving a large area unusable.
2. Accommodate a low ceiling
For a utility room that has a low ceiling along with a small floor area, wall cabinetry to complement the floor-level storage can be impossible to fit. Instead, go for open shelves to turn wall areas into storage.
'In this 17th century basement bespoke joinery was designed to suit a space with low ceilings, wonky walls and no natural light,' says BIID registered interior designer Garry Meakins. 'With no natural lighting, I added considered lighting, color coded shelving and a pale cobble floor to make the space feel comfortable to use.'
The utility room is connected to a wine cellar and glass doors allow the two spaces to flow together visually for a more expansive effect, too.
3. Fit an extra dishwasher
A utility room could be equipped with a dishwasher as well as laundry appliances, even if the space is small. It can supplement one in the kitchen when you're catering for a crowd, or add the appliance if the kitchen doesn't allow it, or you prefer to keep the noise to a minimum where the kitchen is part of an open layout.
'Our clients have a busy household with young children and we had to fit quite a few appliances into this space which had fixed dimensions, as well as storage for cleaning and household maintenance items,' says BIID member interior designer Chantel Elshout.
'We stacked the laundry appliances and fitted an integrated dishwasher next to the sink for when they are entertaining. Under the window we designed a corner cupboard with a swivel pull-out for storage and drawers for smaller items, and wall units above the sink run provide additional storage. There is still enough space for an ironing board and the wall drying rack can be pulled out when needed.'
See: Narrow utility room ideas – smart tactics for awkward layouts
4. Stack and hide
If getting laundry appliances out of the kitchen or another inconvenient location is a must, the smallest of utility rooms could be the solution, and stacking the machines in a cupboard the best alternative for your home.
They can be hidden behind a door to avoid compromising the decor of the area in which they're located, creating a completely concealed small utility room.
'We located this freestanding washer and dryer in a separate utility room, which meant we could free up space in the kitchen to create an L-shape, so we didn't encroach on the living space,' explains Hayley Robson, Creative Director, Day True.
5. Make more of under-counter areas
Washing machines are often positioned near the sink in a utility room, which makes plumbing convenient. However, this may not be the most space-efficient solution for a small room. Consider, as an alternative, leaving below counter space for a laundry basket that can be pulled out as needed.
'It is often tricky to create a nice looking utility but here we have stacked the washing machine and dryer, provided a broom cupboard and still managed to fit plenty of worktop,' says Tim Higham, owner of Higham Furniture. 'The laundry basket is great for storing dirty clothes. The freestanding shelves over the sink are less heavy than cabinetry and provide additional storage space.'
6. Consider the lighting
As a hard-working space, a utility room needs lighting adequate for the tasks that take place in the space, including reading the displays of laundry appliances, ironing, and the close working involved in making small repairs to prolong the life of clothes and linens. A utility room may be a windowless space, located so that it's the kitchen that enjoys all the daylight available in this part of the house, and in this case ambient lighting will need to take daylight's place entirely.
A small utility room also requires excellent lighting to avoid areas of shadow that can make it feel even more compact.
Bear in mind that lighting fixtures will need to be rated appropriately according to their proximity to water sources for safety. This room by Charlie Kingham Cabinetmakers includes a waterproof bulkhead light by Industville. 'They look great when paired with tongue-and-groove panelling, creating a subtle nautical look which suits both modern and traditional style properties,' says Industville Managing Director Marketa Rypacek.
7. Boost the decorative detail
Opportunities to introduce the elements that make a utility room an attractive as well as practical space can seem limited when the room is small. However, the choice of backsplash could introduce decorative detail as well as contrasting lines to the remainder of the room scheme.
'We designed a more ornate splashback that usual in this small utility space to make something out of nothing in an otherwise tight spot,' says interior designer Naomi Astley Clarke. 'It adds charm. Always consider the shape and edge detail on a backsplash – these details create the magic and the beauty.'
See: Utility room shelving ideas – ways to arrange in style
8. Choose bold color
While pale wall colors can make a small utility room feel bigger, more vibrant hues definitely shouldn't be out of the running when designing the space. A rich or vivid shade can draw the eye, taking the focus off freestanding appliances.
'The bold colour on the wall was chosen to make the unique bespoke cabinetry and the oak beams of the house really pop and stand out, carrying through to the kitchen to make it flow seamlessly,' says William Durrant, owner of Herringbone Kitchens of this small utility space.
9. Free up the floor
Floorstanding airers can make a small utility room awkward to move around in and clean laundry can get knocked on to the floor, leaving you to start from scratch with cleaning it. Instead, use wall space for airing linens at a height that's still easily reachable, leaves the counter free, and takes up 'dead' wall space.
A fold-out design like this one from Garden Trading barely takes up space when it's not in use and flat against the wall.
10. Create a room within a room
If carving out a utility room however small would compromise an open layout, it's perfectly possible to fit one within it. 'This configuration is perfect for an open-0plan space,' says Emma Stuart Stephens of Mereway.
'Being able to have easy access to a full (yet compact) laundry system is ideal for a kitchen which is free flowing, minimalist yet multipurpose. The storage inside is truly utilitarian, designed so that it contains everything that is needed but when the doors are closed there is no indication of what is inside.'
11. Set a utility behind folding doors
Another great way to fit a small utility room into an open layout without partitioning off part of the space with new walls is to opt for a single line of laundry appliances plus cupboard space. Set it behind bifold doors and everything is easy to access but discreet.
See: Narrow utility room ideas – smart tactics for awkward layouts
'The couple love to cook,' says Julia Brown, Design Director, Mowlem & Co, Newcastle, of the owners of this renovated property, 'but wanted to stay connected to the living aspect of the room while doing so and while keeping certain functions and storage areas neatly tucked away.'