How to keep towels soft and fluffy – so that they look and feel as good as new
There is simply nothing better than stepping out of the bath or shower into a beautifully soft towel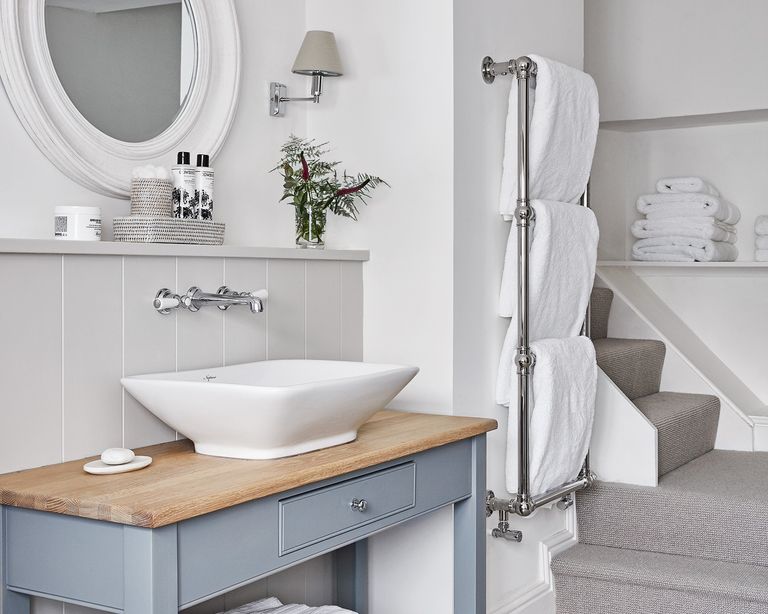 (Image credit: Future / Davide Lovatti)
Want to learn how to keep towels soft so they look and feel like new? From the perfect washing temperature – to the insider shaking technique – we asked the experts to reveal how to get fluffy towels at home.
With the second lockdown putting a stop to overnight stays, and the UK and parts of the US once again being urged to stay at home, making the most of life's little luxuries is of the utmost importance – and bathroom ideas that make yours feel like a home spa are the way to go.
Taking a self-care moment, such as a long hot bubble bath or a steamy shower, is something we can all do to combat the lockdown blues. But how can we hold onto those benefits when we drain the bath of lavender oil, put our books down, and blow out our candles?
We all dream of cocooning ourselves in a cozy cloud of Egyptian cotton as we step out of the bath, but the reality can be very different, with towels often becoming scratchy and stiff over time, which is enough to burst the post-bath bubble pretty sharply.
Lucy Ackroyd, Head of Design at Christy, inventors of the towel as we know it today, provides the inside scoop on how to get the softest, fluffiest towels ever, to add the cherry on top of your at-home pamper.
1. Invest in good quality towels
If you want fluffy white towels to rival any 5-star hotel, the first step is investing in the right product. The higher the quality of the towel, the longer it will last, which will save you money in the long run as you won't need to replace your towels so often.
'Choose high quality cotton towels to provide absorbency, durability and that coveted cozy texture,' says Lucy Ackroyd.
'The higher the weight, the more opulent they will feel. I would suggest choosing a towel with a weight of at least 500gsm (gram per sq metre) for the ultimate luxury experience.
'The most important factor for luxuriously soft towels is the yarn used and you ideally want a high quality cotton spun from long silky fibres. This is why yarns like Egyptian cotton and Supima cotton are so sought-after as they guarantee long fibres and therefore, high quality.
'Good quality towels should also have double-turned edges and double stitching, which will lower the risk of the towel fraying over time.'
2. Don't overstuff your washing machine with towels
Once you've nailed the foundations and bought the perfect towels, knowing how to look after them properly is essential to longevity.
'When washing your towels, never overload the machine. The towels need plenty of room within the drum to breathe and circulate, allowing them to be rinsed and fluffed up properly. If you try stuff too many in, you'll end up with a clumped together heap, with moisture pockets throughout, leading to scratchy, stiff towels.
'Make sure to wash your towels separately to your other laundry to avoid any color or fibres transferring onto your beautiful pristine towels.'
3. Know your laundry products
With so many laundry products on the market, choosing the right ones can be a minefield.
'Firstly, avoid silicone-based fabric softeners as these will reduce absorbency. If you are using a fabric softener, only use a small amount as overuse of softeners and conditioners will build up over time, leaving towels feeling slick and non-absorbent.
'A simple way to keep towels super fluffy, is to wash them with a eucalyptus-based detergent. Not only will this leave them smelling super fresh, the eucalyptus will also protect the fibres of the towel and ensure the colors stay bright and fresh.'
4. Perfect the wash temperature
The perfect temperature for washing your towels is a hotly debated topic.
'Generally, wash your towels at 40 degrees as any higher can cause them to wear out too quickly.
'However, to remove oils and bacteria that can build up over time, put them through a 60 degree wash occasionally. This routine will allow them to be perfectly hygienic without taking away from their quality and texture.'
5. Shake towels out
Shaking your towels is a simple, quick step in your washing routine that can have a huge impact.
'Firstly, before you put your towels in the washing machine, give them a good shake. This will open up the fibres slightly, allowing the detergent to sink inside every pore and make them super clean.
'At the end of the drying cycle, or before hanging them outside if you are line drying, shake the towels a second time. The act of shaking will loosen the fibres of the fabric, making your towels super plush and fluffy.'
6. Mix up your drying methods
Never radiator dry your towels, as this will lead to a rough finish, exactly what you are trying to avoid.
'Instead, alternate between tumble drying and line drying. The best way to get super fluffy towels is tumble drying immediately after a wash, however overuse can make the fabric wear down over time.
'To combat the effect of the tumble dryer, line dry your towels occasionally. Not only does line drying leave your towels with a fresh natural scent, but the sunlight can also have a bleaching effect which is perfect if you have white towels. The UV rays can even help kill bacteria.'
7. Store for success
Once you've purchased the dream towels and perfected the washing and drying routine, the last step is storing them correctly. When thinking about how to design a bathroom, factor in suitable storage for towels, such as shelving or cabinets.
'Rather than folding your towels one on top of the other, as many people do, try neatly folding them side by side instead. This simple storage hack will prevent the bottom towels from being crushed which can lead to them losing that plush, full effect that you have achieved.
'If you prefer to store your towels on a towel rack or ladder shelf, you should also avoid placing them on top of each other. Again, this will flatten the bottom ones, leaving them stiff and flat.'
Add a few drops of lavender or other essential oil to towels before storing to keep them smelling gorgeous.
Jennifer is the Digital Editor at Homes & Gardens. Having worked in the interiors industry for a number of years, spanning many publications, she now hones her digital prowess on the 'best interiors website' in the world. Multi-skilled, Jennifer has worked in PR and marketing, and the occasional dabble in the social media, commercial and e-commerce space.
Over the years, she has written about every area of the home, from compiling design houses from some of the best interior designers in the world to sourcing celebrity homes, reviewing appliances and even the odd news story or two.