How to wash towels with vinegar – for soft and fresh-smelling results
Leave your bath towels feeling fresh and smelling great with this simple laundry technique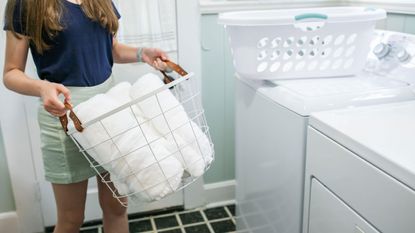 (Image credit: Alamy)
Bath towels get a lot of use, so it's worth learning how to keep them looking and feeling their best. This will mean soft, luxurious hotel-style towels each time you step out of the shower, and you'll avoid having to replace them sooner than necessary.
Wash towels with white vinegar occasionally for a deep clean that isn't quite as labor-intensive as stripping laundry.
Vinegar is one of the ways to soften towels that have begun to feel stiff, and it removes odors and bacteria. So, how do you do it properly?
How to wash towels with vinegar at home
When doing laundry, towels are far less fiddly than smaller items like kids' clothes, but because they are generally made of cotton, which is a natural material, they are prone to bacteria, especially if stored slightly damp or left hanging on hooks rather than a towel rail. A hot vinegar cycle will keep towels fresh.
Shopping list
Method
There is no hard and fast rule about how much vinegar to use, but home and lifestyle blogger Rene Lategan says you can ballpark the amount depending on how big your machine is and how many towels you wash per cycle. 'One cup per two big towels works well,' she says.
Either pour it into the fabric softener dispenser of your machine or straight into the drum. Set your machine to the hottest wash possible and let the vinegar get to work – there's no need to rinse afterward.
A second step is to do the exact same process but with baking soda, before putting the towels in the dryer or leaving to air dry to save some money on energy bills and give your dryer a break.
Key benefits
White vinegar is inexpensive and acts as a disinfectant because of the acetic acid content which is able to break down bacteria and viruses. This not only thoroughly cleans but also removes odors, so it's a good option for older towels that seem to have a faint, lingering damp smell even when freshly cleaned. Vinegar also removes dirt and oils, enhancing the cleaning power of your detergent, and it doesn't have the water-repellent effects of fabric conditioner.
This powerful, natural cleaning agent can also break down any laundry detergent or fabric softener build-up that may be leaving towels feeling rough and scratchy. Similar to cleaning with lemon juice, white vinegar can also leave dull towels looking brighter, so you can maintain a fresh white color for longer.
'Putting vinegar in the washing machine can be a useful method for cleaning and freshening your towels as well as other fabrics,' agrees home blogger Jenna Kate. 'You can have softer, cleaner, and fresher-smelling clothing and linens by introducing vinegar into your laundry routine.'
Jenna Shaughnessy runs home blog Jenna Kate at Home, where she helps readers to create a home that looks good, feels good, and functions well. On the site, Jenna shares home decor ideas, DIY projects, and recipes.
How often to wash towels with vinegar
Wash towels with vinegar every month or so to keep them as soft as the day you bought them. Doing so will also help if you have noticed that your usual bath towels are feeling less absorbent, as it will dig into the fibers and help to remove soapy residue.
If this all sounds too time-consuming, microfiber bath towels, at Amazon, dry much more quickly than standard cotton towels with a terry weave, and therefore do not harbor as many germs or develop a musty smell as easily.
FAQs
Can you use vinegar and laundry detergent together?
It is possible to use laundry detergent and vinegar together when reviving towels, but you may find a cup of vinegar does the job on its own, making cleaning with vinegar a cost-effective and eco-friendly laundry technique to have up your sleeve. It's a great way to be more sustainable at home and cut down on how much detergent you are using.
Rene Lategan points out that vinegar causes some detergents to produce more foam, so don't be alarmed if your load is more foamy than usual if you do combine them.
---
Washing towels with vinegar periodically is super easy, banishes funky smells and keeps them soft. Bear in mind that towels, just like anything else, do have a life span, and if it's time to replace them, donate old towels to a pet shelter and follow our rules for buying towels to get the best ones.
Sign up to the Homes & Gardens newsletter
Decor Ideas. Project Inspiration. Expert Advice. Delivered to your inbox.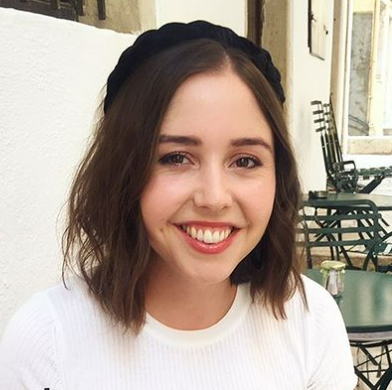 Millie Hurst is the Solved Section Editor at Homes & Gardens. She has six years of experience in digital journalism, having previously worked as Senior SEO Editor at News UK in London and New York. She then gained experience writing for women's magazines before joining Future PLC in January 2021. Millie has written for an array of homes brands including Livingetc and Real Homes and was formerly Senior Content Editor at Ideal Home before taking on the position of Section Editor with Homes & Gardens. She has written and edited countless features on home organization, decluttering and interior design and always hopes to inspire readers with new ways to enjoy their homes. She lives in Sheffield, South Yorkshire and loves to weave nature-inspired decor and nods to time spent in Italy into her own home.