10 things people with nice-smelling bathrooms always do for a spa-like space
Most bathrooms have a quick spray air freshener, but a lasting fragrance comes down to these 10 steps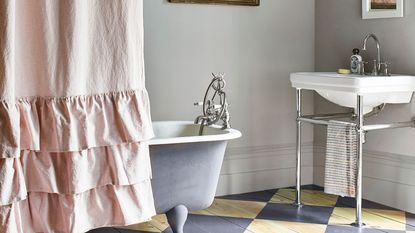 (Image credit: Annie Sloan)
Sign up to the Homes & Gardens newsletter
Decor Ideas. Project Inspiration. Expert Advice. Delivered to your inbox.
Thank you for signing up to Homes & Gardens. You will receive a verification email shortly.
There was a problem. Please refresh the page and try again.
Bathrooms are prone to all sorts of strange smells, many of which we don't like to think about. However, some people's washrooms always smell fresh, as if they have never been used – but how do they do it?
It turns out that it is as simple as cleaning your bathroom more regularly, more deeply, and with the right products to help establish a signature scent, experts say – oh, and one of the best candles certainly helps too.
Cleaning experts have shared the 10 things people with nice-smelling bathrooms always do, and how you can get it right at home.
Things people with nice-smelling bathrooms always do
The foundation of any nice-smelling space is a good cleaning regime to help lift odors caused by soap scum, standing water, and mold. Only then can you consider fragrance layering.
1. Deep clean your bathroom at least once a month
While regular weekly cleaning is always helpful to keep bad smells at bay, a monthly deep clean can help to prevent bad odors altogether, says Nathaly Vieira, cleaning expert and founder of InspireClean.
'This includes wiping down surfaces, spot-cleaning any visible areas of dirt and grime, and scrubbing toilets, bathtubs, sinks, and tiles,' they say. 'Usually, people forget to clean the bathroom grout, but this can be done with a cleaning toothbrush and soapy water – it can make a huge difference in how your bathroom smells and is a smart bathroom cleaning tip to turn your space into a spa.'
2. Avoid using overly fragranced cleaning products
A commonly misconstrued cleaning tip is to use fragranced cleaning products to overpower bad odors. However, it is best to avoid heavily fragranced products, and artificially fragranced products to prevent a build-up of bad smells over time, Nathaly Vieira, cleaning expert continues.
'Naturally scented products create a pleasant, soothing atmosphere that will help you to relax and unwind,' Nathaly says. 'This will keep odors from lingering and make sure the area smells fresh and inviting.'
3. Target common forgotten cleaning spots
There are several places in your bathroom you may be forgetting to clean, all of which are common sources of bad smells.
People with nice-smelling bathrooms always remember to target tricky spots such as behind the toilet, underneath cabinets, and around plumbing fixtures where stagnant water can sit, dust collects, and grime builds up.
'I recommend utilizing a soft-bristle brush or an old toothbrush to reach into crevices and remove any stubborn grime or residue that might contribute to unpleasant smells,' says Elizabeth Grace, designer, homemaker, and founder of Dream Home Making.
Interior Designer
Interior Designer
Elizabeth Grace
Elizabeth Grace is an interior designer and furniture expert. She received her degree in Interior Design from the University of Notre Dame. Elizabeth landed her first job as an intern with a leading firm in New York City, learning from some of the city's top designers. She currently works as an interior designer for both residential and commercial clients.
4. Use plants to improve the air quality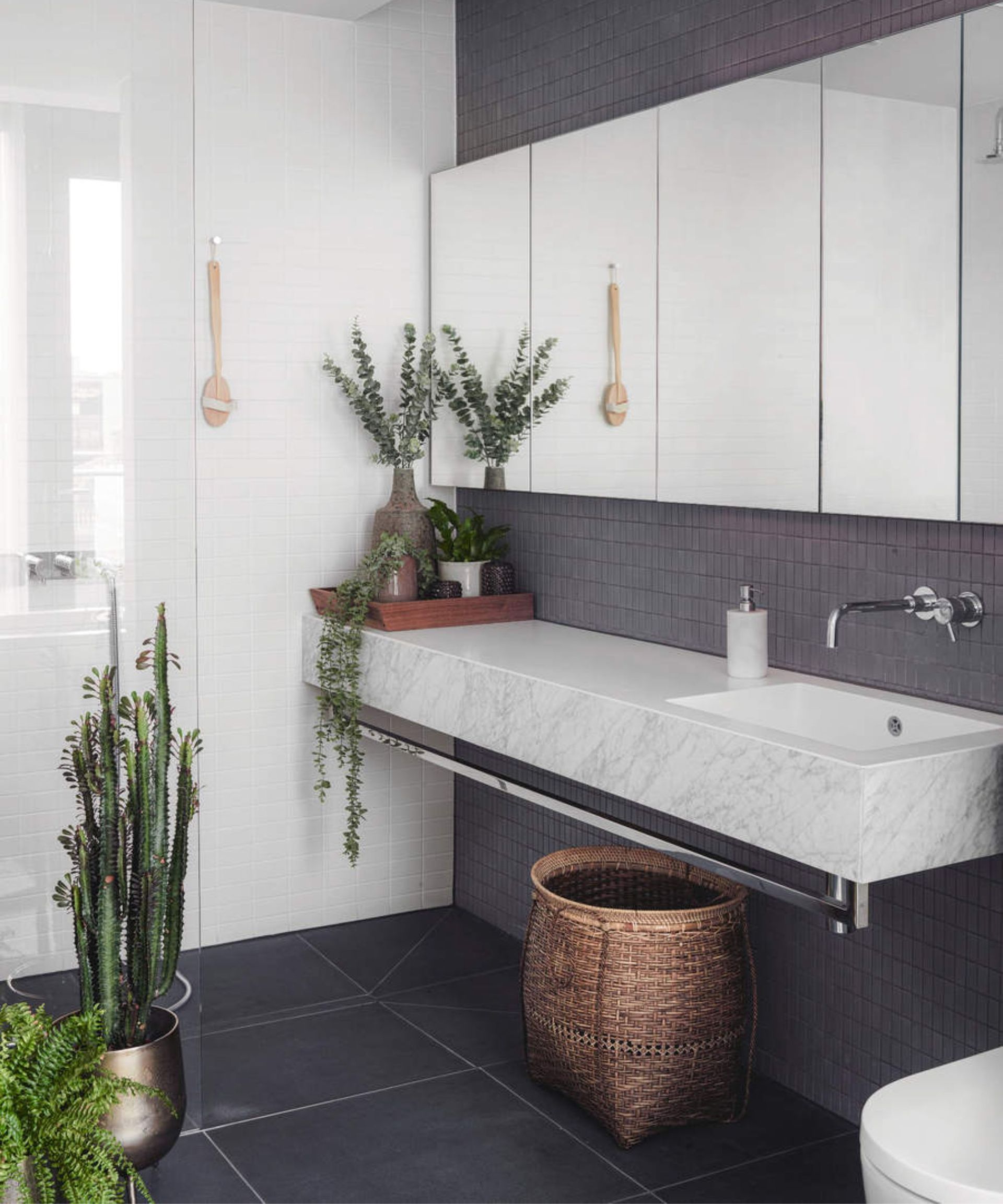 There are more benefits to the best bathroom plants than just improving aesthetics and lowered humidity – many of them have excellent air purifying qualities too to help improve the smells in your bathroom.
'Some plants work better than others,' however, Nathaly Vieira, cleaning expert, points out. 'Try varieties like spider plants, peace lilies, or moth orchids as they are good at clearing air pollutants but be wary about using these plants if you have pets.'
5. Use laundry hampers with lids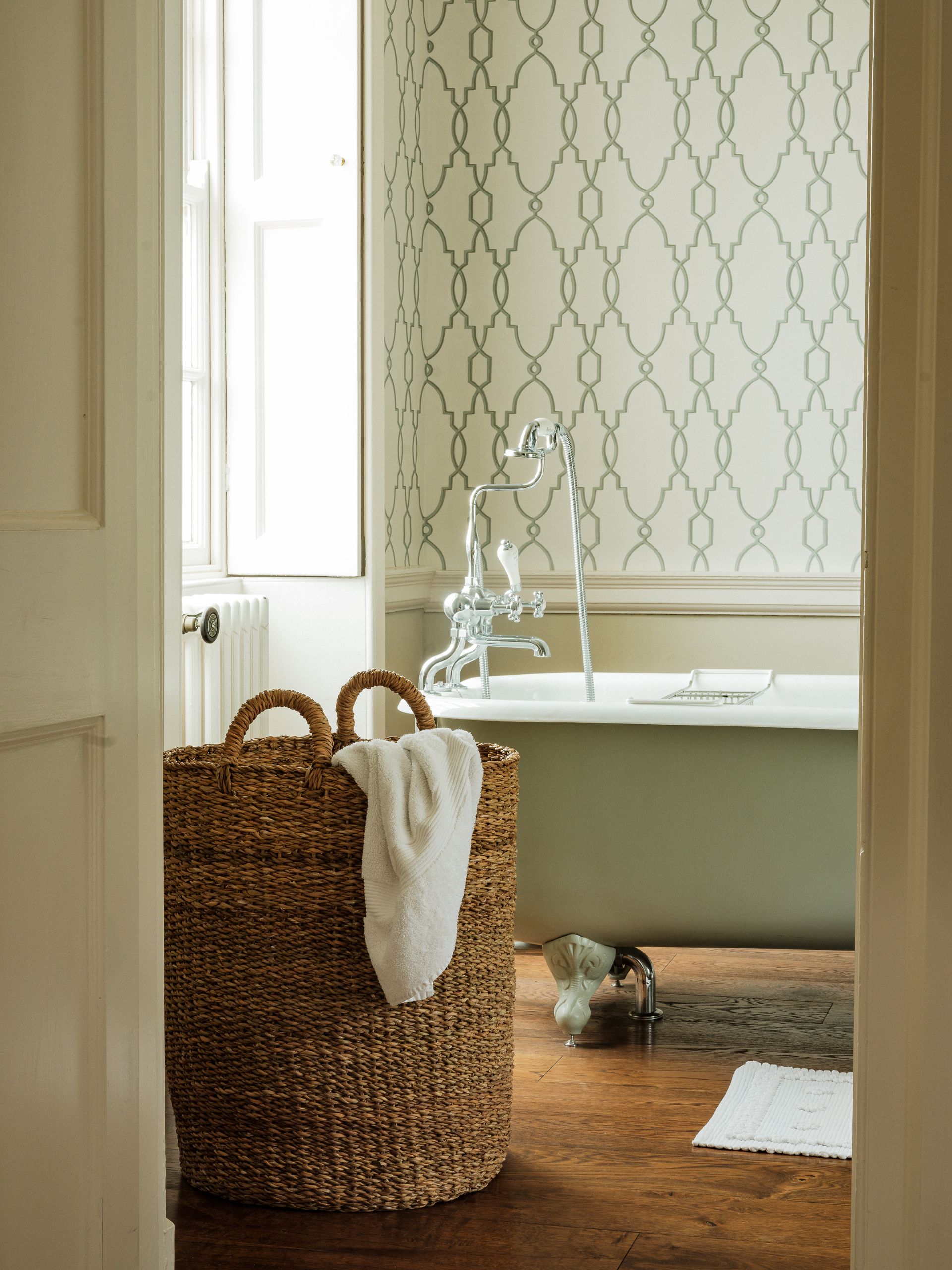 Bathrooms are a great place to hide a laundry basket, but you should always opt for one that has a lid, or slides away into a cabinet or drawer to help keep damp musty smells contained, recommends Muffetta Krueger, cleaning expert and founder of Muffetta's Domestic Assistants.
'This simple change can significantly contribute to the overall freshness of the space,' she assures.
Muffetta Krueger is a driving force in the domestic service business, with over 15 years of operational management experience in the industry.
6. Wash bathroom linens once a week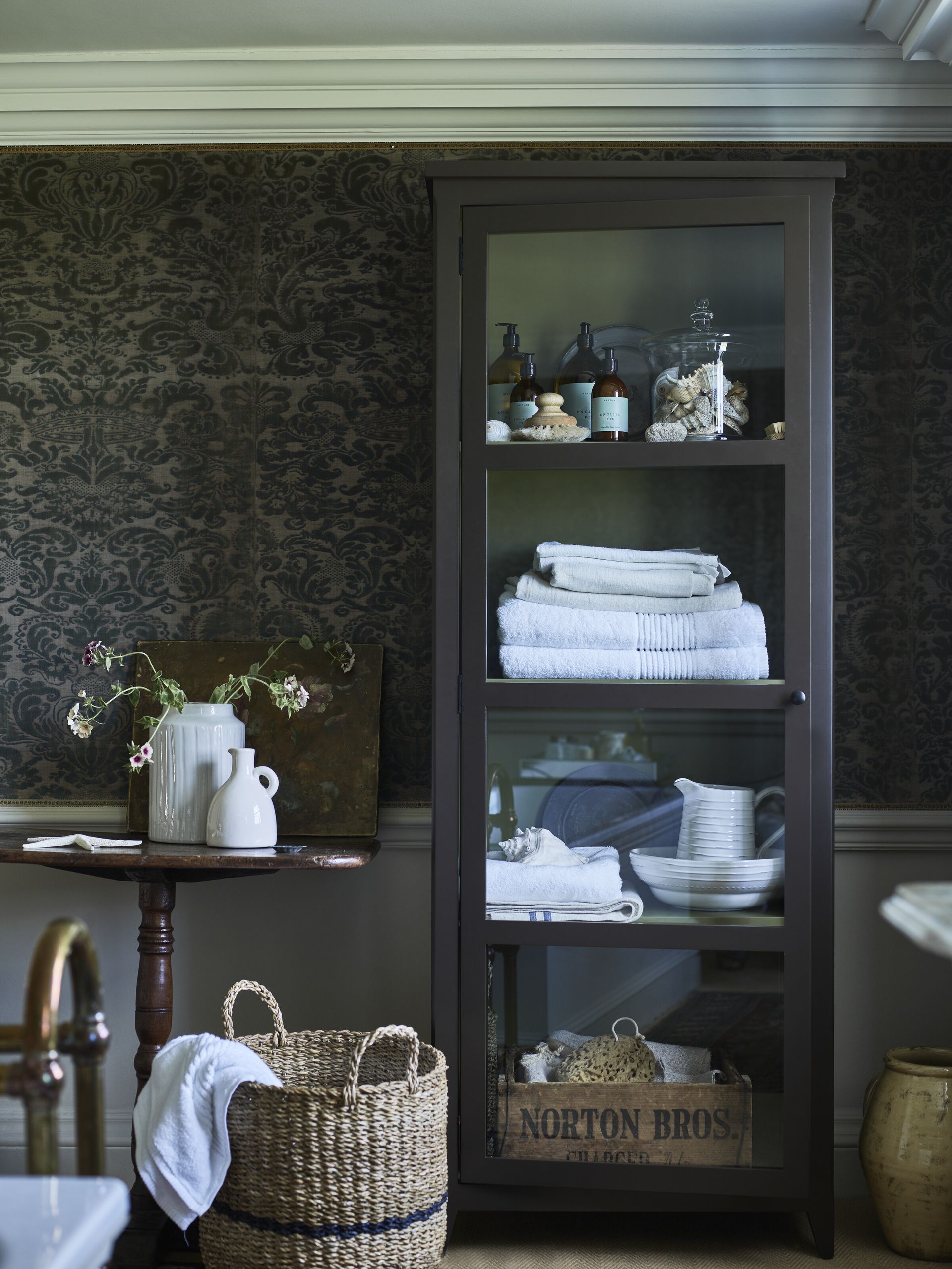 On the subject of laundry, making sure you wash everything regularly will prevent bad smells from emanating from your hamper altogether.
Nathaly Vieira, a cleaning expert believes that, for a nice-smelling bathroom, we should be washing towels and bath mats at least once a week before hanging them out to air dry for ultimate freshness.
'This will help keep the materials fresh and reduce any bacteria growth that can cause odors. It will also help to reduce the chances of mildew and mold in high-humidity areas.'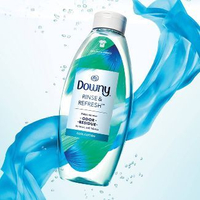 Downy Rinse & Refresh Cool Cotton | $6.99 at Target
Downy Rinse & Refresh is a breakthrough laundry odor remover that helps rinse away the smelly residue trapped within fabric fibers.
7. Naturally deodorize drains and toilets
Possibly the number one leading cause of bad smells in bathrooms are drains and toilets, so regular deodorizing is a must.
'Consider using natural deodorizing solutions like cleaning with baking soda or cleaning with vinegar to tackle stubborn smells. Sprinkle some baking soda in the toilet bowl or down drains or mix vinegar with water to clean surfaces and eliminate odors without using harsh chemicals,' Muffetta Krueger, a cleaning expert suggests.
8. Organize and declutter
Decluttering and organizing a bathroom may not seem to have anything to do with a room smelling nice, but getting rid of old products can reduce the potential for trapped odors and make your bathroom easier to clean, says Elizabeth Grace, designer, and homemaker.
'Store personal care products, cosmetics, and toiletries in closed containers to prevent the spread of fragrances that may clash with your chosen signature scent' she suggests.
9. Make sure the bathroom has good ventilation
If you can't get a dehumidifier or an air purifier into your bathroom, then improving your bathroom's ventilation is a must if you want to dissipate bad smells before they take hold, warns Muffetta Krueger, cleaning expert.
'After showers or baths, open windows or turn on the exhaust fan to allow excess humidity to escape or open an external window. This helps prevent the growth of mold and mildew, which can cause unpleasant smells.'
10. Stick to a signature scent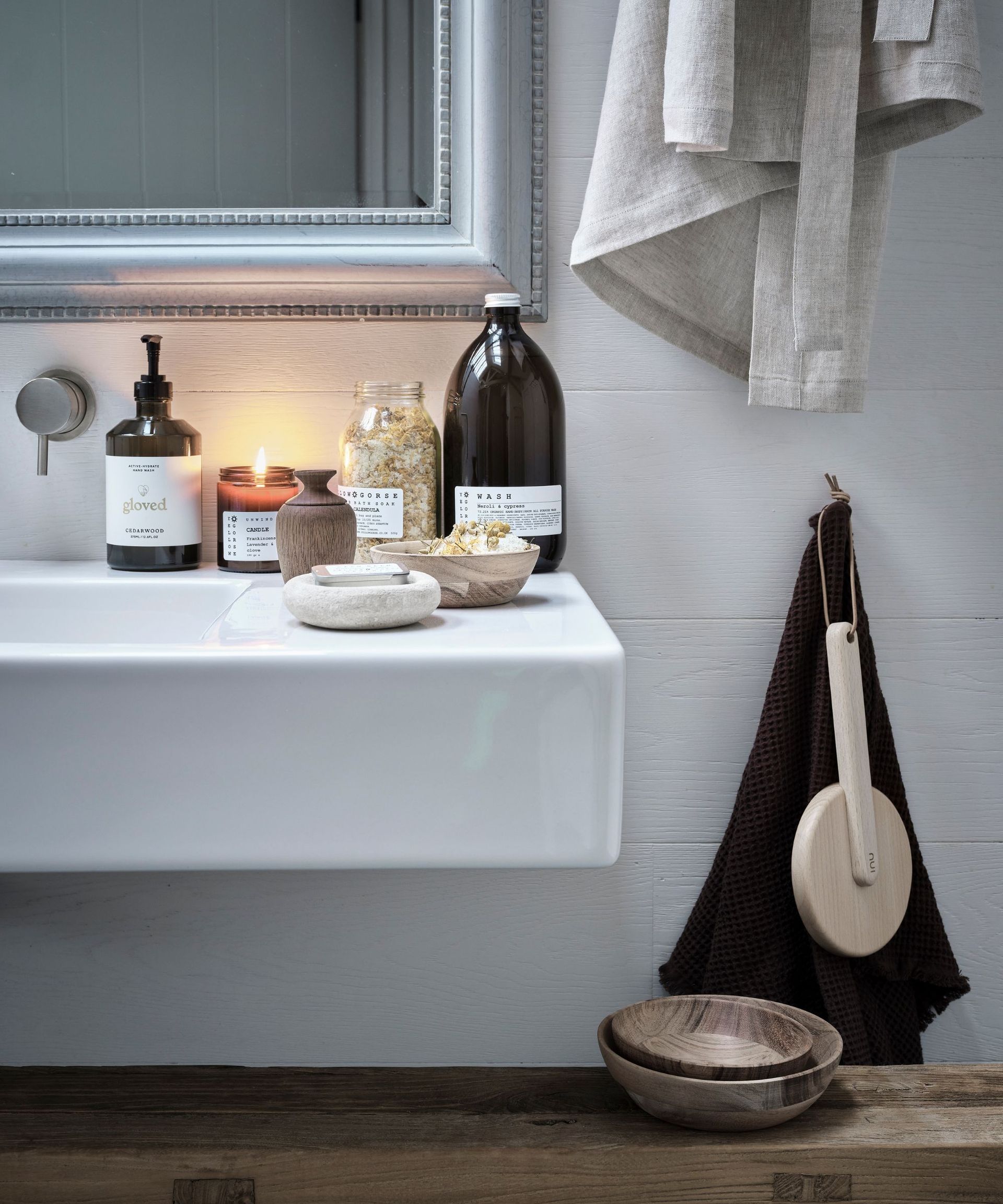 When we talk about a 'signature scent' we mean selecting one overarching fragrance that you can use throughout the space (or even throughout your whole home) in multiple ways to layer the fragrance for ultimate impact. This could mean using a scented candle with one of the best reed diffusers, or using cleaning products and linen sprays made with the same essential oils as you put in an oil burner.
'Nothing enhances the olfactory experience quite like a carefully chosen signature fragrance. Remember to choose high-quality products that release fragrance consistently throughout the day, ensuring a lasting aroma in your bathroom,' advises Elizabeth Grace, designer.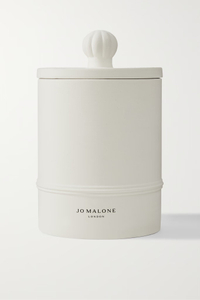 Jo Malone White Moss & Snowdrop candle | $125 at Net-a-Porter
This accent candle comes in a wonderfully sculptural jar, making it perfect for finishing off a cluster of home decor while also making your home smell nice, and appealing to all of the senses.
FAQs
What scents are relaxing in the bathroom?
When picking cleaning products and room fragrances for a relaxing bathroom, good scents can include lavender, mint, eucalyptus, and lemongrass. These are all famously strong scents to help overpower any bad odors in the bathroom, while also helping you to destress and relax.
How do I make my bathrooms smell good all the time?
If you want your bathroom fragrance to last then using a reed diffuser or an automatic room spray can help to prolong the fragrance without the dangers of burning a candle all day. Be sure to replace these regularly to make sure your scent doesn't run out, allowing bad smells to take over again.
---
People who have nice-smelling bathrooms don't clean their bathroom and light a candle once to achieve a wonderfully scented space – as much as we would love for that to be the case. 'Maintaining a nicely scented bathroom is an ongoing process that requires dedication and consistency,' Muffetta Krueger, cleaning expert, reminds us.
Sign up to the Homes & Gardens newsletter
Decor Ideas. Project Inspiration. Expert Advice. Delivered to your inbox.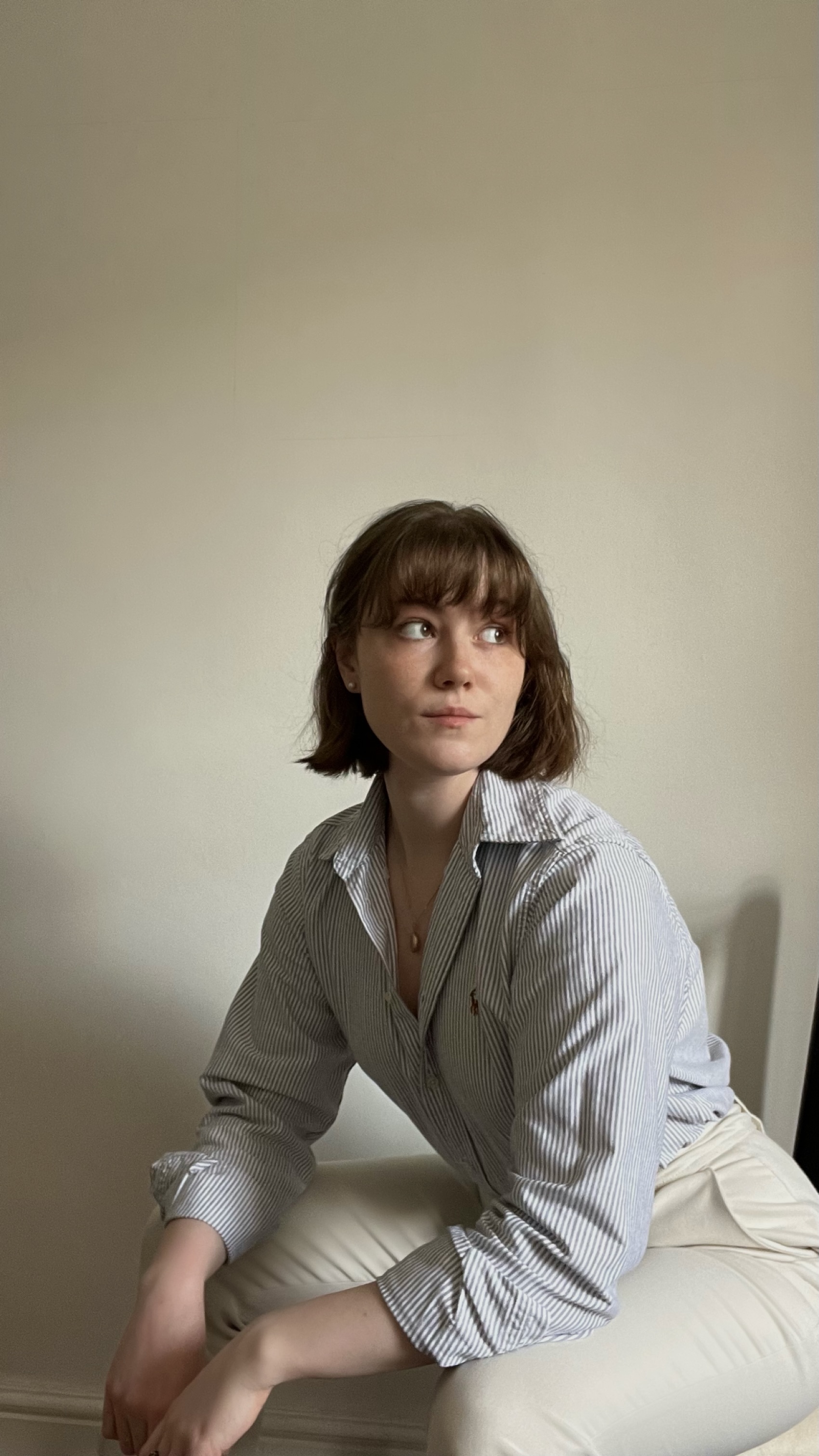 Chiana has been at Homes & Gardens for a year, having started her journey in interior journalism as part of the graduate program. She spends most of her time producing content for the Solved section of the website, helping readers get the most out of their homes through clever decluttering, cleaning, and tidying tips – many of which she tests and reviews herself in her home in Lancaster to ensure they will consistently deliver for her readers and dabbles in the latest design trends. She also has a first-class degree in Literature from Lancaster University.