Best dehumidifier: our top picks to reduce mold and bacteria at home
The best dehumidifiers to stop mold in its tracks, from TaoTronics, LG, Meaco and more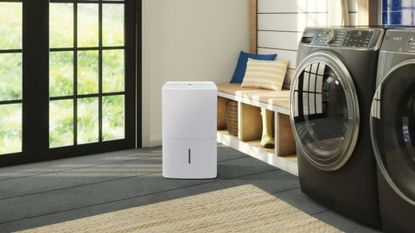 (Image credit: GE)
As winter draws in, the best dehumidifiers come into their own as serious problem-solvers in homes that suffer from a build-up of mold and the resulting spores and bacteria. No matter how clean we keep our homes, these problems crop up for almost everyone at some point, and a good dehumidifier is one of the most effective ways of preventing it.
Dehumidifiers work by absorbing excess moisture from the air in a room and either collecting it in a removable tank that needs to be emptied manually, or pumping it into a sink or outside via a hose.
Mold thrives in damp or wet environments, but keeping the levels at less than 60% goes a long way to keep it from it developing in the first place. As a bonus, it can also help your clothes dry faster, as it absorbs the water from your laundry!
We've taken a look at some of the best dehumidifiers out there right now, helping you to choose the right one for your home. And if you're also looking to clean the air, take a look at our roundup of the best air purifiers (opens in new tab).
Keep reading to see what we thought, as well as some more buying advice to help.
The best dehumidifiers in 2022
Why you can trust Homes & Gardens Our expert reviewers spend hours testing and comparing products and services so you can choose the best for you. Find out more about how we test.
1. GE ADEL50LZ 50-Pint Dehumidifier
Best dehumidifier overall
Specifications
Tank capacity: 1.9 gal
Removal: 50 pints/day
Frost protection: Yes
Drain hose connection: Yes
Noise: 50dB
Reasons to buy
+
Large tank size
+
Efficient, removing 50 pints/day
+
Timer presets
+
Energy Star certified
A good, stylish dehumidifier, the GE 50-Pint model comes in black or white and is designed to clear particularly wet areas such as basements. It is capable of removing up to 50 pints of moisture per day, making it one of the more efficient on our list, and you can operate the device continuously with a hose (sold separately) attached.
You'll get an alert when the 1.9-gallon tank needs emptying or the mesh filter needs a clean, and both of these can be easily removed. The GE dehumidifier will automatically switch off when the tank is full.
You can also customize how the dehumidifier works, with three fan speeds and an adjustable humidistat. You can also use the timer presets, which ensure you're only running the machine when it's needed.
2. TaoTronics TT-EE015 Dehumidifier
Best dehumidifier for large rooms
Specifications
Removal: 50 pints/day
Tank size: 6L
Drain hose connection: Yes
Reasons to buy
+
Works in large spaces
+
Efficient, removing 50 pints/day
+
Energy star certified
Reasons to avoid
-
Relatively small tank size
This TaoTronics offering is an impressive dehumidifier that can clear a massive 4,500 sq ft area with ease. Able to remove up to 50 pints of moisture from the air every day, it is recommended for larger homes that experience a lot of humidity-related problems such as mold and condensation.
It has a built-in sensor that helps keep the levels in the room at a comfortable 45-55% (or you can run it continuously if you prefer) and the auto timer means you won't accidentally waste energy by forgetting to turn the machine off.
You can connect a hose to the dehumidifier to divert water either out of a window or into a sink, but you'll need to buy this separately. An auto pump drain hose comes with the machine.
3. Insignia NS-DH35WH1 35-Pint Dehumidifier
Best dehumidifier for medium rooms
Specifications
Tank size: 1.6 gal
Removal: 35 pints/day
Drain hose connection: Yes
Reasons to buy
+
Visible water level
+
Energy Star certified
+
Adjustable humidistat
If you don't need as much power as provided by our top choice, the Insignia 35-Pint dehumidifier may be the next best thing.
Offering moisture removal at a rate of 35 pints/day across up to 2,000 sq ft of space, even your largest room is unlikely to be a match for it. Connect a drain hose (not included) to the machine for continuous use in problem areas, or wait for the spacious water tank to fill up (of which you will be notified).
The humidistat monitors the moisture levels in the environment, so you can make sure it's always at a comfortable level without ever being in danger of it tipping over into problematic territory.
4. LG PuriCare UD501KOG5 50-Pint Dehumidifier
Best dehumidifier for convenience
Specifications
Tank size: 7.5L
Removal: 50 pints/day
Drain hose connection: Yes
Reasons to buy
+
Large tank size
+
Efficient, removing 50 pints/day
+
Attractive design
+
Energy Star certified
Reasons to avoid
-
Some reviewers complained that water tank is fiddly
Possibly the best looking dehumidifier on our list, the LG PuriCare 50-Pint model is a little bit more expensive than some other options on our list but delivers style along with a moisture-free home.
The modern design of the LG PuriCare includes an easy-to-use LED display on top of the machine and a handle on the water tank for simpler emptying - though we should note that some reviewers of the product noted that taking the tank out and reinserting it without spills was quite tricky.
Because the dehumidifier is on wheels you can move it from room to room without any problem, and the 12-hour timer and auto-shutoff for when the tank is full will help save energy. There is also an airflow blockage alarm to keep things safe.
5. MEACO DD8L Zambezi Desiccant Dehumidifier
Best dehumidifier for laundry
Specifications
Tank capacity: 3L
Removal: 8L/day
Drain hose connection: Yes
Noise: 41-50dB
Reasons to buy
+
Air-sterilising ioniser
+
Low energy laundry+ mode
+
Auto humidity detection
Reasons to avoid
-
Small tank and removal rate
The MEACO DD8L Zambezi Desiccant Dehumidifier is a small but mighty machine that can remove moisture from areas up to 150m3 whilst also cleaning the air around you. It does this using a combination of an ionizer to sterilize the air and a removable anti-bacterial dust filter.
The dehumidifier also has an anti-mold coating to ensure you're helping the problem rather than adding to it, and it automatically turns itself on when a higher humidity is detected.
The laundry+ mode is an extension of this, with the DD8L sensing how hard it needs to work based on its surroundings. This, along with a timer and auto shut-off when the 3L tank gets full, means you'll save on energy use.
How to choose the best dehumidifier for your home
Do dehumidifiers remove all of the moisture from a room?
Dehumidifiers are designed to keep moisture levels in the air at an optimal level, which doesn't mean 0%. It's recommended that humidity levels sit at around 45-60%, and many dehumidifiers allow you to keep levels between these numbers automatically.
If air is too dry, it can exacerbate problems such as snoring and allergies, as well as make it easier for germs and viruses to survive. This is one of the reasons why some households also have a humidifier, as these machines offer benefits from adding moisture into dry air throughout certain seasons.
Do dehumidifiers remove mold?
While too much moisture in the air of the home is a leading cause of irritants like mold, dehumidifiers unfortunately cannot tackle pre-existing built-up. We'd recommend removing any mold you find around the home, especially in traditionally damp areas such as the basement, utility room, or bathroom, before putting your dehumidifier to work.
Once it's operating, however, you should see a marked decrease in future problems. Hurray!
What's the difference between a dehumidifier and an air conditioner?
If you're still shopping around and aren't sure what device is best for your circumstances, you may have come across portable air conditioning units. These are standalone machines that don't need to be built in like standard air conditioning systems but serve to perform a similar function.
And that includes reducing the humidity in your home in addition to cooling it. As such, many of the best portable air conditioners double as dehumidifiers and fans, but they tend to be a lot for expensive and cumbersome.
Our advice is to opt for a dehumidifier if size and portability are important to you.
Read our guide to the best fans (opens in new tab) for more on how to keep your home cool.
You've reached the end of the page. Jump back up to the top ^