Best fan: keep your home cool and fresh with our pick of the finest fans
The best fans for your home including pedestal and desk fans, oscillating and box fans, and more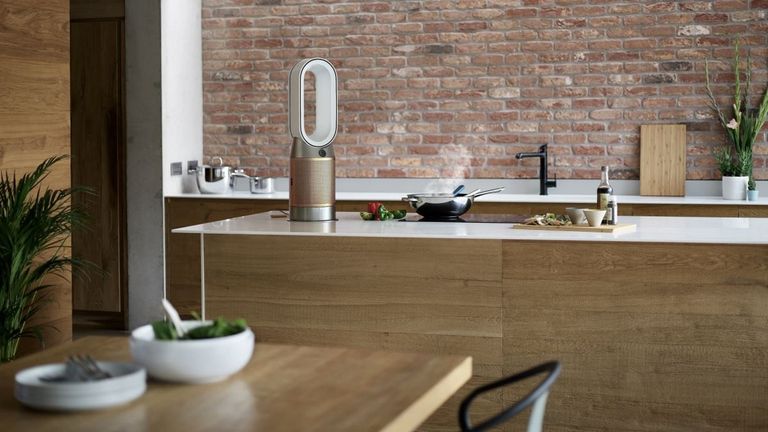 (Image credit: Dyson)
The summer months are approaching and, if you haven't already been feeling the heat, you know that the year's first heatwave is just around the corner. Investing in a good fan can mean the difference between sweaty, uncomfortable days and breezy, relaxed afternoons - especially if you're planning on working from home.
Fan technology has advanced significantly over recent years, as our selection of the best fans below demonstrates. Whether you want a fan/heater combo that can serve you all year around, or one that purifies the air as it works, there's a fantastic option out there.
We've taken a look at the best fans from top brands right now, and you can see what we picked below. And if you're looking for a way to remove bacteria, dust and smells from your home, take a look at our ranking of the best air purifiers.
The best fans 2021
1. Dyson HP04 Pure Hot + Cool Fan
Best tower fan
Specifications
Speed settings: 10
Filter: HEPA
Room size: 800 sq ft
Dimensions: 30.1 x 9.7 x 9.7in
Weight: 12.4lbs
Reasons to buy
+Also works as an air purifier and heater+Bladeless design+10 speed settings
Reasons to avoid
-Design won't suit everyone
Designed as a fan, air purifier and fan all in a single package, the Dyson HP04 Pure Hot + Cool is a fantastic multi-functional device with a design that has become pretty iconic over the years. The metallic space-age casing won't be for everyone, but its functionality may just convince doubters to give it a try.
When used as a fan, it purifies the room while expelling clean air at an intensity determined by either the user (on manual mode) or the amount of pollutants in the space at the time (on auto). You can control the device either through the Dyson app, Alexa or with the remote included.
It's perfect for the bedroom, and Dyson report that a whopping 70% of users reported sleeping better after using. A night mode in which the display dims and the noise is kept to a minimum support this and, if you suffer from allergies, the double-action of the Pure Hot + Cool could be a game-changer.
Homes & Gardens rating: 5 out of 5 stars
2. Dyson Pure Cool HEPA Air Purifying Desk Fan
Best tapletop fan
Specifications
Speed settings: 10
Filter: HEPA
Room size: 800 sq ft
Dimensions: 27.2 x 13.9 x 8.8in
Weight: 10.1lbs
Reasons to buy
+10 speed settings+Also works as air purifier+Bladeless design
Reasons to avoid
-Design won't suit everyone
A smaller iteration of the iconic Dyson all-in-one fans, the Pure Cool Desk Fan has a slightly more minimalist design and will look good in more places as a result. Lacking just the heating function of entry above, it still boasts a leading purification function as it cools the room.
Another key difference for the Pure Cool Desk is the 75% reduction in noise and 40% increase in energy efficiency. This makes it a fantastic choice for those who want to have the fan operating all night as they sleep as, not only will it be less likely to keep you awake, but you can rest peacefully knowing you're doing less damage to the planet.
Homes & Gardens rating: 4.5 out of 5 stars
3. Blueair Blue Pure Purifying Fan
Best box fan
Specifications
Speed settings: 3
Filter: HEPA
Dimensions: 19.1 x 16.5 x 14.5in
Weight: 16.2lbs
Reasons to buy
+Also works as air purifier+Lovely Scandi design
Reasons to avoid
-Just 3 speed settings
The smallest fan on this list, the Pure Fan from Blueair combines the company's air purification smarts with a more effective fan. This means you get both packaged in a Scandi-style cube that can be placed either on the floor or on a bedside table. Because of its design it can't oscillate, but promises a 90-degree range.
Customisable pre-filters allow you to add a subtle pop of colour (dark gray, blue, light gray, pink or yellow) beneath the outer casing, and a handle on top of the device means you can easily move it from room to room as needed. And if you like to keep things simple, the single-button controls might appeal.
Homes & Gardens rating: 4.5 out of 5 stars
4. DYSON Hot+Cool Formaldehyde HP09
Best purifying fan
Specifications
Speed settings: 10
Room size: 800 sq ft
Filter: HEPA
Dimensions: 30 x 8 x 4.7in
Weight: 12.5lbs
Reasons to buy
+10 speed settings+Also works as air purifier and heater+20% quieter than previous models
Reasons to avoid
-Design won't suit everyone-Formaldehyde aspect unclear
Dyson's latest release and one with plenty to recommend it, the Dyson Hot + Cool Formaldehyde HP09 adds to the cooling/heating/purification technology of all Dyson fans with additional protection against the titular colorless gas that can be produced by furniture, pain or cleaning products.
Having tested the device we're only half-sold on this aspect, but that doesn't take away from the expectedly great results of the fan more generally. It's easy to use and great at circulating the air on those sticky days, and the new gold casing almost justifies the update all by itself.
Homes & Gardens rating: 4 out of 5 stars
5. Vornado VFAN Sr. Pedestal Vintage Air Circulator Fan
Best pedestal fan
Specifications
Speed settings: 3
Dimensions: 15.5 x 18.1 x 55in
Weight: 24lbs
Reasons to buy
+Lovely retro design
Reasons to avoid
-Just 3 speed settings-No oscillation
Part of Vornado's popular vintage range, the VFAN Sr. Pedestal Fan prioritises style as well as function. The gorgeous green and gold finish ensures it's a standout piece in your space as well as a way to keep cool and, while there is no oscillating function it does tilt to direct airflow where it's needed.
This pivoting head plus twin air cones and 'Vortex Tornado' technology all help air circulate around the room better than a lot of fans, but reviewers have called out the tilting function for being a little fiddly. That said, if you prefer your appliances that don't forget aesthetics, look no further.
6. NewAir 18" Oscillating Pedestal Misting Fan
Best misting fan
Specifications
Speed settings: 3
Dimensions: 55.9 x 16.5 x 20.3in
Weight: 21.6lbs
Reasons to buy
+Misting funtion+Simple pedestal fan design
Reasons to avoid
-Just 3 speed settings-No remote control or timer
A great choice for those who love to relax and socialised outside in the nice weather but often find themselves overheating, the NewAir Oscillating Pedestal Fan offers not just a cooling airflow but also a misting function. With 3 speed settings and oscillation, you'll get the benefit wherever the fan is placed nearby.
The fan doesn't come with a remote control or any smart features, but the simple, stylish design means it will fit in well either inside or outside. It can also be operated without the misting mode, should you prefer to use it inside.
7. DecoBREEZE Pedestal Fan
Best fan for copper lovers
Specifications
Speed settings: 3
Dimensions: 18 x 18 x 48in
Weight: 14lbs
Reasons to buy
+Attractive brushed copper finish+Adjustable height
Reasons to avoid
-Some reviewers complain of higher than average noise levels-Just 3 speed settings
Not the most 'techy' of fans, this offering from DecoBREEZE is nevertheless a gorgeous pedestal fan with loads of personality. Available in 'brushed copper' or 'brushed stainless' finishes, the fan has three speed settings and both oscillates and tilts to provide the best airflow around your space.
Standing at 48 inches tall at full height, the stand can be adjusted to 37 inches so you can customise it to fit your needs. Some reviewers complained that the fan was noisy so perhaps not the best choice for a bedroom. If you want something attractive that will keep you cool throughout the day, though, it would do the job.
Do fans cool a room?
The science of a traditional fan can be a head-scratcher, as the fact is that electric fans don't actual bring the temperature of a warm space down at all. So why do we feel cooler when running one?
The answer is more about airflow than it is about temperature, as the force of the air emitted by a fan helps us to feel less overheated by creating a wind chill effect. In short, fans are good for bringing our own temperature down on hot days, but won't shift the level of heat in the room.
Should a fan be used with AC?
If your house is fitted with AC you may be wondering whether it's worth also investing in an electric fan. It comes down to your priorities - running a fan tends to be cheaper in the long run that cranking your air conditioning up to full when a heatwave hits but, as stated above, fans don't actually make your home any cooler.
Having both on hand can be a good idea as you can decide in the moment whether turning on the AC is necessary, or if a simple fan can do the work.
Caroline has worked with the Homes and Gardens team since the start of 2021, bringing her background in technology with her. She's passionate about incorporating smart devices into the home without compromising on style, and her own interior design style has evolved over the years to reflect this.