Black Friday Dyson sale – Save up to $200 on vacuum cleaners, haircare and more
Check out our pick of the very best Black Friday Dyson deals available and head into 2022 with a super new appliance to make your life easier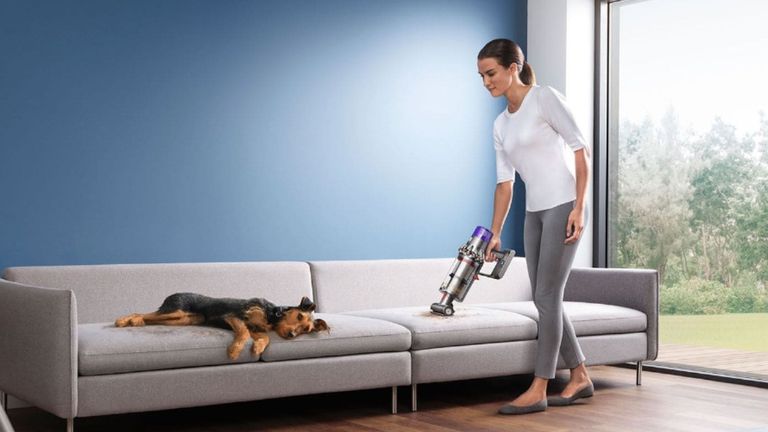 (Image credit: Dyson)
If your vacuum sucks metaphorically and not so much literally, a great Black Friday Dyson sale really could not have come at a better time. There are some super savings to be had on these top-rate cleaners (seriously, some of the best Dyson vacuums available are on sale), as well as the brand's various other products, saving you a fortune off the usual price.
Known primarily for its vacuum cleaners, Dyson designs so much more, from ingenious haircare products to a variety of air purifiers and humidifiers, fans that heat or cool (or both), and even a super clever auto-adjusting lamp.
So whether your old vacuum cleaner is on its last legs or you want to (literally) clear the air in your home – there really is no better time to buy into some of the world's most advanced products for the home.
We'll be updating this page regularly as the offers sell out, replacing them with newer deals so keep checking back if you don't find what you're looking for right away. We've also listed Dyson deals from a host of retailers so you can quickly and easily see what's still in stock.
For more of the very best buys, from cookware to home accessories, visit our Black Friday home deals for all the latest sales. Otherwise, keep scrolling to see the best of the Dyson sale.
Black Friday Dyson sales by retailer
Top Black Friday Dyson deals
Dyson Outsize | Was $799.99, now $599.99 at Best Buy
Featuring Dyson's latest technology, this is the best discount we've ever seen on Dyson's most powerful model. The Outsize has some pretty noteworthy specs including a half-gallon-sized dust bin and up to two hours of run time. Snag it while it's still in stock! Read our Dyson Outsize review for the full picture of what this vacuum can do.
Dyson Cyclone V10 Animal Lightweight Cordless Stick Vacuum Cleaner| was $499.99, now $399.99 at Dyson
More steep savings with the Dyson Cyclone V10 Animal, outfitted with a 60 minute run time, 3 suction settings, and all the attachments to power you through cleaning up dust, debris, and pet hair.
Dyson Cyclone V10 Absolute Lightweight Cordless Stick Vacuum Cleaner| was $549.99, now $499.99 at Dyson
For $100 more, the V10 Absolute comes with the standard Torque Drive cleaner head, plus the soft roller cleaner head that is exceptionally useful on hard floors.
Dyson TP01 Pure Cool Air Purifier & Cooling Fan | was $399.99, now $299.99 at Target
The TP01 cools you and purifies the air simoulatenously. And it's sleek, modern design looks more sculptural than functional. But let's be honest, it's much more than functional, it's multi-tasking, with a 70-degree oscillation, 360 Glass HEPA filter, and is powered by Dyson's Air Multiplier technology.
Dyson Corrale straightener special gift edition| $499.99 at Dyson
Available exclusively through Dyson, this special edition of the Dyson Corrale in a stunning Prussian Blue with Rich Copper, also comes with a paddle brush, detangling comb and presentation case.
Beyond working on all hair types and a flexing plate design that minimizes hair damage with less heat, it's also cordless and can hold a 30-minute charge, making it super easy to take on the go.
A potted history of Dyson
The company was founded in 1978 by namesake James Dyson, a British engineer with a background in furniture design.
The story goes that James was renovating his home, and he was experiencing constant issues with a faulty wheelbarrow that he was using to transfer materials in. The wheel kept getting punctures and constantly sank into the dirt.
In finding a solution to this recurring problem, he came up with some prototype wheelbarrows and around six years later, the Ballbarrow was created.
Over these six years, Dyson was also designing a number of other products, including a vacuum cleaner. He took a standard vacuum apart and discovered that the root of its inefficiency was down to a thick layer of dust within the bag that clogged the mesh, stopping the machine from working properly.
Having seen how sawmills removed dust from the air using huge cyclones, Dyson. scaled-down this solution to invent the world's first bagless vacuum cleaner.
The bagless cleaners were an instant hit in Japan, and the profits allowed him to set up a research center in the UK to develop his plans further. Soon after, Dyson's Dual Cyclone vacuum became the fastest-selling cleaner in the UK, and in 2009 the company expanded into creating other technologies, like bladeless fans and commercial hand-dryers.
The company now produces a wide range of haircare and air purifiers, as well as lighting.