Dyson Ball Animal 3 review
Thanks to its powerful suction, the Dyson Ball Animal 3 is extremely effective at removing pet hair from carpeting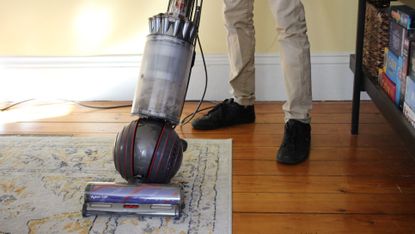 (Image credit: Camryn Rabideau)
The Dyson Ball Animal 3 vacuum offers unbeatable suction power on carpeting and hard floors, and the design of its new floorhead prevents pet hair from getting wrapped around the brush roll. However, it's not the easiest to use when vacuuming stairs and other hard-to-reach areas
Reasons to buy
+

Powerful suction

+

Easy to maneuver

+

Performs extremely well on carpets

+

Three suction settings

+

Other models available with different tools
Reasons to avoid
-

Heavy

-

Awkward control placement

-

Hard-to-use hose/wand
Why you can trust Homes & Gardens Our expert reviewers spend hours testing and comparing products and services so you can choose the best for you. Find out more about how we test.
The Dyson Ball Animal 3, a new upright vacuum from the brand, is specially designed to tackle the unique challenges of a multi-pet household.
Not all vacuums are able to handle large amounts of pet hair and dander. However, Dyson vacuums are known for their powerful suction and high-quality filtration –both appealing characteristics if you have pets.
In addition to the brand's 'Radial Root Cyclone' technology, which delivers consistent suction and optimizes airflow to capture dust and allergens, the Ball Animal 3 also has a newly designed cleaner head with 'hair removal vanes' to prevent long hair from getting wrapped around the brushroll. Plus, its whole-machine filtration system is able to capture 99.97% of particles as small as 0.3 microns and keep dust, dirt, and pet dander out of your home.
It sounds great, but is this new upright model from Dyson one of the best vacuums for pets? I put it to the test over the course of several weeks to find out if it's a worthwhile upgrade for your home. Here's what I found.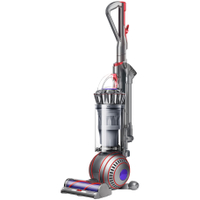 (opens in new tab)
About our reviewer
About our reviewer
Camryn Rabideau
Camryn Rabideau is a freelance writer and product reviewer who has been testing home goods, including cleaning tools, for several years. She tested the Dyson Ball Animal 3 Vacuum from her small homestead in Rhode Island. As the owner of two dogs and a cat, she's always looking for the best products to help keep her home (at least somewhat) free of pet hair.
Who will love the Dyson Ball Animal 3?
The Dyson Ball Animal 3 is specifically engineered for households with pets, and it has several features that make it well-suited for handling pet hair and dander – for instance, the new tangle-resistant brushroll. Because of its large size and corded design, it's best suited for more thorough cleaning jobs, as opposed to picking up small everyday messes, and I found it performs especially well on rugs, making it a beneficial tool for households with a lot of carpeting.
Dyson Ball Animal 3: Specifications
Power: 290 AW
Bin capacity: 1.7 L
Bin style: Bagless
Weight: 17.3 pounds
Cord length: 50 feet (35 feet cord with a 15 feet hose)
Settings: 3
Dimensions: 42.2 x 15.5 x 11.02 inches
Cleaning path width: 11.02 inches
Filter: Whole-machine filtration
Accessories: Stair tool, combination tool, tool holder
RRP: $399.99
Dyson Ball Animal 3: design
Right away, I noticed that the Dyson Ball Animal 3 is a large, heavy vacuum. It weighs around 17 pounds, and it's fairly bulky to tote around the house. When moving it between rooms, I generally opted to roll it instead of picking it up, and it's definitely cumbersome to carry up and down the stairs. For this reason, it's probably not the best choice for those with mobility limitations or homes with several floors.
To turn the Dyson on, there's a large red button on the front of the handle, and there's a second button that turns the brushroll on/off – helpful if you're sucking up cat litter or another material that's easily scattered around. The only other control on the vacuum is the suction adjuster, which for some reason is located on the top of the cleaner head. This is inconvenient, as you have to stop and "park" the vacuum to walk around and change the suction power as you move from carpeting to hard floors. I often had to stop and adjust the vacuum several times while cleaning the downstairs area of my home.
This vacuum has Dyson's signature "ball" design – hence its name – which makes it quite easy to maneuver around obstacles and into corners of your home. I like that the stabilizing wheels on the bottom of the vacuum automatically release when you tilt the body back, making it easy to start moving. Other models, such as the Shark Stratos Upright Vacuum, require you to hold the base with your foot to unlock the body from its parked position.
The Ball Animal 3 also has a newly designed brush head, known as the de-tangling Motorbar, and is more aligned with the cleaner heads on the Dyson cordless range. In addition to the stiff, dense nylon bristles that agitate and remove dirt from carpets and floors, it incorporates 'hair removal vanes' to prevent long hair from getting wrapped around the brush roll. It's engineered with angled bristles that follow a spiraling helix design to migrate hair along the brush bar, from left to right.
What is the Dyson Ball Animal 3 like to use?
Unboxing the Dyson Ball Animal 3
The Dyson Ball Animal 3 arrived in a tall, narrow box, and much to my surprise, there was no plastic wrapping or styrofoam inside, just strategically placed cardboard cutouts. Many brands still use a surplus of plastic in their packaging, so it was really refreshing to see that Dyson is taking a more sustainable approach.
The vacuum only has a few pieces to put together, and while I was able to attach the cleaner head to the body without any issues, I did get confused while trying to put the wand section together. I ended up needing to consult the user manual for instructions, and frankly, the directions weren't that helpful. There are just a few simple diagrams without any text. Eventually, I figured out that the wand goes into the hose, and you then slide the wand into place on the back of the vacuum. All-in-all, assembly took me around 10 minutes, and then the vacuum was ready to use.