Shark Stratos Upright Vacuum review
The Shark Stratos Upright Vacuum tackles pet hair like a pro with next-level suction power and odor-neutralizing technology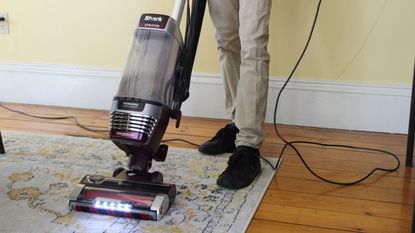 (Image credit: Camryn Rabideau )
The Shark Stratos upright vacuum performs excellently on all surfaces, and its detachable canister makes it more convenient to clean stairs and other hard-to-reach areas. Plus, it handles pet hair like a pro and leaves a fresh scent behind as you clean, but it's a bit bulky to handle, and we wish the dust bin was larger.
Reasons to buy
+

Powerful suction

+

Versatile design

+

Easy to maneuver

+

Odor-neutralizing cartridge

+

Self-cleaning brushroll
Reasons to avoid
-

Quite bulky

-

Small dust bin
You can trust Homes & Gardens. Our expert reviewers spend hours testing and comparing the latest products, helping you choose the best for you. Find out more about how we test.
If you share your home with a dog or cat – or multiple pets – a high-quality vacuum is an absolute must. The best vacuums for pets have powerful suction that can handle hair, dirt, and dander, and you may also want to look for things like HEPA filtration and tangle-free brushrolls, especially if your pets have long hair.
The Shark Stratos Upright Vacuum (AZ3000) boasts all these features, as well as odor neutralization and multiple attachments. The Stratos also stands out among the best vacuums thanks to its versatile design, which has a unique LiftAway mode that makes it easier to tackle hard-to-navigate areas, like stairs and underneath furniture. There are even LED lights on the brushroll that make it easy to spot dirt and hair on your floors and in dim corners, delivering a more thorough clean.
While the Shark Stratos sounds like a great choice for multi-pet households, we wanted to see if it lives up to the hype. I tested the vacuum for two weeks, using it to clean up after my two long-haired dogs, and I was thoroughly impressed by its suction power and ability to handle tough messes.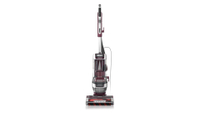 Shark Stratos|was $429, now $389 at Walmart
We're big fans of Shark vacuums, especially this one. $389 is the lowest price we've seen this capable vacuum.
About our reviewer
About our reviewer
Camryn Rabideau
Camryn Rabideau is a freelance writer and product reviewer who has been testing home goods, including cleaning tools, for several years. She tested the Shark AZ3000 Stratos Upright Vacuum from her small homestead in Rhode Island. As the owner of two dogs and a cat, she's always looking for the best products to help keep her home (at least somewhat) free of pet hair.
When Camryn is not tinkering around with the latest home gadgets, she spends her time tending to her animals, working in her garden, or crafting.
Who will love the Shark Stratos Upright Vacuum?
The Shark AZ3000 Stratos Upright Vacuum is best for busy households with one or more pets, as it offers powerful suction and filtration, and it's equally effective on both long and short pet hair. It's designed to be used as a primary vacuum for deep cleaning carpeting and hard floors – because it's a corded model and fairly bulky, it isn't the most convenient option for picking up small messes or cleaning out your car.
Shark Stratos Upright Vacuum: Specifications
Model number: AZ3000
Maximum power: 1416W
Bin capacity: 1.4 L
Bin type: bagless
Cord length: 30ft.
Cleaning path width: 10.63"
Dimensions: 11.02" x 12.2" x 46.46"
Weight: 17.2 lb.
Filter: HEPA
Warranty: 5 years
Attachments: Odor neutralizer cartridge, crevice tool, and upholstery tool
RRP: $499.99
Shark Stratos Upright Vacuum: design
My first impressions of the Shark Stratos were that it's fairly heavy but easy to maneuver. It weighs a substantial 17.2 pounds, which makes it quite bulky to carry around, but its swivel steering allows you to get into corners and around obstacles. Still, I think the size and weight of this vacuum will make it hard for some people to use.
I love that this vacuum has two brushrolls on the floorhead – the PowerFins HairPro brushroll has stiff fins that dig deep into the carpeting to pull up hair and dust, while the soft brush roll does a great job picking up dust and fine particles from hard floors. Plus, if one of the brushrolls ever gets stuck, the LED lights on the front of the floorhead turn red, letting you know that you need to stop and fix the problem. I only ever had an issue with this when I was using the wrong suction setting.
The other thing I noticed right away is that the vacuum gives off a fresh odor when you're cleaning, thanks to the "odor-neutralizing cartridge." I can't say whether it actually gets rid of pet odors or just covers them up, but it does leave behind a light, fresh scent that makes the room feel cleaner.
What is the Shark Vertex DuoClean PowerFin Upright Vacuum like to use?
Unboxing the Shark Stratos
When the Shark AZ3000 Stratos arrived on my doorstep, the packaging wasn't in the best condition. It had gotten banged up quite a bit during shipping, and the top was partially ripped off. However, the good news is that everything inside the box was still in perfect condition. All of the different components were wrapped in styrofoam padding and plastic, and while this made for a lot of waste, it did keep the pieces from being broken or scratched during transport.
The vacuum was quick and easy to assemble. All the pieces clicked into place, and assembly was very intuitive, only taking me around five minutes to complete. The only time I had to consult the manual was when inserting the "odor neutralizer cartridge," which gets installed in the top of the floorhead. It simply twists into place, and you're able to adjust it to give off more or less scent.
On Carpets
While my house has mostly hardwood floors, there are area rugs in almost every room, and they collect lots of dirt, dust, and pet hair throughout the day. There's a slider on the vacuum's handle that adjusts the suction for different types of flooring, and I typically used it on the medium setting, as my rugs are low-pile.
I was honestly shocked at the pure suction power that the Shark Stratos delivers, and it excelled at removing pet hair and dirt from my carpets, quickly filling up the dustbin. Even just vacuuming the 9-by-6-foot area rug in my dining room, the dustbin was full of hair and dirt and needed to be emptied before I moved on to another room. It also managed to pick up ⅛ cup of uncooked rice in a single pass, leaving the floor spotless.
On Hard Floors
Upright vacuums don't always work well on hard floors, as their powerful brushrolls can scatter debris around, but the Stratos had no problem picking up pet hair and dust from my hardwood floors. Its soft brushroll helped to capture those fine particles, and it was also able to pick up larger debris, like leaves and fuzz from dog toys, with no issues. I even spilled ⅛ cups of uncooked rice, and the vacuum picked up the pieces with no problems, pulling the rice out from between the cracks easily.
The only issue I ran into when vacuuming the hard floors in my kitchen was that the vacuum sucked up the small kitchen mat. I had the vacuum on its highest suction setting, which is meant for hard floors, and it ended up pulling the mat up into the brushroll.
On Stairs
The main staircase in my house often has little piles of dog hair in the corners of each step from my pets running up and down all day, and I typically use a cordless vacuum to suck them up. However, I found it to be almost as easy to use the Shark for this task thanks to its LiftAway mode. When you press the LiftAway button on top of the canister, the whole thing lifts off the base, making it much more compact and lightweight. I could easily rest the canister on the stairs as I cleaned with the crevice tool, and the suction power is much stronger than my cordless vacuum, meaning it picked up more dust and hair with each pass.
My only complaint about this mode is that the hose itself is quite short—probably around 2.5 or 3 feet. It's supposed to be able to stretch out, but because the suction is so strong, it ends up shrinking back on itself when you turn the vacuum on.
On Furniture
I tested the Shark Stratos AZ3000, which only comes with a non-motorized upholstery tool, but if you opt for the Stratos AZ3000 (a slightly more expensive model), you'll also get the HairPro Self-Cleaning Pet Power Brush, a motorized tool for furniture. I used the tool to clean off one of our dog beds, as well as the sofa where my dogs like to nap, and I wasn't really wowed with its performance.
The vacuum needed to be on its lowest suction setting, otherwise, the tool just sucked onto the fabric too hard. It did pick up most of the dirt and debris on the furniture, but it wasn't able to pull out embedded hairs.
Cleaning and Maintenance
When I first looked at the Stratos vacuum, I thought it had a large dustbin—ideal for picking up lots of pet hair. However, once I started using it, I noticed that the "Max Fill" line is only about ⅓ of the way up the side of the bin, which was really disappointing. When I vacuumed my kitchen and dining room, I ended up having to stop and empty the bin two times, and even then, I usually ended up filling the bin more than I should have between empties. This is definitely one of the major downsides of this vacuum.
There are a few other maintenance tasks you'll need to complete to keep the Stratos running in peak condition. It has a washable foam filter that needs to be rinsed once a month. Honestly, after two weeks of fairly heavy use, this filter was already starting to look quite dirty and could likely be cleaned. You'll also need to periodically replace the odor-neutralizing cartridge—the brand recommends installing a new one every six months.
Storage
The Shark Stratos isn't the most convenient vacuum to store. It has a fairly large footprint and is quite tall, meaning it will take up quite a bit of space in a closet or other storage space. The power cord can be wound around the cord wrap on the side of the machine, but unfortunately, there's nowhere to store the accessories on the vacuum itself.
How does the Shark Stratos Upright Vacuum rate online?
On the Shark website, the Stratos AZ3000 has more than 300 reviews and an average rating of 4.5 stars. It gets top marks from pet owners, who agree that the suction is unbeatable, and many people also note that it works well on both fine particles and larger debris.
Among those who weren't totally satisfied with the vacuum, some of the most common complaints were that the vacuum is quite heavy and can tip over easily when you're using the attachment hose.
How does the Shark Stratos Upright Vacuum compare to other models?
You may notice that there are two versions of the Shark Stratos Upright Vacuum—the AZ3000 and the AZ3002—and the main difference between the two is the included accessories. With the AZ300, you only get a crevice tool and a non-motorized upholstery tool. However, if you upgrade to the AZ3002, you'll receive the motorized HairPro Pet Power Brush, a duster-crevice combination tool, a multi-angle dust brush, an anti-allergen dust brush, an accessory bag, and two extra odor cartridges. However, this model has a higher price tag.
Also within the Shark lineup is the Shark Vertex Upright, which has many similar features, except it does not have the new Odor Neutralizer Technology. The Vertex has a slightly smaller dust cup, but it also weighs marginally less, while also having a larger cleaning path and a longer hose. The two are pretty comparable in terms of suction power, pick up, and maneuverability. At it's base, the Shark Vertex comes with more accessories, but the extra Pet attachments are available with the AZ3002 version.
In terms of price and size, the Shark Stratos Upright Vacuum is quite similar to the Dyson Ball Animal 3, which we also tested. The two offer similar suction power and weigh around the same, but the Dyson does have a larger dustbin capacity and on-board accessory storage.
Should you buy the Shark Stratos Upright Vacuum?
This is on the higher end as upright vacuums go, but the pure suction power of this machine makes it worth it. The vacuum performs excellently on virtually all surfaces, and its detachable canister makes it more convenient to clean stairs and other hard-to-reach areas. Plus, it handles pet hair like a pro and leaves a fresh scent behind as you clean.
The main reason you might not want to buy this vacuum is its weight. At more than 17 pounds, the Stratos is quite bulky and can be somewhat hard to move around, which may not be practical for some households.
Shark Stratos Upright Vacuum: where to buy