Dyson V8 Animal cordless vacuum review
The $399 Dyson V8 Animal cordless vacuum is still a force to be reckoned with, five years after its debut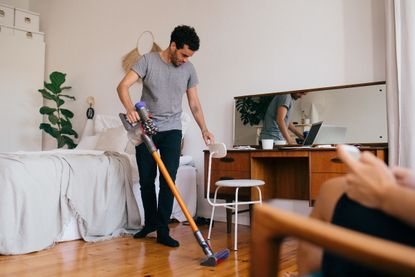 (Image credit: Getty Images)
Those looking to own a Dyson – and who can appreciate a strong performer even if it's not the latest technology – will love cleaning with the Dyson V8 Animal, whether they have pets or not
Reasons to buy
+

Powerful suction

+

Easy to use

+

Great entry-level Dyson

+

Excellent on carpets
Reasons to avoid
-

Shorter battery life

-

Not Dyson's latest technology

-

Hair does wrap around brushroll
You can trust Homes & Gardens. Our expert reviewers spend hours testing and comparing the latest products, helping you choose the best for you. Find out more about how we test.
The Dyson V8 Animal is Dyson's most long-standing cordless vacuum model available. Debuting in 2016, the powerful design has outlasted quite a few models and is a popular choice for pet owners and those looking for an entry-level model.
While it doesn't have Dyson's latest technology, it's powerful and effective on carpets and hard floors, exhibiting many of the qualities that we look for in our guide to the best cordless vacuums.
Currently listed at $449, it's surely not cheap for a cordless vacuum, but it is the lowest price you'll find on one of the best Dyson vacuums unless you find one on sale. So, if you ever wanted a Dyson, you'd be remiss if you didn't at least see what this model is all about.
This is how we got on with the Dyson V8 Animal and, yes, pets were involved in our testing process.
Who will love the Dyson V8 Animal?
First-time Dyson users will love this entry-level Dyson vacuum at Dyson's most accessible price point.
Also, the fact that it has Animal in its name designated that it is geared toward pet owners as it includes a special mini motorized tool that is very effective at digging out pet hair. But it's also earned the name because the V8 offers powerful suction that cleans everything in its path. A true beast.
In addition to its powerful suction, those looking for a lightweight and easy-to-use design will be content with their purchasing decision.
Dyson V8 Animal: Specifications
Maximum power: 115AW
Dust capacity: .14 gal
Cordless: Yes
Runtime: 40 minutes
Charge time: 5 hours
Noise: 79 dBA
Dimensions: 9.8" H x 49"L x 8.8"W
Weight: 5.63 lb.
Filter: Advanced, whole-machine HEPA filtration
Warranty: 2 years
Attachments: Direct-drive cleaner head, Mini Motorized tool, Mini soft dusting brush, Combination tool, Crevice tool, Docking station, and Charger
Dyson V8 Animal: design
The Dyson V8 follows the design of its earlier V6 model, with a direct drive floor head, trigger-style Dyson, the motor, two filters, with the dust bin located horizontally behind the motor, and the battery attached to the hand.
The hygienically designed .14 gallon dust bin pulls open with a one-touch lever that ejects debris straight into the garbage. The V8 release was the first Dyson with this feature.
To operate, you will hold down the red trigger and firmly grasp the handle. Above the Dyson logo, you have the ability to switch between two modes of suction power.
Dyson does not disclose the power of most of its vacuums, but this one is disclosed as having 115 air watts.
The 15 cyclones, arranged across two tiers and seen as the flower-shaped design on the handheld, work in parallel to increase airflow and capture fine dust. The V8 brushless motor spins at up to 107,000 rpm to create powerful suction.
The battery offers up to 40 minutes of cleaning power. However, that does not necessarily mean you'll get 40 minutes of floor cleaning power but is the estimated time for the vacuum in a handheld position. Rather, using the floorhead offers up to 25 minutes of battery, the mini-motorized tool up to 30 minutes, and the accessories like the crevice tool will enable the battery to last up to 40 minutes. On MAX mode, the vacuum will last 7 minutes. The battery isn't interchangeable between charges, but it can be replaced.
When charging and to identify battery life, three LED lights on each side of the battery indicate charge level so you can get an idea of how much charge is left.
Dyson V8 Animal: features and functions
Powerful Direct Drive Floor Head
Safe for use on both carpets and hard floors, Dyson's primary floor head makes use of a hard shell body with a powered brush barand utilizes stiff nylon bristles to remove pet hair and ground-in dirt. The direct-drive cleaner has a mini "ball" joint to make it easier to manuever across the floor.
Modes
The Dyson V8 Animal features two cleaning modes that you manually switch between: High Suction Extended Run and MAX suction. On High Suction it can run up to 40 minutes, but gets just 7 minutes on MAX suction.
Accessories
The V8 Animal comes with several accessories including a mini motorized tool, mini soft dusting brush with nylon bristles to clean delicate surfaces and fabric, a combination tool (with a brush and wide nozzle), a crevice tool, a wall docking station, and a charger.
Filtration
The V8 offers Dyson's advanced 5-stage filtration technologies, capturing 99.99% of particles as small as 0.3 microns, to expel cleaner air. Both of the vacuum filters are easily accessible and removable to clean. One pulls out from the center of the motor, while the purple head at the base offers additional purification.

What is the Dyson V8 Animal like to use?
Set-Up
Set up is fairly easy as each piece clicks together. It comes with a partial charge, but you'll want to give it a full 5-hour charge before cleaning.
The V8 differs from more recent packaging in that accessories are wrapped in plastic (as opposed to simply cardboard) and a full instruction guide is included.
On Hard Floors
The Dyson V8 works well on hard floors and moves easily. Due to the hard plastic of the brushbar and maneuvering "wheel", I was a little leary about it scratching my hard floors. That was not the case, but it was definitely louder using on this floor than other vacuums I've used.
On Carpets
I prefer using the Dyson V8 Animal on carpets, and within minutes I had a full dust cup. Inconvenient sure having to run to empty the vacuum after just one room, but I was very satisfied with how much it sucked up. I noticed a distinct difference on MAX mode, but battery life here is substantially shorter.
Other Surfaces
As expected, the Dyson V8 is an excellent handheld companion for cleaning in between the seats of the car or sofa, dusting up high along the crown molding, or taking to cleaning pet beds with the mini-motorized tool. For handheld cleaning, is where you'll also find the longest battery life.
Emptying the Dust Bin
As previously mentioned, the dust bin releases by pulling up on the red lever marked with a trash symbol. The bin pushes up, and the lid pops open to empty its contents. Dyson suggests encasing the dust bin in a dust-proof bag (i.e. plastic) to minimize dust contact, but I emptied it straight into the garbage.
Cleaning and Maintenance
Both filters can be removed and rinsed with water. Then wait 24 hours for them to dry before putting them back into the vacuum. This should be done monthly, according to Dyson. As long strands of hair will wrap around the brushroll, both the cleaner head and mini-motorized tool unlock so you can remove and clean the bristles. The clear dust bin can also be removed for cleaning, though it's easiest to wipe clean with a damp cloth.
How others got on with the Dyson V8
A contributor to our team got on quite well with her V8 Absolute, summarizing that 'it's a nifty machine that makes doing the cleaning a whole lot less work.'
The Pantry Test
I trialed the Dyson V8 Animal through our Pantry Test, the unscientific test that uses common pantry staples to test the suction capabilities of our vacuums. I arranged a quarter cup of cereal, a quarter cup of rice, and a tablespoon of sugar to see how the vacuum handled food particles large and small.
The Pantry Test on hardwood floors
Well, I wish I had better news, but cleaning up large pieces of debris got messy. The cereal bits were pushed into the rice, and the rice flew everywhere... but the vacuum. Eventually, the Dyson V8 Animal got the larger grains of food in, but it was not elegant. As for the finer sugar, the Dyson V8 Animal managed to suck that up right away, no issues. Redeeming itself for getting those finer particles.

The Pantry Test on carpet
Acknowledging that the V8 excels at digging dirt out of the carpet, it excelled with The Pantry Test. Everything was controllably suctioned up in a matter of seconds. It truly redeemed itself here.
How does the Dyson V8 Animal rate online?
On Dyson, the V8 Animal holds 4.2 out of 5 stars. Users appear to love the power and its lightweight design but expected more out of the run time. Additionally, some older users with arthritis critiqued the trigger-style operation that is characteristic of most Dyson models.
The Dyson V8 Animal holds a 4.6 out of 5 ratings on Amazon. Thousands of reviewers cite its power on both carpets and hard floors, as well as for tackling pet hair. One even called it the "holy grail of all cordless vacuums." Some long-time users mentioned issues with the motor cutting out after a year, but we have not experienced that complaint at this time.
How does the Dyson V8 Animal compare to other models?
The Dyson V8 Absolute (see review on sister site Real Homes), for $50 more, also includes a soft roller cleaner head, which I prefer when it comes to cleaning hard floors.
The Dyson V7, which was released a year after the V8 and follows the same body styling, offers a 30-minute runtime, and a comparable price, depending on which retailer you find it at. Its availability is a little more limited, so we still prefer the V8 over the V7.
If you're looking to stay within the $399 range, Dyson's Omni-glide (see our Dyson Omni-glide review) and Micro are your next options, both released this year. They are designed solely for hard floors and offer a 20-minute run time. The Omni-glide is unique in its ability to be spin in any direction, while the Micro 1.5kg is exceptionally lightweight.
A step up will lead you to either the V10 Cyclone or V11 with extended runtime and a 30% and 60% increased suction power, respectively.
Finally, looking to upgrade? We think you'll be impressed with the power and surface-detecting design of the Dyson V15 Detect (see review), which incorporated a laser into its design to show every speck of dust, and a rebrand of the Dyson Outsize (see review), with a 0.5-gallon dust bin and 120-minutes of run time.
Dyson V8 Animal: Final Thoughts
The Dyson V8 is truly a great machine, and could replace your standard corded model. But the question becomes, is it right for you? There are larger models out there: the Dyson Outsize, and newer models all offer extended runtime. For larger homes that require more cleaning time, you may want to consider longer running designs.
The V8 is essentially Dyson's base model, but that surely does not make it feel like a compromise. If it's your first Dyson and you want to test the waters, this is a great option. If this is a secondary vacuum, and you don't need it to last for more than 30 to 40 minutes to get you through your cleaning, another great option. And of course, if you have pets, the Dyson V8 literally draws out the pet hair I couldn't even see.
Dyson V8 Animal: where to buy
About this review and the reviewer
Jaclyn is the US eCommerce editor across the homes titles at Future, including Homes & Gardens, where she specializes in a variety of topics ranging from vacuums to mattresses. She spends her days tracking the latest buzzworthy releases and testing a variety of products to determine whether they are worth bringing into your home.
As with all our reviews the Dyson V8 Animal has been tested first-hand in our home, using it just as you would so you know exactly what you are buying. Jaclyn's home features a mix of hardwood floors, carpets, and area rugs. A small non-shedding dog lives in the house but still manages to track in his fair share of dirt. The device was tested over a period of several weeks.
The products are given to us free of charge and we test them for as long as possible before forming our reviews. In this particular case, we are able to keep the vacuum, which will enable us to continue to use the product and gives us the opportunity to return to our reviews for updating, so you can keep up-to-date with how it's fared over a period of time.
Sign up to the Homes & Gardens newsletter
Decor Ideas. Project Inspiration. Expert Advice. Delivered to your inbox.