How to hide a laundry basket – 7 functional hiding spots suggested by designers and organizers
Designers and organizers explain how to keep it hidden, while also keeping it practical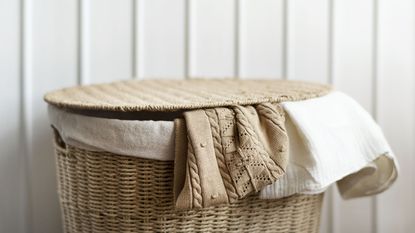 (Image credit: Getty Images)
Sign up to the Homes & Gardens newsletter
Decor Ideas. Project Inspiration. Expert Advice. Delivered to your inbox.
Thank you for signing up to Homes & Gardens. You will receive a verification email shortly.
There was a problem. Please refresh the page and try again.
Laundry baskets are essential in our homes but they can be bulky or even unsightly, sticking out like a sore thumb in our otherwise meticulously designed bedrooms and bathrooms. But how do you hide a laundry basket?
To help keep doing laundry simple and make sure we actually put our clothes in the basket and not on the floor, it is vital to find a practical place to hide our hampers that is also within easy reach.
Here, interior designers and home organizers share their thoughts on how to hide a laundry basket without making it a chore to use.
How to hide a laundry basket
A common laundry room organizing mistake is to hide everything away. While this can look nicer, it can make accessing and using laundry baskets less convenient and encourage us to throw things on the side for later.
Although that can be a good option if you have good discipline, there are some alternatives that may suit your busy or laid-back lifestyle a little better.
1. Opt for a decorative basket with a lid
Of course, one of the best ways to make your laundry basket stick out a little less is to choose a decorative basket that you do not mind seeing daily – bonus points if that basket blends into the decor around it to make it look like it is a carefully planned point in the room, suggests Kathy Kuo, interior designer and founder of Kathy Kuo Home.
When bringing your laundry room storage ideas out into the rest of your home, Kathy recommends picking a laundry basket that has a lid to hide your dirty clothes and that has a look that's subtle but also complements your existing decor. 'You can then subtly tuck it into a corner or alongside your dresser as an accent piece.'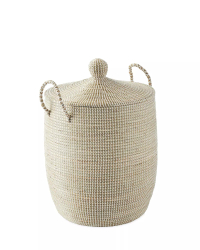 La Jolla Basket | Was $148, Now $98 at Serena & Lily
This woven lined basket is perfect for laundry, with sturdy handles perfect for carrying the basket to your washing machine, and a lid to conceal dirty clothing.
Interior design expert Kathy Kuo founded her eponymous home store in 2012 – and it has since gone on to be an e-commerce destination for luxury furniture and decor essentials from a variety of beloved home vendors. Kathy and her store specialize in styles like French Country, Coastal Beach, and Modern Classic while offering interior design services to their clients.
2. Fit it into a closet
If you have a large enough closet, then your laundry basket can easily be concealed within your closet storage. This is a great closet organization idea too, adds Lauren Saltman, professional home organizer and owner of Living. Simplified., as you can discard worn clothing as you pull something fresh out.
When containing your hamper inside a closet behind closed doors, you can be a little more utilitarian with the hampers design too, Lauren continues. If your closet is on the smaller side, you could even consider adding it when organizing a linen closet, or even a bathroom cabinet too, she says.
For Professional Organizer Lauren Saltman of Living.Simplified., decluttering and organizing is how she lives her daily life, whether she is organizing her home, a friend's office, or a client's garage, her resourceful approach yields happy clients who learn to incorporate techniques for a happier and more simplified lifestyle.
3. Build your basket into furniture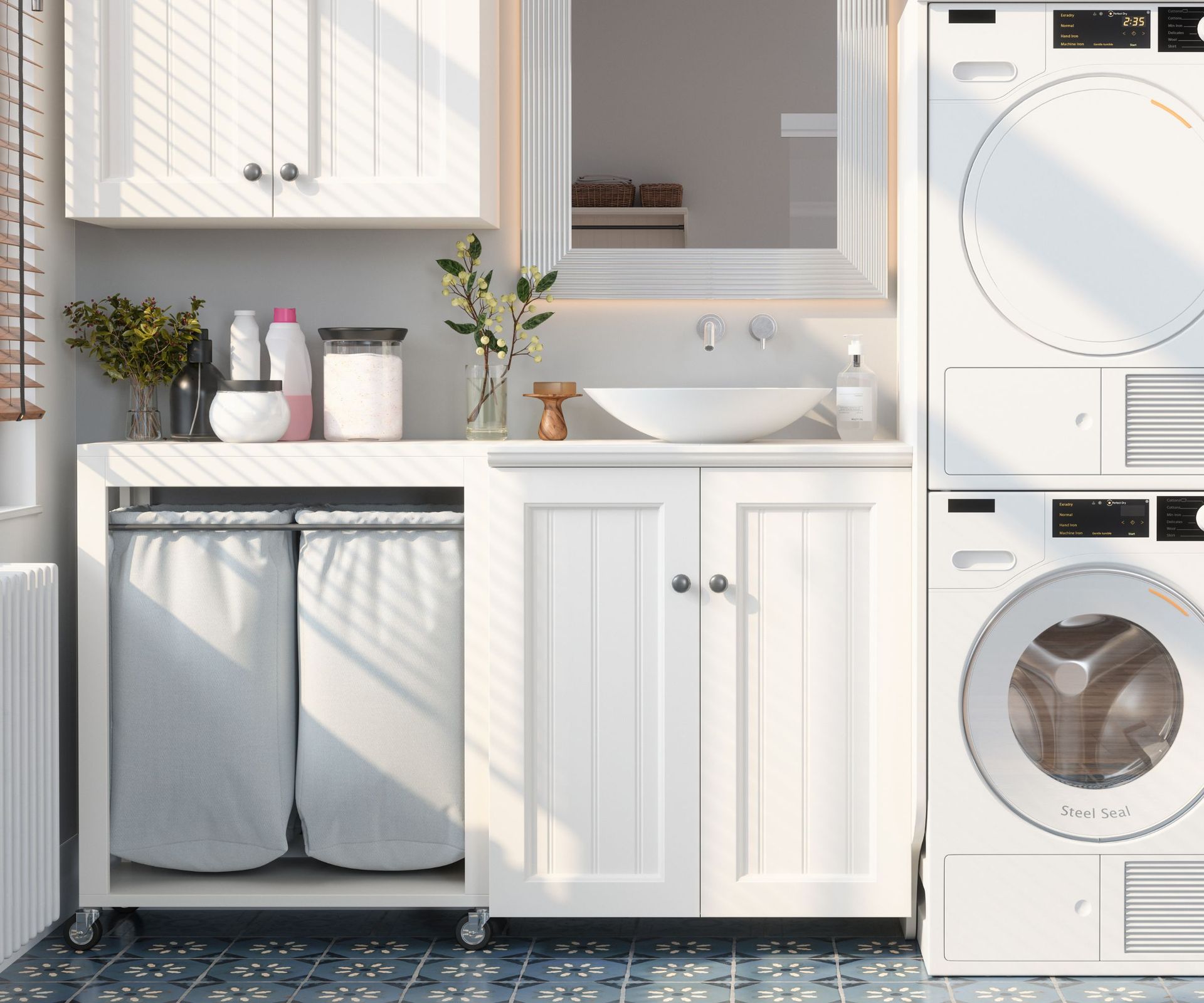 Serena Lewis, interior designer at Serena Lewis Designs suggests that, when carrying out a home reno, it can be useful to consider your laundry baskets home as you plan your bespoke joinery.
'If you are in the process of designing a new home or renovating, I would suggest a built-in laundry basket. This way you can have your laundry concealed in a drawer that is part of your closet or bathroom,' she says.
If you are working with an existing layout, however, all is not lost, she assures. 'If you are already settled into your home, there are pieces of furniture that double as a desk or decorative table that have hidden drawers for your laundry.'
4. Use a hanging laundry bag inside a door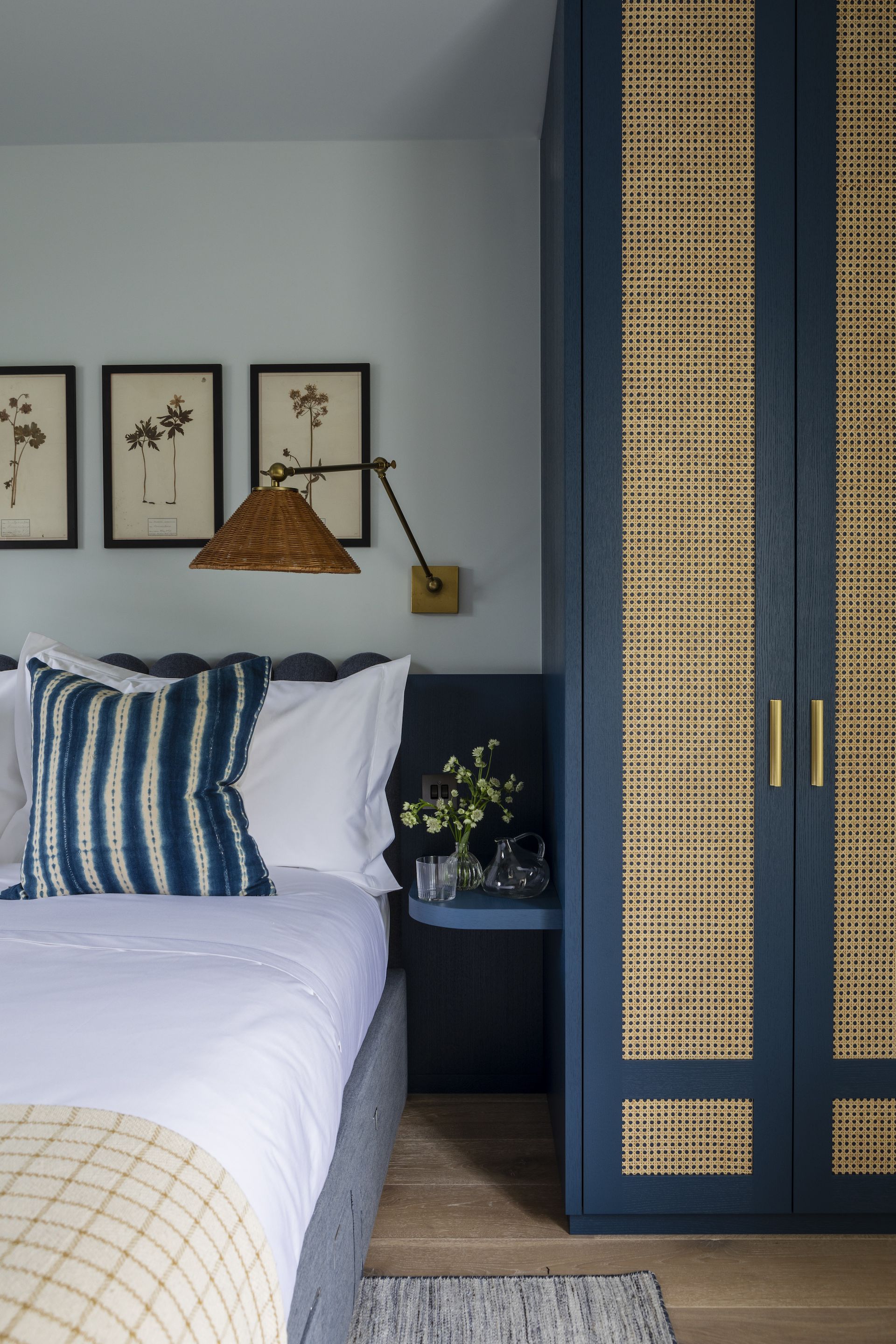 A common small closet organizing mistake is forgetting to make use of the back of the door. If you don't have anything that quite fits begging hung from hooks, then you can use a hanging laundry bag instead, killing two birds with one stone and making use of vertical storage and hiding your laundry, suggests Lauren Saltman, a professional home organizer.
This method is also great for bathrooms and dressing rooms too, she adds, and you can easily use stick-on hooks, such as command hooks from Walmart, to avoid having to drill or use screws.
5. Hide behind a dressing screen
Folding screen room dividers are not the most common item in bedrooms anymore, but they can be a great beautifully sculptural, multipurpose piece for larger spaces, considers Mina Lisanin, award-winning furniture designer and founder of ML Interiors, NYC.
'Placing a folding screen or room divider in front of the laundry basket can both hide it from view and provide a nice private space to get ready each day,' she suggests.
'Opt for a screen that complements the room's aesthetics, such as a patterned or textured one. This method adds an elegant touch and allows easy access to the laundry basket when needed.'
6. Swap out a basket for a chute in a home reno
In large-scale home renovations, it could be worth considering adding a laundry chute from your upstairs bedrooms to your utility rooms or laundry rooms.
This is a much more permanent solution that is best for busy, large homes, but they can be great for helping do laundry quickly and keep your upstairs neat and tidy, suggests Mina Lisanin, interior designer.
7. Use an unconventional basket for laundry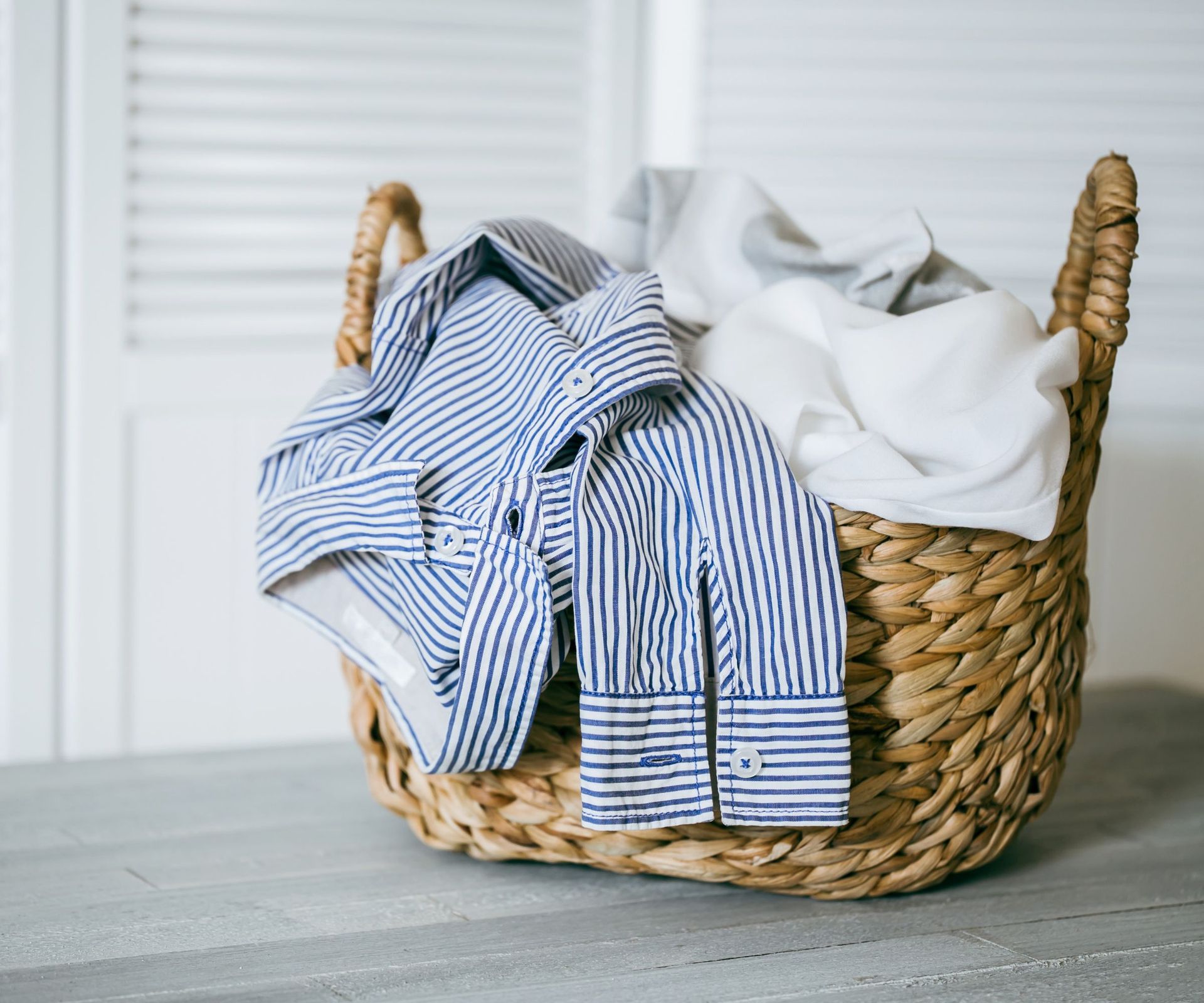 Luxury storage baskets are useful for more than home decor and home organizing. Instead, home organizer Lauren Saltman suggests using them as an alternative laundry basket.
'Consider baskets of various sizes (if they are small, you can use them to ore-sort your laundry), tall and narrow baskets, laundry baskets on wheels, and laundry baskets that are collapsible – all of these will help to make your basket that little bit more functional – whether you put it away when not in use, or use a stouter basket to slide on and off a shelf in a closet.'
FAQs
Where do most people keep their laundry basket?
More often than not, laundry baskets are kept in a bedroom or bathroom, usually in a corner out of the way. These are great places as they keep the baskets functional and within easy reach while getting dressed, but it is not the most attractive option. Picking a decorative basket, or storing it in a drawer or closet instead is a better way to keep your basket without compromising on its functionality.
How many laundry baskets should you have?
How many laundry baskets you have will depend on how many people you have in your home. Ideally, you should have one hamper per bedroom, and maybe one in the bathroom if you frequently get changed in there and it makes more sense to have a drop point than carry it back to a bedroom with you.
---
The trick to hiding a laundry basket is to make sure it is still in a location you will continue to use. Putting it in too tricky a location will deter you from actually putting your laundry away and make sorting clothes for laundry a lot harder when it comes to washing day.
Sign up to the Homes & Gardens newsletter
Decor Ideas. Project Inspiration. Expert Advice. Delivered to your inbox.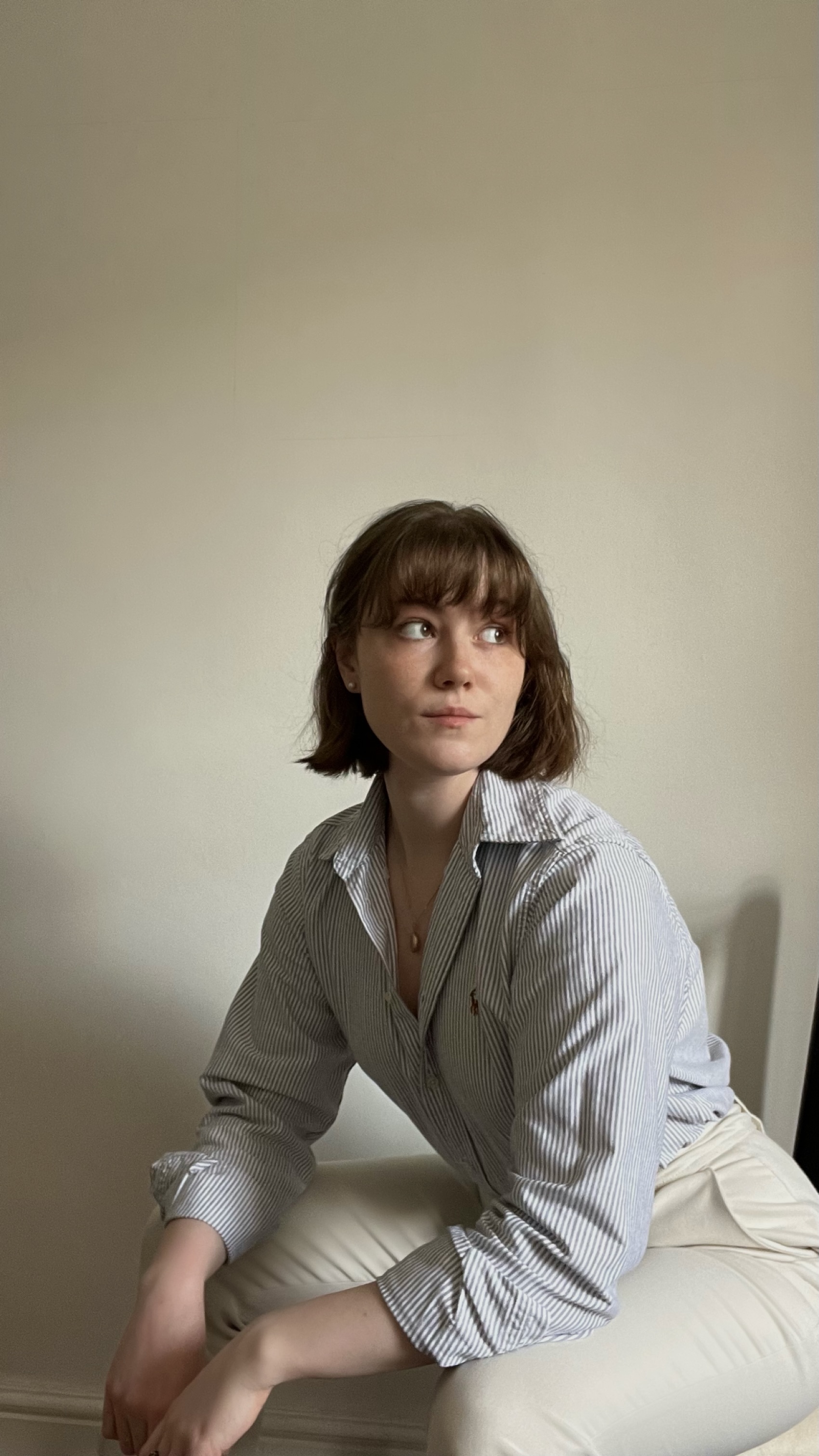 Chiana has been at Homes & Gardens for a year, having started her journey in interior journalism as part of the graduate program. She spends most of her time producing content for the Solved section of the website, helping readers get the most out of their homes through clever decluttering, cleaning, and tidying tips – many of which she tests and reviews herself in her home in Lancaster to ensure they will consistently deliver for her readers and dabbles in the latest design trends. She also has a first-class degree in Literature from Lancaster University.