7 laundry room organizing mistakes to avoid at all costs
Are you making these common laundry room organizing errors?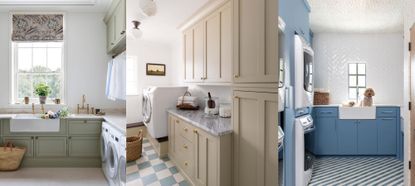 (Image credit: Alex James / Sarah Shields / Kristen Nix)
Sign up to the Homes & Gardens newsletter
Decor Ideas. Project Inspiration. Expert Advice. Delivered to your inbox.
Thank you for signing up to Homes & Gardens. You will receive a verification email shortly.
There was a problem. Please refresh the page and try again.
Laundry rooms are often overlooked spaces because they are primarily functional, whether you have a simple setup in the basement or a more modern space linked with a mudroom. From putting up a shelf and purchasing space-saving organizers to altering the layout, new home organizing ideas make a huge difference to this unsung hero of the home.
There's something particularly satisfying about creating space where there wasn't any in a laundry room because we spend a lot of time doing laundry and small adjustments make this unavoidable task easier.
It could be that we're making some of the common laundry room organizing mistakes that home organizers and designers see time and time again.
Laundry room organizing mistakes
Below, we list seven common faux pas and what to do instead for a functional, aesthetically pleasing laundry room that makes washing, folding, storing and ironing enjoyable.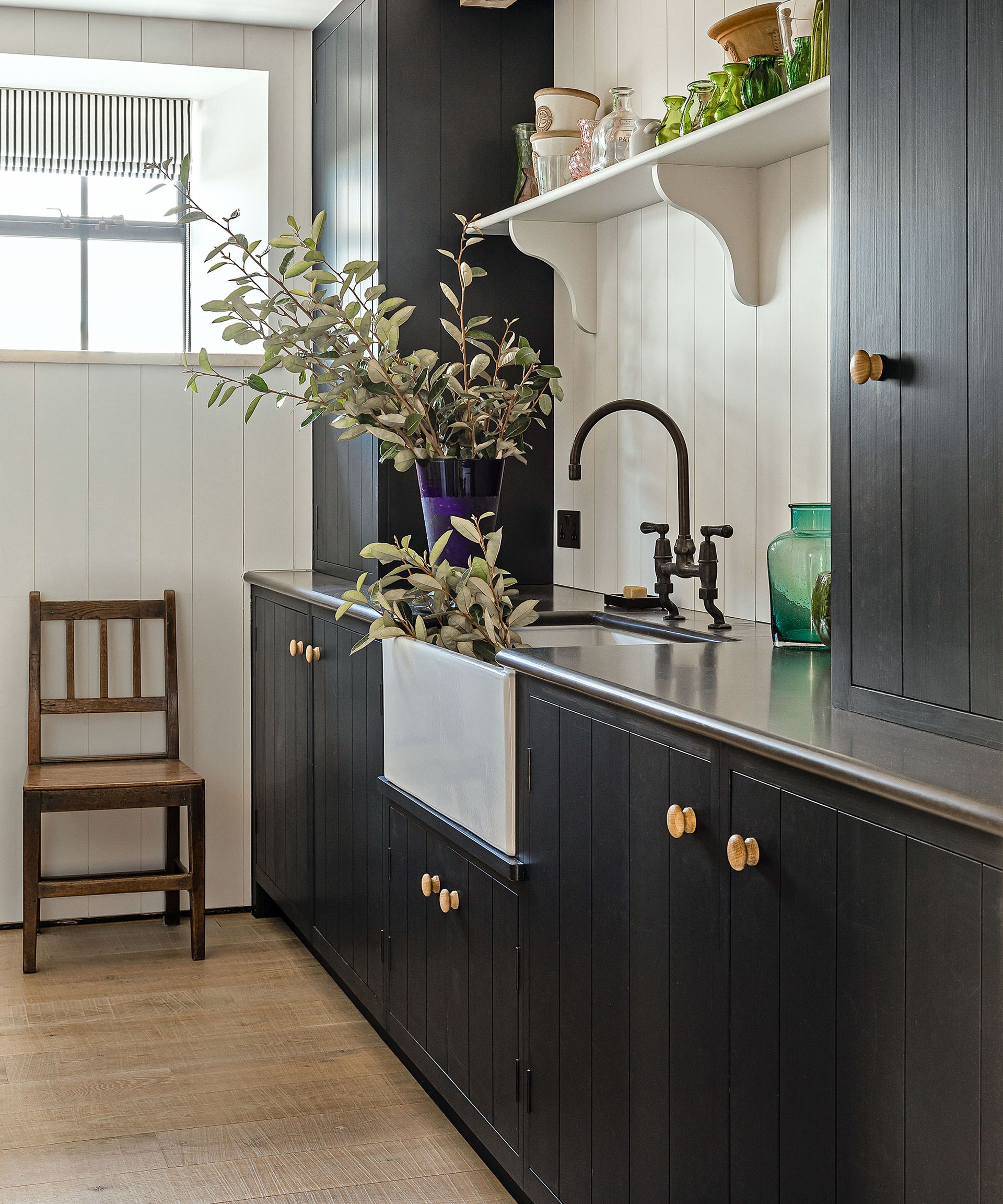 1. Not using the walls
Even if your laundry room is a tiny space with a washer and dryer and little else, consider wall-mounted shelves to keep items off the floor. Laundry room shelving will give laundry detergent and baskets a home, preventing them from ending up on the floor, which can look disorganized as well as making the room feel smaller than it is.
Attach a fold-out drying rack to the wall to maximize vertical space. Wall-mounted drying racks, at Amazon, provide additional drying space in small laundry rooms and are particularly handy for drying towels and bedding out of the way.
2. Forgetting the inside of cabinet doors
The inside of cabinet doors are spaces we always overlook but attach a couple of hooks or an over-cabinet-door organizer, and just like that you have way more space, with your go-to products at your fingertips.
Hang laundry detergent, fabric softeners, and cleaning products on the inside of cabinet doors to free up lots of space on shelves and other surfaces. Chris Alexakis from Cabinet Select recommends using cabinet doors when you have limited laundry room storage space because it keeps items out of sight, therefore creating a less visually cluttered environment. Upper cabinets are ideal for storing cleaning products away from children and pets.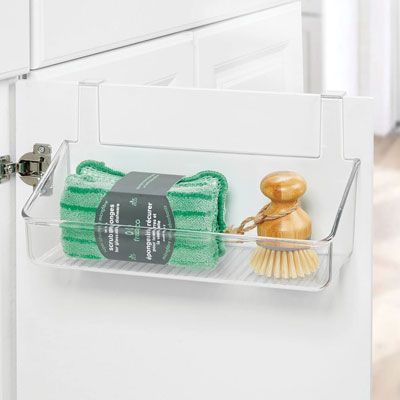 Over Cabinet Door Storage Organizer
This mDesign over cabinet door organizer is made of clear plastic and is handy for holding laundry detergent pods.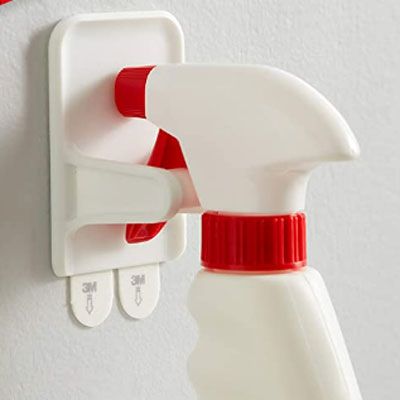 Command Plastic Spray Bottle Hangers
We personally recommend these hooks to keep spray bottles out of sight but within reach, this pack of two is such a great way to save space.
3. Failing to plan ahead with layout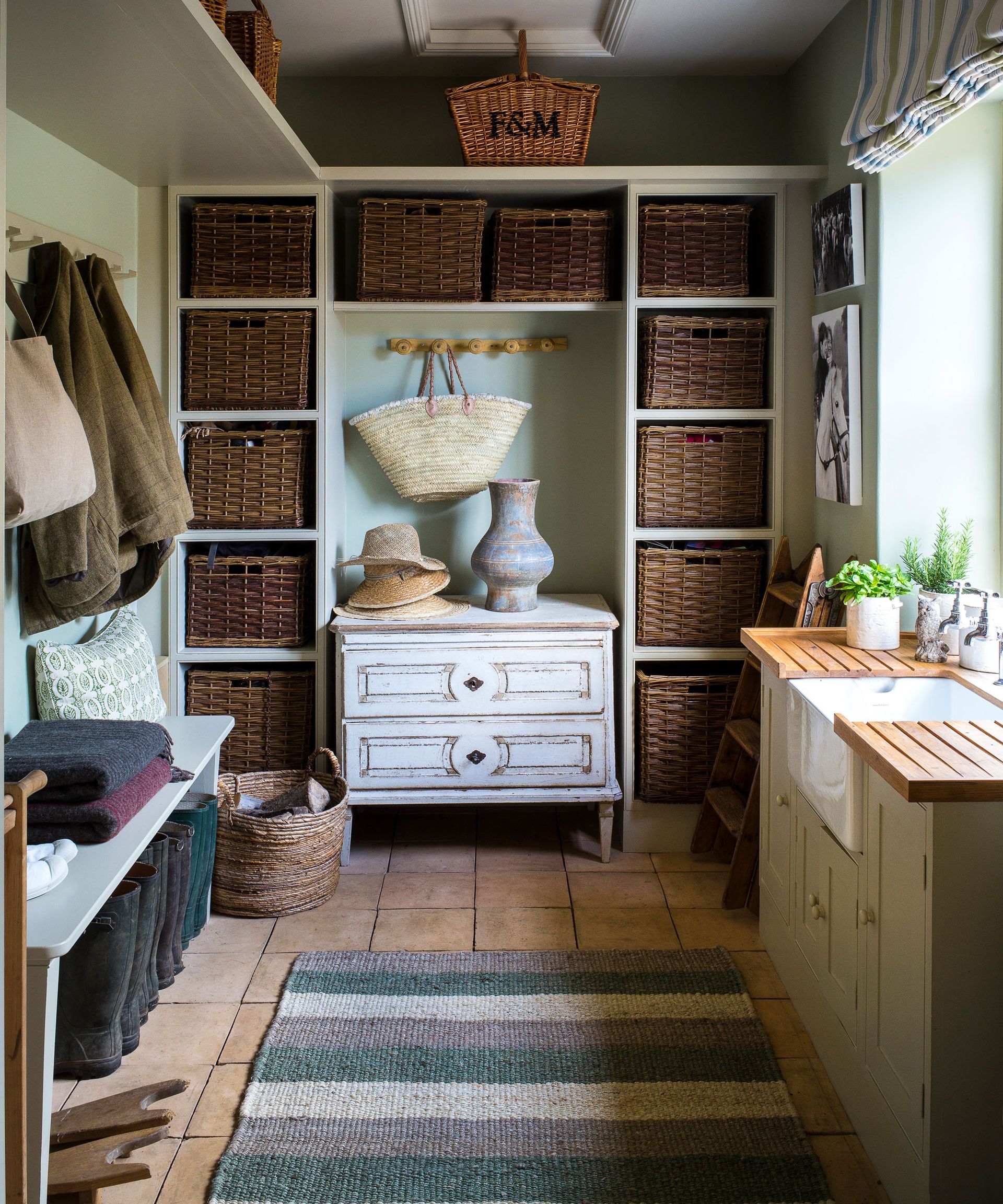 'The first step in organizing a laundry room is to take a step back and evaluate the space,' says Brenda Kosciuk from the parenting blog Paper Heart Family. 'This includes taking note of the size of the room, available storage options, and any existing features that might affect your organization plan.
'Once you understand the space well, you can start planning how to make the most of it,' she says. Take an inventory of how you use the space what you actually use and what is clutter.
4. Not zoning
Not having any kind of system can lead to clutter and chaos, so take a moment to look at the space critically and consider how you might be able to create small zones or designated areas for specific tasks. For example, you could keep laundry detergent in its own container on a shelf right next to or above the washing machine, and keep stain removers in a separate basket or organizer near a countertop where you'll have space to treat stains before washing. Any products you might use in the dryer you could store in another container by the dryer.
'Having each category in a container with handles and room for microfiber cloths, at Amazon allows you to grab it and take it to the specific areas to clean,' agrees Brenda Scott. 'Have what you need handy to complete the task of laundry and cleaning. Fewer steps = less time wasted.'
Brenda is passionate about home organizing, decluttering, and creating a safe home. At Tidy My Space, she helps people to keep their homes tidy when life gets busy. Brenda shares useful tips and gives practical help with sorting and editing her clients' spaces, leading them to feel less stressed and bringing the luxury of time to be spent with family, friends, or on themselves.
5. Not trying new things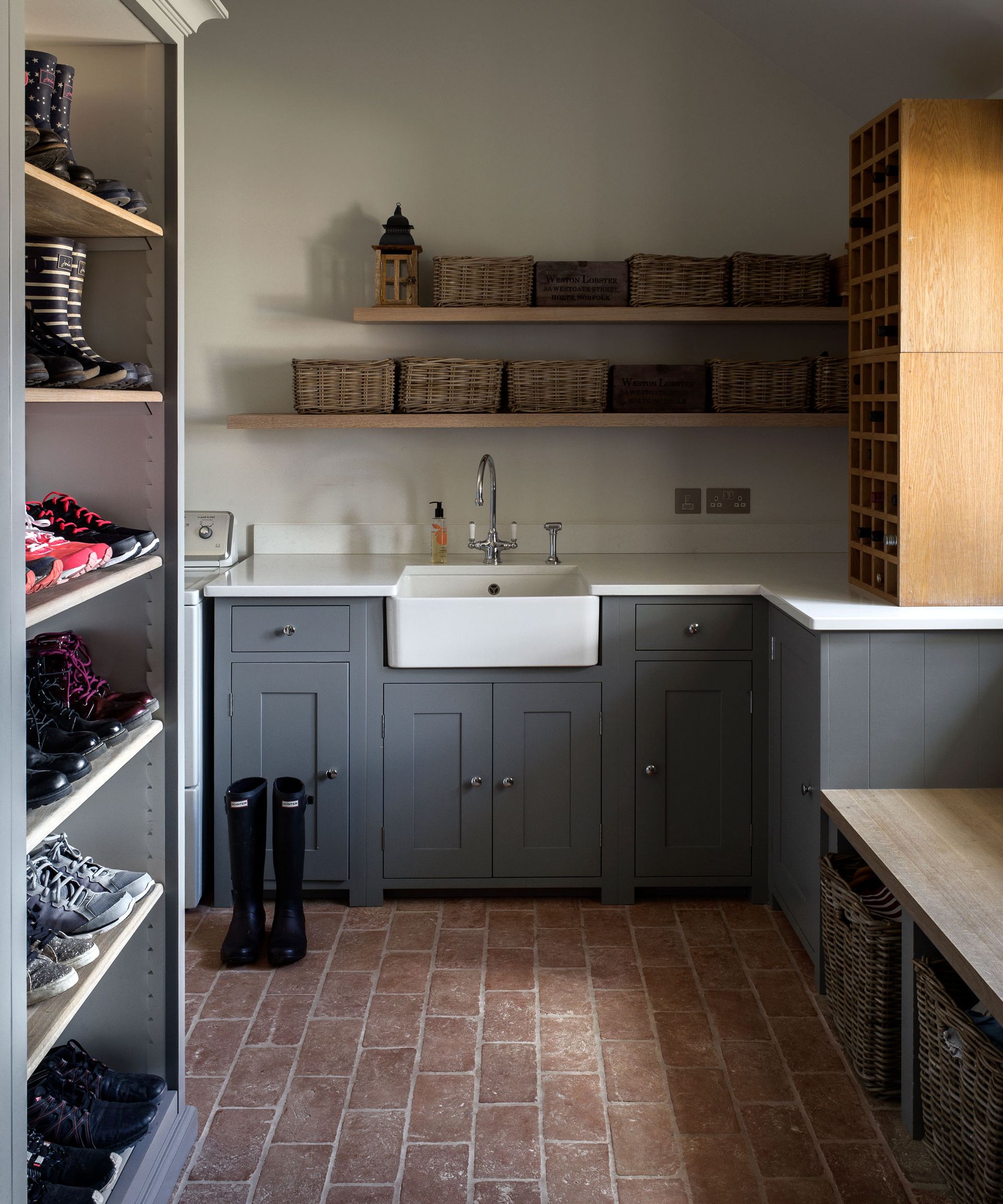 Experiment with different organizers and storage solutions and you might be surprised at how much more functional the space feels. Raf Michalowski designer at Meble Furniture encourages clients to incorporate multiple storage solutions such as open shelves, wall-mounted cabinets, or rolling carts, at Wayfair. 'Adding some hooks and hangers is also a great way to save space and keep things organized,' he says.
6. Blocking pathways
'Another mistake to avoid is not providing enough open space in the laundry room,' says Chris Alexakis. 'Keeping aisles and pathways clear will help improve the flow of traffic throughout the laundry room, allowing for easier access to items and reducing the risk of tripping or bumping into things.'
7. Not color coding
'On a personal note, I always make sure to incorporate some fun colors to make the space more vibrant and lively. One unique tip that has worked wonders for me is using color coding to sort my laundry,' says Brenda Kosciuk. 'I purchased different colored laundry baskets for whites, darks, and colors and even added some colorful hangers to separate clothing items.
'Not only does this help keep my laundry organized and efficient, but it also adds a fun and playful touch to the room. I find myself actually looking forward to laundry day just to see the burst of colors in my laundry room!'
FAQs
How can I make my laundry room more functional?
Katie Stephenson, interior designer at Stephenson House suggests taking three steps: raising the height of your washer and dryer, building a pull-out drying rack and arranging cabinets, appliances and countertops in a way that maximizes storage capacity.
By bringing a washing machine up on a custom-built platform, you create space to store laundry baskets below and means you don't have to do laundry hunched over. Given the growing trend for being sustainable at home and with our clothes, Kate says there's a bigger need for drying space.
'Rather than installing a standard hanging rod, many of our clients are electing to build pull-out drying racks with a mesh bottom that slide forward in typical drawer fashion,' she says. Finally, if you can place the washer and dryer at one end of the cabinetry run where the countertop height can be higher to accommodate the machines, then drop the counter to standard height, this will make for a more comfortable workspace for folding, stain treatment and ironing.
What should and shouldn't be stored in a laundry room?
Raf, an interior designer and founder of Meble Furniture says items that should be stored in a laundry room include detergents, fabric softeners, stain removers, ironing boards or mats, and laundry baskets. Items that should not be stored in a laundry room include items that can cause cluttering, such as extra furniture or appliances. It is also important to avoid storing items that will emit strong odors, such as paint or solvents, he says.
Avoid storing food or perishable goods as they could be affected by moisture and warmth. 'Never store poison or outdoor chemicals near indoor cleaning products. It's too easy to grab the wrong one and cause a disaster,' warns home organizer Brenda Scott.
How should I rearrange my laundry room?
Rearrange your washer and dryer so that the doors don't obstruct your movements when open. 'For example, if the dryer door has a right side hinge and the washer door has a left side hinge, when the doors are open (when you're loading and unloading) you want to be able to stand and reach into the machine and transfer the clothes without the open doors blocking your movements,' says Brenda Scott of Tidy My Space.
'Therefore have the appliance with the left hinged door on the left and the right hinge door on the right. If you have a top-loading set of machines and you're finding it difficult to reach down to transfer clothing, invest in a platform to raise the units up and switch to front-loading,' she says.
Sign up to the Homes & Gardens newsletter
Decor Ideas. Project Inspiration. Expert Advice. Delivered to your inbox.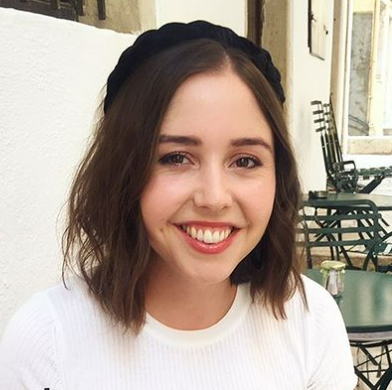 Millie Hurst is Section Editor at Homes & Gardens, overseeing the Solved section, which provides readers with practical advice for their homes. She has been in the world of digital journalism for six years, having previously worked as Senior SEO Editor at News UK both in London and New York. She joined the Future team two years ago, working across a range of homes brands. Millie formerly worked as Senior Content Editor at Ideal Home, taking care of evergreen articles that help and inspire people to make the most of their homes and outdoor spaces. Millie has a degree in French and Italian and lives in North London.