7 essential rules for buying towels, according to an industry insider
If you don't want to end up with rough, limp-looking towels, you would be wise to follow these smart buying tips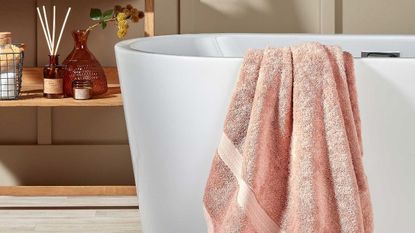 (Image credit: Christy)
It may feel like an exaggeration to say that towels can make or break a bathroom. But if you've ever seen a beautiful marble scheme ruined by garish wash cloths, or reached out of a friend's shower to grab a towel that's more likely to exfoliate than dry, then you'll appreciate our rules for buying towels.
Buy well, and your towels will enhance your bathroom ideas. Lucy Ackroyd is head of design for Christy Towels, a company that's been weaving towels for 170 years. 'It's a mistake to buy lower quality, cheap towels that basically aren't going to last,' she says. 'You'll likely bring them home, only to find that after a dozen washes they've started to lose their color. Or a seam has come undone. Or they simply look flat and miserable. You're far better to invest in the best quality that you can, and be repaid with a towel that not only washes beautifully, but that lasts for years. It's also so much better from a sustainability point of view to buy once, and buy well.'
But how do you really know that you're buying well? Lucy has come up with some tell-tale signs of a good towel, as well as some red flags.
Where to buy the best towels
Bed Bath & Beyond: Grab 20% off a single purchase of 100% cotton terry bath towels
Macy's: a time-limited special on Ralph Lauren bath towels
Nordstrom: half off the Nordstrom quick-dry 100% cotton bath towel
Target: 100% cotton XL bath towels starting at $9
Williams Sonoma: personalised, Turkish cotton towels
7 rules for buying towels
Our rules for buying towels focus on recognizing quality, understanding what sizes you'll need, and appreciating the special care that certain towels will require.
Follow them, and whether you have a small powder room or a luxury bathroom, your towels will enhance the space, rather than detract from it.
1. 100% cotton is best
Not all towels are made equal – in fact, many will have some extra 'ingredients' that claim to enhance the look, feel or longevity of your towel. But Christy's Lucy Ackroyd believes that they're best avoided.
'Historically, Christy has done some really interesting mixes with fibers, including silk, but we've always come back to 100% cotton. You may see towels that contain a fiber called Tencel, which adds a slight shine to the towel and is said to improve its drape and durability. But in my view, it feels a little slimy, and just doesn't have the same feel of absorbency and softness that 100% cotton has.'
Lucy can't over-emphasize the use of 100% natural materials in towels. 'If you do add synthetics, such as an element of polyester, it affects the way that that the towel absorbs, the way that it dries. And the way that it feels,' she says. It's also an important factor when it comes to sustainability, as 100% cotton towels are much easier to reprocess and recycle.
2. Egyptian, Turkish and Supima cotton are the gold standard
Now we've established the benefits of 100% cotton towels, we need to distinguish between the types of cotton available. Your towel storage ideas won't look so 'ideal' if your towels are flat as opposed to fluffy, and cotton choice can play a part in how well your towels hold their softness.
'At Christy, we offer nothing less than combed cotton,' says Lucy. 'Combed cotton is a higher quality of cotton that's gone through an additional combing process that aligns all the fibers in the yarns. It gives added silkiness. Think of combing your hair – it feels softer to the touch when all the fibers are running in the same direction.'
'Then, if you want to go even more premium, look for recognized type of cotton – ideally Egyptian, Supima or Turkish cotton. These have the longest, most stable strands of fiber that spin together to create the silkiest and most durable yarns. They will last longer, hold their softness longer and stay fluffy longer.'
As for the differences between the three cottons, it's mainly a historial and geographical one, as the quality is very similar – all three are known as 'extra long staple cottons'.
'Supima is the brand name of pima cotton, which is grown in the United States. Egyptian is obviously from Egypt, where it's been grown for centuries,' Lucy explains. 'Today, production is very tightly controlled. The cotton must be grown in a particular region of the Nile Delta to be properly called Egyptian cotton.'
Turkish cotton is also highly respected in the towel industry for its quality. And you may come across rare fibers such as Sea Island cotton, which is grown in the Caribbean and is another 'extra long staple cotton'.
3. Pay close attention to the GSM
Just as the quality of bedlinen is indicated with a thread count, towels have their own measure given as a weight – grams per square meter, or GSM.
Roughly speaking, the higher the thread count, higher the quality of a sheet, and the more you're likely to spend on sheets. With towels, the higher the GSM, the thicker and more luxurious the towel will be.
'Our most luxurious towels sit between 650 and 700 GSM,' Lucy explains. 'I'd caveat that if you get much heavier than that, the towel becomes almost unwieldy. It's certainly much more difficult to wash the towels and much trickier to dry. I would say that 650 to 750 GSM is the sweet spot for a towel that feels luxurious and plush, but that is also practical.
'There are other considerations. If it's a towel that you just want to be able to fling in a bag and take to the gym, or if you're a busy mum or dad that just needs to get the laundry washed and dried quickly, you probably want a slightly lighter, more practical towel. In which case, you might go for something between 500 and 600 GSM.'
4. Zero- or low-twist cotton towels will need special care
Have you ever encountered zero-twist cotton towels? Lucy describes them as 'the fluffiest, softest towels you'll ever see in a store'. 'It almost looks like cotton wool has been woven into the towel. At first squeeze, it's absolutely irresistible.'
'However, what many people don't know is that zero-twist cotton towels rely on being tumble dried to keep that cloudy, fluffiness,' Lucy explains. 'So, if you don't have a tumble dryer for space, cost or environmental reasons, zero-twist towels can be a disappointment in the long term.'
So what will happen to them? 'If you dry them outdoors on a line, or indoors on a radiator they can become a bit stiff and flatten out,' says Lucy. 'Once that's happened, you'll never quite get that store-bought fluffiness back again, not even with a tumble dryer.'
So sadly, if a zero-twist cotton is neglected, our tips on how to soften towels simply won't work.
5. If you want luxury, choose bath sheets over bath towels
Lucy Ackroyd is definitely not on the fence when it comes to the bath sheets vs bath towels debate. 'I'm a bath sheet girl, all the way,' she says. 'I just don't think there's anything nicer than being properly kind of snuggled in in a full bath sheet. Especially when it's cold outside and you want to keep warm and cozy – it's like a great big hug, having a huge bath sheet to go around you.'
'Some bath towels are too small to even fasten around you properly – they're better suited to wrapping up your wet hair or taking to the gym.'
6. You'll need two sets as a minimum
How many towels you choose to have at home will depend largely on the size of your family and how much bathroom storage you have. However, Lucy always recommends you have a minimum of two sets of towels per person 'one in the laundry, and one in use'.
As for the types of towels, it's not necessary to have the full 'Monica Gellar' list of guest, fancy guest, etc. 'I personally suggest that each "adult set" contains one bath sheet, one bath towel, one hand towel and a couple of face cloths, says Lucy. 'That's a really nice mix. You'll then need guest towels for every half bath or power room, and perhaps a couple of fingertip towels for areas like the kitchen or .
'Of course, if you've got the luxury of storage, by all means have more. It's great to play with color schemes seasonally, for example. Or, on the other hand, if you are really struggling for space, you could get away with a couple of sets of hand towels and bath sheets each. But two sets is a must.'
7. Guest towels are best for a powder room
When it comes to smaller bathrooms, choose guest towels over hand towels for drying hands. Their reduced width makes then easier to style – Lucy loves their 'neat size' and how they 'hang beautifully'. Whereas she finds hand towels 'more cumbersome'.
'Because they are more affordable, and come in a much wider choice of designs, you can ring the changes so easily by adding a fresh hit of pattern and color with guest towels,' says Lucy. 'I have a style confession to make, which is that I actually do have a Christmas towel. The "Rudolph" motif might not be to my usual designer standards but it makes me smile.'
Editor-in-Chief, Homes Audience
Amy Cutmore is Editor-in-Chief, Audience, across Future's Homes portfolio. A homes and interiors journalist of 20 years standing, she has spent much of that time writing about technology, appliances and kitchens. While other people count how many countries they've visited, Amy tots up how many countries' washing machine factories she's toured (it's eight by the way, from South Korea to Slovenia). She can't leave the house without a decent pair of noise-cancelling headphones, and is always ready to explain an acronym – be it QLED, DAB or HDMI.