Small powder room ideas – 10 ways to design and decorate this bijou space
Your small powder room may be the tiniest space in your home, but that doesn't mean it shouldn't pack a decorative punch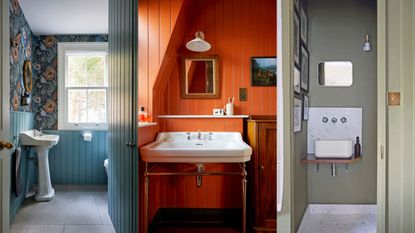 (Image credit: Future)
Small powder room ideas are a smart addition to any home – no matter the size or shape. Whether you're planning an under-stairs conversion, a new use for an unused laundry room or an extension, a small powder room is always worth the extra investment.
These clever powder room ideas or cloakrooms (if you're from the UK) will help you revamp an existing WC – or make the most of unused space with an additional loo. It will punch well above its weight in terms of household usefulness.

Small powder room
A beautifully finished small powder room really makes a difference to the way you start and end your day. So if you're planning a powder room refurb, it's important to consider a few key things before you start, from space planning and storage to flooring and fittings; it really does make all the difference between a basic powder room and a beautifully functional space. Use the following steps to guide you through the best bathroom ideas and half bathroom ideas for your small powder room.
1. Consider a floating vanity
Bathroom storage and furniture is essential to prevent clutter and create a calm bathroom. In a small space, maximize efficiency with a fittings that appear to 'float' of the ground.
'We kept things light and bright for this small powder room with gorgeous neutrals and natural materials,' says Lindye Galloway, founder and chief creative office of Lindye Galloway Studio + Shop. 'The floating powder room vanity helps to open the lower portion of the space and gives the illusion of a larger room, while the luxe marble top provides ample counter space.'
'A decorative basket is placed underneath for further storage needs, and an eccentric lighting fixture caps off this serene spot.'
2. Incorporate storage into the alcoves
'Just because a space is small, it doesn't mean you can't be clever or playful with color choices, styling or storage ideas,' says Tom Rutt, director of TR Studio.
'We often have to be creative when it comes to small powder rooms within projects, from using bold dark colors and finding clever ways to incorporate storage through built in alcove shelving and recessed walls areas.'
3. Use a large scale wallpaper to add impact
'In a small powder room it's best for things to feel generous. This will need to be tailored to your home, but an idea is to include powder room wall decor that truly sings, such as vibrant wallpaper, or you could even accessorize with statement designs. Do at least one thing with gusto to make the space feel less mean.
'Taking this empty, white space to the next level in the simplest way to add impact – wallpaper,' says Karen Wolf, creative principal and owner of Karen B. Wolf Interiors. 'This traditional powder room feels more "finished" and makes the mirror and light fixture installations pop.'
4. Introduce a shower in a diminutive space
If space allows, your home can benefit from having an extra shower. If your walk-in shower is small, the best way to enhance space is with materials that make the room feel bigger.
We've noted a rise in polished plaster – both traditional tadelakt and the more modern microcement – in wet room designs and the results are stunning. Built up in layers, the finish is waterproof and seamless, so there's no grubby grout to tackle.
In this small powder room, designed by TR Studio, beautiful shower floor tile ideas turn this space into a diminutive haven.
5. Team a mirrored wall with a mural
The perfect place to experiment, the modern powder room should be a fun and interesting space to admire.
'I love the mix of elegant wallpaper and sconces, with the more casual vanity, it's the perfect balance,' says Julie Ann Witt, owner and principal designer of Julian Design Inc. 'I find that wallpaper immediately elevates the space, no matter the room! The full wall mirror creates the illusion of more space and reflects the pattern of the wallpaper so it really wraps the room.'
6. Up the elegance with sophisticated fittings
A powder room is a good chance to use more luxurious materials, since you will require less of them.
'Here, a textural, two-toned striped wallpaper enhance height and space in this small powder room, while the rich teal wall paneling ideas help to anchor the room beautifully, says says Clara Ewart, head of design at Kitesgrove.
When it comes to elevating a small space using luxurious elements James Lentaigne, creative director, Drummonds agrees: 'Use mirror and reflective elements for a sense of space and luxury, then light it all beautifully. Choose lights from a variety of sources – this could be spots for areas you want to highlight and wall lights on a dimmer to alter the mood from day to night. If you're going all out for glamour, you might even consider a chandelier!'
7. Mix traditinal and contemporary styles
'Traditional tongue and groove paneling can be given a modern twist in an instant with the addition of a bold and playful wallpaper,' says Kate French, creative director at Dado. 'Almost kaleidoscopic in nature the 'Sapo' wallpaper by Amechi for Dado, in blue hued 'Seaglass', is a lively hazy zig-zag that will bring a contemporary nod to traditional spaces, pair with a bright red mirror or bathroom cabinet for extra design impact.'
8. Be creative with your material choices
'Small spaces still offer a lot of creative opportunities, whether it be the ceiling, floor, base molding, or even the mix of materials. 'Here, we used the ebonized walnut, monkeywood, rosewood and dark bronze,' says Mick De Giulio, designer and president of de Giulio Kitchen Design.
9. Monochromatic with a twist
'Although technically monochromatic, this wallpaper design has shades of gray to soften it, making it a good choice for this small powder room,' says Lucy Searle, global editor in chief, Homes & Gardens. 'The small vanity with its miniature marble basin is a perfect fit for this space – the stainless steel legs makes it feel light visually. An oval shaped mirror elongates that wall as opposed to a round one which would do the opposite.'
What can I put in a small powder room?
There are many elements you can put in a powder room to make it feel like part of the home. For small spaces, choose wall-hung fittings so you can see as much floor as possible (a simple visual trick to make the room seem bigger). For an uncluttered aesthetic, choose a concealed cistern. If you've not got much scope for storage space, try a wall-hung vanity unit – just make sure the wall can take the weight.
If you have the budget for it, electric underfloor heating can make a huge difference to how the space feels underfoot on a cold morning. Good systems can be programmable to come on before you wake up, or linked to smartphone apps for you to control remotely.
Sophie has been an interior stylist and journalist for over 20 years and has worked for many of the main interior magazines during that time, both in-house and as a freelancer. On the side, as well as being the News Editor for indie magazine, 91, she trained to be a florist in 2019 and launched The Prettiest Posy where she curates beautiful flowers for modern weddings and events. For H&G, she writes features about interior design – and is known for having an eye for a beautiful room.