Best bath towels 2023 – expert-tested terry cotton and waffle towels
Whether you prefer fluffy terry or flat waffle towels, these are the best bath towels you can buy, according to expert testing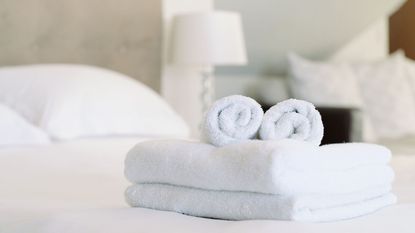 (Image credit: Getty Images)
Sign up to the Homes & Gardens newsletter
Decor Ideas. Project Inspiration. Expert Advice. Delivered to your inbox.
Thank you for signing up to Homes & Gardens. You will receive a verification email shortly.
There was a problem. Please refresh the page and try again.
A bath towel is essential, but the best bath towels have the ability to utterly upgrading your comfort, turning even the tiniest bathroom into a fancy spa. Making a mundane part of your routine into one of life's little pleasures, wrapping yourself in one of the best bath towels can feel like a true luxury.
But premium bath towels can be expensive. What's more, finding towels that tick all boxes, without a big price tag, can be pretty tricky.
I've tested some of the best bath towels on the market, so you can rely on my trying before you buy. Assessed for material quality, absorbency, and softness as well as style, price, and how well they wash, six towel sets stood out. Whether you want to treat yourself to a fresh set, or you're needing to replace your current threadbare bath towel, these are the best towels to buy.
Just like the best bed sheets, I've made sure to include the type and style of each towel set so you can choose based on preference. Waffle towels and those made of terry cotton are the two most common types, but it all depends on if you prefer a thin, quick-drying towel or one that's fluffy and absorbent.
Best bath towels, tried and tested
You can trust Homes & Gardens. Our expert reviewers spend hours testing and comparing the latest products, helping you choose the best for you. Find out more about how we test.
The towels below have my (and many customers) seal of approval. I've reviewed, or am in the process of trying out all of these bath towels. Including cotton, linen, and organic options, available in lots of colors and styles, there's a set that suits you, and your bathroom.
Best bath towels 2023
How I test bath towels
When it comes to testing towels, it takes a little more than just showering and drying ourselves off. There's softness, size, how absorbent they are, how well they wash, and how long they take to dry to consider. We have testing guidelines if you want more insight into how we test products.
Otherwise, the process is as follows: Firstly, I take the time to measure the towels, It's not just because oversized towels allow for a cozier feel. It's because each standard bath towel can vary in size, and I want to check the real measurements against the manufacturers' claims.
This also allows me to see if the towels shrink in the wash. I wash the towels before use, checking for fraying, shrinkage, and change in softness. During use, I'm then taking into account absorbency, feel, and how well they dry. Timing how long they take to air-dry in my bathroom allows for a controlled assessment of what type of bathroom space they will be best for. All of these factors will be compared against the cost of the towels to see whether they're worth the spend.
How to choose the best bath towel for you
There are a lot of types of towels to choose from, and finding the right set for you can be overwhelming if you're not sure what to look for. To help you discover the best bath towels, I've spoken to the experts for their buying advice. While there are a lot of rules for buying towels, the three main things to be on your checklist are material, size, and style:
Material
Genevieve Rosen-Biller, Founder of Bed Threads, suggests that you should always 'opt for towels made from natural fibers, as they absorb moisture better than synthetic and are also more moisture-wicking. This means they'll dry faster once hung up, reducing dampness in your bathroom and staying fresh for longer.' The most common towel materials are cotton and linen, but both have very different properties.
Cotton towels: Scooms founders Emily and Jonathan Attwood state 'Cotton - in particular premium long-staple cotton - is the perfect towel material as it is breathable, absorbent, soft and cozy.' They argue however that 'finer longer staple cotton produce the best towels - think Egyptian, Turkish and Pima cotton.'
Linen towels: By comparison, Genevieve Rosen-Biller proposes linen. 'It has a higher moisture absorbency than cotton, is stronger and more durable than other fabrics, can hold up to 20 times its weight in water, and also dries faster.' The type you choose is generally down to personal preference.
There are eco-friendly options you can consider, too. Flax linen, for example, uses the full plant in the process. 'It's fully biodegradable and uses 420 times less water than cotton to cultivate' explains Rosen-Biller.
Since towels come into regular contact with your skin, it's also worth looking for the OEKO TEX certification, which ensures textiles are free from potentially harmful toxins. Checking the label or material of all towel types is the best way to ensure your getting the correct composition and not falling for polyester blends.
Emily and Jonathan Attwood
Emily and Jonathan Attwood are the founders of luxury bedding and textile company, Scooms.
A few years ago, with their family, they moved back to Surrey from California, where Jonathan had been working for a digital health start-up company. They needed new duvets, pillows, and bed linen, but it was impossible to find the quality they wanted. They then decided to create their own ideal environmentally-friendly, sustainably sourced duvet, pillow, and bed linen set. The latest addition to the product line was 100% pure Egyptian cotton towels and bath mats.
Genevieve Rosen-Biller is the founder of French flax linen company, Bed Threads. Whilst juggling her side hustle and working full-time at Body+Soul, she launched her Bed Threads website live on August 2017.
Size
Standard sizes differ, and the size of the towel you choose is ultimately down to personal preference. Some prefer a larger towel like a bath sheet. These are cozy in winter and cover all if you need to dash from the bathroom to your bedroom. Others only need a small towel to dry off as required. 'Going for a generous size towel with plenty of coverage will feel more luxurious.' says Rosen-Biller.
It's worth noting that bath towel sets and bundles offer better value for money. Having either a bath sheet or bath towel and a hand towel to match is a good idea. But if you can get both, do.
Style
The color and finish of your towels will make a difference in how luxurious they look. White bath towels are classic and ooze style. However, they're a little obvious, and more importantly, they can stain quite easily. Rosen-Biller adds that 'a new set of stylish towels is also a fantastic way to bring texture and color into your bathroom space. Brightly-colored textiles will draw the eye to them (and distract from features you don't love).'
Small details and touches also matter – if you don't have a rail to hang your towel from, for example, you're going to want to make sure your towels have loops you use to hang them from hooks.
FAQs
What GSM?
When buying new towels you're likely to find a GSM rating on each product. But what does it mean? Similar to thread count, GSM refers to the weight of the towel in grams per square meter. GSM can range from 300 GSM to 900 GSM. 'GSM can be a good indicator of quality,' say Emily and Jonathan Attwood; 'the higher and denser the cotton loops that make up the pile, the higher the GSM will be.'
We'd recommend a GSM rating around 700 for luxury towel options. These tend to be the softest, most absorbent towels. If you prefer a lightweight towel that will dry quicker, a rating of 300-500 is fine.
How much should a good bath towel cost?
Towel prices can vary. You're able to pick up cheap towel sets from Amazon that will cost less than $30 for a bundle, but there are also premium options with prices that span into the hundreds. A good bath towel, standard size will cost around $40, and you should expect prices of around $100-$150 for sets and bundles. Bath towel bundles typically include a bath sheet, bath towel, and face clothes at a reduced price as opposed to being bought separately. They're worth the money and it's always better having a spare towel you can swap out for when you come to wash them.
Great towels made of high-quality durable materials can last around 3-5 years, so it's worth spending more if you can. That being said, if you're looking to add interest to your bathroom with a bright-colored bath towel, opting for a cheaper option could be better.
---
Buying one of the best bath towels will really make a difference to your wash routine, and how great your bathroom looks. And since I'd recommend investing in the most luxurious option, how well you look after your towels will impact their quality. After you've treated yourself to a fresh towel set, it's worth learning how to wash towels, properly. This way, you can enjoy a spa-like experience, for longer.
Sign up to the Homes & Gardens newsletter
Decor Ideas. Project Inspiration. Expert Advice. Delivered to your inbox.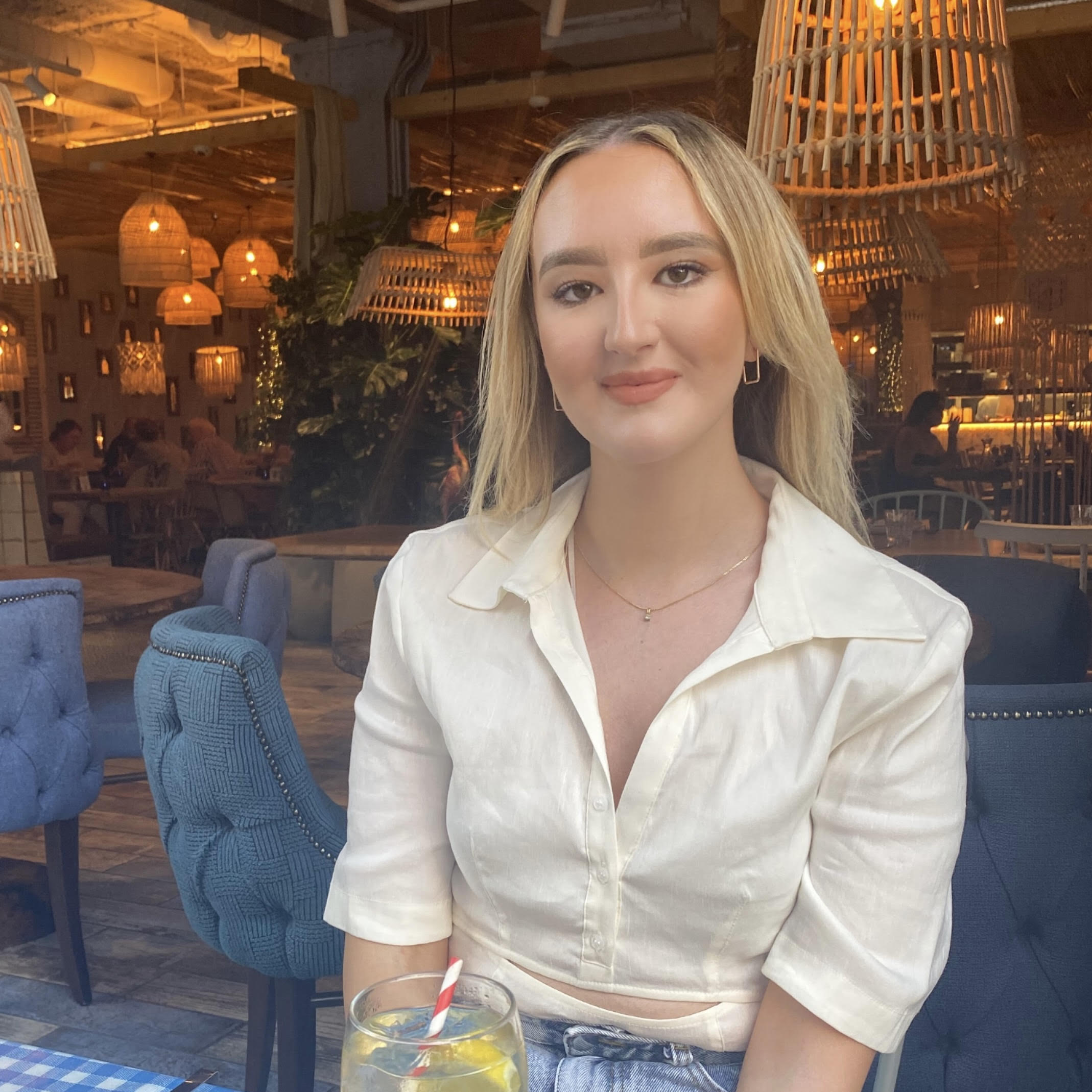 Louise is your eCommerce Editor and sleep specialist to help you wind down well. A connoisseur of the mattress world, Louise previously covered sleep and wellness (as well as the occasional organizational buy) at Real Homes, and has tried, tested, and reviewed some of the buys for your bedroom. With an MA in International Journalism and PR experience, Louise brings bags of bedding expertise and enjoys nothing more than helping readers find solutions and products that best suit their sleep needs.