Can you wash memory foam pillows? The right way to keep them fresh
Can you wash memory foam pillows? Get the lowdown on hygiene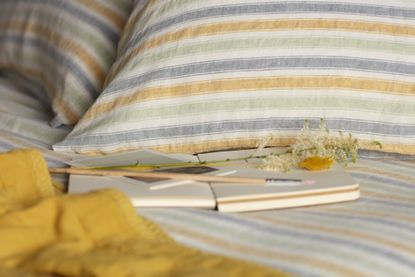 (Image credit: The Secret Linen Store)
Can you wash memory foam pillows? You spend many hours every night with your head on a pillow, so ensuring it stays as hygienic and fresh as when it was purchased is important.
And while a pillowcase protects a memory foam pillow and is washed frequently, the pillow itself does require cleaning from time to time, too, to maximize the hygiene of a bed.
Here, we explain how to wash a memory foam pillow without damaging its filling with laundry ideas from the experts.
Can you wash memory foam pillows?
Asking: can you wash memory foam pillows? This guide will provide you with the details on how to wash a pillow made with memory foam.
First, check the tag's laundry symbols. If it stipulates dry cleaning, then washing is out.
If it doesn't, both spot cleaning and hand washing can be possible.
Want to wash pillows in the washing machine? As a rule you can't wash a memory foam pillow this way. 'Memory foam should not be put in the washing machine as it will become saturated with water and damaged,' says owner of Bed Guru Carl Walsh.
There are exceptions to the rule, and we are aware of some pillows that contain memory foam that can be machine washed, so always check the manufacturer's guidance.
How to spot clean a memory foam pillow
Want to wash a memory foam pillow because it has become stained? The solution is to spot clean it. 'Mix a mild detergent with water until it bubbles, then gently rub the solution into the stain with a sponge until it comes out. Allow to air dry,' advises Carl Walsh.
Repeated applications can be on the agenda. 'You may need to do this multiple times before the stain is fully removed,' says Jessica Samson, a cleaning expert at The Maids.
How to deodorize a memory foam pillow
The reason you might want to wash a memory foam pillow is because it doesn't smell fresh anymore. If so, you can clean with baking soda to solve the problem.
'Take off the pillowcase and lie the pillow on a flat surface,' says Carl Walsh. 'Sprinkle baking soda over your pillow before leaving it in direct sunlight for around two to three hours. Then vacuum off the baking soda thoroughly. It should be smelling good as new.'
How to deep clean a memory foam pillow
If spot cleaning and deodorizing aren't sufficient, it might be possible to deep clean a memory foam pillow. Before you go ahead, though, check the manufacturer's instructions on the label, and don't do this with a dry clean only pillow.
'Fill a container (large enough to lie your pillow flat in) or a bathtub with lukewarm water and some gentle detergent,' recommends Carl Walsh. 'Submerge your pillow. Once submerged, squeeze your pillow a few times to allow the warm soapy water to clean inside your pillow. Empty the water from the container or bathtub, and repeat the above steps until the water runs clean out your pillow. Once the water runs clean, gently squeeze your pillow to get rid of as much excess water as possible. It is important that you don't squeeze it too hard or twist your pillow. Then leave to air dry.'
Don't use more water than is necessary to just cover the pillow, and always allow it dry out completely before putting it back into a pillowcase and replacing it on the bed.
What happens when you wash a memory foam pillow?
When you wash a memory foam pillow in the washing machine, you will shorten its lifespan substantially. 'Be prepared to see your pillow shred apart and tear in areas,' says Jessica Samson, a cleaning expert at The Maids. 'The more this is done, the more likely your pillow is to end up in multiple pieces.'
Bear in mind that there are alternatives to putting a memory foam pillow in the washing machine. It could be spot cleaned and even hand washed when it requires a deep clean, or dry cleaned. Always check the tag for the manufacturer's recommendations.
How long do memory foam pillows last?
A memory foam pillow will last around three years. After this time, it likely won't provide the same support, and you'll probably feel this in use. Look out, too, for a pillow that no longer regains its shape. If that's the case, invest in a new one.
Sarah is a freelance journalist and editor. Previously executive editor of Ideal Home, she's specialized in interiors, property and gardens for over 20 years, and covers interior design, house design, gardens, and cleaning and organizing a home for H&G. She's written for websites, including Houzz, Channel 4's flagship website, 4Homes, and Future's T3; national newspapers, including The Guardian; and magazines including Future's Country Homes & Interiors, Homebuilding & Renovating, Period Living, and Style at Home, as well as House Beautiful, Good Homes, Grand Designs, Homes & Antiques, LandLove and The English Home among others. It's no big surprise that she likes to put what she writes about into practice, and is a serial house renovator.