Bedroom organizers – 13 products to help your space look and feel better
These bedroom organizers can subtly shape your personal space, and add a touch of sophistication in the process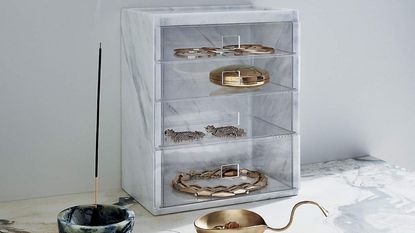 (Image credit: CB2)
Bedroom organizers can help you carve out a room to exactly your tastes, aiding with decluttering and adding a sense of personal style too. Your personal space is arguably one of the most important places to organize down to very a fine detail, as you want to feel relaxed as you drift off to sleep, or able to find your things easily as you get ready to head out.
These organizers can encompass every part of your bedroom in order to bring in a sense of coordinated bliss. That includes units for your dresser, drawers and even your walls, in order to capitalize on all the space you have. Of course, all bedroom storage ideas need to maintain the style and integrity of your bedroom. With that in mind, we've collected stylish and yet functional organizers in order to bring calm to the most central room of the house.
---
9 bedroom organizers to tastefully coordinate your space
1. These bedroom drawer organizers make being tidy easy
2. A bedroom dresser organizer is great for jewelry
3. Use this bedroom organizer to keep your nightstand neat
4. Don't forget about organizing your vanity
5. A bedroom wall organizer can keep bags, scarves and more nicely stored
6. If you're searching for a wood bedroom organizer, then this is the perfect pick
7. Buy an organizer for your closet to keep your items categorized
8. This underbed bedroom organizer allows you to use empty space
9. This leaning organizer shelf offers plenty of space
10. These storage boxes are a polished way to hide items
11. Use these sweater boxes for holding folded clothes — in style
12. This decorative shelf is sophisticated and it saves floor space
13. These divider trays will coordinate your bedroom storage
---
Browse more bedroom organizers...
Organizing your bedroom is dependent on an array of factors, including whether your closet is encompassed within your space, and how much you want to display of your storage solutions. If you're still searching for the perfect organizational set-up, then these are the retailers we would recommend: