Organizing a small bedroom – 10 ways to keep your room tidy
Organizing a small bedroom? Maximizing space without sacrificing style is the dream scenario – here's how to achieve it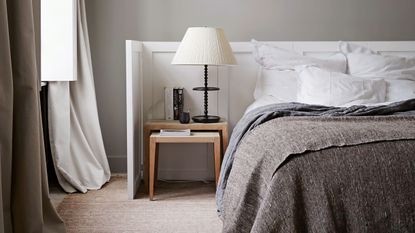 (Image credit: Future / Paul Massey)
Whether it's an alcove-filled attic space or a tiny box guest room, space constraints often pose the biggest challenges when it comes to organizing a small bedroom. There's simply no room for clutter.
While it may feel like a hardship, paring back your bedroom belongings can be a blessing in disguise when you're considering how to realize your small bedroom ideas. According to the experts, it's almost impossible to relax and sleep well in a cluttered space, so the less stuff you have in it, the better. This is the case when organizing a bedroom of any size, but particularly so when space is at a premium.
With that in mind, we've put together strategies that'll see a small bedroom transformed into a serene sanctuary that's as functional as it is stylish.
Organizing a small bedroom
Combine small bedroom storage ideas with professional organizing strategies and a compact bedroom will feel spacious, and look its best. Here are the expert ways to declutter and arrange the space.
1. Choose the right bed
Utilizing space under the bed is always a good idea but pulling out boxes from underneath can be tricky – sometimes impossible – in rooms with limited floor space. Instead, Martin Gill, managing director of And So To Bed, advises considering a space-saving ottoman-style design as a bed for a small room.
'Instead of having to ensure there is enough space either side of the bed for drawers or boxes to be pulled out, the bed lifts to reveal a space as big as the bed, perfect for shoes, your summer/winter wardrobe (depending on the current season) accessories such as bags and so on', he says.
While accessing the space inside an ottoman bed isn't hard, it's not something you'll want to do every day, so be conscious of what you put inside – reserve it only for items you don't use frequently.
2. Position the bed practically
Being the largest piece of bedroom furniture, where you position the bed is important when organizing a small bedroom. While placing it right in the middle of the room may feel natural, giving some thought to alternative locations can create a more efficient layout.
'Pushing it against a wall or into a corner creates more floor space and can help to section out the room into clear-cut zones', says home organizer Emma George of Declutter with Emma.
3. Be flexible with zoning
'Designating specific zones for sleeping, dressing, organizing makeup and so on gives structure and creates a nice sense of flow to the room, plus you'll have a clear idea of what needs to go where,' says home organizer Emma. And don't forget a place for organizing toys in kids' bedrooms.
Bear in mind that while this is an extremely efficient way of organizing a small bedroom, when space is limited, zones will inevitably cross over. To avoid confusion, group like items together into containers or baskets so they can be stored anywhere in the room, then easily moved around as you need.
4. Keep surfaces clear of clutter
When organizing surfaces, first decide whether what you have out is functional to your lifestyle. If it's not, store it elsewhere. This should make the essentials you do have out more accessible and easier to find. Putting them neatly into boxes or on trays will instantly make them look organized. Choose boxes that can be stacked or clipped together to make a storage solution ideal for your space.
When it comes to decluttering your nightstand, remove everything and only put back the items you use first thing in the morning or the last thing at night, such as a clock, a book, glasses and hand cream. Use trays or containers either on top or in neatly divided drawers to corral smaller items – it's a handy way to organize jewelry, too.
5. Rethink freestanding furniture
Have a look at your current bedroom furniture and decide whether it's really working for you. A bulky chest of drawers may feel helpful for hiding clutter, but it can also mean you hold on to items that you don't really need.
Think about how you could incorporate multifunctional pieces – a small bookcase as a nightstand or a storage bench at the end of your bed that doubles up as a seat, for example. Nightstands could also be removed and replaced with floating shelves and wall-mounted night lights.
6. Utilize vertical space
Freeing up floor space will help in organizing a small bedroom, so utilize wall space where you can. While floating cupboards are ideal for hiding unsightly items, make a feature of display-worthy essentials with open shelving.
'Shelves up high can create the illusion of height in the room, particularly when painted the same color as the walls and can be used to store books or stylish boxes with jewelry and make-up stored inside,' says Martin Gill.
Decorative hooks mounted on the wall or back of the door are useful for organizing jewelry, while hanging designs will help when organizing a small closet – choose cubby-style designs for organizing shoes, handbags and other accessories.
7. Organize clothes in an orderly fashion
Whether you use a closet, drawers or an open clothes rack, organizing clothes efficiently in a small bedroom will reduce the likelihood of them spilling out into the room, not to mention make for a much smoother morning routine.
To maximize space in a small closet, use clothes storage ideas such as organizing by category, frequency of use, season, color – whatever makes the most sense to you. Reserve shelf space for storing bulky items such as jumpers and chunky knitwear, file fold (where you place folded items vertically) t-shirts, jumpers and jeans into individual boxes and maximize shelving space with stackable containers, baskets and closet organizers.
8. Use baskets as overflow storage
The key to organizing a small bedroom is to give all your belongings a place – not always easy in a compact space. Bedroom organizers like baskets are brilliant drop zones for catching shoes, books, fresh linens and dirty laundry. They're also great for toys in a child's bedroom.
Choose attractive designs to complement the room, hide them away in the bottom of your closet or position just outside your bedroom door to save on floor space.
9. Make the bed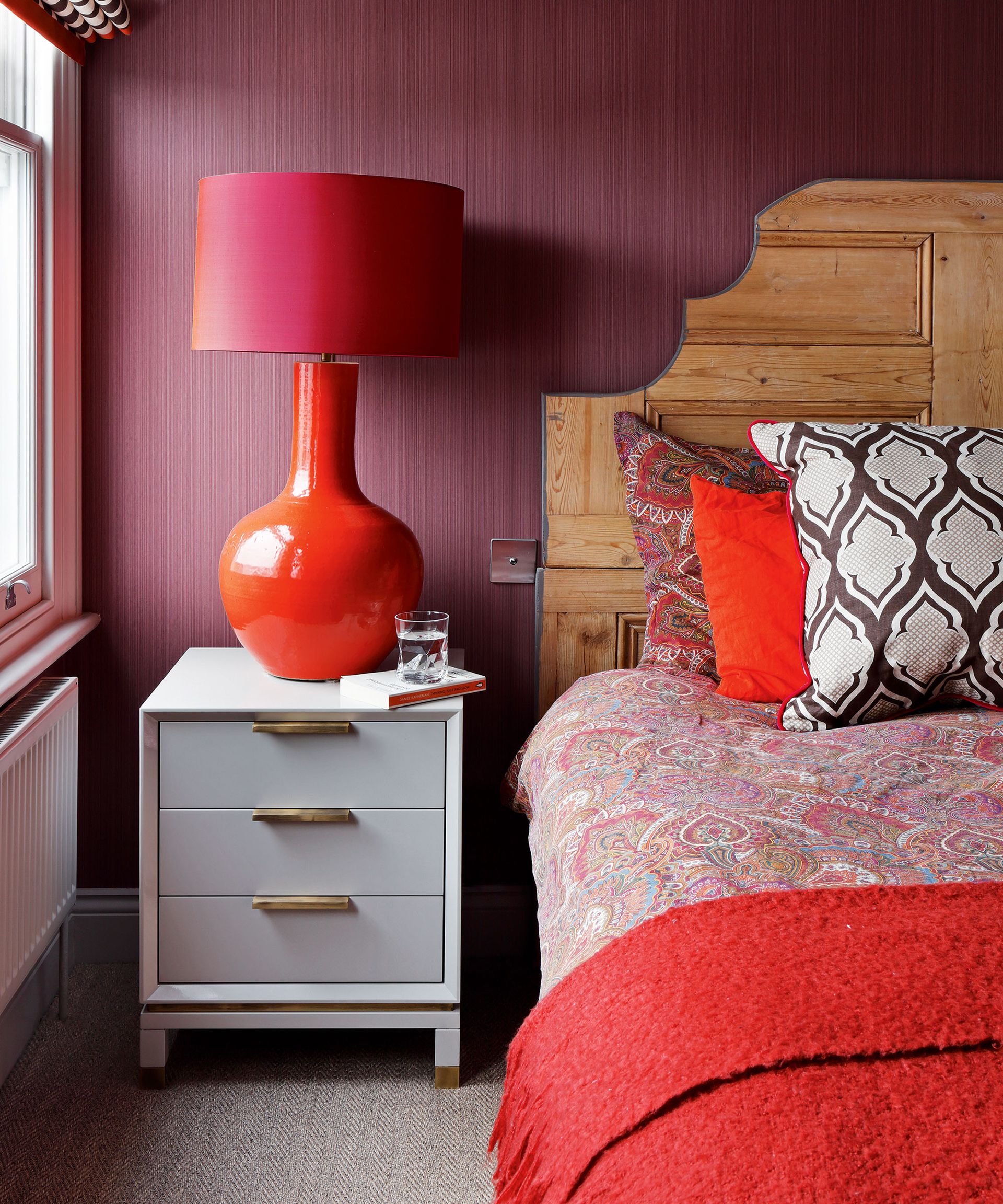 There's nothing like an unmade bed to make a small bedroom feel cluttered and unloved. Taking five minutes to dress your bed well every morning can make all the difference, and studies have shown it has a positive effect on your mood, too – even better.
It's worth rethinking your bed dressing choices too: lots of pillows and throws can be an extra layer of clutter that you don't need in a small bedroom, especially if you're taking them all off at night anyway. Consider streamlining your collection for a stylish pared-back look. Keep only the decorative dressings that you use and enjoy, anything else can be gifted or donated (pillows will only be accepted if a fire label is still attached).
10. Consider a bespoke system
If you're arranging a small bedroom layout from scratch, built-in cabinetry is a brilliant way to make the most of tricky spaces that might otherwise go unused.
'Fitted furniture can create up to three times more space, plus has the added benefit of allowing tailor-made storage depending on your needs, such as drawer inserts, dedicated shoe and trouser racks, and ergonomic shelf and rail options,' says Simon Bodsworth, managing director at Daval.
How do you arrange things in a small bedroom?
Zoning a bedroom into distinct areas for sleeping, dressing, putting on makeup and so on is a popular technique that can help to maintain organization and function – particularly in a smaller space. We suggest identifying areas for specific activities and planning your layout around them where possible: place your dressing table next to the mirror, your laundry basket inside the closet, surface space next to your bed, and so on.
This technique works well for smaller items too, but if you're limited on storage space, it's not always possible. A good way to keep your bedroom as functional as possible is to group like items together in clear, stackable containers. This way, they can be stored anywhere in the room but can be easily moved around to suit your needs.
How do I declutter my small bedroom?
If decluttering is something you haven't tackled in a while, it can feel daunting. The best advice we can give is to not take on everything at once. Focus on one area at a time – such as organizing a closet – and complete the job before you move on to the next.
Set up three piles: keep, discard, and relocate. When deciding what to keep, ask yourself three things. Is it functional? Does it look good? Does it do what it needs to do? If the answer is no to any of these, it's probably time to say goodbye.
Bear in mind that a bedroom's primary purpose is to enable a good night's sleep. For that reason, any items not related to achieving that should be relocated elsewhere. This can be hugely helpful when deciding which 'keep' items you need to prioritize when space is at a premium.
Sign up to the Homes & Gardens newsletter
Decor Ideas. Project Inspiration. Expert Advice. Delivered to your inbox.
For 10 years, Tara King worked as a Content Editor in the magazine industry, before leaving to become freelance, covering interior design, wellbeing, craft and homemaking. As well as writing for Ideal Home, Style at Home, Country Homes & Interiors, Tara's keen eye for styling combined with a passion for creating a happy – and functional – family home has led to a series of organization and cleaning features for H&G.