Organizing clothes – 10 ways to refine your style
Organizing clothes can transform the way you start your day – these efficient ideas will ensure it's for the better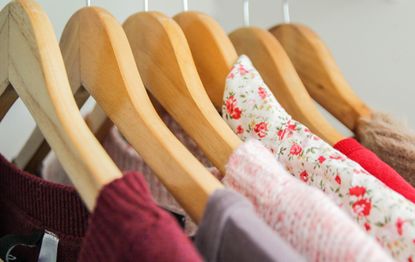 (Image credit: Getty Images)
Organizing clothes so they're neat, tidy and well-ordered is one of the best things you can do for your wellbeing. As well as contributing to an overall feeling of calm in your bedroom, it also enables you to pick the perfect outfit quickly, easily and enjoyably, so you'll start the day in a positive frame of mind.
Organizing a bedroom is well worth the effort. It may feel like a daunting task, but if the space you use to relax and unwind is cluttered, your mind will likely be, too – a theory advocated by professional organizers, including consultant Marie Kondo, founder of the KonMari method.
By rethinking your closet organization ideas, reshuffling your clothes storage ideas and re-homing garments you no longer wear, you're well on the way to creating an efficient organization system that'll ensure busy mornings run like a dream.
Organizing clothes
Alongside our own advice, we've gleaned top tips from professional organizers on decluttering and organizing clothes, whether you're looking for great clothes storage ideas, inspiration for walk-in closets or simple tricks to get your wardrobe in order.
1. Edit your clothing collection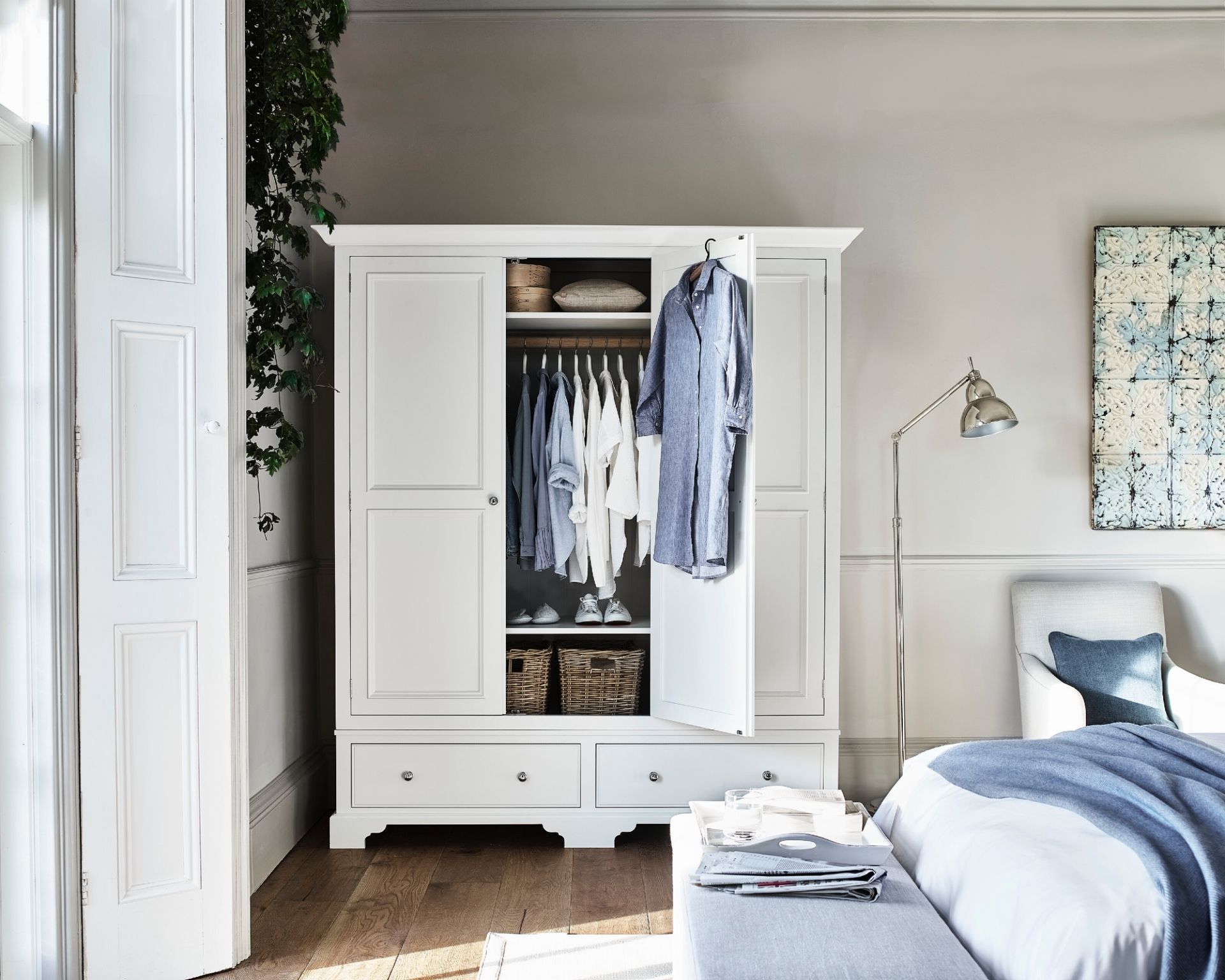 When organizing clothes, start with a good clear out. One of the best decluttering tips we can offer is to collect every item of clothing you own, from seasonal wear and outerwear to socks, swimsuits and pjs – including those from the laundry basket. It's much easier to work out what you want to keep/have too much of when everything is in one place.
Go through each item and inspect it thoroughly – does it fit? Is it in good condition? Have you worn it in the last year? If the answer is no to any of these, it's probably time to say goodbye. 'Be really honest with yourself, there's nothing worse than wearing clothes that don't make you feel good anymore,' says Chicago-based home organizer Jessica Litman.
Donating or selling items is a sustainable choice, but can be emotional, so Jessica recommends thinking about where you'd like to donate or sell clothing prior to sorting: 'this allows you to visualize others enjoying them, which makes it easier to part ways,' she says.
2. Dedicate a box to sentimental items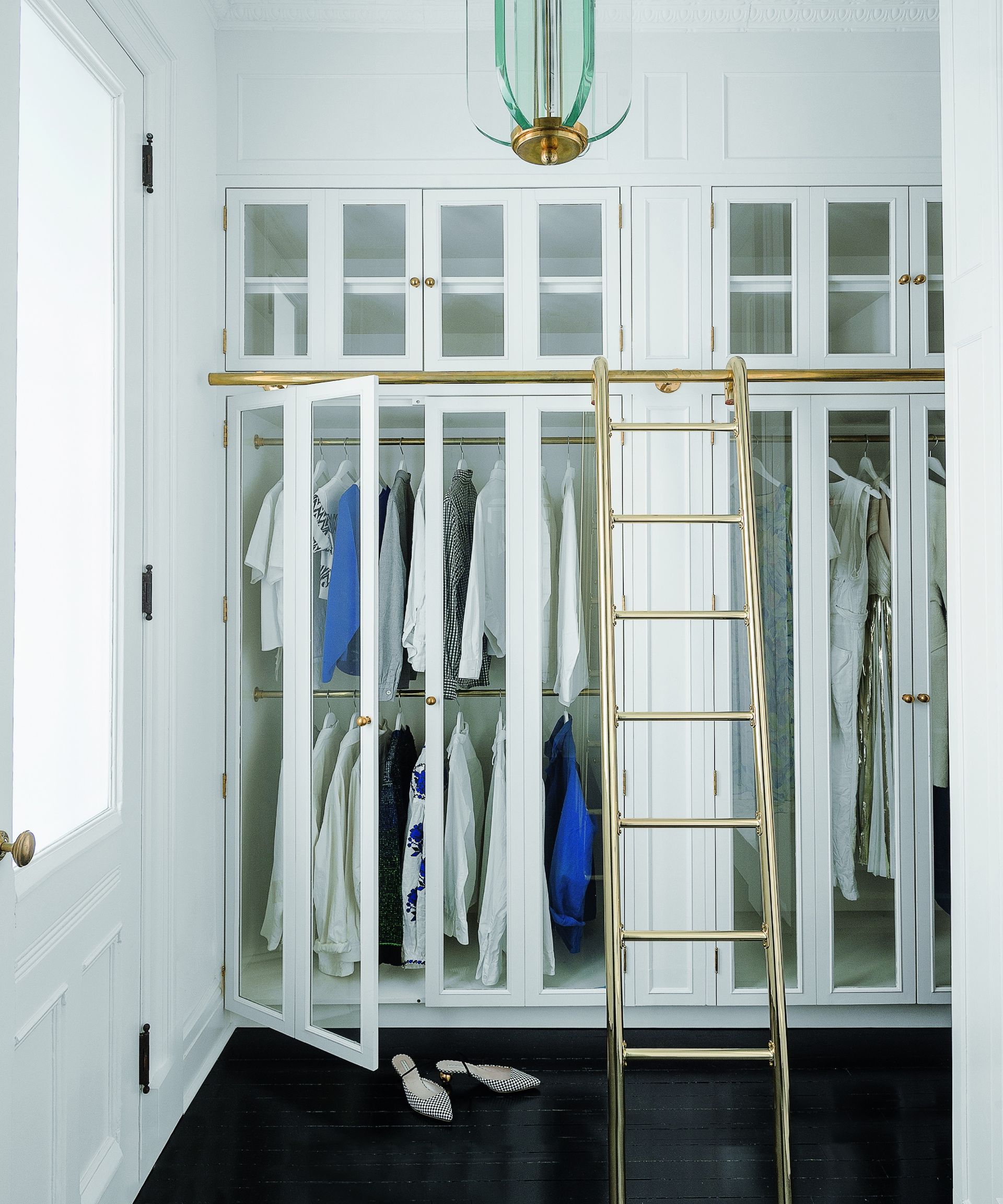 Whether it's an heirloom coat, a holiday jumper, much-loved skinny jeans or even a wedding dress, we've all got pieces of clothing that hold cherished memories, but no longer suit. It's perfectly okay to have emotional attachments, but try to limit yourself to one storage box for pieces you can't bear to part with. Your bedroom storage ideas should be reserved for ready-to-wear items only, so find somewhere else to store it, such as under the bed or in the attic.
3. Organize clothes by type
Grouping your garments by category to create 'zones' is an effective way of organizing your clothes.
'Have an area for your shirts, another for your trousers, and a section for your dresses so everything is easy to find', says Kyra Blades, home designer at Neptune. 'By zoning your hanging items, you can also create extra space for baskets to sit, underneath your shirts for example, which aren't going to hang as low as dresses and trousers.'
4. Arrange cloth by color
For an organizational approach that's as aesthetically pleasing as it is practical, professional organizer Brenda Scott of Tidy My Space recommends color-coordinating within your categories.
'I like putting similar color items together and like items together, so black shirts hang together, gray shirts together and so on. Follow the Marie Kondo theory of hanging items dark or heavy on the left to light/lighter fabric on the right, to achieve a sense of lightness and uplifting as you browse along the row.'
Becca Stern, co-founder and creative director of Mustard Made is an advocate of this method, and even takes it one step further: 'I love to color coordinate my wardrobe, arranging clothing in a way that's both pretty and practical is so satisfying. If you want to have a little fun, you can also color match your hangers to your clothes – we've created hangers in a range of gorgeous shades to help you do it in style.'
If you're using open storage, such as a clothes rail or shelving, consider organizing your clothes in order of color to create a visually appealing ombre effect. While this might not be the most practical method, it may well be worth it – this method is widely thought to make you feel happier.
5. Give everyday essentials prime position
Just as you would when organizing a hallway closet, positioning your most worn, everyday items in the most accessible spaces will not only make your life easier but will also keep your closet tidier in general – less rummaging through to find what you need. It's a two-step process. First, think about your lifestyle and what you really wear day to day, not what you'd like to wear day to day… 'There's no point in cocktail dresses taking up your main space if you barely use them,' says Vicky Silverthorn of You Need A Vicky.
Next, 'consider the "prime real estate" in your clothing storage areas, and make sure you're utilizing them in the best way possible,' advises Catherine, co-founder and interior designer at Clairrow. 'Maybe it's the front section in your closet or the top drawer of your dresser; if you're a jeans and t-shirt sort of person, don't position suits and heels there, it's simple!'
To avoid cluttering up prime storage space, bear this in mind – if it's not 'ready to wear', it shouldn't be there, essential or not.
'Never hang anything in your closet that needs to be steamed or tailored, thinking you'll get to it another time. Keep it in a separate section of your closet and plan a weekly time to steam all of those items before hanging them with your "ready-to-wear" clothing,' says personal stylist, Erica Ball of Erica Ball Style.
6. Decide what to hang
According to organization guru Marie Kondo, hanging your clothes according to length can actually have a positive effect on your mood: 'Lines that slope upward are said to make people feel more at peace, and also make your clothes look more stimulating,' she says.
Coats, suits, blouses and dresses are best hung up, but remember never to hang anything made from wool or cashmere – they become misshapen around the shoulders if you do.
7. Work out which clothes to fold
In general, folding clothes neatly is the most space-saving way to store them, however, if you're stacking in piles, chances are they won't stay neat for long (funny how what you need is often right at the bottom). Instead, experts recommend the more practical 'KonMari' organization method.
'T-shirts, jumpers and jeans can all be stored on shelves or within drawers using the file folding method, which is not only space-saving but also ensures you can see your items at a glance', says professional organizer Emma George of Declutter with Emma.
The file and fold method involves placing items vertically, a bit like how you would keep papers in a filing cabinet, making it much easier to find and access what you're looking for. Keep similar clothes together, so you have a box for T-shirts, one for jeans, etc.
8. Divide your drawers – literally and figuratively
Save yourself the hassle of rummaging through your designated 'undergarment' drawer by using drawer dividers and bedroom organizers to give everything a place – some even come with specific compartments designated for underwear, bras, socks, tights, etc. To maintain an orderly system, store everyday items such as socks, bras and undies at the fore, then put your lesser-used items (sports bras, swimwear, specialty pieces) towards the back.
While folding can make for a neat finish, it can be more hassle than it's worth when it comes to smaller items. However, if you're organizing a small closet, folding your bras one cup into the other is a space-saver, and helps them to keep their shape.
9. Swap out seasonal items
If you can afford to split your closet down the middle (one side for winter clothes and the other for summer) that's ideal, but if you're organizing a small bedroom, consider finding storage elsewhere for out-of-season items that don't need to be accessed regularly.
'Think outside of the closet – do you have under-utilized storage areas in other areas of the bedroom? I keep bulky winter sweatshirts in the cabinet of my television stand, for example. Drawers in a nightstand or under-the-bed storage are good options, too', says Alexandra, co-founder and interior designer at Clairrow.
When packing away clothes, place cashmere and wool items in breathable bags made from linen or cotton to protect them from moths, and place cedar balls inside to help repel them.
10. Plan for the week ahead
Streamline your morning routine by pre-planning your outfits for the week ahead – Sunday evening is a great time to do this. Not only does this save you time, but it also avoids any last-minute panic over unwashed or creased clothing, missing buttons, dropped hems and so on. Separate each outfit with day-of-the-week dividers so you can quickly and easily access what you need.
Another handy tip to save yourself last minute outfit changes is to keep a sewing box close to hand ready to make swift repairs. Black, gray and white threads are essential, as is adhesive iron-on tape for easy hem lifts. You could also include spot cleaners to dab off marks in an instant.
How do you start decluttering clothes?
Decluttering your clothes can be an emotional process, one that many of us put off. The best way to start is gently. Be kind to yourself – it's okay to keep items you're particularly attached to, even if you're never going to wear them again. However, try and limit yourself to just one storage box, and keep it for sentimental items only – those jeans you 'might' fit back into one day? They don't count!
When it comes to the rest of your clothing, dedicate time to considering each item individually. Be honest with yourself; does it still fit? Is it in good condition? Have you worn it in the last year? If the answer is no to any of these, it's probably time to say goodbye.
If you're finding it tricky to decide what to keep, professional organizers recommend the 'hanger technique'. At the beginning of each season, turn all the hangers in your wardrobe backward. Then turn each hanger forward as you wear and replace each item of clothing. Whichever hangers are still backward at the end of the season probably hold items you can live without, so consider donating them to free up closet space.
How do I organize my clothes on shelves?
Use shelves to store bulky items like sweaters and chunky knitwear that might get snagged or stretched if hung on hangers. Thicker items fold easily and won't cease or lose their shape when stacked in a pile. If you're using the KonMari folding method, consider lining shelves with baskets and separating out t-shirts, jeans and so on.
High shelves are great for storing seasonal items, or for organizing shoes you only wear occasionally, while box shelves are a good way to store and show off your favorite handbags. If you're organizing a small closet, limit yourself to one or two, and try the ingenious Marie Kondo technique of storing bags within bags.
Easily accessible shelves in a closet can double up as a 'dressing table'. Use them to organize jewelry, store perfumes, makeup and anything else you use day-to-day. Alternatively, line them with bespoke inserts or boxes, jars and baskets for storing accessories, such as sunglasses, cufflinks, scarves, ties and so on.
Sign up to the Homes & Gardens newsletter
Decor Ideas. Project Inspiration. Expert Advice. Delivered to your inbox.
For 10 years, Tara King worked as a Content Editor in the magazine industry, before leaving to become freelance, covering interior design, wellbeing, craft and homemaking. As well as writing for Ideal Home, Style at Home, Country Homes & Interiors, Tara's keen eye for styling combined with a passion for creating a happy – and functional – family home has led to a series of organization and cleaning features for H&G.