Organizing a small closet – 10 ways to keep clothing neat in a compact space
These simple strategies for organizing a small closet can make it feel twice the size. Here's how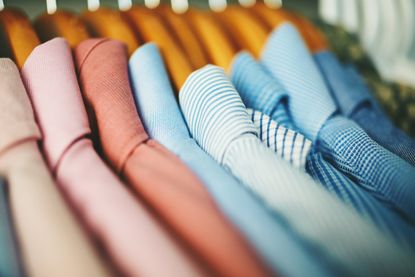 (Image credit: Getty Images)
Organizing a small closet can feel like a challenge, particularly if you have an awful lot of 'stuff'. Keeping clothes, shoes, jewelry, handbags and accessories neat, tidy, and easy to find can make you think sizing up is required.
But that doesn't have to be the case. By implementing efficient solutions when you're organizing a bedroom, you can fit all you need to, keep it in great condition, and make locating what you want for day or evening easy.
Here, we've put together the strategies that will make staying organized in even the tiniest of closets easy and called on the experts to share their wisdom, too.
Organizing a small closet
Effective closet organization ideas are crucial so you can tidy away clothes, shoes and accessories and maintain a clutter-free room. But never is a better system needed than when you're organizing a small closet. These are the tactics to adopt.
1. Declutter and sort
Before organizing clothes, declutter. The less you have in a small closet, the easier it is to keep organized.
With that in mind, Chicago based organizer Jessica Litman recommends being really honest with yourself when assessing each item. 'There's nothing worse than wearing clothes that don't make you feel good anymore,' she says.
Rather than cramming everything you own into your closet, reserve it for items you wear or use on a regular basis. We're going to guess that you probably don't wear party dresses every day of the week. Or ski wear. Or hiking boots. A small closet should be reserved for your current clothing collection only, so find somewhere else to keep items you don't frequently access, such as under the bed. The same goes for seasonal clothing.
'Think outside of the closet – do you have under-utilized areas in other areas of the bedroom? I keep bulky winter sweatshirts in the cabinet of my television stand, for example. Drawers in a nightstand or underbed storage ideas are good options, too', says Alexandra, co-founder and interior designer at Clairrow.
2. Plan ahead to organize the contents
In you're organizing a small closet, it's important to make the most of what you've got. In order to do this, consider the potential of the space and add bedroom organizers to optimize it.
'Take a close look at your closet and use the features to your advantage; if you have a lot of shelving, look at using boxes for specific clothing or, if the wardrobes are very tall, look at using multiple hanging rods,' says interior designer Jenni Greenwood of Greenwood Interior Design.
3. Prioritize accessibility
Next, think about what you need to put in the closet. Do you need to fit in shoes? What about scarves and hats? Once you've worked out exactly what needs to go in there, you're well-placed to start organizing a small closet.
'Think about accessibility. Store your most used items towards the front and your less used items towards the back and up high. Make sure all the space is used by adding shelving and shoe racks, hooks inside wardrobe doors are also useful for scarves, ties and handbags', says Elaine Penhaul, interiors expert and owner of home staging company, Lemon & Lime Interiors.
Maximize shelving space with bins and baskets, and don't forget the floor space at the bottom of your closet – it's perfect for stacking shoe boxes.
4. Group like items together
'Maintain designated areas in your closet for specific types of clothing, shoes, and accessories; jeans with jeans, and keep them separate from your dress pants, for example. This makes it so much easier to find your items when you're putting together an outfit,' says Catherine, co-founder and interior designer at Clairrow.
There's also an opportunity to free up more space if you're smart with where you position your garment groupings when replacing them within your closet.
'By zoning your hanging items, you can create extra space for baskets to sit, underneath your shirts for example, which aren't going to hang as low as dresses and trousers', says Kyra Blades, home designer at Neptune .
5. Install lighting
Good lighting will help in organizing a small closet, allowing items to be found quickly and easily.
'Simply illuminating a small space can help to give the impression that it's larger than it really is, not to mention help you pick out a matching pair of socks first thing in the morning!' says interior designer Laura Roberts .
6. Make space for shoes, handbags and accessories
Box shelves are a great way to organize shoes (and handbags, for that matter). However, in a small closet where space is at a premium, you'll want to consider other, less indulgent options. Luckily, you can create a similar effect with a box-style hanging organizer; these have the added benefit of being able to hang from a rail or on the back of a closet door depending on what's available to you, plus, they take up zero floor space.
Personal stylist Erica Ball of Erica Ball Style says: 'If you have multiple handbags but not enough shelving space to display them, consider using shelf dividers or purse hangers. Stuff them with tissue paper so that they retain their shape. Store shoes in clear, stackable containers and take a photo of each pair to stick onto the front of the container.'
To organize jewelry efficiently in a small closet, you'll want to ensure your collection is as visible and accessible as possible. Clear, stackable containers utilize shelf space, while hooks mounted on the back of a closet door are perfect for keeping necklaces tangle-free. Make the most of dead space by filling a tricky corner with a lazy Susan – this can be spun around so you can easily find what you're looking for.
7. Be creative with displays
Not everything needs to be hidden behind closed doors – which can be a saving grace when you're faced with organizing a small closet. Certain items that we usually put into a closet can look lovely out on display. Handbags arranged in size order on open shelving, beautiful necklaces hung from decorative wall hooks, attractive displays of organized shoes positioned underneath an open nightstand… take the opportunity to get creative. This in turn frees up prime small closet space for other, less sightly items.
8. Invest in matching hangers
When hangers all look the same, you're able to focus on your actual clothes, not to mention it makes for a more attractive take on clothes storage ideas. Maximize space by using skinny hangers for shirts and removing bulky items such as jumpers and jeans to keep folded on shelves instead.
'If you're running out of hanging room, consider buying multi-layer hangers – these allow you to neatly double up on clothes so you can hang more in a smaller space without it looking cluttered,' suggests Katie Thomas, founder of KTM Design .
9. Consider using an open clothing rack
If you like to plan outfits in advance, consider complementing your small closet with a separate garment rack. This will free up space, as well as save you time in the mornings.
It's worth remembering that having clothing out on display is an ongoing commitment if you want a smart-looking bedroom. Organizing by color creates a stylish ombre effect which adds to the overall aesthetic of your room – and is thought by experts to make you feel happier, too. It's not the most practical organization method, but it's easy to maintain with a weekly capsule clothing collection.
10. File fold clothes where you can
Folding is the most space-saving solution when it comes to organizing clothes, making it a practical choice when organizing a small closet. However, if they're stacked in piles, chances are they won't stay neat for long. Instead, place them vertically, a bit like you would papers in a filing cabinet.
'By implementing this file folding method, T-shirts, jumpers and jeans can all be stored on shelves or within drawers, which is not only space-saving but also ensures you can see your items at a glance', says professional organizer Emma George of Declutter with Emma .
How do I organize my clothes in a small closet?
Start by freeing up extra space in a small closet by prioritizing it for the items that you need ready access to. Anything else can be put away elsewhere, including sentimental and out-of-season items. Take the opportunity to declutter at the same time.
Next, group your garments. Decide what categories work best for you; by type (shirts, trousers, dresses etc) or by occasion (casual, workwear, formal wear etc) are popular choices. When returning items back into the closet, keep everyday items near the front to avoid rummaging around when you're in a hurry.
Hang clothes in height order to free up space underneath for baskets. Reserve shelf space for storing bulky items such as jeans, jumpers and chunky knitwear. If you don't have drawers, line shelves with baskets or boxes to sort smaller items such as t-shirts and sportswear. To maximize space, use the file folding method; place folded items vertically, as you would store papers in a filing cabinet.
How do you maximize space in a small closet?
When you're organizing a small bedroom and closet space is limited, it's important to optimize the space. First, think about what you have to put in there and adapt your closet organization ideas accordingly – if you need to fit in shoes and handbags, it's worth sacrificing a little space by including a hanging organizer, for example.
Don't let valuable vertical space go to waste. Slim hangers take up less room, and you could even consider installing an extra hanging rod for scarves or short-hanging items. Hanging organizers with cubbies are great for shoes and handbags, while hooks mounted on the back of the door give easy access to neatly stored jewelry.
Maximize shelving space with bins and baskets, and don't forget the floor space at the bottom of your closet – it's perfect for stacking shoe boxes.
Sign up to the Homes & Gardens newsletter
Decor Ideas. Project Inspiration. Expert Advice. Delivered to your inbox.
For 10 years, Tara King worked as a Content Editor in the magazine industry, before leaving to become freelance, covering interior design, wellbeing, craft and homemaking. As well as writing for Ideal Home, Style at Home, Country Homes & Interiors, Tara's keen eye for styling combined with a passion for creating a happy – and functional – family home has led to a series of organization and cleaning features for H&G.