10 apartment layout ideas – beautiful ways to arrange your home
Whether you are looking for apartment layout ideas that are perfect for small spaces, or ones that will accommodate the whole family, you'll find plenty of inspiration for your apartment here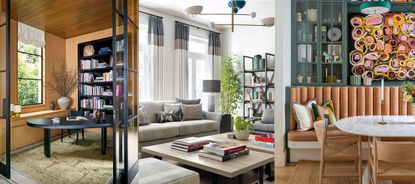 (Image credit: Natalia Miyar / Jonathan Bond)
Devising an apartment layout needs to be done with more forethought than you would apply to a whole house. For one, apartment layout ideas need to include world-class storage that's incredibly stylish, since they are unlikely to be hidden away; color schemes might need to be space-enhancing and will need to work room-to-room as well as across the whole apartment; and, of course, you'll need to ensure that your apartment ideas for each room are carefully defined.
It sounds challenging, and it is. However, with expert interior design advice it's very doable. We have gathered decorating ideas from a range of industry professionals so your apartment layout ideas are second-to-none.
Apartment layout ideas – 10 of the best ways to arrange your space
Practicality is key for apartment ideas, and the layout you select should not only be able to accommodate your lifestyle, but enhance it. These expert apartment layout tips should meet your needs – and make the most of your existing space, no matter the size.
1. Multiple living areas should blend together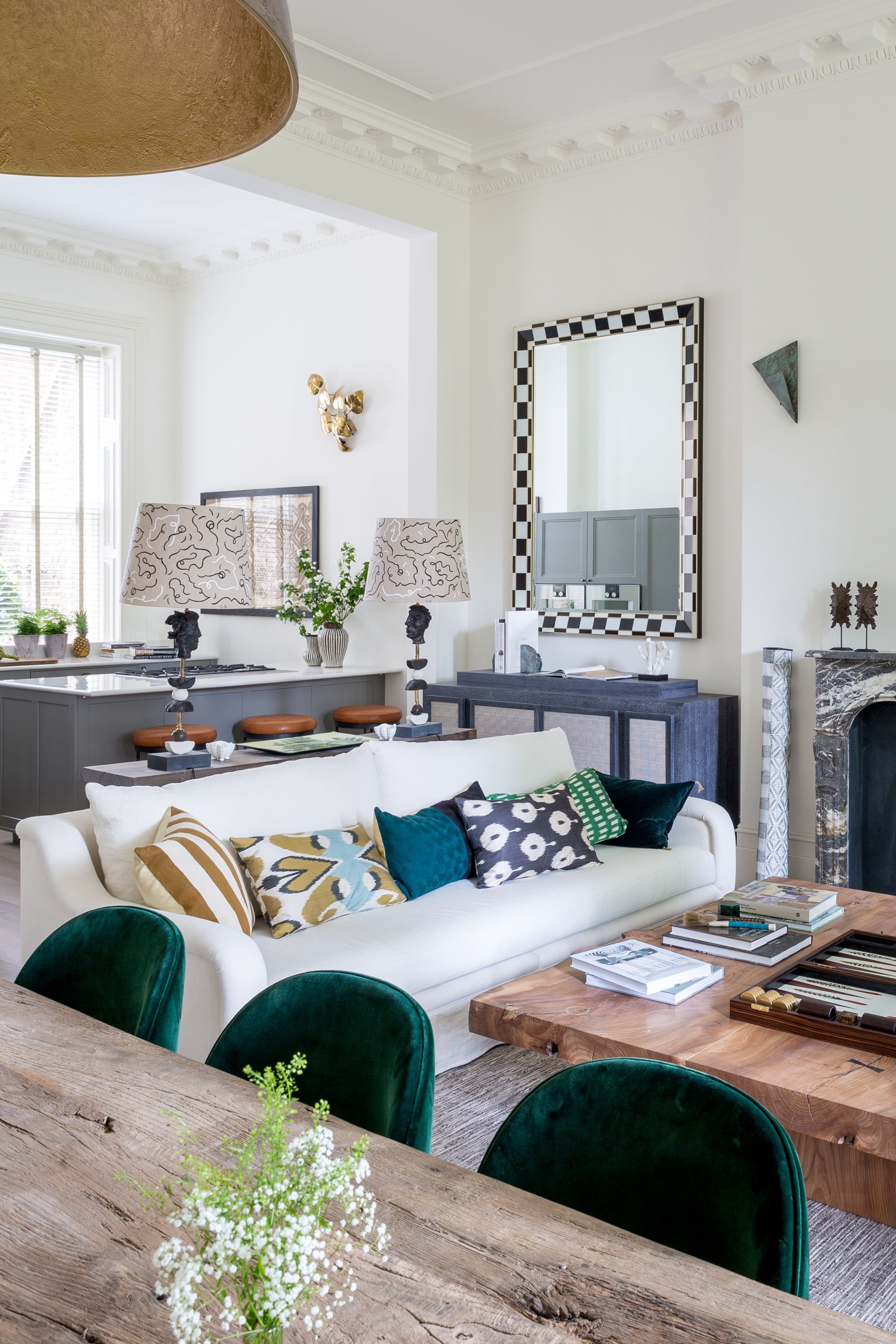 'Designing an apartment often means having to incorporate several different living areas into one space, such as placing the dining room in the same space as the living room,' says Katie Lion, senior interior designer at Kitesgrove.
Robert Burnett of Holloways of Ludlow agrees: 'The main motivation for creating an open-plan living space is to be more sociable. Parents can prepare meals while interacting with their children, perhaps helping them with homework or a project, and monitor TV or internet use.'
2. Create elegance with a neutral scheme
'An interior design tip for creating a flow within an apartment is to use whites and neutral tones,' says Melanie Griffiths, editor, Period Living. 'This doesn't mean you can't use pattern – we love the use of this graphic metallic design in Emilie Bonaventure's charming apartment.' Due to its versatility, most colors go with white and beige – it is a neutral after all, which means it will act like a blank canvas on which you can put your mark.
3. Use sliding doors to close off areas
If your apartment layout is open plan, having some sliding doors fitted will offer a little privacy and quiet, plus they can be a design feature and focal point to boot.
'Broken plan spaces are the new, post-pandemic, practical alternative to open plan spaces,' says Jennifer Ebert, digital editor, Homes & Gardens. 'Broken plan layouts allow you to create a wide range of clever and inspiring ways to make your space work for you,' she adds.
Paint the space inside a contrasting color for added impact when the doors are open.
4. Place the dining table along one wall
It is vital to keep a small apartment looking light, bright and spacious – and color is the best way to maintain an airy feel.
'In this Kensington apartment, we kept the overall palette of the space light and airy with tonal off whites giving a unified and calming feel, but the use of a beautiful rug subtly defines the apartment living room area, while the oversize pendant and green velvet chairs visually separate the dining area from the rest of the space,' explains Katie Lion, senior interior designer at Kitesgrove.
5. Help your layout by zoning key spaces
'For smaller open plan living room spaces, clever zoning can make all the difference,' says George Miller, home designer at Neptune. Simple additions, like a rug and coffee table will help to define your seating area, even if it's a matter of steps from the dining table. Artwork can be used in a similar way, whether framing a workspace, reading nook or eating area. Just be sure to stick to a clear palette to ensure the space doesn't end up feeling disparate.'
6. Create drama with contrasting walls and floors
'Apartments can be small, so create extra interest by choosing contrasting colors, like this dramatic black parquet flooring and the off white walls and woodwork,' says Andrea Childs, editor, Country Homes & Interiors. 'It makes the overall feel more stylish and contemporary, even though the space has architectural details.'
7. Ensure the apartment flows from room to room
When decorating an apartment or smaller home, it's important to consider the overall design scheme and how you want the rooms to work together. 'If you're looking for a cohesive feel, where rooms flow naturally into one another, plan your color palette as a whole, layering in different textures or colors to zone key spaces,' says Philippe Desart, managing director at Arte.
'Consider the views between rooms carefully, and if you plan to go bold and add contrasting feature walls, consider how they will be seen through open doorways between spaces. In a smaller apartment keeping elements such as flooring, woodwork and skirting consistent will allow for more freedom to play with your wallpaper color and texture whilst ensuring the overall feel is harmonious and considered.'
8. Freestanding furniture cleverly divides up space
While fitted kitchens are unlikely to ever go out of style, there has been a gradual move towards more relaxed-looking kitchens in apartments.
'Freestanding kitchen cabinetry is particularly useful in large kitchen diners,' says George Miller, home designer at Neptune. 'Rather than being confined to one wall or corner of the room, the likes of larders, islands and dressers can happily stand apart to make the very most of the space,'
9. For a light and airy feel use glass
'You may only have windows on one side of your apartment – to maximize the light choose inner doors with glass panes and paint walls, woodwork and ceiling in crisp white,' says Lucy Searle, global editor in chief, Homes & Gardens. 'And choose a grand traditional chandelier to add sparkle and glamor.'
10. Use the same pop of color throughout the space
While we usually recommend that you stick to one harmonious color palette when designing an apartment layout, especially if you live in a studio,' says Jennifer Ebert, digital editor, Homes & Gardens. 'However, color is beautiful way to add intrigue and interest without changing the overall structure. If in doubt, redecorate using a neutral color scheme.'
'We love the use of this zesty orange that can be seen in the foreground of this white apartment. Using color in this way can help an apartment flow, note the use of the stripe rugs too that draws the eye into the living space beyond.'
What is the best layout for an apartment?
Figuring out how to devise the right apartment layout ideas is vital. Small apartment with open-concept layouts often have a number of activities that take place within them, so it's important to identify an area for each one to avoid the space feeling confused and cluttered.
Use furniture to make a boundary of a seating area in a multi-purpose space. L-shaped or curved designs are a great tool to create a more intimate zone within a larger area, while a dining table and chairs can delineate between an entertaining and relaxing zone.
The best approach to 'zoning' an apartment is to create breaks in color, design, flooring, and furniture, at the same time maintaining a flow that unifies the design.
Sign up to the Homes & Gardens newsletter
Decor Ideas. Project Inspiration. Expert Advice. Delivered to your inbox.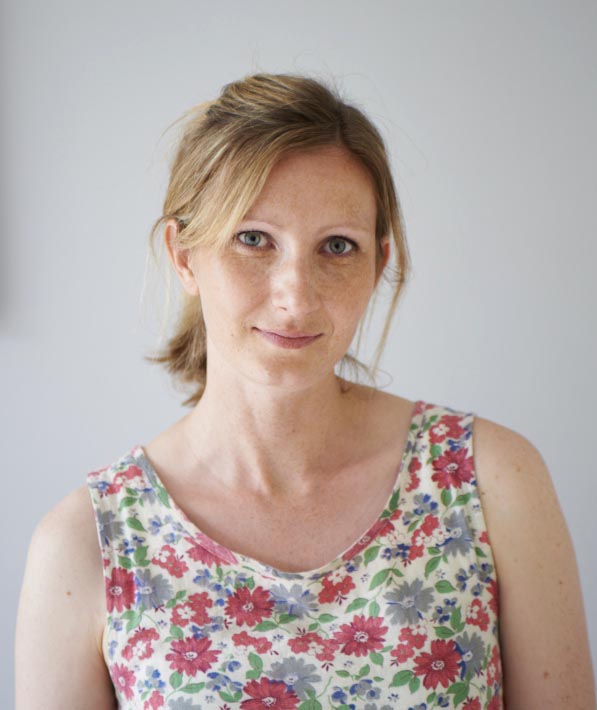 Sophie has been an interior stylist and journalist for over 20 years and has worked for many of the main interior magazines during that time, both in-house and as a freelancer. On the side, as well as being the News Editor for indie magazine, 91, she trained to be a florist in 2019 and launched The Prettiest Posy where she curates beautiful flowers for modern weddings and events. For H&G, she writes features about interior design – and is known for having an eye for a beautiful room.