Modern entryway bench ideas – 12 tips for stylish hallway seating
Heighten your hallway with modern entryway bench ideas that are both practical and stylish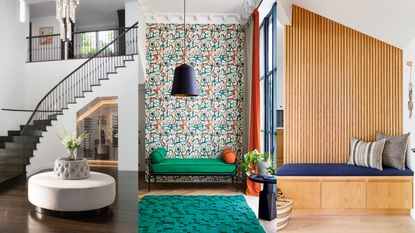 (Image credit: Claudia Afshar Design/Meghan Bob Photography/Davide Lovatti/Ginny Macdonald/Sara Tramp)
Modern entryway bench ideas are an important part of curating a very stylish homecoming.
An easily overlooked essential among hallway ideas, providing yourself and your guests with a seat to assist with removing their shoes is the first step in creating a welcoming and relaxing environment.
Choosing a modern style of bench will also help anchor a contemporary aesthetic in your home that is communicated from the first steps through the door.
'Hallway benches are excellent decorative pieces for larger homes, and also fantastic for small apartment or city living to keep your hallway clutter free and everything close by for all last minute dashes out of the door,' says Jonathon Warren, Commercial Director at LuxDeco. 'We are seeing a lot of our customers gravitating towards high quality design, both in production and aesthetic, to ensure longevity in the styling.'
Modern entryway bench ideas
Whether you're looking to make a grand statement in a large foyer, or for a slick and simple style to tuck neatly into a compact hallway, these modern entryway bench ideas and tips for experts will help you choose the perfect perch for you and your guests.
1. Build a bench into an alcove
A bench doesn't always have to be an individual piece of furniture. For a completely minimal approach, make it blend into the walls by installing a built-in bench into an alcove. Tucking a bench away into an already existing nook is great for narrow hallway ideas, but also helps larger areas feel neat, as demonstrated in this example by interior designer Marlaina Teich. As well as a seat, the alcove also hosts pegs and shelving for all-round utility.
2. Incorporate storage into your entryway bench
Trying to fit storage into your small hallway ideas isn't the easiest task, so choose furniture that has more than one function. 'I would always recommend benches that combine storage and coat racks for maximum flexibility,' says Warren. You can opt for an all-in-one hallway unit, but choosing a simple bench that incorporates storage below the seat is a more modern, pared back approach.
In this entryway by interior designer Ginny Macdonald, a built-in white oak bench is topped with blue upholstery, and is fitted with three drawers for easy and neat hallway shoe storage. As well as drawers, consider an ottoman-style bench where you can open the top and drop shoes in that way.
3. Consider it as part of your whole design scheme
Entryways are rarely the largest spaces in the home, meaning it's even more important to ensure their design is carefully curated, as there's little room for differing zones with alternative aesthetics. This means your bench choice should be chosen in tandem with the rest of the furniture, wall decor and entry table decor ideas, as showcased in this slick hallway put together by Arteriors.
'The combination of a styled console table alongside an upholstered bench and a decorative mirror, all lit with statement sconces hovering or framing each piece works beautifully as a welcoming, well thought out entryway,' says Helen Pett, Design Ambassador at Arteriors.
4. Use it to add color
For color fiends, entryways are the perfect places to pursue your chromatic passions. 'You can be a little more adventurous with the decor in this area, as people don't tend to dwell like they would, say, in your living room or kitchen,' explains Pett. 'You can really get creative with the space to 'make an entrance' for the rest of your interiors,'
Let your creativity flow by choosing a bench in a block color. In this space, a verdant green bench is contrasted with an orange cushion and curtains, with both colors weaved together in the hallway wallpaper ideas.
5. Tuck a bench under the stairs
The space under the stairs is hallowed ground for hallway storage ideas, but it also makes the perfect spot for a shoe bench. Without its usage not requiring full head height, tucking a bench into this area really makes the most of the room's proportions. That doesn't mean you can't incorporate storage too, as this drawer-fitted under stairs bench by The Cotswold Company showcases.
6. Choose hardwearing fabrics for longevity
Just like your hallway carpet ideas, the materials you choose for your entryway bench need to be able to go the distance and put up with consistent everyday use.
'Choose a hard wearing or stain resistant fabric to keep your bench looking fresh for longer,' says Warren. 'LuxDeco's plush velvets are ideal for this, but we have a vast variety of brands that offer finishes in everything from leather to bouclé.'
In this space, a simple leather bench in a clean, modern style will look even better as it acquires a little wear and character in the years to come.
7. Simplify with a floating bench
Modern hallway ideas can often be all about keeping the space as minimal as possible – and what can be more minimal in a bench than losing the legs altogether?
In this apartment hallway, a floating bench has been installed into an alcove, supported at the back and the sides but not from underneath. The quirky aspect of this gravity-defying design has been amped up by the choice of upholstery in a black and white bouclé fabric.
8. Choose a circular bench for a grand entrance
'First impressions make all the difference when guests visit, so the front hall should set the tone for design decisions throughout the home,' says Pett. In larger homes with a grand entrance foyer, you'll need to make sure your bench lives up to the occasion.
If you're lucky enough to have a very open entryway space, consider moving your bench out from the wall and placing it in the center. This is exactly what designer Claudia Afsharhas done in this example, also choosing a circular piece. Just like a circular entry table, this creates both a welcoming and opulent environment, boosted by choosing to hang a chandelier directly above as part of the hallway lighting ideas.
9. Tie your bench color into the entryway artwork
Artwork in the entryway is always a great way to introduce yourself and your style to guests entering your home – so why not let your favorite piece lead the color scheme for the whole space? Taking color notes from a statement artwork and using them in your furniture choices will help a hallway feel coherent and curated.
In this example, a red bench mirrors the painting above, and is combined with grey hallway ideas for a backdrop that lets both pieces shine.
10. Bring the outside in with green
Green has been a huge color trend across all parts of the house over the last couple of years, as we all look to bring the outside in. It's been particularly popular among hallway paint ideas, but there's no reason why the natural inspiration should stop there. In this room, a vibrant grass green and natural textures have been woven through the entryway's accessories, with the biggest color block coming courtesy of the bench's green seat cushions.
11. Go boho with rattan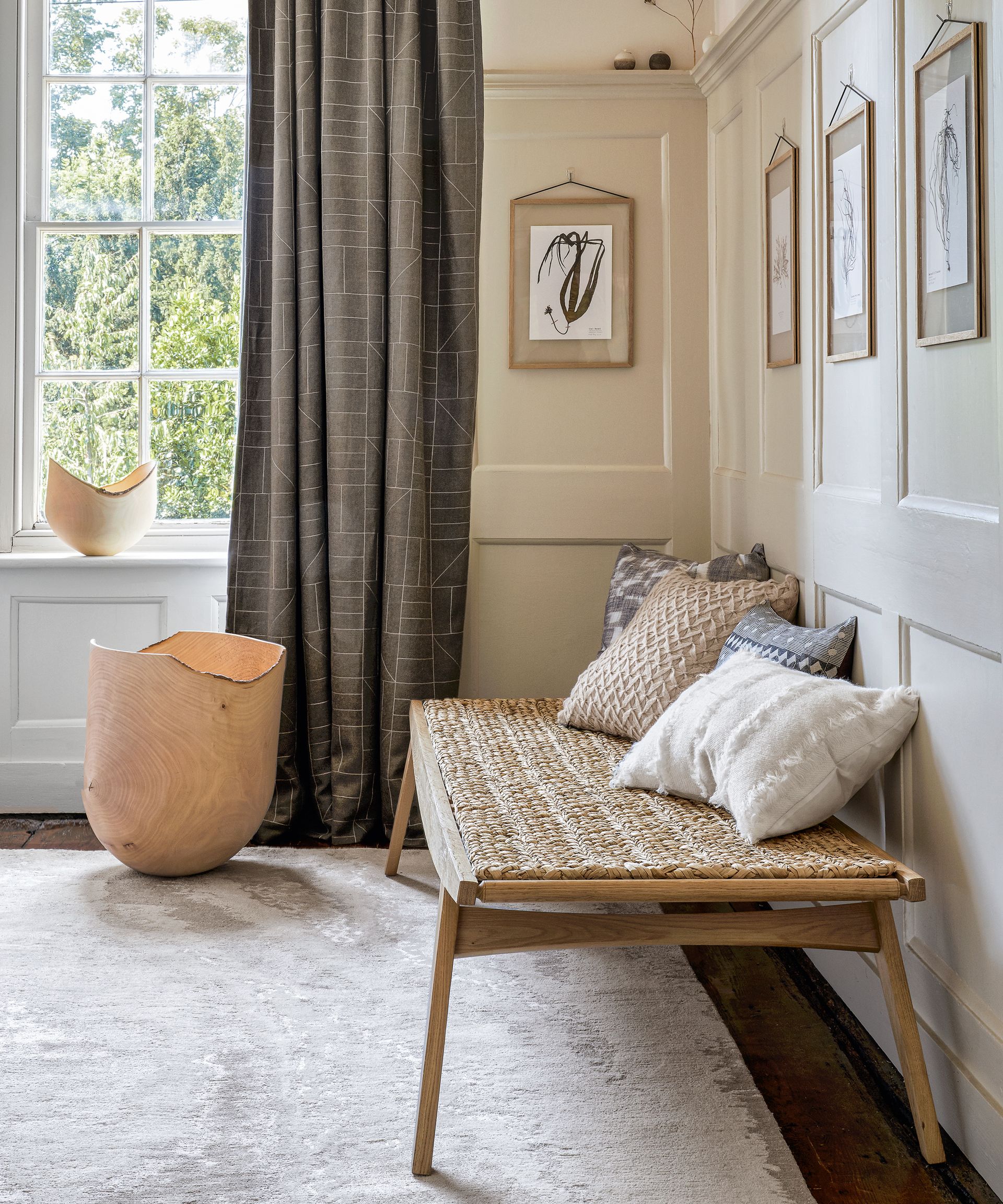 A modern look doesn't have to mean minimal lines and totally slick surfaces. For contemporary style with a hint of the bohemian, consider rattan and other woven surfaces for your entryway bench.
The seat of this bench is made with a woven grass material for a relaxed look, that is paired with a simple leg style to keep it feeling modern. Paired with neutral tones of grey and taupe, that and the geometric lines on the dark grey curtains refresh a traditional leaning room.
12. Choose chairs instead of a bench
Of course, entryway seating doesn't always have to be a bench – there are a variety of alternative seating options that will do the trick. A small sofa is one, but you can also consider a chair – or ideally two, to ensure people don't have to take turns and getting out of the house doesn't take even longer than it should. In this room created by Farrow & Ball and Kelly Wearstler, a pair of matching chairs welcome guests.
Can I put an entryway bench in a small hallway?
Absolutely, you'll just need to be smart about what style you choose and where you put it. Modern styles of entryway bench are particularly good choices for small spaces, as they are typically more minimal or pared down in design – this avoids crowding the space aesthetically as well as physically.
In terms of positioning, look to where your hallway is at its widest – you may well have an alcove space you hadn't considered before, or be able to make the most of the awkward space under the stairs. For the design, look for slimline benches rather than backed sofas and choose ones with straight legs rather than anything that protrudes further outwards than it strictly needs to.
Can you use an entryway bench for shoe storage?
Choose wisely, and an entryway bench can work as a smart piece of storage as well as a seat. There are plentiful designs out there that incorporate shoe storage into the bench itself, doubling up its usage as a piece of furniture.
Drawer storage allows for easiest access to your shoes, but you can also consider an ottoman style, in the seat can be lifted on a hinge or removed completely and shoes dropped in. Alternatively, open benches can host baskets filled with shoes that are tucked in neatly underneath the seat.
Sign up to the Homes & Gardens newsletter
Decor Ideas. Project Inspiration. Expert Advice. Delivered to your inbox.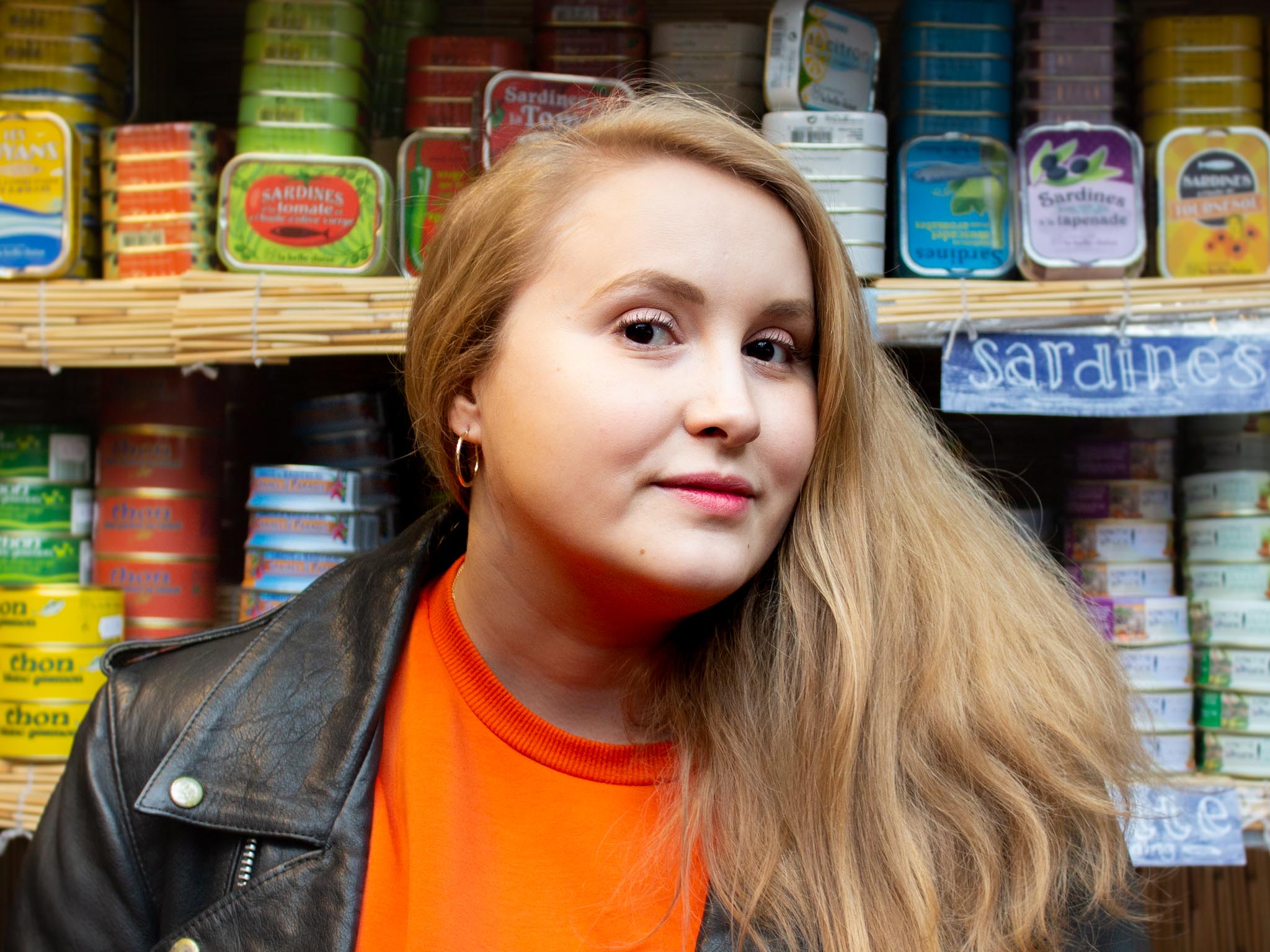 Ailis started out at British GQ, where a month of work experience turned into 18 months of working on all sorts of projects, writing about everything from motorsport to interiors, and helping to put together the GQ Food & Drink Awards. She then spent three years at the London Evening Standard, covering restaurants and bars. After a period of freelancing, writing about food, drink and homes for publications including Conde Nast Traveller, Luxury London and Departures, she started at Homes & Gardens as a Digital Writer, allowing her to fully indulge her love of good interior design. She is now a fully fledged food PR but still writes for Homes & Gardens as a contributing editor.