How to clean a front door – smarten up the entrance to your home
Be sure about how to clean a front door and keep up your home's curb appeal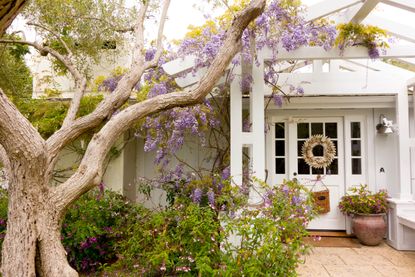 (Image credit: Alamy)
Knowing how to clean a front door whatever material it's made from is crucial to keeping the entrance smart and welcoming, and maintaining the curb appeal of your property.
It's inevitable that the front door will accumulate dust and dirt over time, as well as sills and ledges, while hardware, as well as glazing, can start to look less than pristine.
These are the steps to follow to clean a front door, plus top cleaning tips from the experts to ensure the best results so that your front door ideas look fabulous from the front yard.
How to clean a front door
Cleaning a front door can generally be achieved with the supplies you already have in your home. Here are the steps to follow when you want to know how to make your front door design look as good as new.
1. Wipe down the front door
It's important to wipe away any debris, loose dirt, and cobwebs first. Always work from the top downwards, and make sure to target ledges, crevices, and sills as well as the main part of the door.
Use a dry cloth – a microfiber version or a duster – for this. These microfiber cloths from Amazon come highly rated. Alternatively, a handheld vacuum could make the task easier.
2. Check for wear or damage
Take a moment when following the steps in how to clean a front door, and inspect the door for wear or damage, plus check its movement.
Make sure that the hinges are free of debris, and look at the seals, and the sill. Ian Chubb, managing director of Deuren Doors recommends cleaning and lubricating locks and hinges, and likes using WD40 for this. 'Cleaning the seals with a little WD40 will also help preserve the rubber and help against cracking over time,' he says.
Examine the surface of a varnished wood door to see if it needs to be revarnished. 'We recommend a specialist color sealant to coat hardwood areas,' says Jonathan Hey of Westbury Windows & Joinery. 'Don't forget the thresholds. Usually made from hardwood, they need coating every two years to ensure optimum care and durability.'
For painted doors, look out for any damage or cracks in the paintwork and seal these areas immediately. 'Any movement in the wood can cause cracks in the paintwork, leading to water ingress that causes swelling and rotting over time,' says Jonathan. If a fresh look is desirable, you could paint the front door in a new color, of course.
In terms of glazing, glass moves more than wood, so regularly check that there is no water ingress between the glass and bead.
3. Wash down the front door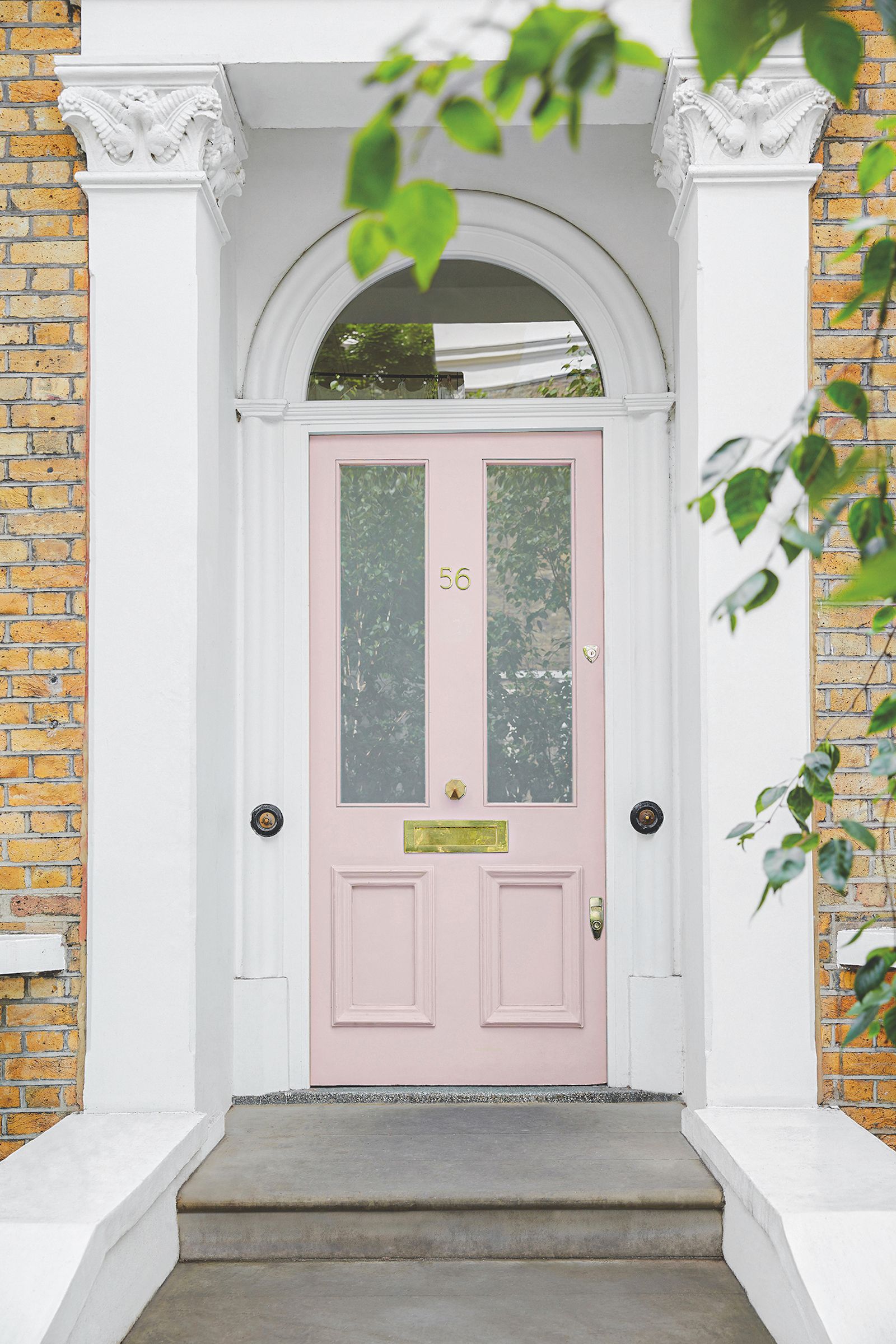 Once the loose dirt and debris has been removed, wash down the front door. 'Best all-around solution for cleaning a door facing outside? Mild dish soap and water,' says Janice Stewart, a cleaning industry veteran, and vice president and co-owner of Castle Keepers, a residential cleaning company based in Charleston, SC. If the door is made from metal or fiberglass, an all-purpose cleaner could be used as an alternative, she says.
Use a soft cloth to wash down the door with the cleaning solution, rinsing the cloth frequently, then rinse thoroughly.
Tempted to use a pressure washer? 'Do not jet wash a timber finished, high gloss door,' cautions Ian Chubb. 'We have seen some truly high end doors ruined by people taking the option to jet wash.'
4. Dry the door
It's important to dry the door thoroughly using a clean cotton or microfiber cloth. Why is this important? It will ensure it has a smudge-free finish.
5. Clean the glazing
Wondering about how to clean a front door that's glazed, or has any glazing in it or glazing around it? This should be cleaned at the same time. Wash down the glass to remove loose dirt and grit then clean using a glass cleaning product. Alternatively, glass is one of the things you can clean with vinegar so make up a vinegar and water solution. You can buy white vinegar from Amazon.
Avoid cleaning glazing when the sun is shining directly on the door to avoid streaks, and rinse with a clean damp cloth after using a vinegar and water solution then dry with a clean cloth.
'Use a soft cloth when cleaning glass and remove any jewelry, particularly any rings with diamonds, to prevent scratching,' advises Jonathan Hey.
6. Clean door hardware
When thinking how to clean a front door, don't neglect the door's hardware.
Handles, knockers and other hardware should be wiped down, then cleaned with a mild detergent solution.
'Metal polish or any type of abrasive cleaner must not be used on door hardware, although the occasional application of wax polish will help to prolong the finish of the metal,' says Jonathan Hey.
What's the best way to clean painted doors?
The procedure for cleaning painted doors is a straightforward one. 'Start by dusting the door to remove any dirt or accumulation – use a gentle duster or microfiber cloth to do this,' says experienced exterior remodeler Larry Greene, president of Case Design/Remodeling Indy.
'To rinse the door, combine water and dish soap and spread evenly – make sure the soap is safe for most household surfaces. Even though it might be tempting, skip any type of furniture polish – it can damage the paint and finish.'
How can I make my front door shine?
The key to making a front door shine is cleaning and maintaining it regularly. As to how often to do it, Michael Rusciolelli, owner of Janitorial Management Incorporated, suggests that frequency depends on time of year, geography, and home conditions.
Door glazing should be cleaned monthly, recommends Janice Stewart, although she notes it may need doing more often in spring.
Sign up to the Homes & Gardens newsletter
Decor Ideas. Project Inspiration. Expert Advice. Delivered to your inbox.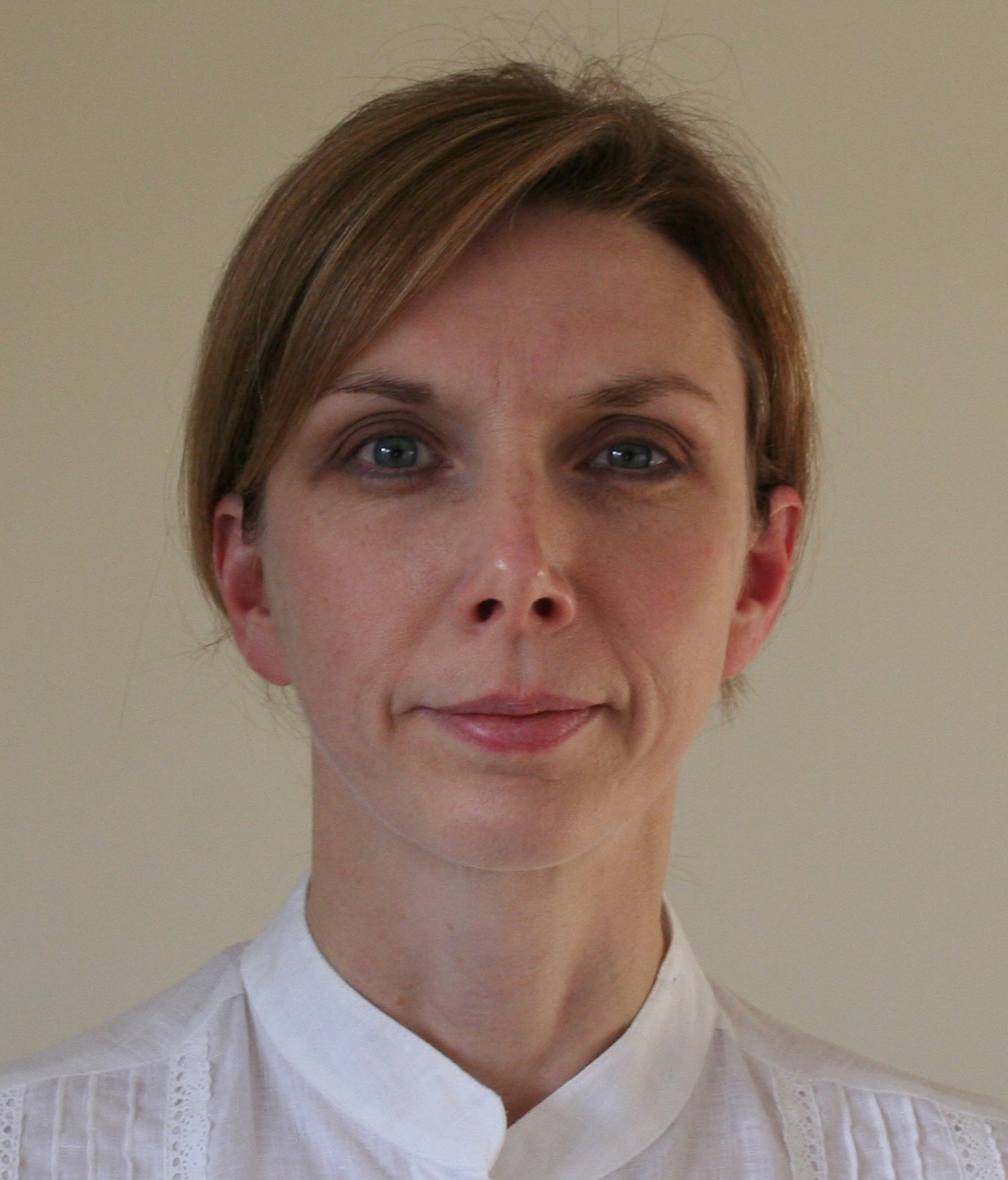 Sarah is a freelance journalist and editor. Previously executive editor of Ideal Home, she's specialized in interiors, property and gardens for over 20 years, and covers interior design, house design, gardens, and cleaning and organizing a home for H&G. She's written for websites, including Houzz, Channel 4's flagship website, 4Homes, and Future's T3; national newspapers, including The Guardian; and magazines including Future's Country Homes & Interiors, Homebuilding & Renovating, Period Living, and Style at Home, as well as House Beautiful, Good Homes, Grand Designs, Homes & Antiques, LandLove and The English Home among others. It's no big surprise that she likes to put what she writes about into practice, and is a serial house renovator.