Front door design: a guide to choosing a new front door
Make an entrance to be proud of with our front door design guide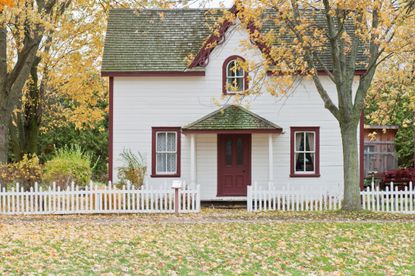 (Image credit: Unsplash/Scott Webb)
Sign up to the Homes & Gardens newsletter
Decor Ideas. Project Inspiration. Expert Advice. Delivered to your inbox.
Thank you for signing up to Homes & Gardens. You will receive a verification email shortly.
There was a problem. Please refresh the page and try again.
Front door design is an important factor in any home's curb appeal. It's the natural focus when you or anyone else approaches the property, so it's a feature with a huge impact.
There is a plethora of front door ideas to choose from, including doors that are solid, paneled, glass or part glazed, and more, but making the right selection to complement a home's architecture is crucial to the external appearance of a home.
Here we look at the benefits as well as what to be aware of for each style and experts contribute their advice.
Front door design
These front door design options will provide inspiration for replacing the front door of your home or choosing the door of a new build, and boosting its curb appeal.
Flat, solid front door
Flat, solid doors have a simple appearance and a quality design can also provide good home security. 'Because it's so minimalistic the material and hardware become the detail which can make or break the project,' says Anna Wong realtor at Strata, who has a professional background in interior architecture.
They can suit mid-century modern homes well and let the forms of the modern house shine, says architect Leslie Saul of Leslie Saul & Associates. They 'work best with a narrow sidelight of glass on the side with the entry knob. Symmetrical narrow sidelights can also work,' she advises.
Contemporary wood paneled front door
Wood paneling adds detail to a front door, and horizontal panels have a contemporary look that can complement modern houses. A contemporary wood paneled door could also suit homes with wood paneling on the facade. As with flat, solid front doors, a quality version can provide good home security as well as privacy.
As with all wood doors, choosing one of these front door designs does bring maintenance requirements. 'Wood can deteriorate over time and the sun may cause discoloration,' says Anna. 'Be sure to check with the manufacturer to see what technology is used on the wood for protection.'
Traditional wood paneled front door
A traditional wood paneled door is beautifully detailed as well as providing good security. 'These doors are usually crafted out of solid wood, and those who use it appreciate the authenticity of the material and craftsmanship,' says Anna. 'The patterns are usually inspired by a region in Europe, and are often used to evoke memories of a certain period.'
Bear in mind that one of these doors can be heavy so good quality hardware is essential. They can also be a more costly choice.
Wonderfully suited to a traditional home, a paneled door like this works best with symmetrical narrow sidelights, recommends Leslie. She notes that one of these doors might have a glass insert at the upper square as an alternative to solid wood panels.
'They can appear heavy especially when stained a dark color but painting in white can easily update it to a more modern look,' suggests interior designer Rebekah Dempsey, author of A Blissful Nest.
Glass front door
Another front door design that might be considered for a modern house is a glass version. They suit properties with simple style, says Leslie, who recommends frosted glass to preserve privacy. The design could also work for other properties. Rebekah suggests a glass door might also complement a coastal or mid-century home.
A distinct advantage of one of these doors is the amount of light it allows into the hall. A possible issue? 'Security can be a concern if it's fully glass without reinforcement protecting from break-ins,' says Anna.
A practical consideration – especially if the door is close to the street – is cleaning a front door of this style as the glass will need to be kept clear of dirt and smudges to stay looking its best.
Part glazed front door
A door with panels of glass can provide a little more privacy than a fully glazed front door design, while still introducing natural light into the entrance hall. How overlooked your home is should be taken into consideration when selecting the type of glass in the door.
'Plain glass panels will give you less privacy so using beveled or frosted glass on the top will still bring in lots of light to an entryway but shield views inside the home from the street,' advises Rebekah. As with a fully glazed door, check with the supplier about security measures built into one of these designs.
These front doors are seen in a more casual exterior design like a coastal home or even a farmhouse style, Rebekah suggests. Stained glass paneled doors, meanwhile, are an option for Victorian homes to create authentic style. Be wary of lookalikes, though. 'If you want stained glass, use the real thing,' says Leslie.

Wrought iron front door
A front door design featuring wrought iron will also be made from other materials including glass panels, but is nonetheless a distinctive design. One of these might be seen in a Spanish or Tuscan style home, says Rebekah. They also work well with French country style or New Orleans style homes, notes Leslie.
'The iron detail can be elaborate or very simple depending on how ornate the home style is,' says Rebekah.
Their appearance means careful consideration is needed before opting for one of these designs. 'They have great curb appeal in the right style house but can appear heavy and less welcoming,' explains Leslie.
Be aware that 'depending on the pattern used it can look "pre-made" as opposed to custom', according to Anna. It can therefore be well worth investing in a custom wrought iron door to complement the property.
Double front door
A double front door can look imposing, and prove a practical choice because of its width. Which homes might one of these complement? 'Typically you see double entryway doors in more traditional homes like a coastal, farmhouse, and transitional style homes,' says Rebekah.
Another advantage of opting for a double door is that it has the potential to introduce additional light to the entryway, depending on the design, she notes.
However, it is important for the home's overall external appearance to keep things in proportion, according to Leslie. 'These doors should only be used on very large front porches,' she says.
Front door materials
If you are wondering, how much is a new front door?, it is likely that the material will be the biggest factor to affect your budget. Here, we take a look at front door materials and associated costs.
Timber is a great fit for country properties. Oak, iroko, larch and cedar are all popular for their dense grains but, unlike other materials, wood can be prone to warping so regular maintenance is required. 
In general, you can expect to pay around $350/£250 for a veneered timber door bought off the shelf, but bespoke solid wood designs can easily exceed $2,800/£2,000 depending 
on the quality and specification.
Composite doors made with glass reinforced plastic (GRP) come in stylish wood-look designs – choose 
a solid core construction over 'hollow' polystyrene. While not as authentic as real timber, composite has all 
the benefits of modern technology, so requires less maintenance. It 
can be tough on the purse strings, however, due to its superior build structure, with a standard door starting from around $1,770/£1,250.
Metal such as steel or aluminum offers a stylish, architectural look, paired with great thermal performance, strength and durability.
'For one of our premium designs with a guarantee of up to 20 years, you'd expect to pay from $2,500/£1,800,' says Victoria Brocklesby, chief operations officer at Origin.
UPVC is the budget-friendly choice and is available in both coloured and wood-effect finishes. Despite 
its thicker frame, it lacks strength when compared to other materials, which can be an issue when it comes to security.
Whatever material you decide 
on, bear in mind any additional costs, such as door furniture (hinges, door handles) delivery, disposal of your old door and taxes. Installation of doors with side windows and panels tends to cost more, too.
How to incorporate glazing in your front door design
Positioning is important. For panes 
at eye-level or below, frosted or painted panels work well, allowing light in while retaining privacy. Choose toughened or laminated glass for added security.
'I would recommend that homeowners include multiple glazed sections where possible to boost the kerb appeal of their property,' says James Upton, managing director, Westbury Windows & Joinery.
'Using both fanlights installed above the door, plus sidelights, will create an eye-catching entrance and help to flood the space behind with natural light.'
Original versus replacement front door designs
A period property tends to lose some of its character without an authentic front door, so if you are lucky enough to have an original 
in good condition, do your best 
to preserve it.
If you live in a listed building or a conservation area, restoration might be your only option – always check with your 
local authority or historical services.
Having a bespoke front door design is best for an older property as it offers the opportunity to choose the exact design and achieve the perfect fit.
Locks and security
Check that the front door is equipped with a multipoint locking system, heavy-duty hinges, a high-quality cylinder and handles.
If you're buying new, check that the door 
is compliant with insurance company requirements. In the UK, front doors can be accredited with the police-approved Secured by Design standard for extra peace of mind.
How do I choose a front door style?
Choosing a door design that's sympathetic to your property is 
the best way to achieve that all-important curb appeal. 'Most of the time the home's front door faces the front of the home and is where your eyes are drawn when looking at a home,' says Ben Neely of custom home designers and builders Riverbend Homes.
'We do feel it's important that the style of door goes with the overall style of your home or it will feel "off." A mid-century modern home shouldn't have a decorative Spanish style door, just as a French Tudor shouldn't feature an all-glass modern steel door.
'You can, however, mix and match the materials. For instance, on a German inspired farmhouse we installed a solid fiberglass door in lieu of wood as it will last much longer in the outdoor elements. However, we faux stained it so you can't tell that it's not wood.'
The most common deciding factors are thermal efficiency and durability. But style details can also have a beneficial effect on your home.
If your hallway is dark, it makes sense to choose a door with windowpanes that bring much-needed light into the space. Or, if you have large windows, you might want to think about a solid door for extra privacy. It's worth doing your research to achieve an authentic feel as small details can make a difference. For instance, late Georgian homes added fanlights, while those earlier in the period tended to be solid wood.
'In some cases, mixing old and new can work well,' says Ryan Schofield, managing director at Thames Valley Window Company. 'An aluminium door can look incredibly eye-catching on an older property, particularly if it's been modernised elsewhere as well.
It is important to think about re-sale value, as a front door is the first thing they'll notice. Don't forget door furniture. Beardmore and Classic Brass are treasure troves of fancy ironmongery in various finishes.
What is trending for front doors?
Glass is trending as a feature of front doors. 'Most of our projects incorporate glass into the front door, whether the inset of glass is small or large,' says architect Leslie Saul.
Ben Neely of Riverbend Homes has seen the same desire for glass in doors. 'For the past several years the majority of our clients have opted to go with custom metal doors with a lot of glass no matter the style,' he says. 'The more traditional Spanish inspired homes feature more of the decorative "Flemish" glass with metal scrolling designs. While the more contemporary homes feature almost exclusively clean, square, oversized glass doors.'
Color is equally as impactful in this discussion. And part of the discussion involves knowing which front door colors to avoid. It is the first canvas of your home, after all.
Sign up to the Homes & Gardens newsletter
Decor Ideas. Project Inspiration. Expert Advice. Delivered to your inbox.
For 10 years, Tara King worked as a Content Editor in the magazine industry, before leaving to become freelance, covering interior design, wellbeing, craft and homemaking. As well as writing for Ideal Home, Style at Home, Country Homes & Interiors, Tara's keen eye for styling combined with a passion for creating a happy – and functional – family home has led to a series of organization and cleaning features for H&G.