Best handheld vacuum 2022 for quick clean-ups at home and in the car
For small messes and tight corners, the best handheld vacuum is a household essential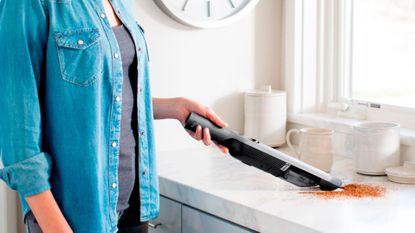 (Image credit: Shark)
Owning the very best handheld vacuum is essential for quickly cleaning up after pets, for small spills, and for general day-to-day upkeep. Today's top hand vacs are lightweight, powerful, and thoughtfully designed. Most have cut the cord, and store compactly for even more convenience.
They do not replace the best vacuums — you still need a full-sized vac for deep cleaning and keeping up with your floor routine — but for digging up crumbs between car seats, easy stair cleaning, or refreshing various upholstered pieces, a handheld vac is very handy. Their small size (and hopefully lightweight build) makes it easier to clean, too.
We've researched and compared the best handheld vacuums. All you need to do now is choose the right one for your needs. A handheld for pet owners? We found it! What about a sleek and powerful design that you'll surely want close by and within easy reach? You might just want to carry it everywhere with you.
All about multitasking? Consider upgrading to one of the best cordless vacuums, which also convert for handheld cleaning. Our tried, tested, and the trusted list is the best place to start (and finish) your research.
Best handheld vacuums 2022
Why you can trust Homes & Gardens Our expert reviewers spend hours testing and comparing products and services so you can choose the best for you. Find out more about how we test.
1. Black + Decker 20V MAX* Lithium Pivot Vac
Best handheld vacuum
Specifications
Cordless: Yes
Weight: 3 lb
Battery life: 15 Mins
Charge time: 4 hours
Capacity: 15 oz.
RRP: $89.99
Reasons to buy
+
Pivoting design for greater flexibility
+
Built-in attachments
+
Stores compact and upright
Reasons to avoid
-
Limited attachments
-
Short battery life
Of course, you want the best of the best, and when it comes to handheld vacuums, Black + Decker has made a name for itself in delivering powerful, compact vacuums. Even better: you don't have to shell out hundreds of dollars for a quality device.
Design and technical features
The 20-volt lithium-ion design is one of the most powerful you will see on a handheld vacuum when it comes to suction power. The core design feature utilizes a pivoting nozzle that pivots up to 200 degrees to clean at whatever angle is comfortable for you, and a wide mouth for greater pick-up. The Pivot also incorporates the crevice tool and dust brush into the design, meaning fewer (and in this case) no extra attachments to look after or worry about losing. And storing to charge is so nice and compact, it sits neatly upright.
Final thoughts
Black + Decker 20V MAX* Lithium Pivot Vac emphasizes its design and power, which stand true. However, if you're looking for extended cleaning sessions, you may need to move on to our heavy-duty cleaning pick, because the battery life is still pretty short. We also really like the convenience of the built-in attachments, but there is no pet tool for a hair pick-up which is common with most vacuums.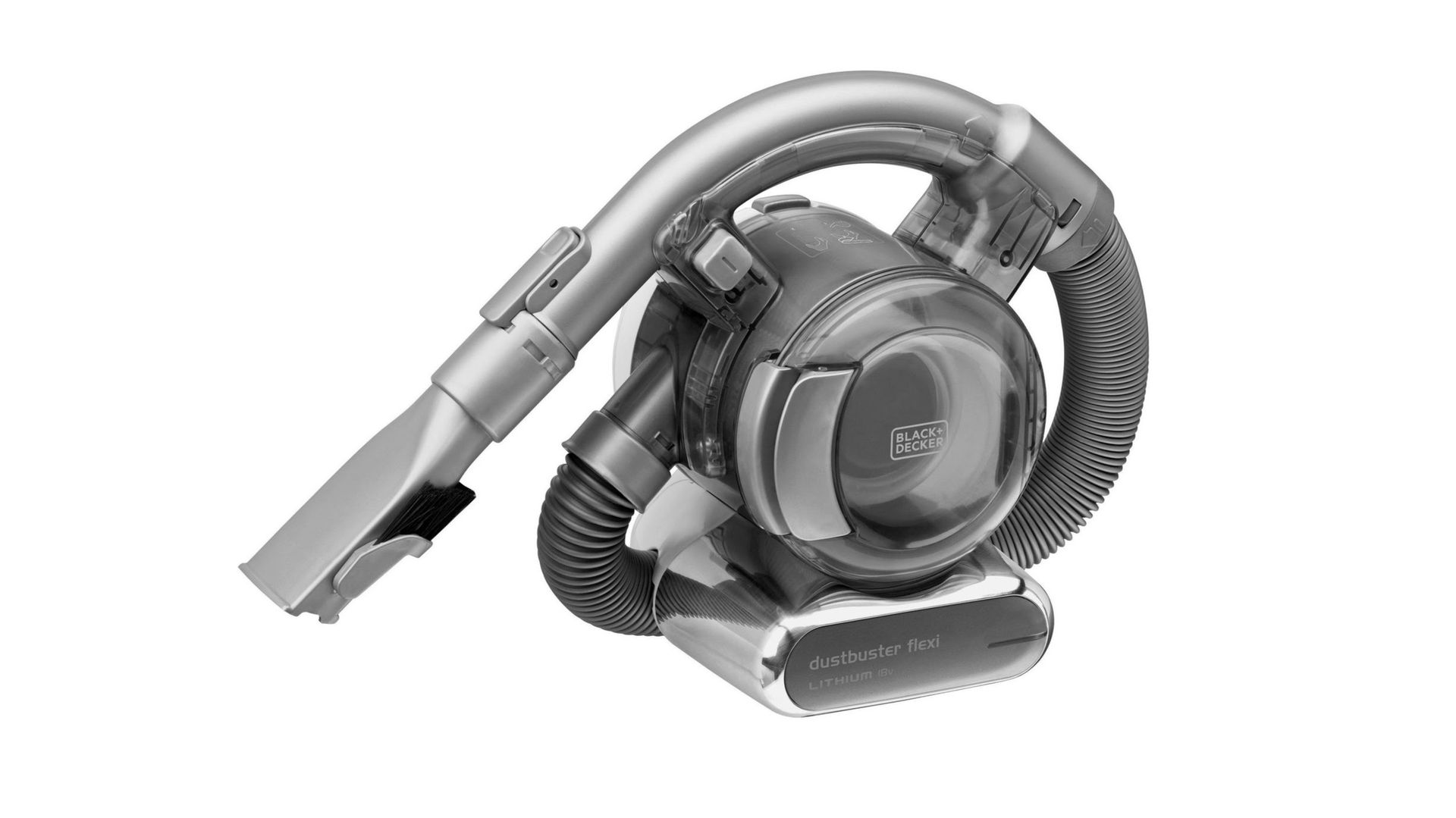 2. Black + Decker 20-Volt Max Lithium Ion Cordless Handheld Flex Vac
Best handheld vacuum for versatility
Specifications
Cordless: Yes
Weight: 5.3 lb
Battery life: 15 Mins
Charge time: 9 hours
Capacity: 17 oz.
Reasons to buy
+
Easy-to-remove and washable bowl
+
Pet-hair brush
+
Easy to hold
+
Powerful suction
In quite a small footprint, the Black + Decker 20-Volt Max Lithium-Ion Cordless Handheld Flex Vac packs a number of features into a circular design that is easy to carry, versatile to use, and offers strong suction power.
Design and technical features
The Flex vac features the same powerful 20V suction power as our top pick, but with
a major body-style change. The addition of a built-in 4-foot flexible hose makes it easy to access tight spaces, as well as up high and down low. It also comes with handy accessories including a 2-in-1 nozzle/flip-up brush, a pet-hair brush, and a crevice tool for increased versatility wherever you need a little boost of suction power. Plus, three-stage filtration ensures that dust and debris won't escape once suctioned up.
Final thoughts
Durable, powerful, and going to get the tough jobs done. We only wish the battery life was longer.
3. Shark WANDVAC Cord-Free Handheld Vacuum
Best handheld vacuum for quick pick ups
Specifications
Cordless: Yes
Weight: 1.4 lbs
Battery life: 10 mins
Charge time: 2.5 hours
Capacity: 2.6oz
Reasons to buy
+
Great design
+
Lightweight
+
Pet and crevice tools
+
Relatively short charge time
We were originally drawn to the sleek design of the Shark WANDVAC, but we've found ourselves even more impressed with the power and versatility packed in this 1.4lb. mini handheld for catching quick messes in the kitchen, car, or wherever you may need a quick burst of cleaning power.
Design and technical features
The slim build boasts a high-speed, brushless motor for superior suction. It also comes with a variety of attachments including a crevice-cleaning tool and a multi-surface tool for cleaning upholstery and pet hair. The .08 dust cup empties with the push of a button straight into the garbage. It's even available in a range of fashion colors like rose gold or cove blue.
Final Thoughts
While, it does have a relatively short battery life at 10 minutes, and just one setting, The Shark WANDVAC is a great little hand vac to keep on hand for quick clean-ups. It's attractive enough to create a minimal visual distraction in its charging dock on your counter, or slim enough to be tucked away into a cabinet when not in use.
4. Bissell Pet Hair Eraser Lithium Ion Hand Vacuum
Best handheld vacuum for pet hair
Specifications
Cordless: Yes
Weight: 3lb.
Battery life: 17 mins
Charge time: 6 hours
Capacity: .7L
Reasons to buy
+
Super easy to use
+
Pet-hair and upholstery tool included
+
Really good suction and runtime
Reasons to avoid
-
Attachments are a little stiff to put on / take off
-
Unable to buy JUST the paper replacement filter
We love our pets, but if you find yourself constantly following a trail of fluff that was once on your fur baby's body, and now clinging to your floors and furniture like static, you'll want to whisk around the Bissell Pet Hair Eraser Lithium Ion Hand Vacuum. It's lightweight and powerful, and built especially for pet owners, though humans with long locks can certainly benefit from it too.
Design and Technical Features
The Bissell Pet Hair Eraser has a 14.4- Volt battery that provides up to 17 minutes of charge and Triple-Level Filtration. It's super easy to handle — just grab it when you need to do some quick cleaning in focused areas. The best part, though, is the detachable motorized brush that helps remove embedded pet hair from surfaces like upholstery and area rugs. This Bissell handheld vac is suitable for use on stairs, hair floors, and deep-pile carpets. It also works well on kitchen work surfaces and car seats, so there's really no surface it can't cover. For extra versatility, it also includes an Upholstery Tool and a Crevice Tool.
Final thoughts
If you're in need of a quick zip of power to suction up spills, dust, or hair, but don't quite want to pull out the full-size vacuum, the Bissell is sure to impress.
5. BLACK+DECKER Spillbuster Cordless Spill + Spot Cleaner
Best handheld vacuum for wet and dry messes
Specifications
Cordless: Yes
Weight: 5.4 lb
Battery life: 15 minutes
Charge time: N/A
Capacity: 17 oz.
Reasons to buy
+
Cleans wet and dry messes
+
Built-in spot cleaner and scrub brush to lift stains
+
Dishwasher safe parts
+
Great for spot cleaning
Reasons to avoid
-
Kind of bulky
-
Could be more effective on carpets
-
Average suction
For quick and easy clean-ups of messes that are either wet, dry, or a combination of the two, Black + Decker's Spillbuster is exactly the tool for spot-cleaning small accidents, from pet mishaps to soggy food spills. It also has a built-in spot-cleaning feature that tackles any wet stains to make the area like new.
Design and Technical Features
The Black + Decker Spillbuster gets up to 15 minutes on a single charge. In addition to a dustbin, it also has a space for a built-in cleaning dispenser formula to tackle stains right away. The three-step process involves vacuuming up the mess, spraying the mess, and then scrubbing, all with the same device. Additionally, since you're dealing with wet messes sometimes, many of the plastic compartments are dishwasher safe, which is important to keep clean to avoid any odors.
Final thoughts
The Spillbuster is great to have on hand to clean both hard floors and carpets. It's easier than pulling out a full-sized carpet cleaner to treat small messes, but users comment suction power could be better.
6. ThisWorx Portable Car Vacuum Cleaner
Best handheld vacuum for the car
Specifications
Cordless: No
Weight: 2.6 lb.
Cord Length: 16 feet
Capacity: Unknown
Reasons to buy
+
Uses a 12V car adapter for use
+
Includes a storage container
+
LED light to see dark areas
+
HEPA filtration
Reasons to avoid
-
Corded
-
Only usable with a car adapter
If you want to give your car interior a good detailing without a second thought to whether your vacuum is charged, the ThisWorx will tackle dirt and sand that gets tracked into the floorboards, snacks that get left in between cushions, and any dust that accumulates on the dashboard.
Design and technical features
The ThisWorx portable car vacuum cleaner features a 16-foot cord that should offer bumper-to-bumper access. The small, yet mighty handheld offers 110W of suction power, a washable HEPA filter, a LED light to see dark spots, and one of the largest suites of attachments we've seen including a flathead hose for hard-to-reach areas, an extension tube for crevices, and a brush head to dig out dirt on carpets and upholstery. Plus, it can suction up liquids, sealing its fate as a workhorse. Even better, when not in use, it conveniently stores in a carrying case that you can stash in your trunk.
Final thoughts
This car vac seems to have it all, as long as you're comfortable keeping the cord. Our only major downside is it can only be used in the car since it works with the 12V car socket, so if you want to use it elsewhere because you love its suction power, well, you will have to pull your car alongside it.
How we chose the best handheld vacuums
Here at Homes & Gardens we strive to have hands-on testing with the products we recommend, and you can find out more about how we test. For our guide to the best handheld vacuums, we've researched and, perused through hundreds of reviews, and deep-dived into their design, special qualities, and who they may suit best. We've compared specs like battery life, weight, dust-bin capacity, ease of use, and overall cleaning performance.
Features to look for in a handheld vacuum
When selecting your next handheld vacuum, consider these factors
Weight
Since it's something you'll be carrying around, it's important for your handheld vacuum to be lightweight. Anything under five pounds should feel comfortable to hold, but you can also find models that are less than 2 pounds.
Power
Don't expect the suction strength of a full-sized vacuum, but anything that is at least 12-Volts will offer adequate suction power. Our top picks feature up to 20-volts of power to help you get your surfaces clean, faster.
Battery or Corded
Battery-powered cordless models are dominating the landscape at the moment. It's easy to see why. They're convenient and can be taken almost anywhere. Most we've seen have batteries that last between 15 and 20 minutes. If you're looking for longer cleaning sessions or not having to recharge as frequently, you'll want to choose a corded model or try a cordless vacuum with a handheld component, with stronger battery life.

Dust Cup Size
The lighter the vacuum, the smaller the dust bin. A standard dust bin size for a handheld seems to be about 10-20oz, and on smaller, micro models, they can be as small as 3oz. Designs with see-through containers will let you keep track of how much debris has accumulated and should be easy to empty over a trash can.
Where you're going to use it
Handheld vacuums are small in nature, but it's important you consider where you want to store them, or the area you're looking to use it most. Will it just be used in your car? Perhaps looks for something with a car adapter to charge. Looking to take it on the go or short on storage space? A micro handheld vacuum might be a good idea to have, without being heavy or bulky.
You've reached the end of the page. Jump back up to the top ^