Brigii Cordless Handheld Vacuum –convenient spot cleaning at its smallest
Smaller than a rolling pin, the Brigii Cordless Handheld Vacuum is the kind of useful vacuum you need for quick cleans around the home.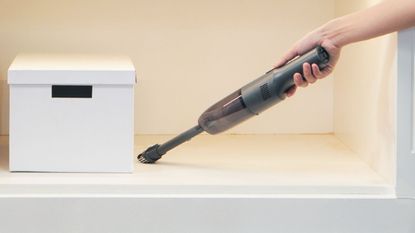 (Image credit: Brigii)
Compact and cordless, this is perfect for quick, spot cleans. It's a good supplement to your main vacuum cleaner, but lacks a little sophistication.
Reasons to buy
+

Good across different debris and floors

+

Compact

+

Impressive suction power

+

Easy to clean filters
You can trust Homes & Gardens. Our expert reviewers spend hours testing and comparing the latest products, helping you choose the best for you. Find out more about how we test.
It's a truth universally acknowledged, that a well-used entryway will always need a clean. In fact, they get messy almost as quickly as you tidy them. If you have kids or dogs, you'll know the struggle particularly well. Treading in leaves and dirt creates notable, but not deep mess.
Oftentimes this doesn't feel significant enough to justify unpacking your main vacuum cleaner to sort, which is when it's handy to have the cordless Brigii handheld vacuum nearby. Smaller than most water bottles, it's an easy and convenient way to keep your home spotless.
I took it to our test center and put it through its paces across a range of floor and debris types. Overall, this is an impressive handheld vacuum. It's basic, but a brilliant complement to your main vacuum cleaner.
Specifications
Swipe to scroll horizontally
| | |
| --- | --- |
| Dimensions | 11.8"L x 2.4"W x 4.6"H |
| Capacity | 0.2 L |
| Wattage | 70 |
| Runtime | 20 minutes (est) |
| Type | cordless |
| Noise level | 75 dBA |
Unboxing
The Brigii is characterised by its compactness. I'll try not to re-state the size too much, but just so you know, it's smaller than a rolling pin. The cardboard box that it arrived in was tiny and surprisingly lightweight. The Brigii has some plastic sleeves and packaging around it to keep it scratch-free, but there's not too much to dispose of.
I love that this comes with a drawstring bag. If you wanted to hook this on a coat stand or store it discreetly in a drawer, you can. All the accessories fit inside, so you can keep the charger and brush together.
Who would it suit?
If you're someone who notices every speck of dirt on the floor, you might as well buy a belt loop to keep this in. It's incredibly useful for spot cleans, especially in smaller homes where your main vacuum might be more effort to unpack and use.
If you have pets, this kind of handheld vacuum is really useful for small cleans. For example, if your furry friend leaves lots of hair on the sofa, the Brigii will clear it expertly. The same applies for cleaning drawers and cars; this would be easy to keep in the glovebox and then bring out for any spills or light cleans.
It's almost too obvious to mention, but this is a handheld vacuum, so it won't replace your main cleaner. It's a brilliant complement, rather than a small supplement.
What is it like to use?
I loved using the Brigii and have found myself wondering why it's not standard practice to have a main vacuum and then a little handheld. It's incredibly useful and easy to store. The crevice tool is ultra useful for precision cleaning around baseboards and in drawers and seams too. There's almost no end to what the Brigii can do. When I put it though our tests, I was even more pleased.
Test 1: Cereal
The first test for any vacuum involves suctioning cereal from the floor. Not only is this a common mess in most households, they're a good indicator for how a vacuum will handle large debris such as kibble too.
Having scattered cereal across linoleum, hard wood, and carpet floors, I used the Brigii on its low suction setting and got testing. I had absolutely no trouble and this cleared the floor in seconds. It was relatively quiet, never making more than 74 dBA of noise.
Of course, at the end of this round of tests, the small dust bin was full and needed to be emptied, but it had done a fantastic job. I didn't find it as effective when holding it upside down. You'll need to move your body if you want to vacuum at different angles, but with a vacuum this small, that's no effort at all.
Test 2: Flour and sugar
The next test for any vacuum is how well it can pick up flour and sugar from carpet, linoleum, and hard wood floor. Again, I was impressed with the Brigii. The suction power was good enough to lift sugar granules from the cracks in hardwood floor that bigger and more expensive vacuums had left behind in our other tests.
You can see in the image above that the Brigii, without any nozzle attachments, struggled to totally clear the carpet of flour and debris. I attached the brush to give the Brigii some extra help and it restored the carpet to its former, clean state. I put this down to the fact that the Brigii floorhead doesn't have rollers like big vacuums, instead it's just an open mouth. But with that in mind, I was pretty pleased with the Brigii.
Test 3: Hair
I was a little apprehensive about vacuuming hair with the Brigii. However, the lack of rollers and a floor head, which had hindered it on carpets, made it an incredibly clean and effective vacuum when lifting hair up from all floors.
I would even argue that this was the Brigii's best performance; it sucked up hair in seconds. Even better, there were no rollers for me to cut hair out of after. If you have pets and will need to vacuum a spot on the chair or in your car, this will come in endlessly useful.
Cleaning, storage, and maintenance
As I've mentioned, without a floor head, this is incredibly easy to clear after cleans. The body pops off and can be emptied straight into the bin. It's easy to slide the filter out and rinse it from there, but this didn't clog quickly at all.
When you're finished with the Brigii, it can be stored in its drawstring bag and left pretty much anywhere. It's really compact. Of course, you'll need to remember to charge it, which doesn't take long. I haven't experienced it running out of battery, because Brigii says that it will last for 20 minutes. I always used my Brigii for quick cleans; I don't think it would be comfortable to use for more than 20 minutes and then I put it on charge every time that I used it, so that I didn't ever go to use it on a flat battery.
How does it rate online?
I wondered whether people would call the Brigii cheap, because it's pretty basic, small and plastic, but they didn't. In fact, this is a hit with reviewers. The most gushing owners of Brigii's had pets - unsurprisingly - and used it to clean up after them. People commented on how small and yet also how powerful the Brigii is and I have to agree: it's remarkable.
It has 4.4 stars on Amazon, with people's main criticism being that this is single speed. Normally, I wouldn't like this in a vacuum, but when you're clearing small messes, you don't really need to adjust it much.
How does it compare?
Brigii has an H5 model, which comes with another speed, an LED display and a neat floorhead attachment. This is like the upgraded version of the Brigii Crevice that I tested, because it comes with a stand, wider nozzle, and floor head. If both vacuums costed the same, I would recommend the H5. However, you'll be paying another $40 for these features and I'm not sure it's worth it. The Brigii Crevice did a brilliant job.
The best 'upgrade' from the Brigii is the Dyson Omni-glide. This is much bigger than the Brigii - think five rolling pins rather than one - but it behaves more like a classic vacuum cleaner. The battery life tends to last longer and the dustbin is more than triple the Brigii's. The issue with the Omni-glide is that it's not nearly as compact as the Brigii, so if you live in a spall space and want a handheld vacuum for quick clean ups, the Brigii will be a better space-saving option.
Final thoughts
Anyone can make room for one of these, even me in my compact urban apartment. It's really useful for topping up your home cleaning without having to unpack a whole vacuum cleaner - plus this is cordless, making it even more convenient to use at a moment's notice.
How we test
At Homes & Gardens we test every appliance before we recommend them. Our experts take them to our test center, where we put them through our standardized tests as well as some extra ones if an appliance claims special features. We test our vacuums on a range of debris and floor types, so that you will know how well this suits your home before you buy it. If you want to know more, you can visit our 'how we test vacuums' page.
Sign up to the Homes & Gardens newsletter
Decor Ideas. Project Inspiration. Expert Advice. Delivered to your inbox.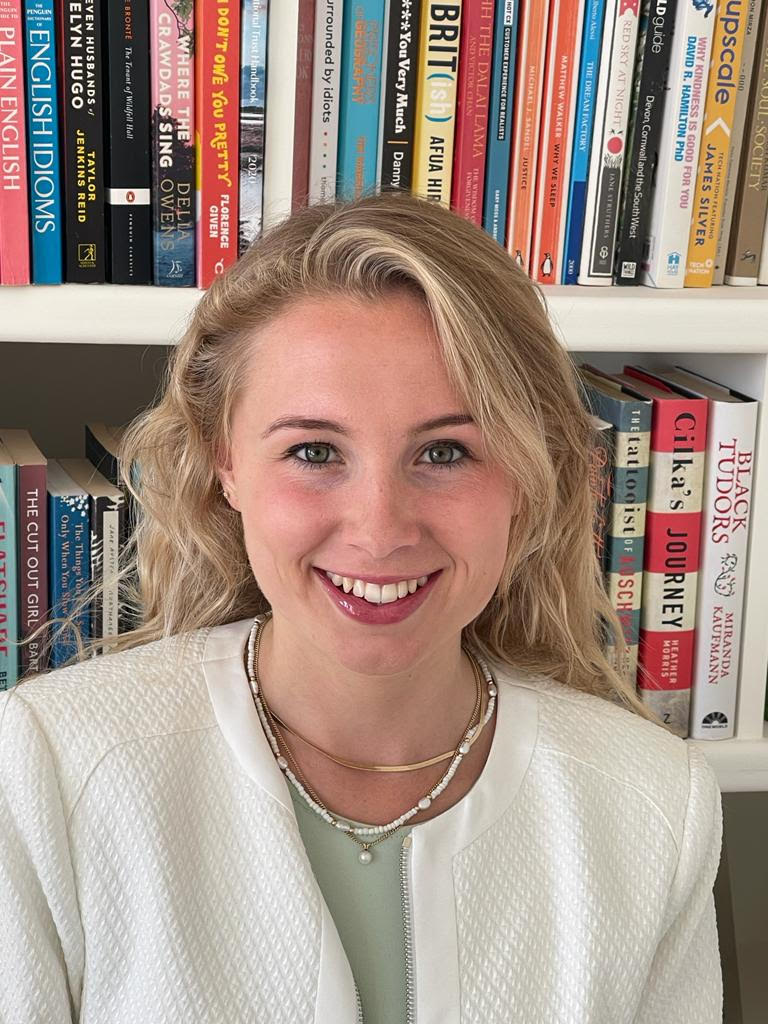 Laura is our eCommerce editor. As a fully qualified barista, she's our expert in all things coffee and has tested over thirty of the best coffee makers on the market. She has also interviewed Q-Graders and world-leading experts in the coffee industry, so has an intimate knowledge of all things coffee. Before joining Homes & Gardens, she studied English at Oxford University. Whilst studying, she trained as a master perfumer and worked in the luxury fragrance industry for five years. Her collection of home fragrance is extensive and she's met and interviewed five of the world's finest perfumers (also known as 'noses'). As a result of this expansive fragrance knowledge, she always puts quality and style over quantity and fads. Laura looks for products which have been designed simply and with thoughtful finishes.