Entryway decluttering rules pro organizers always follow – and you should too
Follow these expert-approved rules and you can finally say goodbye to a clutter-filled entryway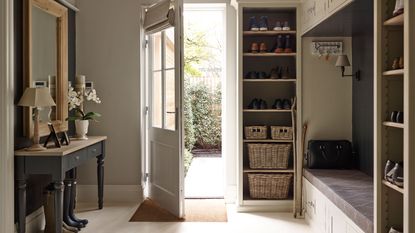 (Image credit: Future PLC / Sarah Kaye Representation)
Entryways are the true clutter magnets of many homes because of the simple fact we don't hang around in them for long. The mess might be easier to ignore here, but it lets the rest of the interior down.
Professional organizers have shared five decluttering rules to follow in order to maintain the calm and spacious entryway we all deserve. There's allowing a level of visual clutter for practical purposes – out of sight, out of mind etc. – and then there's letting it slide into 'obstacle course' territory.
Here are some decluttering rules you can implement right now so your entryway always greets you with a place to hang your coat, take off your shoes and drop your keys.
5 entryway decluttering rules that are easy to follow
With a little know-how it's simple to keep your home's entryway clutter-free, and these pro organizer-approved rules are a great place to start.
1. Follow the 'one in, one out' rule
Olivia Parks, a professional organizer based in New Orleans is an advocate for the classic 'one in, one out' rule to prevent cramped entryways filled with coats, bikes, 'sort out laters', and miscellaneous items without a home.
'Consider implementing a "one in, one out" rule, a simple but effective decluttering strategy that helps maintain a clutter-free environment,' she advises. 'It means that an old item must be removed for every new item brought into the home.
'This can help prevent the accumulation of unnecessary items and keep your entryway organized and tidy. By implementing this rule, you can ensure that your home stays clutter-free and well-maintained over time. Remember, the fewer items you have, the easier it is to organize,' Olivia adds.
2. Give everything a home
Jamie Hord, a professional organizer from Horderly says when decluttering an entryway, we need to be really honest about what actually belongs in this high-traffic area. 'Do a full pull-out, sort and edit of everything,' he begins.
'Anything that shouldn't be living there, put where it belongs. Ensure that you create a designated home for everything that needs to stay and live in the entryway.
'For example, create a bin for hats, gloves, and scarves, a drawer for sunglasses, and a bowl on the counter for keys.' Inspired? Us too, and we'll be looking at our entryway storage with fresh eyes and seeing what needs to be cleared out and stored elsewhere.
Jamie is the co-founder of Horderly, a professional organizing company that brings order to countless homes and offices, from the most cluttered New York City apartments to some of the largest homes nationwide. The team's goal is to make their clients' lives clutter-free, streamlined, and more functional.
3. Create an entryway 'drop zone'
Decluttering and resizing expert and author Judy Granlee-Gates suggests taking it back to elementary school and creating an entryway drop zone for each family member to put their coats, backpacks and shoes. If you dedicate plenty of space for everyone rather than hanging too many coats on too few hooks, a clutter-free entryway will become easier to maintain.
'Use wall hooks, a storage cabinet, or stacking bins,' says Judy. It's a realistic and highly functional way of organizing an entryway. If you don't want lots of coats out on display, maybe you can organize a hall closet and use closed storage space more effectively, with regularly worn items only kept in your entryway.
4. Keep key items right where you need them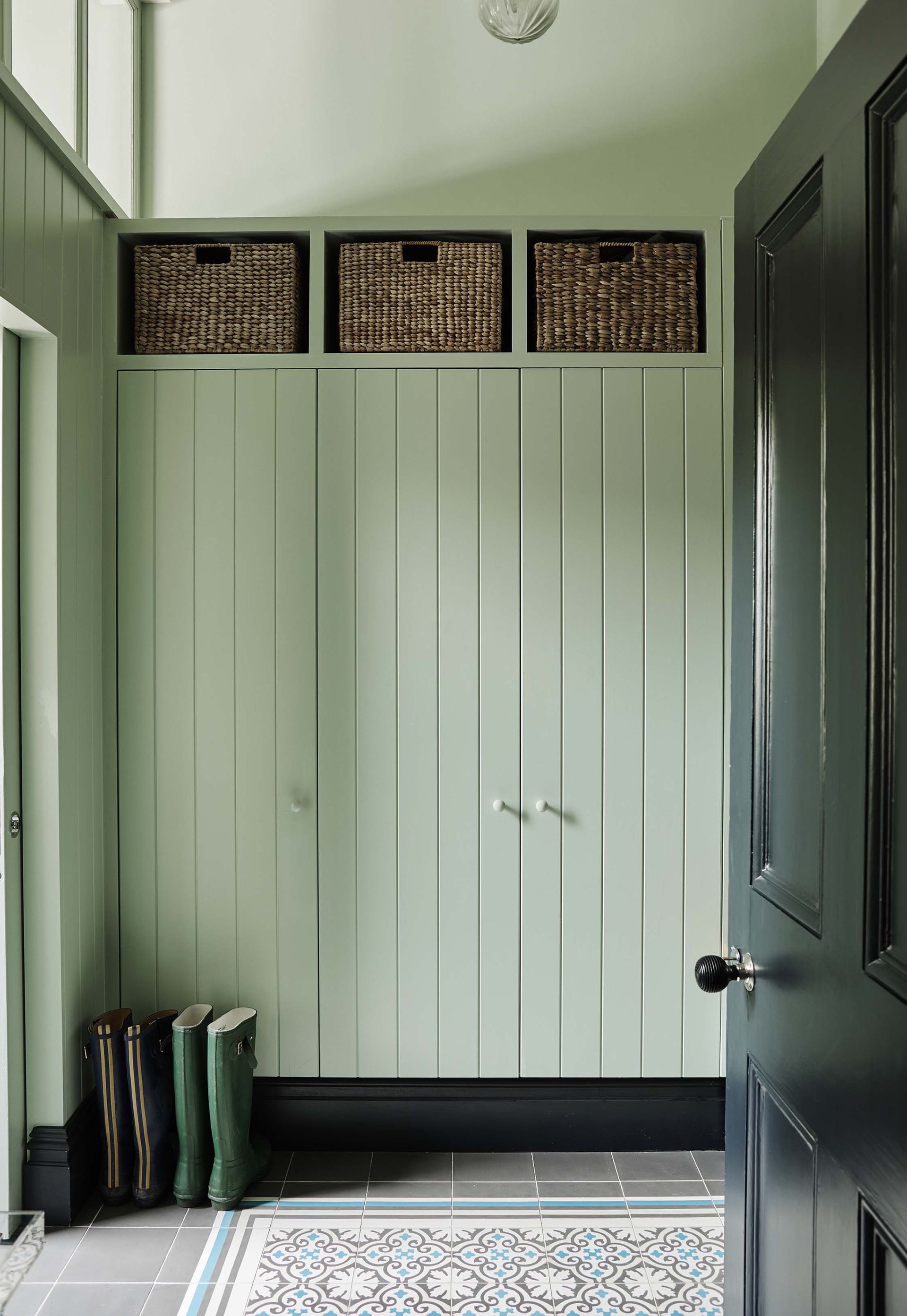 'Car keys, school papers, and the like go near the entry when you come and go so they are easy to find when you need them and they don't become clutter in other rooms,' says Judy Granlee-Gates.
A hook or catchall for your keys resting on a side table can be game-changing if you're always losing them. Think about any other items to leave by the door to simplify your daily routine too, from headphones and dog leads to mail or packages you need to return.
5. Make it a daily ritual
Decluttering our entryways every day may not sound appealing, but a quick five-minute cleaning session is always preferable to an all-day affair. Jamie Hord encourages clients to check in with their entryways often – 'just like you should your daily purse or bag!' he says.
'Make sure anything that shouldn't be living there goes where it should. When everything has a proper spot to live, you should be able to maintain this space easily!' Jamie enthuses.
'Make sure everything in the entryway has a place, and be sure to put everything back in that place at least once a day,' echoes Raquel Kehler, a house flipper and interior design creator at RoomCrush.
She says her favorite way to do this is to get a modern entryway table and put a trinket dish or small basket on it. Other entryway items that help when organizing a small entryway are plenty of wall-mounted coat hangers, an umbrella bin, and over-the-door organizers, available at Wayfair.
What should I remove first when decluttering an entryway?
'If you're feeling cramped or tight on space, remove any nonfunctional furniture pieces and only use furniture that will serve storage and function along with beauty,' says Jamie Hord, professional organizer from Horderly. 'When editing, you can quickly get rid of anything that is obvious trash first.'
How do I keep my entryway tidy?
It's a never-ending challenge, but when trying to keep an entryway tidy, it helps to encourage all family members to be disciplined. That means storing less seasonally-appropriate coats and jackets away in closets, for instance, and using some of the many space-saving ways to organize shoes to avoid mountains of sneakers.
Using storage baskets and bins that you like looking at also makes a difference, whether organizing small spaces or a larger entry. Once the entryway has been streamlined, consider introducing some entryway feng shui principles to invite good energy and create a feeling of balance and flow.
Sign up to the Homes & Gardens newsletter
Decor Ideas. Project Inspiration. Expert Advice. Delivered to your inbox.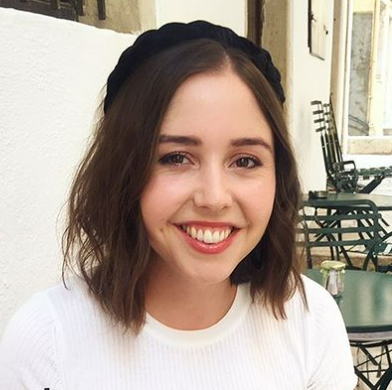 Millie Hurst is the Solved Section Editor at Homes & Gardens. She has six years of experience in digital journalism, having previously worked as Senior SEO Editor at News UK in London and New York. She then gained experience writing for women's magazines before joining Future PLC in January 2021. Millie has written for an array of homes brands including Livingetc and Real Homes and was formerly Senior Content Editor at Ideal Home before taking on the position of Section Editor with Homes & Gardens. She has written and edited countless features on home organization, decluttering and interior design and always hopes to inspire readers with new ways to enjoy their homes. She lives in Sheffield, South Yorkshire and loves to weave nature-inspired decor and nods to time spent in Italy into her own home.