Modern entryway table ideas – 12 fresh and inviting looks for your console
Explore our modern entryway table ideas for expert styling advice, inspiring decorations and unique table designs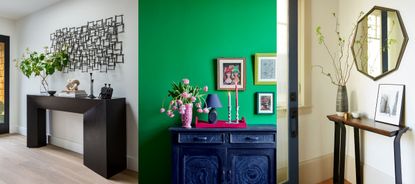 (Image credit: Kimberley Harrison Interiors, photography by Kathryn MacDonald | Annie Sloan | KJM Interiors, photography by Liz Daly )
Sign up to the Homes & Gardens newsletter
Decor Ideas. Project Inspiration. Expert Advice. Delivered to your inbox.
Thank you for signing up to Homes & Gardens. You will receive a verification email shortly.
There was a problem. Please refresh the page and try again.
Our modern entryway table ideas explore the stylish creativity that can be had when including a table in your entryway scheme.
The first room you step into as you arrive into the home, your entryway should make a warming and inviting first impression, as well as give you and your guests a taste of what is to come for the design in the rest of your home.
When planning modern entryway ideas, incorporating a table for your entryway furniture ideas can be both a beautiful and practical design choice. A table can store and display everyday household items as well as unique decorative objects, perfect for adding both character and functionality to a busy transitional space.
A key element to consider when designing an entryway for your home, an entryway table provides a stylish platform in which you can decorate, as well as bringing in beautiful texture, color, and storage space into the room.
Modern entryway table ideas
From elegant table decorations to stylish sideboards, we have curated a collection of modern entryway table ideas to provide you with some contemporary inspiration for your entryway ideas.
1. Make a statement with a striking and sleek design
In this entrance by Kimberley Harrison Interiors, she states of the overall design for the house, 'this project in Northern California was for a third generation iron and steel company owner whose desire was to incorporate some metal elements into his home. The vision was a modern and masculine design with textural elements to add warmth and visual interest.'
The black metallic console table, defined by a graphic, modern silhouette creates a striking statement in this hallway space, and signifies the start of the masculine, metallic design style used throughout the home. The table sits in the space much like a sculpture, with the intricate metal artwork suspended above complementing the design. Finishing touches such as the decorative accessories and vase of flowers add elements of softness and texture to the overall industrial decor style.
2. Embrace a bold and colorful look
An entryway is a space in the home that we move through, rather than spend long periods of time, but it is also a room in which you want to make an impactful impression, therefore, it is a great place to experiment with paint and adventurous entryway color ideas.
Paint expert Annie Sloan says, 'first impressions are everything, which is why your entryway is your opportunity to go all out. Given that the space is small, this is your opportunity to go bold and be holistic. I'd paint everything. This will build excitement for the rest of your home and is so much more easily done in a hallway or entryway space than in, say, a living room or kitchen.'
As shown in this painted entryway, the wooden table has been adorned with beautiful color and pattern, coordinating with both the ornaments and painted panel designs on the walls; establishing an uplifting and unified look that feels modern and unique.
3. Create a stylish, symmetrical display
Great for entryway feng shui, creating a stylish, symmetrical display on your entryway table can bring a feeling of balance and unity into the space.
Using symmetry in interior design is renowned to help make smaller spaces feel bigger, as well as creating a design that feels orderly and uncluttered - ideal for a high traffic space such as an entryway.
It can also be a great place to start if you are unsure on how to style a table, as shown in this elegant entryway, the simple styling of the symmetrical table lamps, beautifully framed by the tall mirror, creates an attractive, artistic display as well as bringing in practical lighting to the space.
4. Choose a unique, sculptural design
In this home remodel by Jessica Bennett of Alice Lane Interior Design, she says of the entryway design, 'new art, lighting, and furniture made this space stylish and welcoming.'
An elegant contrast is created through the traditional architectural elements and materials with the more modern furnishings and accessories. The smooth, rounded table is defined by glistening, sculptural gold legs, creating an attractive focal point in the space and drawing your eye to the table and its charming decorative display.
5. Unite your entryway table with a mirror
In this entryway, designed by KJM Interiors, the client wanted a relaxed and masculine space throughout, with this small console table by Charleston Forge and thoughtful collection of accessories establishing a simple and elegant design that feels contemporary and relaxed.
The use of the mirror above the table enhances the feeling of light and space in this smaller entrance, as well as adding a subtle element of texture and depth to the space.
For more mirror guidance, explore our ideas for when decorating with mirrors.
6. Add a warming glow to your entryway with a table lamp
A table in your entryway can provide the perfect platform for a table lamp, helping to make your space feel light, cozy and inviting at all times of day, great for entryway lighting ideas.
Laura Hammett of Laura Hammett Interiors says, 'for an entryway, a lamp creates soft, warm lighting and makes the space feel more inviting. I love unique antique finds, and ceramic lamp bases can be an easy way to add pattern or color to a room, and look lovely paired with a neutral fabric lampshade.'
If you are exploring how do you make an entryway inviting, lighting is guaranteed to transform the ambience and feel of the room.
7. Mix your materials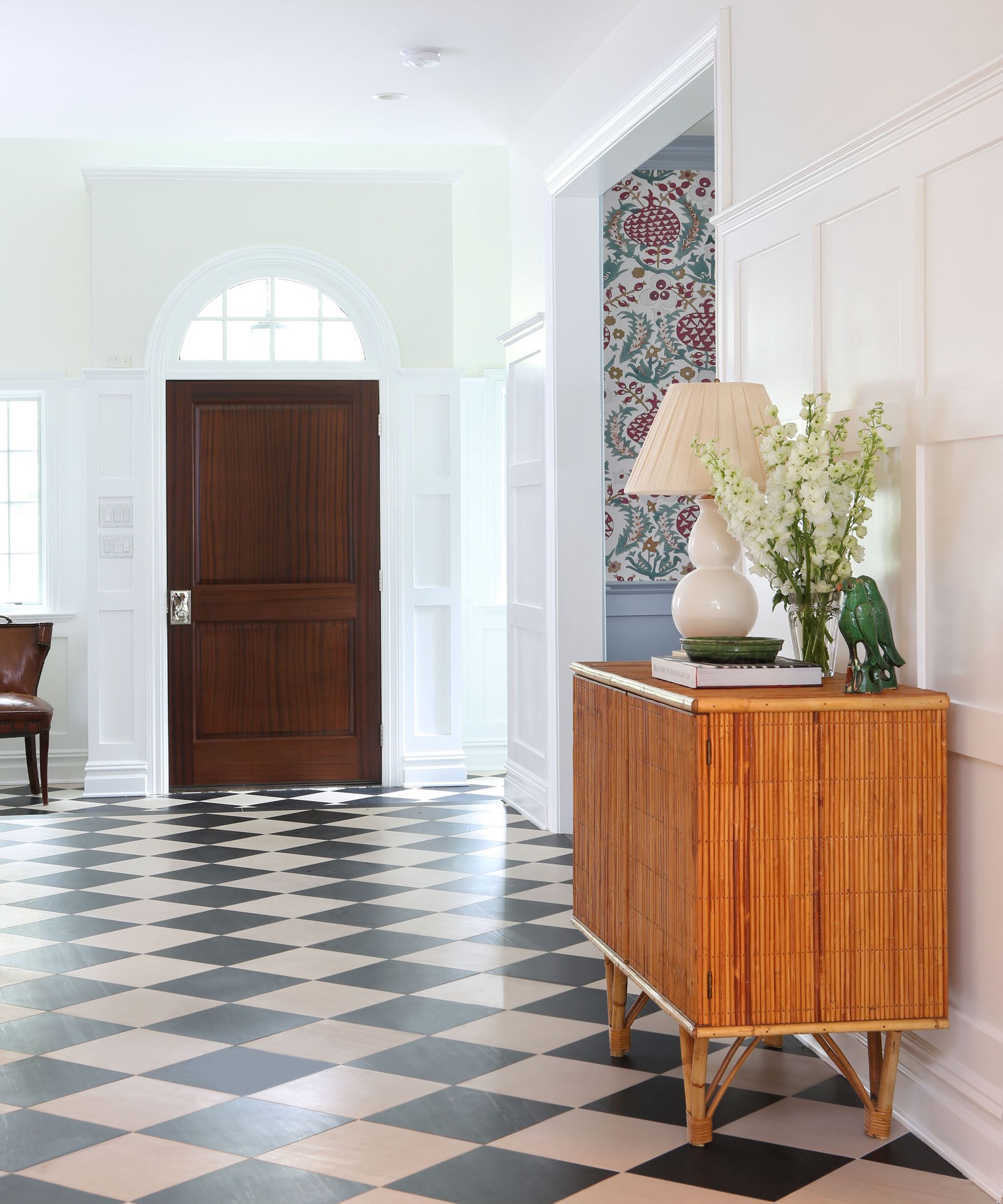 In this entryway, designed by Elizabeth Cooper Interior Design, a beautiful fusion of the old and new, created through a mix of materials, colors and styles, establishes an eclectic look that feels both classic and modern simultaneously.
She states of the design for this family home, 'we have several antique pieces, from different time periods and places, which create a unique mix in the space. The rattan credenza is mid-century French, and was in the dining room of their previous house and we found a wonderful spot for it in the front entry of this new home.
These pieces work well with the classic entry but prevent it from looking too stuffy and formal for this young family. The accessories - the pair of vintage green birds, etc. also work to add fun pops of color and interest to the space'.
With the eye-catching credenza creating an interesting focal point in this entrance, modern entryway table ideas can be integrated into homes of all ages and styles and do not have to look typically 'modern' in design, creating a modern look can stem from a beautiful collection contrasting pieces.
8. Style your table with a decorative tray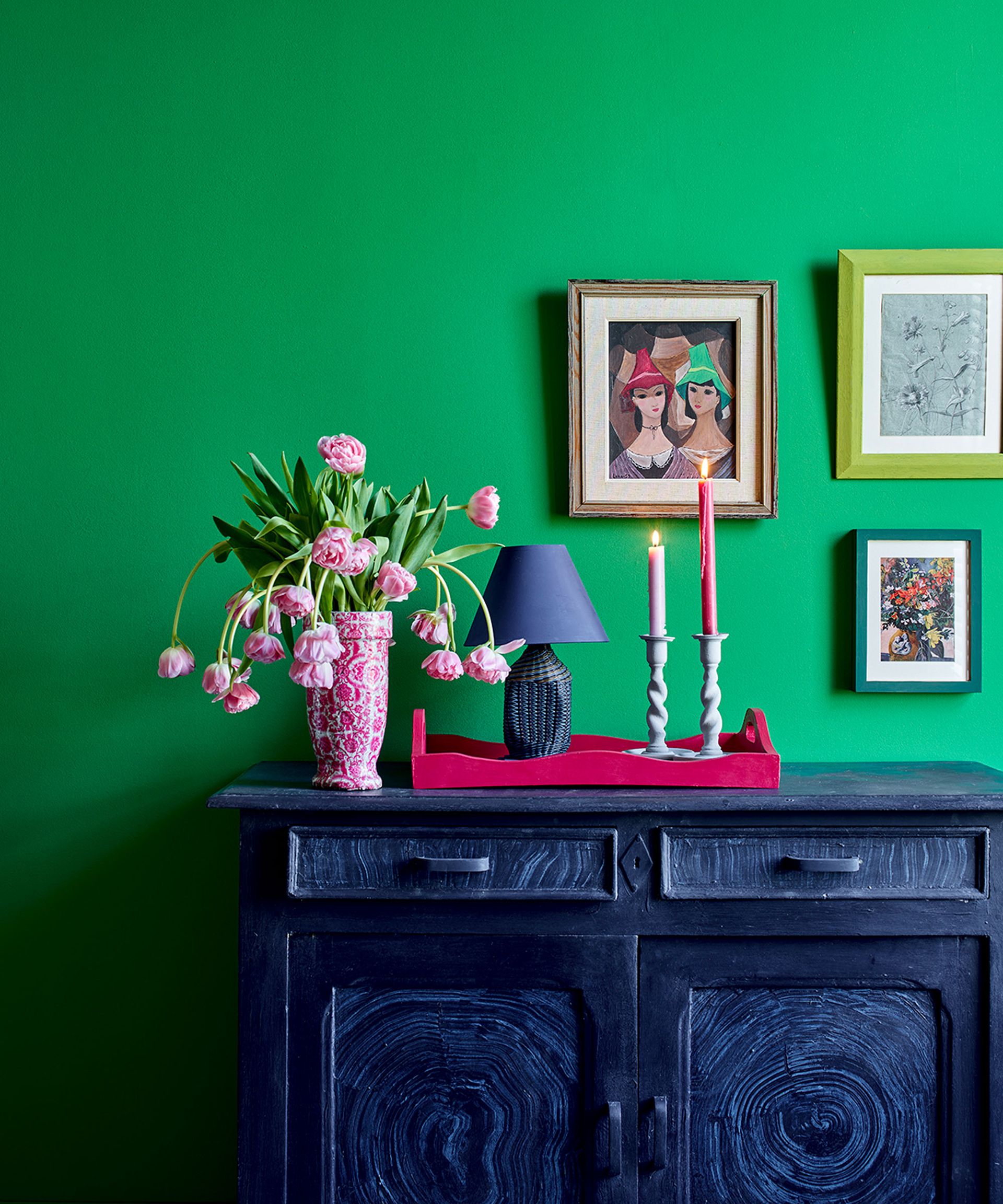 A decoration in itself, as well as an accessory that can create a designated area to curate a collection of objects, a decorative tray can bring organization as well as beautiful aesthetics to an entryway table.
As shown in this vibrant entrance, a brilliant example of entryway paint ideas, painted in a collection of contemporary shades by Annie Sloan, the bright pink tray not only establishes a stylish accent against the rich green painted walls, but creates a stylish and neat zone to display the colorful candles and table lamp.
A simple but effective way to add texture and color to your entrance, a decorative tray can also help to keep things tidy and less cluttered.
9. Use a tiered console table design
A tiered console table for your modern entryway table ideas can provide you with double the amount of storage - or double the amount of surface area for decoration!
A good option for a narrow entryway ideas, many slim console tables are shallow in depth, so can seamlessly integrate into entrances of all shapes, sizes and styles.
This sleek metallic design by Neptune creates a stylish contrast with the warmth of the dark wood flooring, and is decorated with an elegant mix of objects - a great look for when styling a shelf.
Whether you position a collection of ornaments on both tiers, or use the lower level for storage baskets of unsightly items and the upper for more decorative designs, there are many ways you can style a console table.
10. Create a colorful and coordinated design
For a colorful and coordinated contemporary look, match your entryway table accessories with the main color palette used throughout the space.
As shown in this entrance, the yellow vase and flowers perfectly match the bright yellow rug and stair runner by fiber flooring, creating an enhanced yellow design that feels stylish and well-considered.
Julian Downes, managing director at fiber flooring states, 'creating a cohesive look is a simply way to style your hallway or entryway. This stair runner and rug are a lovely, sunny color and when it's paired with a matching vase and flowers the overall look is tied together perfectly. These little details can make all the difference when it comes to a first impression.'
11. Keep things clean and simple
For a more minimalist entryway design, sometimes the best option is to keep things clean and simple.
The wood and woven fabric table in this entrance by Neptune has been decorated with a pretty, small vase of flowers and a stack of books, creating a stylish and uncomplicated table display that complements the organic, natural color palette used throughout the space.
A great option for small entryway ideas, choosing a considered yet characterful selection of decorations for a more compact table design can still make for a stylish and elegant display - as the popular saying goes, sometimes less is more.
See our what do you need in a home entryway piece for the 5 fundamentals of entryway decor.
12. Create an elegant floral display
One of the most popular decorations for styling an entryway table, a vase of flowers can bring in the beauty of the outdoors into your home with inviting color, shape, fragrance and texture.
Laura Hammett says, 'using real or faux flowers is a great way to add a contrasting organic, natural element to a highly contemporary look. Pair a taller vase and arrangement with other decorative items of different heights so the styling looks well-balanced, a crystal or glass ornament is a personal favorite.'
As shown in this entryway design, the elegant pink flowers take center stage on the luxurious, rounded dark wooden table, with the glistening modern chandelier enhancing the floral display with light as well as beautifully mirroring the rounded table design.
What should I put on top of my entryway table?
An entryway table is the perfect place to create a decorative tablescape. Layered with texture and character, styling a collection of ornaments, books and vases on your table can make the space feel more personal and unique to you and your style.
A table lamp is also a great way to bring in warmth and light to the space, as well as decoration. Incorporating welcoming pools of light through table lights in your entryway can create alluring and inviting focal points, drawing interest to certain areas of the room.
If you want to use your entryway table for more practical storage, use stylish storage baskets, trays and bowls to organize and store your objects.
For more advice, explore our what looks good in an entryway piece.
What size should an entryway table be?
The size of an entryway table all depends on the size of your space and whether you want you table to neatly fit in and blend into the background or command the space as a central focal point.
For bigger entryways, a large, round table placed in the center of the room can make the space feel more intimate and cozy, whereas for smaller sized rooms, narrow console tables and cabinets that fit up against the wall can leave enough space for people to easily pass through; preventing the space from feeling too cluttered and claustrophobic.
Sign up to the Homes & Gardens newsletter
Decor Ideas. Project Inspiration. Expert Advice. Delivered to your inbox.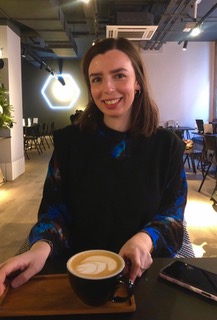 Zara joined Homes & Gardens in February 2022 as a Content Editor. After studying English Literature at University, she worked as an Ecommerce Website Editor, Content Writer and Buying Intern at multiple independent businesses within the luxury retail and lifestyle sectors. Her role at Homes & Gardens unites her love, experience and passion for the world of design and desire to create inspiring written content. She enjoys nothing more than discovering new trends, brands and products, whether that be in fashion, interior design or lifestyle.