Organizing a small entryway – 10 ways to turn that problem area into prime real estate
Ensure your home makes the right kind of first impression with these expert approved tips for organizing a small entryway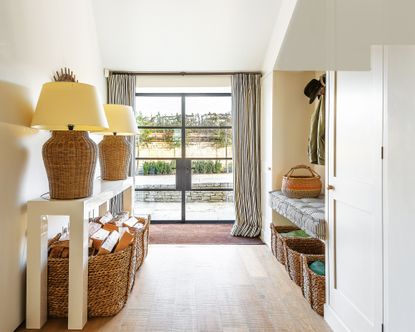 (Image credit: Jonathan Bond Photography)
Normally a dumping ground for coats, shoes, and kids' school bags, an entryway, particularly a small one, can be a nightmare to keep neat and tidy. This can make day-to-day life much harder than it needs to be and doesn't make for the warmest welcome, either. It's a clutter hotspot that needs organizing, and quickly, too.
Creating efficient organizational systems and eliminating clutter will not only make your entryway more inviting, but it'll also allow you to get creative with your small entryway ideas. As the first thing people see when they walk into your home, it offers up an opportunity to create a striking first impression, regardless of size.
Whether your entryway is awkwardly compact, narrow, or in fact, non-existent, we've compiled advice (with a little help from the experts) on how to create a usable transition zone that's as stylish as it is streamlined.
Organizing a small entryway
While a small entryway can pose challenges, it doesn't mean it can't be functional – or beautiful, for that matter. With the right decluttering tips and a few effective entryway storage ideas, it'll soon feel more spacious, plus the chance of passing through without tripping over anything becomes a lot more likely too, which is always a bonus.
Below, find our top ten tips on how to organize a small entryway quickly and efficiently, with an aim to get everyone out of the front door quickly and efficiently, too…!
1. Start with a plan, and declutter accordingly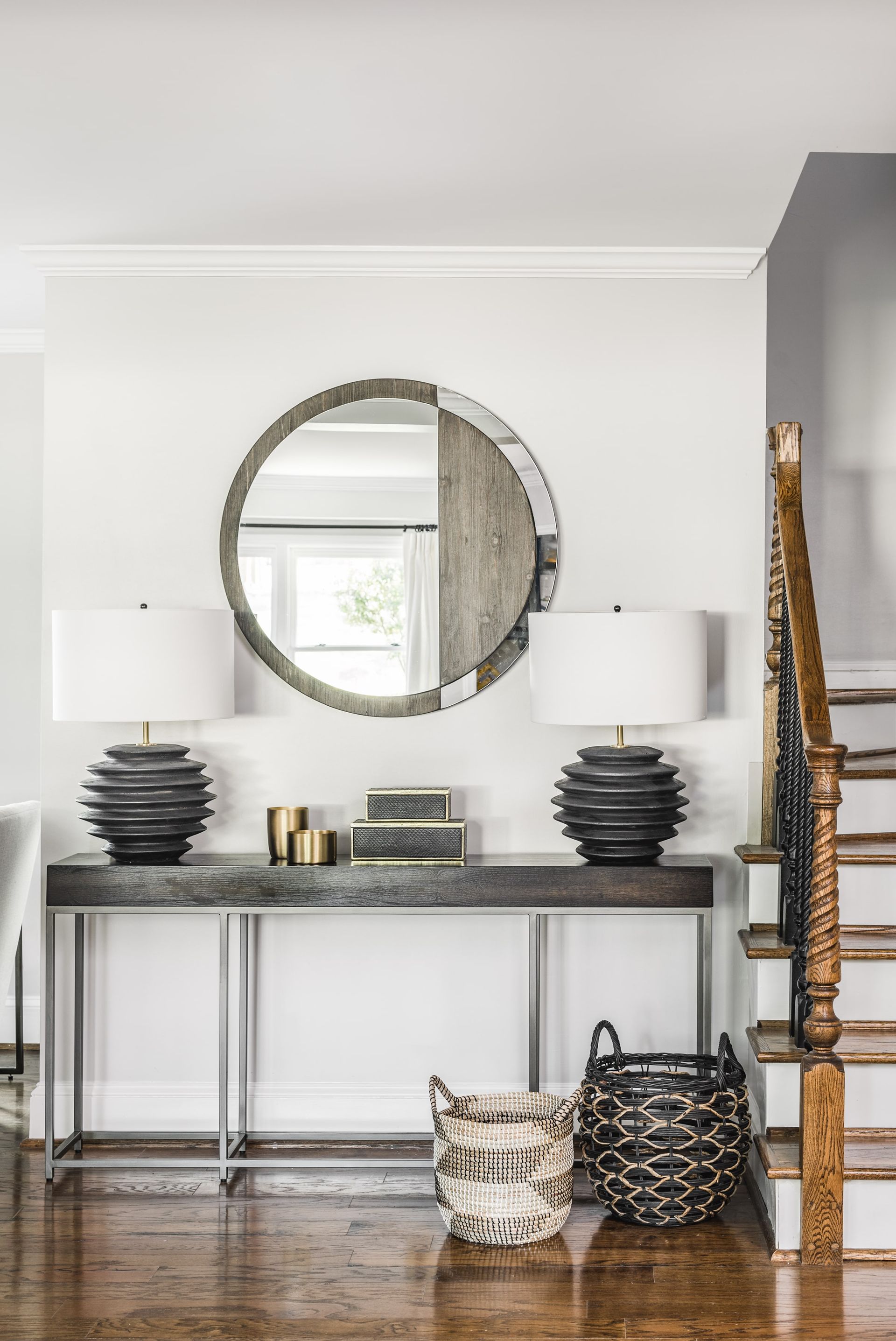 It's easy to mistake a small entryway that's not functioning well for one that is simply too full. Before you plan a total redesign or start investing in new storage, remove what you don't need, then reassess.
'Take some time to think about your goals for the space. Do you want to create more storage, create a welcoming entrance or simply make the area more functional? Having a clear plan in mind will help you to stay focused and make better decisions about what to keep and what to let go of', says Carly Campbell, founder of the popular organization and lifestyle blog, Mommy On Purpose.
2. Organize by category
It's no wonder small entryways end up in disarray when you think of all the daily essentials they're expected to play host to. The best way to create order and keep life running smoothly is to group like items together, from coats and scarves to shoes and gloves (make sure you pair them up) to school bags, homework, and life admin. Once you've done this, you'll be well-placed to work out the most suitable space-saving storage ideas and organizational systems for different groupings.
When you're organizing an entryway, you'll need to be a little strict on display items, particularly things that take up surface space – think vases, photo frames, and trinkets. 'Less is definitely more when decorating a small room where the function is the priority, so when it comes to decor, choose a few favorite pieces that fit the space, rather than trying to cram everything in', says Carly Campbell.
3. Prioritize storage space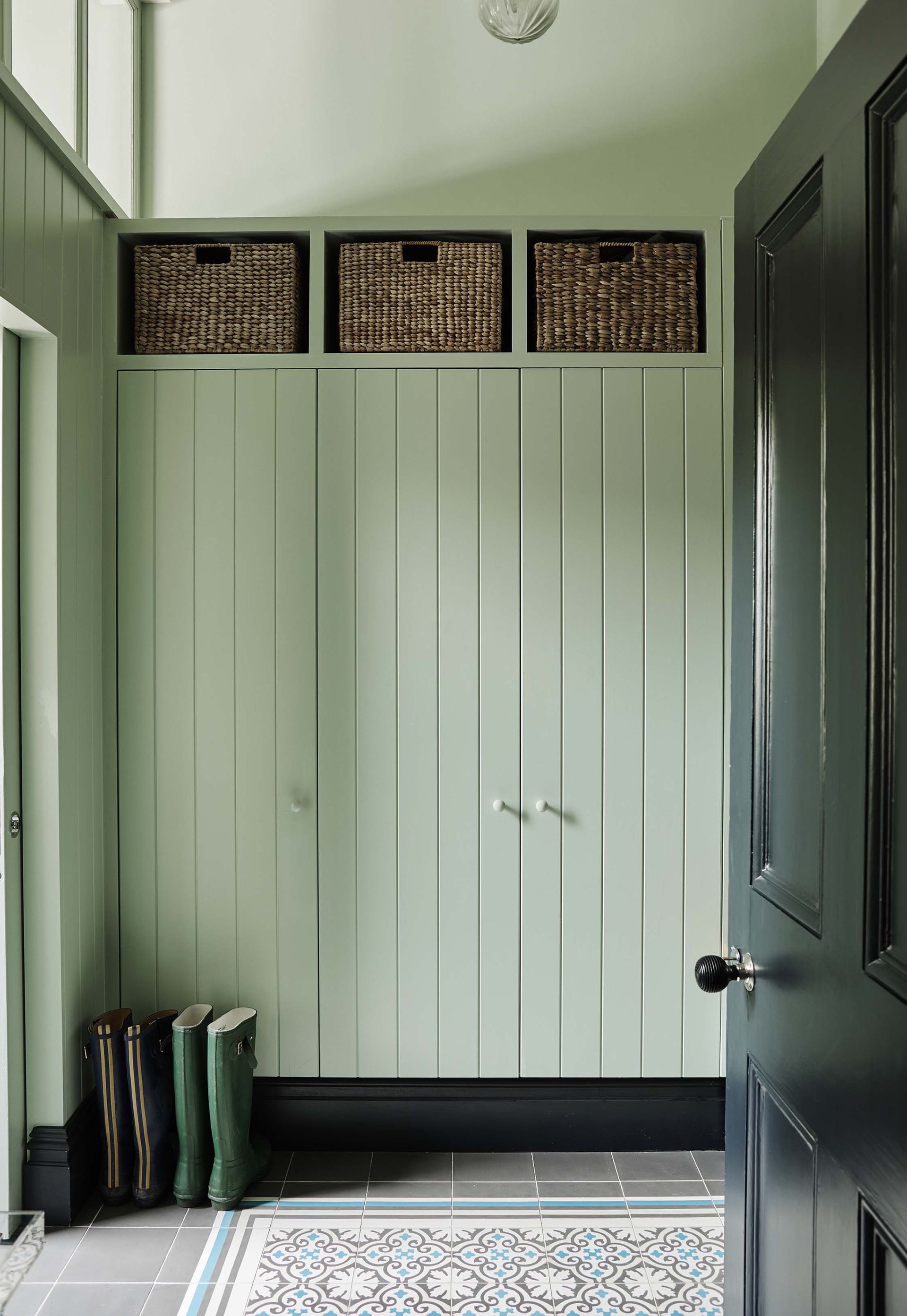 Not every single coat and pair of shoes you own need to live in the entryway at all times. Dedicating prime storage space to items that you're currently using regularly will not only make life easier but keep your entryway tidier in general – the less rummaging around you have to do the neater it will stay.
Sorting is usually best done by season; swap out winter coats, boots, hats, scarves and gloves, anything you don't need during the sunnier months (and vice versa), and stash them somewhere you don't need frequent access to – under the bed, or in the loft for example.
4. Take stock of seasonal items
Sorting by seasons offers up the opportunity for a good declutter when the time comes to switch it up again. Before you put anything back, go through each item and decide whether you really want or need it. This process is also handy for working out what you need to replace – get your children to try on last year's winter gear. If it still fits, don't buy new – the more belongings you acquire, the less easy it is to stay organized.
5. Create a functional layout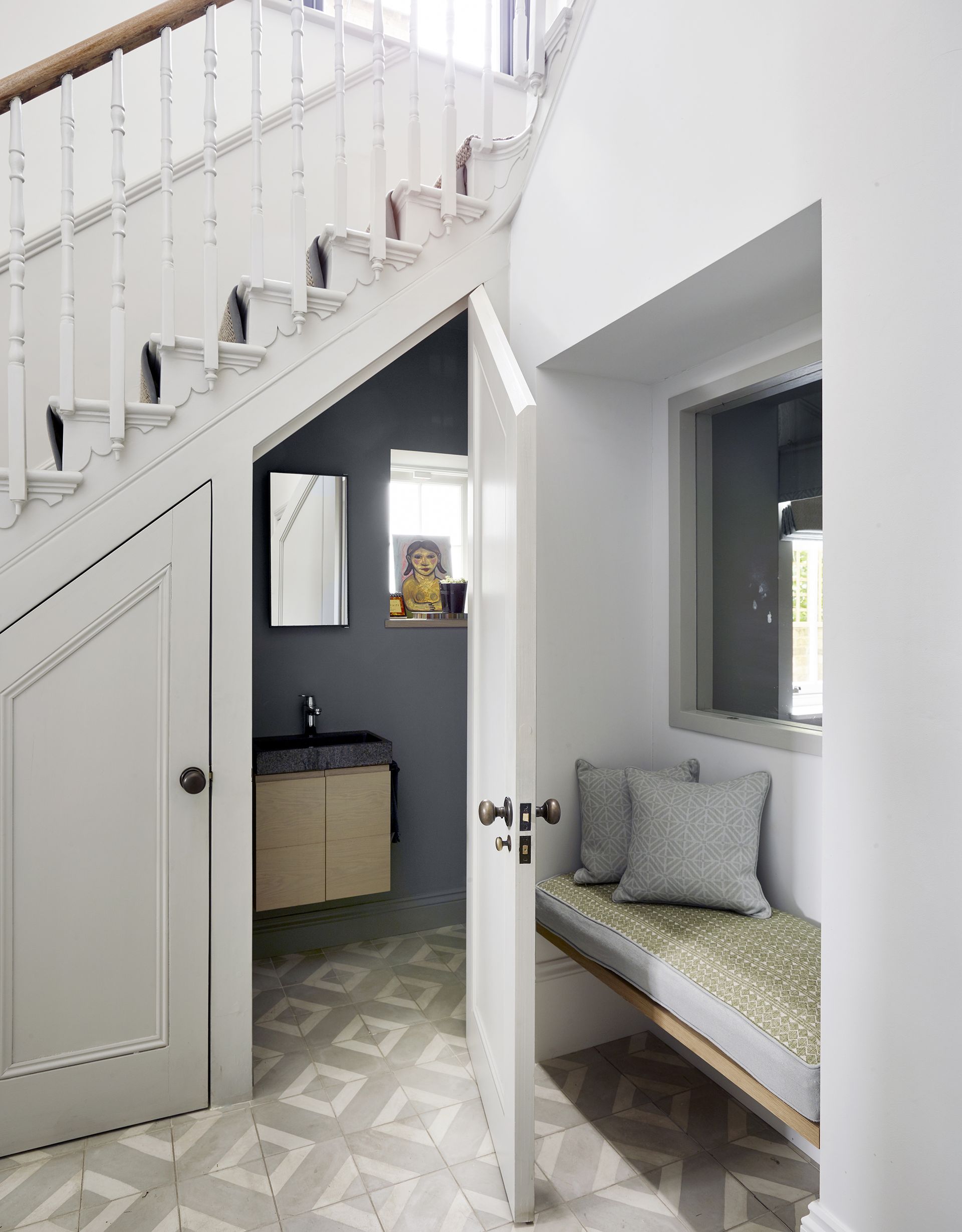 Think about how you use the items in your small entryway and designate areas for them accordingly. When deciding on a layout, it can be helpful to make a paper floor plan of the space available, to help visualize where pieces will fit best.
Of all the items to make room for, modern entryway bench ideas are arguably one of the most useful additions in a small hallway, but if you don't have the floor space to spare, consider a foldaway chair – just prop it up against the wall when you don't need it.
6. Select smart storage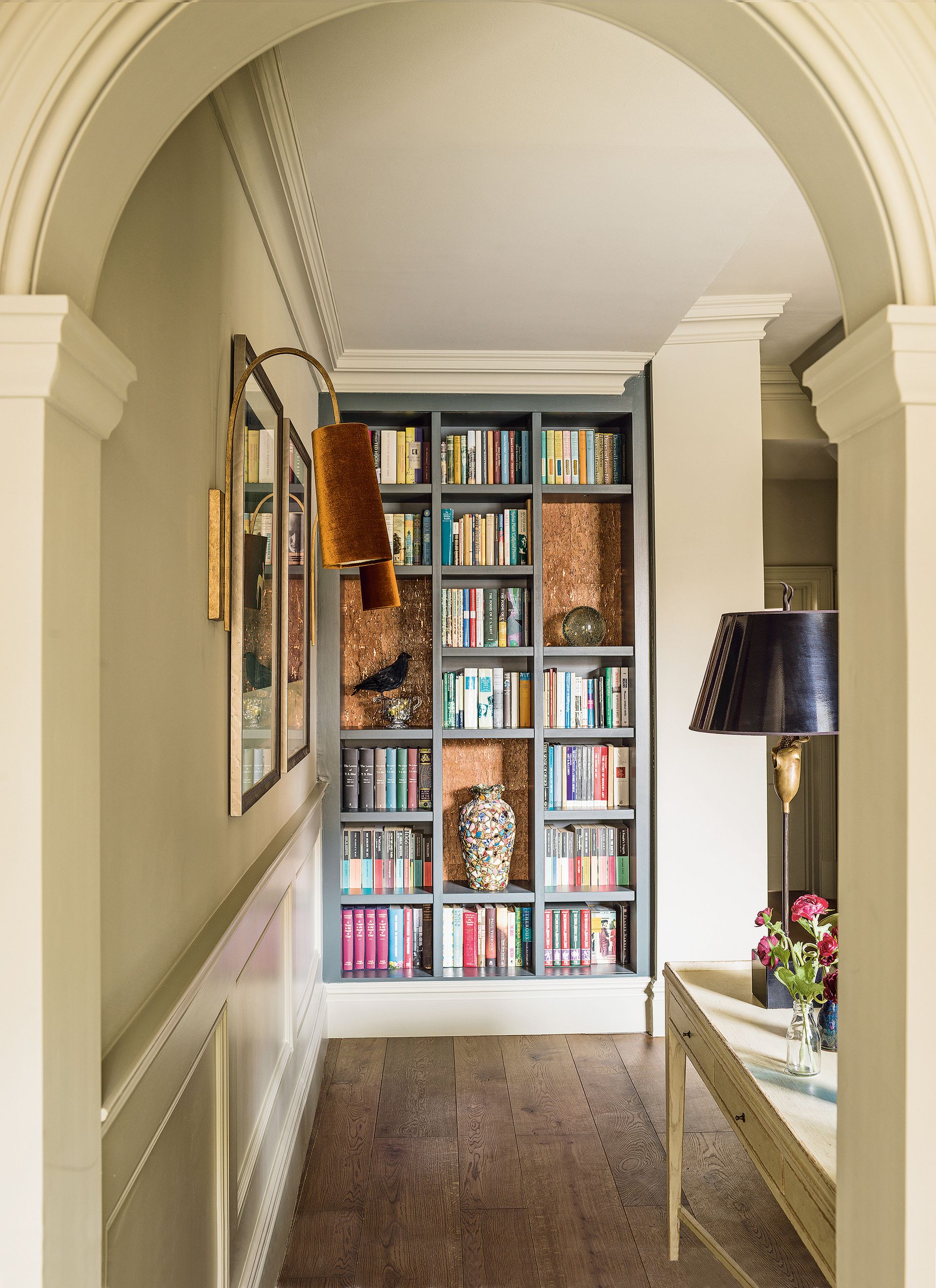 Planning practical storage solutions will help make even the smallest of entryways feel calm, organized, and clutter-free. If you're investing in new pieces, look for multifunctional designs like seats with built-in storage or console tables with drawers for loose change and receipts.
Alternatively, look for ways to make existing pieces work harder, such as positioning catch-all boxes and baskets underneath a bench or inside a unit.
7. Keep things kid-friendly
Let's be honest, children tend to be the worst culprits when it comes to putting things away. The best chance you've got is to keep organizational systems as simple and easy-to-use as possible. Think about their school routine and what you need to account for: accessible hooks for coats, open baskets as drop-zones for shoes and bags, wall-mounted cubbies for school books and forms, and so on.
If you've got a little room to spare in your small entryway, consider giving each child their own dedicated storage space. Labeling them helps too, and gives children a sense of ownership over their own belongings which is a good habit to encourage – if nothing else, it makes getting out of the door in the morning a much smoother process!
8. Free up floor space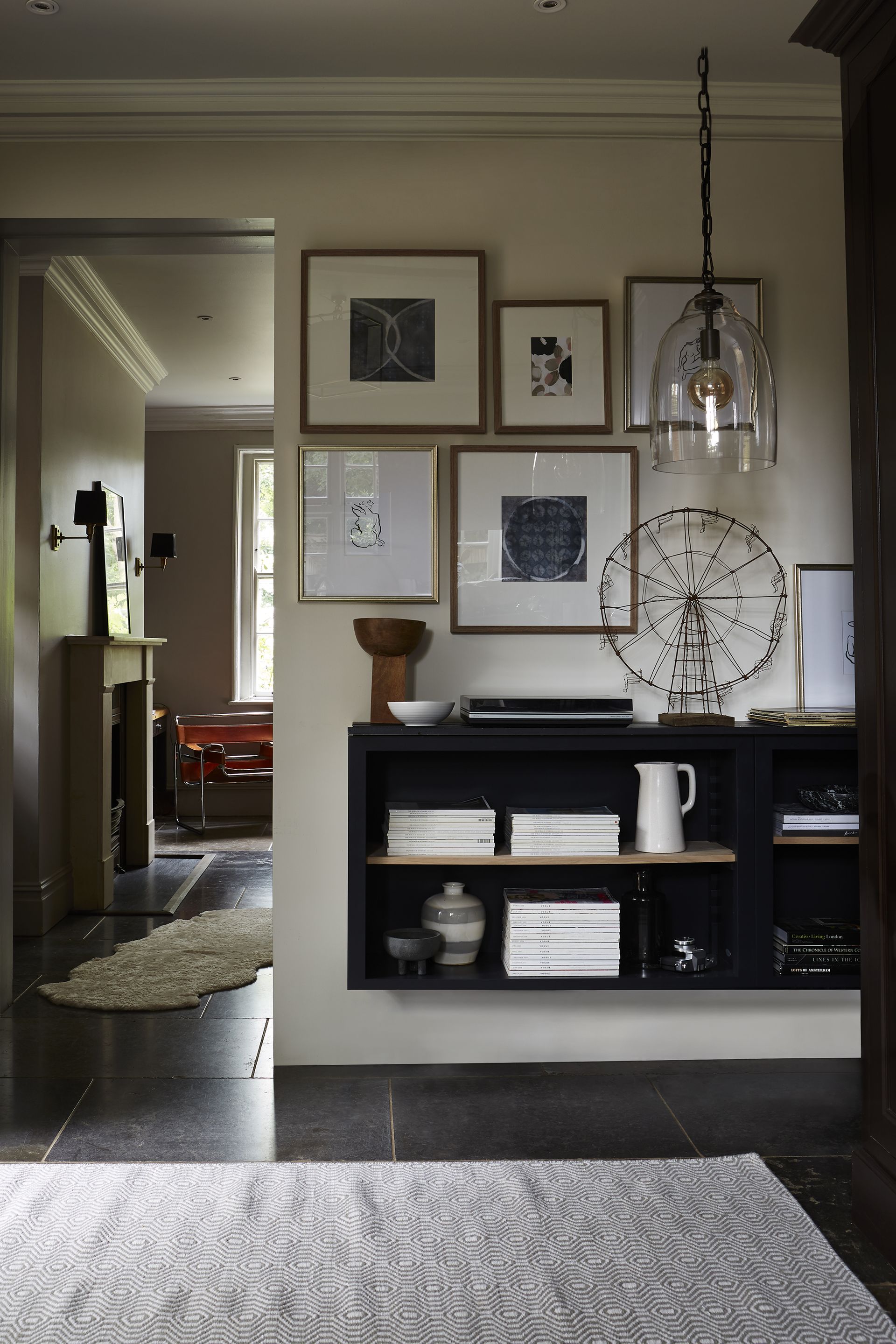 Keeping floors clear so people can move around freely is essential, particularly in small hallways where space is tight, so bypass bulky storage solutions in favor of wall-mounted options. Cubbies are great for keeping posts, letters, and kids' school bags close to hand, while shelving lined with lidded boxes is useful for containing gloves, scarves, hats, and other smaller items. If you've got a hallway closet, consider back-of-the-door storage – hanging pockets are particularly handy for organizing shoes.
9. Keep coat hooks under control
A basic set of hooks is all you need for coats and jackets, but don't let them build up – trying to get everything on a single set is always going to look messy and overcrowded. Edit your selection seasonally, and limit each family member to one or two at a time, storing the rest elsewhere. Try to leave a couple of hooks free for guest use if you can.
'If you have children, consider doubling your hanging capacity with dual-height coat hooks. They're more likely to hang their own bags and coats up after school if they're easy to access – although we can't promise anything!', says Lucy Searle, global editor-in-chief, of Homes & Gardens.
10. Create an organization 'hub'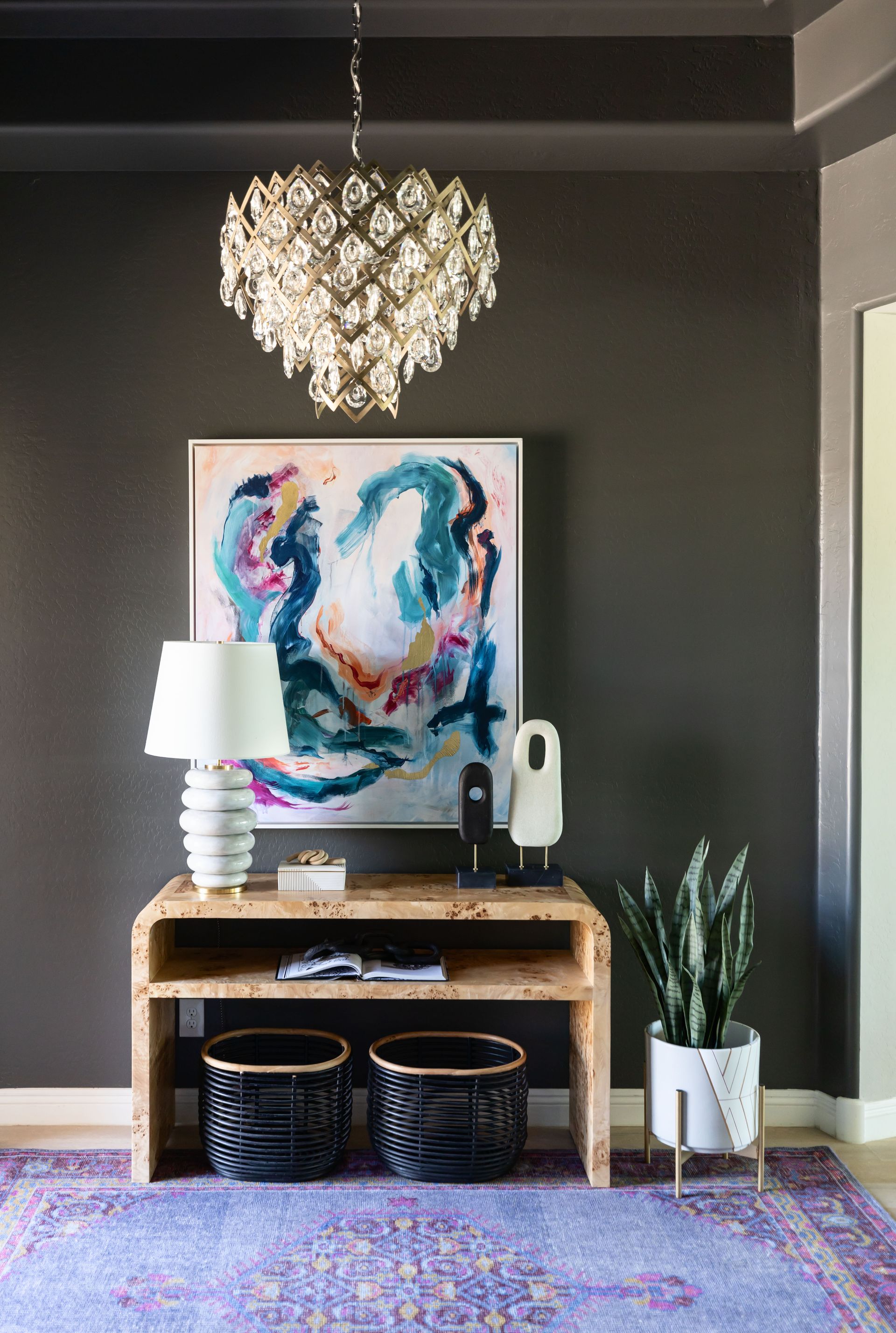 If you have space for a narrow console table, or any kind of surface space, use trinket dishes and baskets to hold smaller items, such as mail, keys, and any other bits you tend to grab as you're walking out the door. If a table just isn't an option space-wise, consider a wall-hung organizer with pockets instead.
'Mail can easily pile up in hallways, so try to get into the habit of opening mail over the bin. Junk mail and envelopes can go straight into the recycling, and using a simple system of three magazine files labeled "to do", "to file" and "to shred" means you can put mail away quickly ready to process later, and it won't get lost,' advises professional organizer Laura Price of The Home Organization.
While practicality may feel like the priority, don't forget to factor in safety, too. It's useful to store keys by the door, but ensure they're concealed in a closed storage box or on a hook, hidden away from prying eyes.
How do you organize an entryway closet?
If you're lucky enough to have an under-stairs space or a closet in your small entryway, utilize the space and make it work hard. These spaces aren't always the easiest to organize, particularly if access is awkward or there's a lack of light, but if you're clever with your entryway storage, they can become very efficient – particularly if you go bespoke.
'Made-to-measure cabinetry can be tailored to the dimensions of your space, designed to work around quirks such as a sloping ceiling or an awkward corner. Going bespoke also means that the internal layout can be adapted according to what you want to store – a wealth of coat and shoe storage, for example,' says Irene Gunter, founder of Gunter & Co.
Going high instead of wide is also a good trick if you're short on space. Stack clear plastic boxes for wooly hats, scarves, and gloves inside a hallway closet – ideally choose a design that has wheels on the bottom so you can pull it out to grab what you need, then wheel it back in out of sight.
How can I make my entryway clutter free?
It's easy enough to get your entryway into a clutter-free state – an effective declutter will get the ball rolling.
'Start by removing everything that doesn't belong there. For example, a pair of shoes that should be on the rack, letters than should be on the desk, or a parcel that the postman just delivered. Create designated areas for objects, buy a rack for outerwear and handbags, and find a drawer or box for accessories. Make sure to only keep the coats and jackets that you're wearing on display, keep out-of-season clothing stored away', advises Anita Lo, founder of Clara's Box.
The tricky part is maintaining it. If you want to stay on top of things, seasonal reshuffles are a must, so book them into your diary – be sure to declutter as you go, only put back the things you know you'll use in the coming months. Also, get into the habit of a quick 5-minute tidy at the end of each day. At the same time, check whether everything is in the right place, you'll thank yourself in the morning when you're rushing out the door!
Sign up to the Homes & Gardens newsletter
Decor Ideas. Project Inspiration. Expert Advice. Delivered to your inbox.
For 10 years, Tara King worked as a Content Editor in the magazine industry, before leaving to become freelance, covering interior design, wellbeing, craft and homemaking. As well as writing for Ideal Home, Style at Home, Country Homes & Interiors, Tara's keen eye for styling combined with a passion for creating a happy – and functional – family home has led to a series of organization and cleaning features for H&G.